Milk Cream (Malai) For Face: 6 Benefits, How To Apply, & Risks
From improving texture to moisturization - learn how malai can help your skin.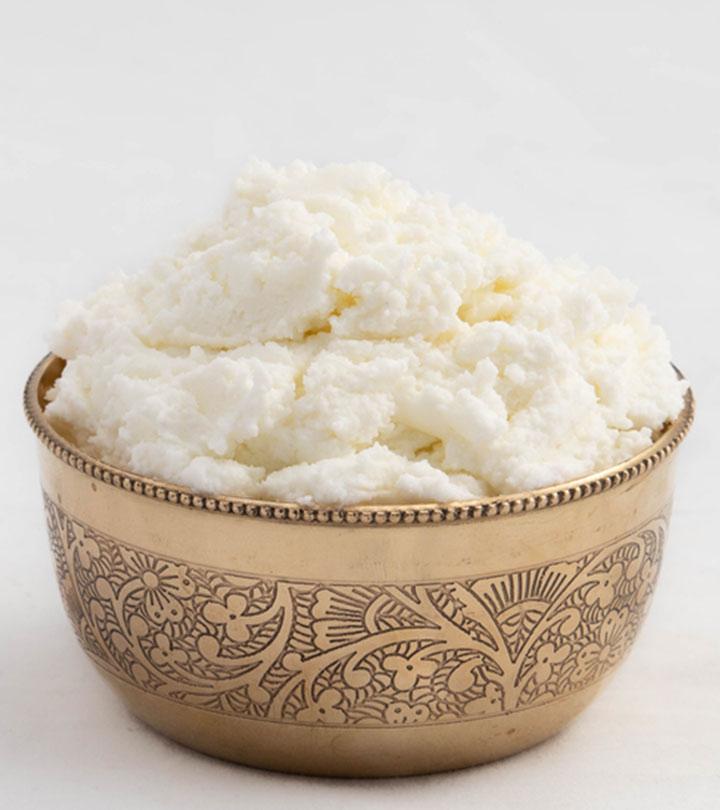 Milk cream is often used to prepare sweets and other dishes. However, many people use milk cream for acne and skin beautification. Yes, you read it right. You can use milk cream to soothe acne issues, boost your skin's glow, and get that soft, radiant, and supple look. It is considered a safe remedy for several skin care woes, and you will be amazed to know all the benefits it has on your skin.
This article will take you through the benefits of milk cream for the face and ways to apply it to your skin. Read on to discover more.
First, start by understanding what milk cream is.

Did You Know?
Malai originates in the Indian subcontinent and is considered Lord Krishna's favorite food item.
What Exactly Is Milk Cream Or Malai?
As the name indicates, milk cream is a milk-based product. It is a kind of clotted cream prepared from full-cream milk and comprises about 55% butterfat. It is the layer of fatty cream that develops as a film on the surface when you boil full-fat milk. This cream has a thick and yellowish texture.


Fun Fact
Bollywood actresses are known for using milk cream to enhance their looks. While Sushmita Sen swears by her favorite malai face scrub, Janhvi Kapoor loves the malai face pack.
Since ancient times, milk cream has been used in traditional home remedies to improve skin complexion and texture. Find out what research says in the next section.
Does Milk Cream Work On The Skin? Here Is What Research Says
Milk cream is a gentle ingredient that provides nourishment to the skin and is commonly used in skincare and beauty products, and it is especially great for those with sensitive skin.
As of now, there is no clinical research that specifies the impact of using milk cream on the face or skin. However, milk contains lactic acid (1). Lactic acid is a type of alpha hydroxy acid that is often used in cosmetic formulations (2). The purpose of these formulations includes reducing fine lines, improving skin tone and texture, unclogging pores, and improving the overall skin condition (3). In addition, lactic acid also acts as an excellent moisturizer for the skin (2).
Research proves that topical lactic acid has a considerable impact on the epidermal and dermal layers of the skin. It helps to increase the firmness and thickness of these two skin layers. As a result, your wrinkles smoothen out and your skin looks smoother (4).
Considering all these aspects, it can be said that milk cream extends several benefits for the skin. But, what are those benefits? Let us check them out.
Benefits Of Using Milk Cream Or Malai For Your Face
Milk cream or malai cream can uplift your skin in many ways, as it contains lactose that provides deep hydration and moisturization to the skin, making it an excellent choice as a facial cream. However, no scientific research has been conducted on this ingredient specifically to prove its benefits for the skin. The major benefits of using milk cream for skin are the following:
1. Removes Dead Skin Cells
The application of milk cream on your skin can help to replace dead skin cells. It is known that lactic acid plays an active role in the cell renewal function (2). Due to this characteristic of lactic acid, your skin sheds its dead cells when you apply milk cream on it and replaces them with new cells.
2. Makes Your Skin Look Younger
When dead cells accumulate on your facial skin, they result in a dull and lifeless look. If the dead cells are not cleared off regularly, they can lead to blocked pores and acne. But, thanks to the cell renewal function of lactic acid, the dead cells are shed effectively (3). So, milk cream makes your skin appear younger and reduces the visible signs of aging, such as fine lines and wrinkles.
3. Moisturizes The Skin
Dry and dull skin can make you look aged. However, the moisturizing activity of lactic acid ensures that your skin remains hydrated due to the application of milk cream (2). In other words, milk cream can keep your skin soft and supple and ensure a radiant look on your face.
4. Improve Skin Texture
The texture of your skin depends a lot on the firmness of your epidermis layer. When your skin begins to lose its elasticity and firmness, it can result in wrinkles (5). The lactic acid in milk cream can come to your rescue in this case as well. By helping your skin to remain firm, it improves skin texture.
5. Acts Against Sun Damage
Lactic acid acts against the impact of sun damage (6). When you apply milk cream on your skin, it has a soothing effect on the skin and helps fight the damage caused by the sun's rays.
6. Provides A Natural Glow
More often than not, your skin's natural glow gets overshadowed by dead cells, clogged pores, and dry and dull skin. However, when these things are taken care of by applying milk cream to your face, you can experience visibly glowing skin. However, this function of milk cream has not been scientifically proven.
Now that you know all about the benefits of milk cream, you must be curious to learn how to apply this home-based product to your face. Check out the next section.
How To Apply Malai On Your Face
Applying milk cream to your face is easy. Here is what you need to do:
Clean your face using a mild cleanser and wipe it with a clean towel.
Using your fingers, apply a smooth layer of milk cream to your face. If you want, you can even use a facial brush for this purpose.
Leave the milk cream on your face for about 15 minutes.
Rinse off the cream from your face thoroughly using lukewarm water.
Pat your face dry using a soft, clean towel.
You can also prepare DIY face masks using milk cream and other ingredients at home. Check out a few recipes below.
Homemade Malai Face Packs
You can use milk cream or malai as a face pack by combining it with other ingredients.
1. Milk Cream And Honey Face Pack
Honey helps the skin to maintain a youthful look by reducing the formation of wrinkles (7). Combining it with milk cream can keep your skin looking moisturized and young.
What You Need
1 tablespoon milk cream
1 tablespoon honey
What To Do
Mix the milk cream and honey in a bowl.
Apply the mixture evenly on your face.
Leave it on your face for about 15 minutes.
Wash it off using cold water.
2. Milk Cream And Turmeric Face Pack
Turmeric has antimicrobial, anti-inflammatory, and antioxidant properties that offer therapeutic benefits to your skin (8). By using turmeric with milk cream, you can add a natural glow to your face.
What You Need
1 teaspoon milk cream
1 teaspoon turmeric powder
What To Do
Mix the milk cream and turmeric powder.
Apply this mixture all over your face evenly.
Leave it on your face for a few minutes. Do not leave it on for more than 10 minutes as turmeric stains your skin.
Rinse it off your face thoroughly.
3. Milk Cream And Aloe Vera Face Pack
Aloe vera improves skin elasticity, tightens pores, and reduces acne and wrinkles. It also moisturizes dry skin (9). Blending aloe vera with milk cream can be a great way to hydrate your skin and keep it looking fresh and young.
What You Need
2 tablespoons milk cream
2 tablespoons aloe vera gel
What To Do
Mix the milk cream and aloe vera gel.
Use your fingers or a brush to apply this mixture to your face.
Leave it on your face for about 20 minutes.
Wash it off using cold water.
Now, let us find out if milk cream has any side effects when used on the skin.
Potential Risks And Precautions
Since the impact of milk cream on skin has not been clinically tested, it is not possible to say that this ingredient will have no side effects. Therefore, you need to exercise some amount of caution when using it.
As a precautionary measure, you can do a patch test. Apply milk cream to a small patch on your forearm and see how your skin reacts to it over the next 24 hours. Look out for signs like redness and irritation. If you don't experience any such side effects, you can use it on your face.
However, if you have any dairy allergies, it is better to avoid using milk cream on your skin.
Wondering how to prepare milk cream at home? Find out in the next section.
How To Make Malai Or Milk Cream At Home
Pour full-cream milk into a pan and place it on medium heat.
Allow the milk to reach the stage where bubbles begin to appear on the surface, and it is about to reach the boiling point. This will be around 180°F.
Let the milk remain at this temperature for about 60 minutes. You can reduce the heat to prevent the milk from boiling over.
Switch off the stove and allow the milk to cool.
Once the milk cools down, you will notice a layer of fat covering the surface.
Carefully skim off this fat. It is your milk cream.
When Is The Best Time To Apply Malai On The Face?
There is no specific time to apply milk cream or malai on the face. You can apply this natural ingredient at any time of the day or night.
Infographic: Tips For Using Milk Cream On Face
Using milk cream on your face may improve its glow and make your skin soft and supple. However, it may not suit everyone. Some people may experience adverse skin reactions upon using milk cream. Hence, it is best to be cautious when using it to avoid skin issues like patchy skin and acne.
Check out the infographic below to learn some tips for using milk cream on your face.



You can use milk cream as a natural remedy for skin care troubles. This natural homemade ingredient helps you improve your skin, soothe acne, boost your skin glow, and is safe to use. Although there is not enough clinical research to prove the benefits of using milk cream for acne, people use milk cream for the skin mainly due to its lactic acid content.
You can directly use milk cream on your face or combine it with other ingredients to prepare DIY face packs. Avoid using milk cream if you have dairy allergies. Always do a patch test before using it.
Frequently Asked Questions
Can we apply milk cream on our face daily?
Yes. Milk cream is a natural and safe ingredient that has a soothing, moisturizing, and exfoliating effect on the skin. Unless you are allergic to milk, you can use milk cream on your face daily.
Does milk cream remove acne?
Milk cream can soothe acne but not eliminate it completely. Since it also works as a gentle exfoliator, it can prevent further breakouts on your skin.
Is milk cream good for oily skin?
Milk cream can work wonders for oily skin by exfoliating dead skin cells and cleansing out clogged pores.
Does milk cream remove dark circles?
There is no scientific evidence to prove that milk cream can treat dark circles. However, because of the lactic acid present in it, many people claim it may reduce hyperpigmentation and provide a healthy and natural glow to your skin.
Key Takeaways
Milk cream or malai is a milk-based product with a thick, yellowish texture. The lactic acid in this cream acts as an excellent moisturizer for the skin.
The application of milk cream helps remove dead skin cells, makes skin look younger, and improves skin texture.
Apply a thin layer of milk cream to your face after cleansing it with a mild cleanser and rinse off the cream.
You can prepare some simple yet effective DIY face masks using milk cream at home using everyday kitchen ingredients.

Pamper your skin with malai or milk cream face packs! Get soft, moisturized, and radiant skin with these easy-to-make DIY facial masks. Watch this video to learn how to make them!

Sources
Articles on StyleCraze are backed by verified information from peer-reviewed and academic research papers, reputed organizations, research institutions, and medical associations to ensure accuracy and relevance. Read our editorial policy to learn more.
The following two tabs change content below.