Everything You Need To Know About Using Mineral Oil For The Skin Mineral oil is derived from petroleum. It is said to improve skin softness and barrier function better than a few other emollients. Its introduction as a cosmetic oil was in the late 1800s, and it continues to be a part of moisturizers, lotions, creams, and other skin products. In this article, we have explored the risks and benefits of mineral oil for your skin and how to use it effectively. Keep scrolling to learn more.
What Is Mineral Oil?
Mineral oil is a clear, colorless, transparent, and odorless liquid derived from refined and purified petroleum. Mineral oils (including lubricant base oils) are used in construction, mining, and manufacturing industries. The mineral oils used in cosmetic and skin care products are highly refined. They are also used in medicines (liquid paraffin) and drugs.
Some of the common names to identify the presence of mineral oils in the products are:
 Liquid paraffin or paraffin
 Liquid petrolatum or petrolatum
 Paraffin oil
 Paraffinum liquidum
 Petrolatum liquid
 Petroleum oil
 White mineral oil or white oil
They have been used for decades in skin care and cosmetic products due to their excellent skin tolerance levels, protective and cleansing properties, and viscosity. Here are some of the advantages of using mineral oils for your skin.
Benefits Of Mineral Oil For The Skin
Mineral oils may have numerous benefits, but they also have side effects. Here is what you should know about the adverse effects of mineral oil.
Side Effects Of Mineral Oil
While it is generally considered safe for the skin, there may be some cases where mineral oil may cause:
 Mild erythema (dryness)
 Increased sensitivity to UV rays.
 Acne breakouts, as it is mildly comedogenic
If you are lactating, consult your doctor before using mineral oil for sore and cracked nipples.
When used in moderation, mineral oil products may benefit your skin. Here is how you can use mineral oil for the skin.
How To Use Mineral Oil
To use mineral oil, apply it to your damp skin after showering. If you are using it with other products, apply mineral oil as the last step. Here are a few precautions to follow:
 Use mineral oil products as per the instructions.
 Do a patch test to avoid allergic reactions.
 If you have skin issues like eczema, psoriasis, and acne, please consult a dermatologist before using mineral oil.
 If you notice mild irritation or redness, avoid using mineral oil products and consult a dermatologist.
 Avoid applying it on sensitive areas, such as your eyes and the groin area.
 Do not ingest mineral oil.
 Do not apply mineral oil on broken and bruised skin.
Is it always safe to use mineral oil? Here's when you should be staying away from this petroleum-derived ingredient.
When To Avoid Using Mineral Oil
If you have acne-prone or oily skin, it is best to avoid using mineral oil. It is mildly comedogenic and occlusive and may worsen the existing lesions or cause new breakouts.
Avoid using mineral oil-based products if you are allergic to it as it may cause:
 Redness
 Dryness
 Irritation
If mineral oil products suit your skin, you can continue using them. What is the ideal frequency of application? Find out in the next section.
How Often Can You Use It?
Use mineral oil-based products once or twice a day. If you have skin issues like erythema, eczema, psoriasis, or rashes, check with a dermatologist to determine the frequency.
To Conclude
Mineral oil is an excellent moisturizer for the skin when used in moderation and the right way. It can improve skin softness and trap moisture to keep it hydrated. However, notice how your skin reacts when using mineral oils, especially if you have acne-prone skin. If you experience any discomfort or irritation, consult a dermatologist.
Sources
Articles on StyleCraze are backed by verified information from peer-reviewed and academic research papers, reputed organizations, research institutions, and medical associations to ensure accuracy and relevance. Read our editorial policy to learn more.
The following two tabs change content below.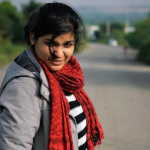 Anjali Sayee is a writer and an introvert. From studying Aeronautical Engineering and wanting to design her own airplane to writing articles on hairstyles, she has been on quite a journey. She believes that hair is one of the key factors that define a woman's personality. To quote her, "What's the first thing they do in the movies to show a personality change? Change the hair – because it has a life of its own." She's here to help you find the hairstyle you need. This bookworm is a self-professed Wholocker, a talented drummer, and an amateur photographer.