10 Best Modest Swimwear For Women – 2022
Remain fashionable yet protected from sun rays at the beach with greatly tailored clothing.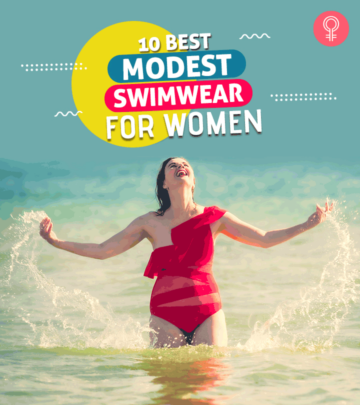 Be it a staycation with your family or a friends' day out at the beaches, keeping swimwear handy is always a good idea! If you wish to look modest wearing swimwear or want to protect your skin from the scorching heat of the sun rays, the best modest swimwear will be your best bet. Modest swimwear is sexy yet gives you a flattering and comfortable fit. Now, who wouldn't want that?
There are endless modest swimsuits available on the market, and choosing the right one may be tough. So, we have curated a list of the 10 ideal modest swimwear that provides you with the perfect coverage and fit. Keep reading to check them!
10 Best Modest Swimsuits For Women In 2022 That Don't Sacrifice Style
Experience utmost comfort and confidence with this Tankini Swimsuit by Baleaf! It is made with 80.5% nylon and 19.5% spandex, which is super stretchy, durable, and chlorine-resistant. The swimwear features an adjustable and detachable shoulder strap design, which converts into a sexy one-shoulder or regular shoulder style. The ruched style hides your muffin tops and bulges to ensure a streamlined look.
This swimwear comes with removable padded cups that feature an anti-slip function to offer maximum support. The mid-rise brief bottom and top are fully lined, so you do not have to worry about being seen through even if you are soaking wet! The material also guarantees a UPF 50+ sun protection, which makes it perfect for surfing!
Specifications
Material: Nylon & Spandex
Color: Green
Sizes Available: X-Small to 3X-Large
Pros
Tummy control
High-quality fabric
Pull-on closure
Chlorine-resistant
Perfect for pregnant women
Stretchable
Durable
Comfortable to wear
No fabric transparency
Cons
Poor bust support
Cheeky bottom
This two-piece suit by Captainswim includes a set of well-fitted pants and a top. It provides ample sun protection on the beach, and its material is super soft and comfortable. The swimsuit is made with a blend of spandex and nylon, which makes it breathable. The quick-drying fabric is stretchable and, therefore, perfectly embraces your curves. It is also available in a wide range of sizes from XS to XXL to suit all body types and shapes.
Specifications
Material: Nylon & Spandex
Color: Gray
Sizes Available: X-Small to XX-Large
Pros
Waterproof
Offers sun protection
Comfortable to wear
Soft fabric
Full coverage
Cons
If you're looking for the perfect modest plus-size swimwear, look no further than this bathing suit by Jinxueer! This tankini top comes with a full coverage skirt bottom and bikini shorts that offer a super classy and chic appearance. The top is made with 82% polyester and 10% spandex blend, while the bottom is made of 82% chinloan and 18% spandex for utmost comfort and the perfect fit. Be it pool parties, water sports, or swimming – this modest swimwear is an ideal choice for every plus-size beauty.
Specifications
Material: Polyester & Spandex
Color: Yellowleaf
Sizes Available: 10 to 28 Plus
Pros
Adjustable straps
Good tummy control
Good coverage
Stretchable
Lightweight
Breathable material
Flattering fit
Cons
None
The Modest Tankini Swimsuit by Omichic is a 2-piece swimwear that enhances your body shape. The wide elastic straps and the cute knot in the front allow you to adjust the size for the perfect fit conveniently. It comes along with a boy shorts bottom, which has a high elastic waistband to cover your tummy that provides you with adequate coverage. The material is made from a blend of 82% nylon and 18% spandex, which is super soft on your skin, breathable, and durable. This swimwear comes in a wide variety of colors, including solid shades and gorgeous floral prints.
Specifications
Material: Nylon & Spandex
Color: Z-Purple
Sizes Available: Small to XX Large
Pros
Tummy control
Breathable material
Durable
Flattering fit
Removable padded bra
Quick-drying material
Stretchable
Cons
This two-piece Women's Tankini Swimsuit is made with 82% nylon and 18% spandex that ensures comfort and a snug fit! The soft and stretchable material of this swimsuit is lightweight and breathable. The loosely designed crew neck tank top covers your belly and gives you a slimming look. The mid-waist boy shorts cover your hips and enhance your leg lines for a chic yet modest look. It is perfect for pool parties, water parks, beachwear, water sports, vacations, or diving.
Specifications
Material: Nylon & Spandex
Color: Brown & Green
Sizes Available: 8-20
Pros
Breathable material
Stretchable
Lightweight
Comfortable to wear
Tummy control
Flattering fit
Cons
This Athletic Swimdress by Shira Modest Swimwear features an A-line cut and 3/4 sleeve design for the perfect coverage. It is made with 80% nylon and 20% spandex, which does not cling to your skin and dries quickly for added convenience. It also provides sun protection of up to UPF 50+, so you can enjoy your beach party without worrying about sun damage.
Specifications
Material: Nylon & Spandex
Color: Aruba In Black/ Color Splash
Sizes Available: Small to Large
Pros
Quick-drying
Comfortable to wear
Smooth material
Soft on skin
Perfect fit
Cons
If you love surfing, then check out this swimming suit by TianMaiGeLun! It features a half-sleeved long top and a three-fourth bottom to give you maximum coverage and comfort. It is made with 80% polyester and 20% lycra that makes the swimwear lightweight and quick-drying. The top has a tie to keep it from riding up while swimming. It comes in three gorgeous colors – navy blue, red, and sky blue.
Specifications 
Material: Polyester & Lycra
Color: Sky Blue
Sizes Available: Small to 5X Large
Pros
Lightweight
Quick-drying
Tummy control
Snug fit
Comfortable to wear
Cons
When your swimsuit takes time to dry, it can leave you feeling cold and uncomfortable! This modest swimsuit by Yeesam is made with 82% polyamide and 18% spandex that dries in an instant and keeps you cozy after every dip. The set comes with a swimming cap, a top, and capri pants, perfect for surfing and swimming. Along with the full coverage and modest fit, this swimsuit also provides you with UPF 50+ sun protection so that you can say goodbye to redness and sunburns.
Specifications
Material: Polyamide & Spandex
Color: Green & Black
Sizes Available: 2-4 to 14-16
Pros
Fade-resistant
Quick-drying
Lightweight
Ample tummy control
Comfortable to wear
Cons
None
This loose-fit Tankini Swimsuit by Yonique comes with a matching mid-waist bottom that accentuates your natural curves. It is made with super-smooth material that is soft on the skin, comfortable, and durable. The blend of 82% nylon and 18% spandex ensures the right amount of stretch for a snug and comfy fit. The swimsuit has adjustable shoulder straps, along with soft push-ups sewn-in bra cups, to provide maximum support and retain your body shape. You can also pair this swimwear with your favorite pair of yoga pants or any other bottoms.
Specifications
Material: Nylon & Spandex
Color: Gingham
Sizes Available: XS to 22 PLUS
Pros
Flattering fit
Smooth fabric
Tummy control
Durable
Quick-drying
Cons
This sexy Tankini Bathing Suit by Zando is made with a blend of polyamide and spandex that is breathable, comfortable, and soft on your skin. This gorgeous tank top comes with wide adjustable straps and a tummy control design to provide you with great support and coverage. It is perfect for women of all ages and is suitable for beach parties, tropical vacations, and swimming.
Specifications
Material: Polyamide & Spandex
Color: Whiteness Pattern
Sizes Available: 8-10 to 18-20
Pros
Breathable material
Durable
Holds in your tummy flaps
Adjustable straps
Flattering fit
Cons
The 10 modest swimwear above allow you to enjoy pool parties and beach vacations without worrying about rashes or sun damage. Our buying guide below will help you ensure the best buy. Read on.
The Ultimate Modest Swimwear Buying Guide
You may come across one-size swimwear. But do not fall for it. Every body has a unique shape and measurement, and therefore, it is important to have a variety of sizes to choose from. Refer to size charts and select swimwear that will accentuate your curves and keep you comfortable.
No matter what fabric you choose, make sure it is not too thin as it might become transparent when wet. You should choose fabric blends like elastane and spandex, so they give the right amount of stretch for a snug fit. The material should also be quick-drying and moisture-wicking to keep you dry and comfortable after every dip!
Find a color that suits the climate and body type. For instance, anything metallic or too bright should be avoided if you have a fuller figure! Also, go for darker colors for a slimming effect.
Modest swimwear comes in a wide range of styles. In the segment below, we have mentioned a few styles and their benefits. Read on.
Different Styles In Modest Swimwear
High necklines offer a smooth look by concealing cleavage and supporting a flattering appearance. Along with comfort, choosing a swimsuit with a higher neckline prevents the sensitive bust area from getting sunburnt.
Bandeau & Halter Necklines
Bandeau necklines do not have to be high but can provide a sleek and modest look as they are designed to lay straight and flat across the top of your bust area to prevent any cleavage. Similarly, halter tops cover the bust area while creating a straight line across the middle or top of the shoulders.
Surplice swimwear gives a cross-body look, which is not just flattering but also modest. The subtle V neck design doesn't dip down too far, while the bottom falls a bit over the hips for additional coverage.
These styles are perfect for modest swimwear bottoms with a feminine flair. They skim the hips and provide a sleek fit, which goes well with various swim tops.
Swimming tops and shorts are perfect for a summer day as they give a relaxed and stylish look while being modest. They come in various lengths, so you can choose the best one to suit your comfort level. They also protect your skin from harmful sun rays.
Caps sleeve swim tops give you a fun yet a modest look as they do not show off the shoulders. They pair perfectly with shorts or swim briefs for a carefree look.
Swim Skirts With Leggings
Swim skirts with leggings give a flirty and fun look while maintaining a modest style. They are perfect for keeping you comfortable and confident while being attractive.
Regardless of your size or shape, the key to choosing the right swimwear is finding the best style that gives you good coverage and a balanced fit. Whether you're looking for an athletic swimsuit or a stylish contemporary suit, the products listed above would be of great help. In addition, some swimwear provide tummy control, some are crafted with breathable material, and some provide a sleek fit. However make sure that you don't buy something that might cause discomfort while swimming. Gear up for the perfect summer fun!
Why Trust StyleCraze
Srijani Roy, the author of this article, is a fashion enthusiast. Her passion for fashion makes her experiment with trendy outfits, whether for a pool party, office party, or daily workout wear. She also provides her readers with research-based products. For this article, she went through hundreds of user feedback on various platforms and went through the key specifications of products in detail. The best modest swimwears provided above offer great coverage keeping you comfortable.
Frequently Asked Questions
How do I care for a swimsuit to make it last?
Soak your suit with clean water before hopping in the pool or the sea. This will prevent it from soaking too much in chlorinated or saltwater. After swimming, rinse it off with mild soap or your body wash to eliminate any sediments. Just like lingerie, swimsuits should be hand-washed to ensure a longer life span.