Top 5 Moringa Benefits For The Skin, DIY Masks, & Who Can Use
Its skin-enhancing effects can be attributed to its powerful nutritional profile.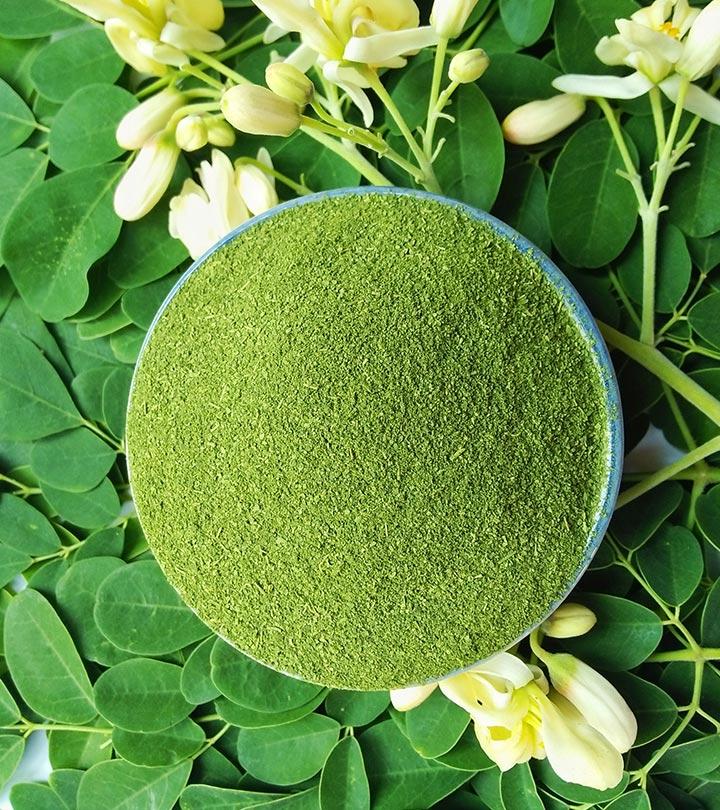 Moringa, also known as Moringa oleifera, is a tree with edible leaves and fruits and is considered a superfood. However, you may be surprised to know that you can also use moringa for skin benefits. It is an extremely versatile tree whose parts are used for different purposes.
This tree is mainly found in Africa and India and helps treat malnutrition (1). Owing to its high nutritional benefits, it has become quite popular. You can consume it as well as use it on your skin. Moringa extract is natural and does not irritate the skin when used topically.
You can blend moringa leaves and prepare a thick paste. You may also buy moringa powders, capsules, and oils available on the market.
The pulp, powder, and oil can do wonders if applied to your skin. It has been used by the ancient Romans, Egyptians, and Greeks to protect the skin against sun and dust (2).
This article explores the benefits of moringa and how to use it on your skin for the best results. Keep reading to learn more.

Quick Tip
Since every part of a moringa tree is known to be beneficial to humans and animals, the tree is popularly known as a 'miracle tree.' It is also commonly called a 'drumstick tree.'

Know Your Ingredient: Moringa
What Is It?
A fast-growing tree native to the Indian subcontinent with edible leaves and fruits.
What Are Its Benefits?
Rejuvenates the skin, reduces acne, shrinks pore size, fights signs of skin aging, and improves skin complexion.
Who Can Use It?
Suitable for use in general.
How Often?
Topically, once every 2-3 days.
Caution
Conduct a patch test before using it. Consult a doctor in case of an allergic reaction.
Benefits Of Moringa On Skin
1. May Fight Signs Of Premature Aging
With the stresses of life and bad environmental conditions, skin becomes crapy and develops wrinkles faster. Moringa can help prevent the early onset of wrinkles or age spots. It is rich in nutrients and antioxidants. The antioxidants help fight against the free radicals that could accelerate aging.
In addition, the sun's UV rays account for almost 80% of the usual signs of skin aging (3). The anti-inflammatory benefits of moringa may also reduce the damage caused by UV radiation.
Moringa has more than 7 times the amount of vitamin C than an orange (4). Vitamin C is an active ingredient that helps manage collagen production in the body. This way, it may help delay the onset of wrinkles and fine lines.
2. May Help Fight Acne
Acne is caused when the tiny pores on the skin are blocked due to excess oil or dead skin. Moringa boasts strong anti-bacterial properties that help reduce acne breakouts. Excess oil is not the only cause of acne. Stress and acne have long since been linked (5). The anti-inflammatory and antiseptic properties of moringa oil may also help fight acne (6).
Some believe those with dry skin may also benefit from moringa. Moringa is a natural humectant; it pulls moisture to the surface of the skin and gives a subtle natural glow.
3. May Help Shrink Pore Size
Large pores on the face make the skin look craggy and rough. The main cause of large pores can be traced to excess oil production. Large can genetic or caused by a loss of skin elasticity. due to chronic sun exposure.
Moringa is rich in vitamins A and C that are vital for collagen production in the body (7). Applying moringa oil, moringa paste, or even moringa powder to the skin may stabilize collagen on the face (8). It may also help shrink those pores.
4. May Help Improve Skin Complexion
Pollution, stress, and other factors may make your skin complexion dull. As per anecdotal evidence, moringa oil, moringa powder, or even fresh moringa ground to a textured paste may help restore your natural skin complexion. A study found that applying 3% moringa cream enhanced skin volume and texture and reduced wrinkles (9).
An application of moringa in any form  oil, powder, or paste can keep the skin soft and supple. Moringa may also help heal any wounds, cuts, or burns (10).
5. Cleanses And Rejuvenates Skin
In addition to pollution and stress, acne and other spots could appear on the skin if dirt accumulates on the surface. Even makeup that is not properly cleaned could lead to build-up.
Moringa is famous for its cleansing properties. Moringa oil, moringa powder, or fresh moringa paste may help remove the dirt accumulated on the skin. It is also believed that moringa can reach into the skin pores and cleanse skin deeply. However, more research is warranted to further understand this benefit of moringa.
In the following section, we will look at the process of making moringa powder/oil at home.
How To Make Moringa Powder/Oil At Home
You can get moringa oil or moringa powder readily in shops. Almost all of the products in the market are organic.
However, it is quite easy to make moringa powder and oil at home.
For the powder, start by sun-drying fresh moringa leaves. Once they have completely dehydrated, you can pulse the leaves in a grinder to get the fresh moringa powder.
Preparing moringa oil can consume a little more time:
You will need the seeds of the moringa fruit (a drumstick).
Separate the seeds from the pulp and wash them. Dry roast them in a pan till the seeds turn brown. Remove from heat and allow to cool.
Blend the seeds to a fine powder in a dry grinder. Add the powdered seeds to a pot of boiling water.
Keep boiling the water for about 20 minutes till you see a layer of oil floating on top of the water. Skim the oil and freeze to separate the oil from the water.
Here are a few DIY moringa masks that help you achieve clear and clean skin at home.
DIY Moringa Masks
1. Moringa Face Mask With Honey
Ingredients
1 tablespoon of moringa powder
1 tablespoon of honey
Rosewater (if necessary)
Method
Mix the moringa powder and honey to form a thick paste. If the paste is too loose, you can add a few pinches of moringa powder to get the right spreadable consistency.
In case the paste is too thick, you can add a few drops of rosewater to dilute. The rosewater also adds to the rejuvenating properties of moringa.
Apply the paste all over your face. Avoid applying over your eyes and nostrils.
Let the mask sit for 15 to 20 minutes. Clean with lukewarm water.
This face mask helps reduce acne and cleanses the skin right down to the pores.
2. Moringa Leaves And Aloe Vera Cleanser
Ingredients
A handful of moringa leaves
2 tablespoons of aloe vera gel
Method
Wash moringa leaves in water to remove any dirt.
Blend to a thick paste in a grinder.
Add aloe vera gel to the paste to achieve a spreadable consistency.
Apply over the face and leave for a few minutes until the pack becomes dry.
Wash with plain water. Dab with a clean towel to remove excess moisture from the face.
3. Moringa And Sugar Body Scrub
Ingredients
2 tablespoons of moringa powder
1 cup of finely granulated sugar/brown sugar
2 green tea bags
1 cup of hot water
2 tablespoons of coconut oil
Method
Dip the tea bags in the cup of hot water. Allow the tea to steep. Once the water cools down, discard the teabags.
Add the sugar, moringa powder, and coconut oil and mix well. Ensure the mixture is well combined. The mixture should neither be too dry nor too wet. The consistency should resemble wet sand. Add coconut oil or sugar to adjust the texture accordingly.
Use the scrub twice or thrice a week. The ingredients in the scrub help remove dead cells and rejuvenate the skin.
While the masks are easy to prepare and use, do they cause any side effects? We will explore the same in the next section.
Side Effects Of Using Moringa
Topical application of moringa (in its various forms) is largely considered safe. That said, perform a patch test on a very small area before using moringa on your skin. Also, be mindful of the concentration or quantity of moringa. It is best to use moringa extract in low quantity. Consult your doctor if you experience any adverse reactions.
Consumption of moringa may lower blood pressure (10). It could cause issues in those already on medications for lowering blood pressure.
Moringa may also cause uterine contractions (11).
Some believe intake of moringa may also impact fertility. However, research is limited in this regard. Stay safe and avoid use.
Who Can Use Moringa?
Although there may be restrictions on who may consume moringa, almost all can use it on the skin. Just be wary of any allergic reactions. Remember to do a patch test before using it on the skin.
How Frequently Can You Use Moringa On Skin?
You can use moringa in your skincare routines quite frequently. However, like with any scrub or mask, there should be at least a day€™s gap before applications. There are no age restrictions for using moringa. However, its use is not recommended on children as they have sensitive skin.
Infographic: Interesting Facts About Moringa
Moringa's most well-known facts usually revolve around its culinary and skin advantages. However, did you know that it is an incredibly versatile tree whose parts are utilized for a variety of purposes? Check out the infographic below for some moringa facts you may not be aware of!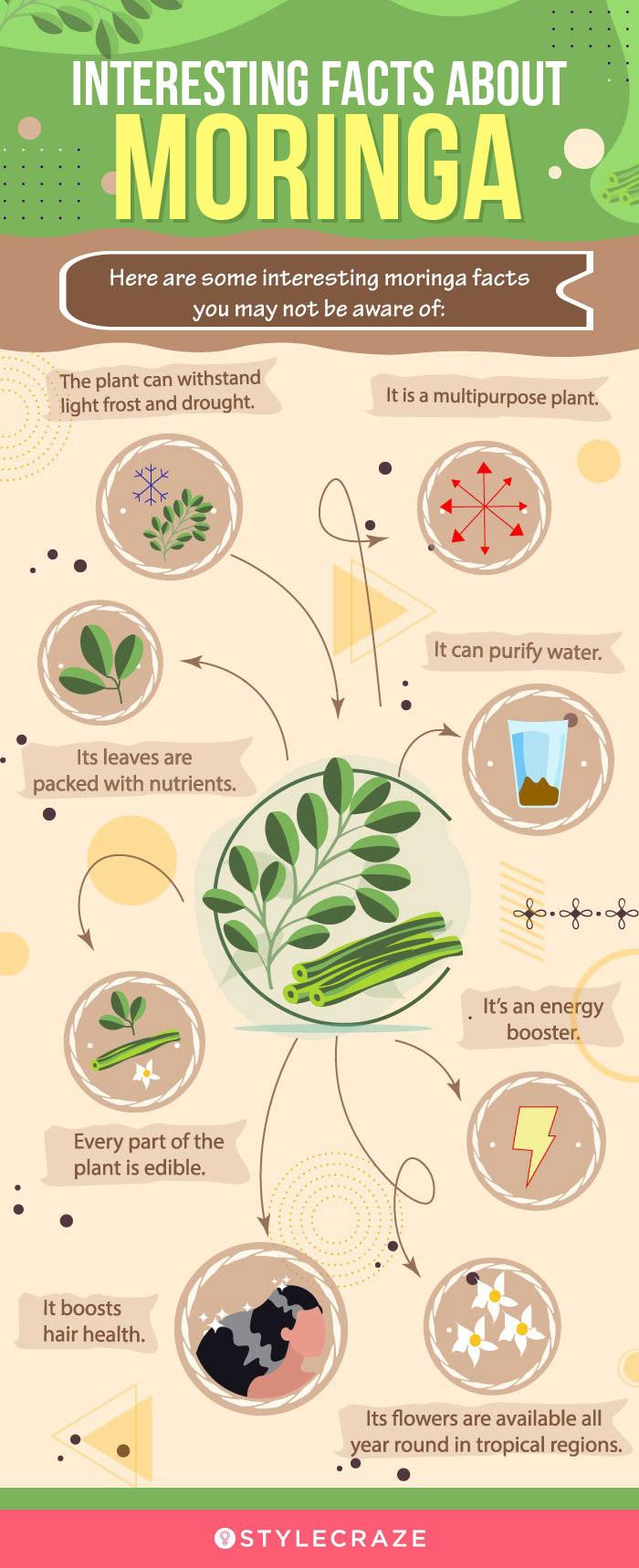 Did You Know?
Moringa is a drought-resistant tree and belongs to the Moringaceae family of trees.
Moringa is a highly nutritious plant that has been used for centuries in a daily skincare regimen. The benefits of using moringa on your skin may include reducing acne and slowing down skin aging. Its high antioxidant and vitamin content stimulate collagen production and improve the overall texture of your skin. You can either use moringa powder or oil available in shops or make your own DIY moringa face masks at home. Topical application of moringa is considered safe. However, perform a patch test before you apply it. Consult a doctor if you experience any allergic reaction.
Frequently Asked Questions
How long does moringa take to start working?
Moringa can take a few weeks to three months to produce any results.
Can moringa heal stretch marks?
Yes, you can apply moringa oil to your skin during and after pregnancy to increase skin suppleness and heal stretch marks and scarring. There is, however, no scientific evidence to support this claim.
Key Takeaways
Moringa keeps the signs of aging at bay, fights acne, improves your complexion, and cleanses the skin.
You can make a face mask, a cleanser, and a body scrub at home with moringa leaves.
The topical application of moringa is generally safe unless you are allergic to it.
Sources
Articles on StyleCraze are backed by verified information from peer-reviewed and academic research papers, reputed organizations, research institutions, and medical associations to ensure accuracy and relevance. Read our editorial policy to learn more.