Top 25 Most Beautiful Athapookalam Designs To Try In 2019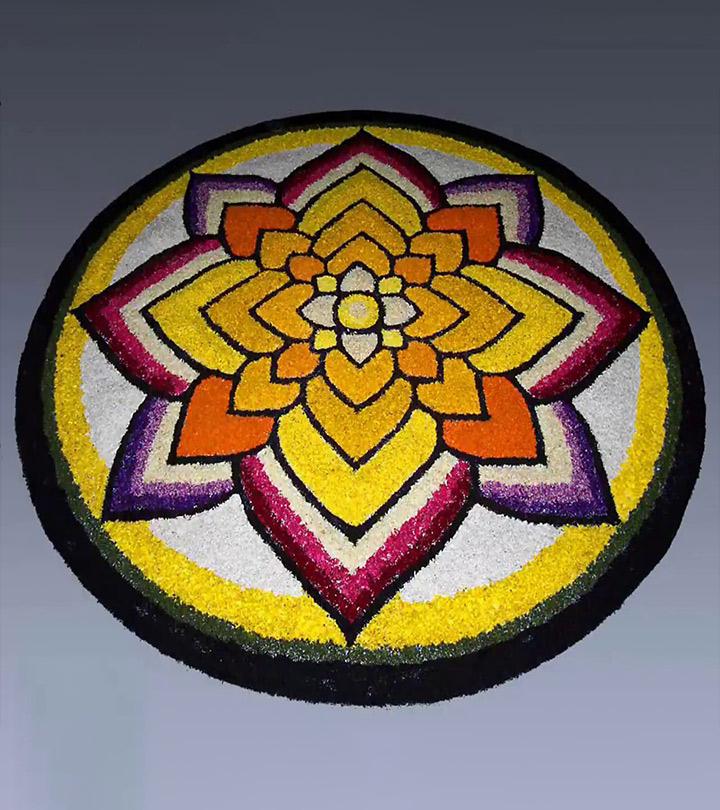 Indians love colors and it's natural that we show this love for colors in various forms and ways. One such beautiful way is through colorful Rangolis. So what is rangoli? Well, it is a brightly colored design created using colored rice powder and sometimes supplemented by flower petals and other colorful materials.
Rangoli holds a great significance in Indian culture. Nearly every household of India believe that festivities are incomplete without rangoli. They truly believe that rangoli is a means of welcoming Hindu deities.
Today we talk about athapookalam, which is mostly flower rangoli, which uses flower petals, leaves and colors to draw beautiful rangoli on the floor. Choosing the best design keeping in mind theme, space and colors can be tricky.
So here StyleCraze presents a list of 25 amazing Onam athapookalam designs for you to try ion 2019. We're sure they will surely intrigue you:
Athapookalam Designs To Try In 2019:
1. This design is based on a flower shape in the middle. The flower shape is done in the middle of the circular shape. The use of various colorful flower petals makes it a perfect choice to add some color to your home this festive season.
2. This design is quite unique as it's not the usual symmetrical design we see. The diya designs on the rangoli as well as the real diyas used around the rangoli looks elegant and well suited for Diwali theme.
3. Vivid rangolis are made with many multicolored flower petals. These make for an attractive sight, and this round flower rangoli is just what we meant. The different colors like green, yellow, saffron and white make for a pretty contrast. The flowers used here are readily available, and this rangoli can effortlessly be recreated at any time of the year.
4. Some designs do speak for themselves, and this beautiful flower rangoli is one of the finest designs. The design is made with different colored flower petals in bright pink, lavender, white, yellow, etc. and looks mesmerizing. If you plan on doing this design, it will surely grab people's attention.
5. Flower rangolis such as this one, shaped like a flower itself looks very beautiful for any occasion. The use of commonly found flowers in the rangoli makes it very easy. The red and white flower design in the middle is also very pretty and surely increases the beauty of this rangoli.
6. Designs like these may be common but have their own place in the hearts of artists. The swastika in the middle speaks of an auspicious event at one's home, and different colors add to its charm. The design looks difficult but with a rough design drawn before the floral rangoli, it will surely be easy.
7. Rangoli is a complex art. Sometimes trained hands are needed for those perfect rangolis. This rangoli here is made from flower petals and is a very commonly shaped round rangoli. The crisp designs in this case make all the difference. The clean designs create this beautiful design. The use of green color makes it quite stand out.
8. Onam is a widely celebrated festivity. Multicolored athapookalam designs are rather popular during Onam festival. This design is fairly complex and uses some good number of colorful petals. The design is suitable for those who are well practiced at the art of rangoli making. The use of bright shades like magenta, orange, red and yellow create a great contrast within the rangoli.
9. Abstract designs near the perimeter of the rangoli make this design beautiful. The centre of the rangoli is occupied by a Star-shaped design. The central design is done with yellow and purple. The outer designs around it are quite unique designs. This use of different contrasting colored petals is very nicely done. The precision of design also suggests that this is for a well-practiced rangoli maker.
10. This rangoli design is fairly simple and is quite colorful too. It's just the perfect way to make our homes bright. The outer circles see the colors of our national flag come to life. The central designs within is also great. The focal designs see use of alternating shades to make the design the most colorful.
11. This rangoli here is quite different from the usual rangoli shapes. The square shape makes it a unique rangoli design. The design, however, uses commonly available flower petals to make this design. If you feel bored with the common round rangolis then it's a great way to try something new.
12. Flower shapes and pictures of flowers remain a common subject for athapookalam. This design here shows a flower shaped rangoli. The design is fairly easy, and the centre holds a star shape. While this design can be seen as a flower shaped one it also resembles a ground charki.
[ Read: 50 Best Pookalam Designs ]
13. Corner rangolis are effective and do justice to the packed-up apartments we live in. The holiday season calls for special decoration, and small corners can use this design to doll up. The use of any additional item is fairly one's own but even without any additional decoration it's a beautiful sober rangoli and takes very less effort to achieve.
14. Stars and the sun have been the topic of interest among humans for a long period of time. Here Sun and stars makes for a beautiful combination in this rangoli. The central design here is of a star shape, and the outer part shows the designs of sun's rays. The use of different contrasting flower petals makes this a colorful option for the festive season.
15. Rangoli is inseparable from the Onam festival, and hence it's the best time to try this design. The design uses contrasting colored petals to make this rangoli a delight for the viewers. We're sure you will get lots of appraisals for this one. The basic flower petals used here are easily available like saffron, red, white, light yellow and green.
16. Complex designs like these are tough for beginners but looks attractive when done. The flower petal design on the perimeter and the floral design in the centre is pretty. Different colored flower petals are used here and the outlines are done finely making it such an attractive design.
17. This design shows different floral shapes in this rangoli. The design uses common flower petals, which are easy to find and the border is being done using green leaves. Leaves are topped with diyas and decorated around the design. The use of colors is done very cleverly and this creates a beautiful contrast within the repeatedly used colors. Saffron, white, yellow, green and black remain the main colors used here.
18. Pink is a color every woman holds dear to her heart, and this pink rangoli is surely going to be a favorite for all. The use of rose petals, white and saffron colored flower petals make this a very attractive rangoli. The diyas around the rangoli make it look more beautiful. The use of a lotus flower in the midpoint of the design surely decorates it more.
19. This floral shaped flower rangoli is unique in itself. The centre holds beautiful scenery also made with flowers. This is a prize-winning design and will surely delight your guests during festivities. The design uses distinctive colors, and the unusual designs are done with precision. Once done perfectly, this athapookalam designs look wonderful.
20. This small flower rangoli design looks perfect for the last moment or just to decorate a short part of your home. The floral shape is beautifully done using pink, lavender and white flowers. The central design used different yellow shades as well as white and lavender shades. Diyas are used for the radius of the circle to decorate it.
21. This design is uncomplicated as it uses easy floral and geometric shapes, making it easier for the beginners. The rangoli can be used to highlight items like Lamps and stands.etc. but it can also be done to decorate any part of the house. The petals used here are largely available making it an easy rangoli to recreate in any season.
[ Read: Best Pongal Rangoli Designs ]
22. This rangoli is small enough to fit in any part with your house or apartment. It is worry-free to reproduce as the design is very common and free of any complexity. It can also be used to decorate a centre piece or diya stand like in the picture. The colors and designs used here are uncomplicated and do not require great amounts of practice. The flower shape is ordinary too with four petals, which can be created easily.
23. Substantial sized rangolis are a result of communal effort and is a great way to show the harmony within the people. Here is such an enormous flower rangoli, which is simple yet is large. The background of the design is made with white powdered color to make the design stand out. The border is made with red flowers. The central design is of a flower with the alternative petals having different designs. The colors are commonly used colors like saffron, yellow and red.
24. This design is an attractive circular shaped floral rangoli which looks sober and pretty. It has a simple yet handsome looking design which brings into mind the colors of the national flag. Saffron, green and white are the primary colors of the Indian flag and feature here too. The lavender colored flower petals used to do the backgrounds also make this quite unique.
25. India's fight for freedom has been a source of inspiration for many people. Even today Independence Day brings back memories of the 200 years of British rule. The patriotism is seen here through a rangoli. This flower rangoli is done keeping in mind the theme of India's freedom movement. Here we see the impression of Gandhi on the backdrop of the Indian tricolor. The focal design features within a lotus flower and is surrounded by other designs. The boundary is done using white and saffron flower petals in a spiral form.
[ Read: Peacock Rangoli Designs ]
So these were the top twenty five athapookalam designs with themes chosen by us. There are many more such wonderful designs. Do try these designs at home and let us know how you feel about these designs.
The following two tabs change content below.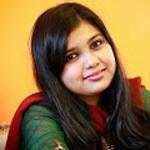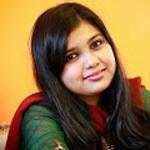 Shabby
A Blogger, a writer, Makeup hoarder and makeup fanatic- I love writing and love love trying new products and sharing my makeup ideas with the world. .