Top 15 Most Beautiful Hydrangea Flowers
These top varieties of the beautiful Hydrangea flower can spruce up your home and garden.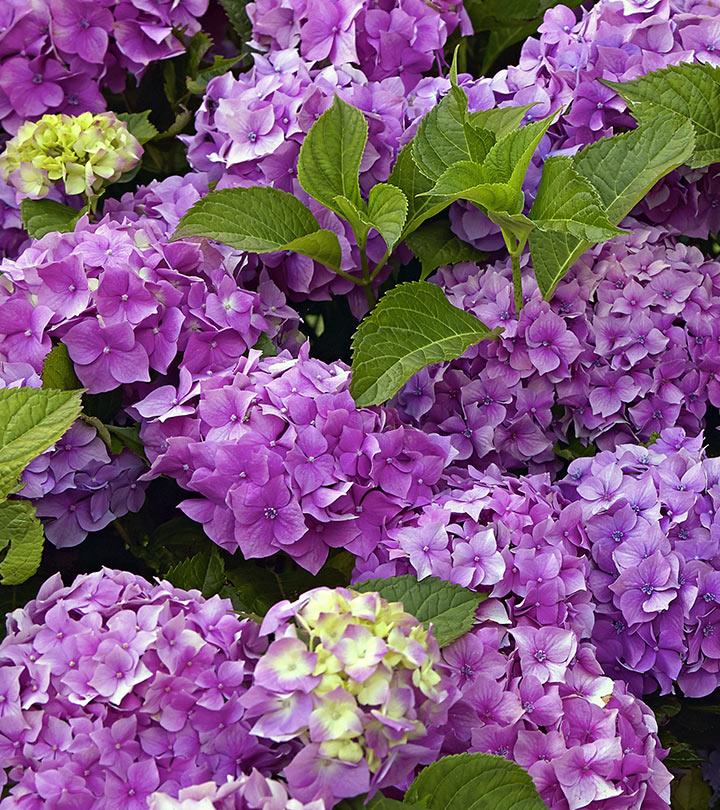 "Thank you for understanding" – sure, this rings a bell. Beautiful hydrangea flowers convey this message. They were discovered first in Japan, and their name originates from the Greek word 'hydor,' which stands for water, and 'angos,' which means jar.
These flowers are star-shaped and packed very close together, so they make a perfectly soft and lacelike ball. Some of its popular styles consist of lace-cap flowers, which are flat and round, and mop head flowers resembling pom-pom. You can find these stunning flowers in colors such as blues, pinks, and soft whites.

Did You Know?
The color of a hydrangea flower is determined by the pH level of the soil in which it grows. For instance, a pH below 5.5 gives blue flowers, a pH between 5.5 and 6.5 gives purple flowers, a pH between 6 and 6.2 gives white flowers, and a pH over 7 gives pink flowers.
These pretty flowers symbolize heartfelt feelings, gratefulness, and boastfulness, owing to their round shape and flowers in abundance. Loved for their boldness, these flowers are fourth wedding anniversary blooms. Below is a list of some of these flowers that are a sight to behold. Keep scrolling!
Most Beautiful Hydrangea Flowers
1. Hydrangea Anomola Petiolaris:
Petiolaris is the best hydrangea of Anomola species. It is heart shaped, with dark green leaves which turn yellow with time. It works best when allowed to grow up a tree and is very hardy. These enchanting, showy, lacy flower heads appear in late spring and early summer. It is best grown in rich, medium well-drained soil in partial to full shade.

2. Hydrangea Arborescence Annabelle:
Annabelle's green and off-white large round blooms make this beautiful plant a real show off. The flower performs best from May till hard frost making this one of the best hydrangeas flower. It is native to America and its roots and leaves are also used for medicinal purpose. This graceful, lush, full shrub needs plenty of space to show off its spectacular beauty.
Nancy, a blogger cultivating hydrangea arborescence annabelle in her garden, expresses, "But the close-up view of them out my window is stunning. And the continuous buzz of tiny bees feasting on their nectar was a delightful summer song I long for in these cold, gray days of winter (i)."
3. Hydrangea Arborescence Hayes Starburst:
Hayes Starburst features magnificent, bold clusters of white flowers with creamy white overtones at the end of the branches. It turns brown as it ages which makes it an attractive dried flower for home. The flower requires good sun and well drained location. It opens first as lace caps, then the outer florets double creating a starburst effect. The leaves are very serrated and provide a great contrast to greenish white blooms.
4. Hydrangea Arborescens Radiata:
This is a beautiful white lace cap flower that radiates in sunny and bright garden. It has big, showy silver white flowers with shades of pink that gives it an appearance of Big Leaf hydrangea. The underside of its smooth foliage is silvery white which gives it a very appealing look. The flowers are large and have an attractive nodding habit. It is a good flower for decorative purposes that can be planted in a pot and is suitable for garden planting.
5. Hydrangea Aspera Kawakamii:
Kawakamii is a delicate lavender coloured flower with white lace cap blooms and dainty leaves. Its leaves are slender and light green in color. The great hairy leaves are topped with violet flower heads with white around the edges. Blossoming yearly during July and August this colorful flower makes for a unique sight to behold. This hydrangea flower is highly prized for its exotic color and texture.
6. Hydrangea Aspera Mauvette:
This fertile flower has a lovely, charming shade of mauve and slender stems and stalks. Its stems are reddish in color and turn burgundy as they age. It is a dome shaped flower which stands high above the petite fuzzy leaves. It is a very elegant, ornamental plant, which, combined with splendid foliage and white inflorescences, looks outstanding. The flower stays constant on all soils.
via Pinterest
7. Hydrangea Aspera Robusta:
Robusta is the most common and largest variety of Aspera found. The flowers are white and turn slightly pink as they age with purple centers. The foliage is comprised of large silvery green leaves which are quite rough in texture.
via Pinterest
8. Hydrangea Aspera Rocklin:
Rocklin is a fantastic foliage plant which is extremely popular for its contrasting color and texture. It is an upright shrub with attractive soft leaves, which is deep green on the top and is light green underside. It has super-sized, pale pink to purple sterile flowers with vibrant purple florets, making it a true floral beauty.
via Pinterest
9. Hydrangea Macrophylla Konigstein:
Konigstein blooms are dark red to purple in color which gives this prolific five foot hydrangea an amazing appearance. It has dark green and deeply veined leaves that add an extra dimension to the landscape. Its flowering period is from July to September.
10. Hydrangea Macrophylla Lemmonhoff:
Lemmonhoff has a strong German heritage like most of the hydrangeas. Lemmonhoff is an oversized blooming hydrangea flower which has pastel pink to rich blue blooms. It has dark green leaves which are deeply serrated.
via Pinterest

11. Hydrangea Macrophylla Nikko Blue:
Nikko bloom is one of the best, bountiful blue blooms you can everyday lay your eyes on. This flower will make a fantastic show of color in your garden and your living room. It starts with flowers that are cream colored with blue margins, and turns a gorgeous solid blue as the plant matures. The flower flaunts emerald green, tooth edged large leaves. The deep green foliage adds beauty to this flower.
12. Hydrangea Macrophylla Taube:
Taube is an elegant, eye catcher lace cap variety of hydrangea which has beautiful rose coloured blooms which changes its colour as it ages. The flower grows best if kept moist and well fed. It will be a lush addition to a woodland garden.
13. Hydrangea Quercifolia Munchkin:
Munchkin blooms early to midsummer and continues almost till the summer's end. The blossom opens white and matures to pink. It is a compact hydrangea and does not require maintenance for years. It has red foliage and bright green leaves which gives it an amazing appearance.
14. Hydrangea Macrophylla Alpengluhen (Glowing Embers):
Glowing Embers is a crimson red, large showy hydrangea with shiny, dark green leaves. Plant them in a hedge to add a rich color and warmth to your garden. Its abundant foliage is green in color and stands 10 inches tall.
15. Hydrangea Macrophylla 'Forever Pink:
Forever pink is a vigorous growing dwarf plant which bears bright pink 4 inches flowers that turns red as it ages. It has flourishing rich green foliage which gives a striking contrast to its dark green leaves. You can see it thriving best in semi shade or sun.


Did You Know?
Hydrangeas are perfect flowers to gift to people with pollen allergies as they produce allergy-friendly pollen. Their pollen is so sticky that even strong winds cannot blow them.
Infographic: 5 Vibrant Hydrangeas For Your Garden
Hydrangeas are amazing additions for your garden and can be used for events or simple home decor. However, there are some Hydrangea blooms that truly add a delightful vibrancy to their surroundings.
Scroll down for an infographic on Hydrangea types that are a must to enhance the charm of your garden.


Hydrangea flowers, discovered in Japan, are star-shaped flowers that are packed together. They are soft, lacelike, and can be seen in mauve, pink, white, and blue colors. The roots and leaves of hydrangea flowers are used for medicinal purposes. Some of the varieties of hydrangea flowers are highly prized due to their unique colors and textures. The beautiful hydrangea flowers mentioned above symbolize heartfelt emotions like boastfulness and gratefulness. These are one of the best choices to present to your loved ones on special occasions like anniversaries or birthdays.
Frequently Asked Questions
What is the best place to plant a hydrangea?
A sheltered location that receives plenty of morning sunlight and afternoon shade is the best place to plant a hydrangea.
Is there a hydrangea that blooms all summer?
Endless Summer hydrangea, also called bigleaf hydrangea, blooms all summer. It blooms on both old and new wood.
What month is best to plant hydrangeas?
Hydrangeas can be planted year-round, but avoid extreme weather conditions. Planting in the mild weather of spring (March to May) or fall (September to November) is the best time for hydrangeas.
What is the most shade loving hydrangea?
Oakleaf hydrangea is the best choice for shady conditions. With dramatic oak-shaped leaves, it is known to be shade-tolerant and can survive in different light conditions, ranging from full shade to partial sun.
Do hydrangeas need to be cut back for winter?
Yes, hydrangeas need to be cut back for winter but it depends on the type of hydrangea. If you have new-wood blooming hydrangeas, wait until late winter before new growth begins to prune them. For old-wood blooming hydrangeas, you should prune them right after their flowers fade in the summer.
What fertilizer is best for hydrangeas?
The ideal fertilizer for hydrangeas would be a balanced one with equal measures of nitrogen, phosphorus, and potassium. Slow-release fertilizer can also work great because it supplies your hydrangeas with nutrients over time. Another good option to consider would be organic fertilizers since they are environmentally friendly, and offer a diverse range of essential nutrients.
What are some common problems that can affect hydrangea flowers, such as pests or diseases, and how can they be prevented or treated?
Hydrangea flowers are prone to diseases caused by leaf spots, powdery mildew, rust, drought, and heat stress. Leaf spot occurs in humid conditions due to a fungus that spreads through spores. Avoid overhead watering to control it. Powdery mildew appears on warm days and cool nights and can be prevented by reducing humidity and increasing air circulation. Keep the plant healthy by removing dead or diseased material and providing a well-draining soil, adequate watering, and nutrients.
What are some creative ways to incorporate hydrangea flowers into DIY projects or crafts, such as wreaths or floral arrangements?
There are lots of cool ways to use hydrangea flowers in your DIY projects and crafts. You can press the flowers to create pretty pressed flower art or use them to make simple wall art or make bubble painting with the flowers. They are great for attracting bees, butterflies, and hoverflies to your garden. They can also be used in flower arranging, hydrangeas are the perfect addition to wreaths, centerpieces, and other arrangements.
Explore the different varieties of hydrangea flowers. This video covers the most beautiful hydrangea flowers that will uplift your spirits, anytime. Check it out.
Personal Experience: Source
i. Pick plants that pique your winter interest
https://nancysgarden.wordpress.com/2009/12/29/pick-plants-that-pique-your-winter-interest/