Top 24 Most Beautiful Russian Women
A round-up of effortlessly glamorous female personalities from the world's largest country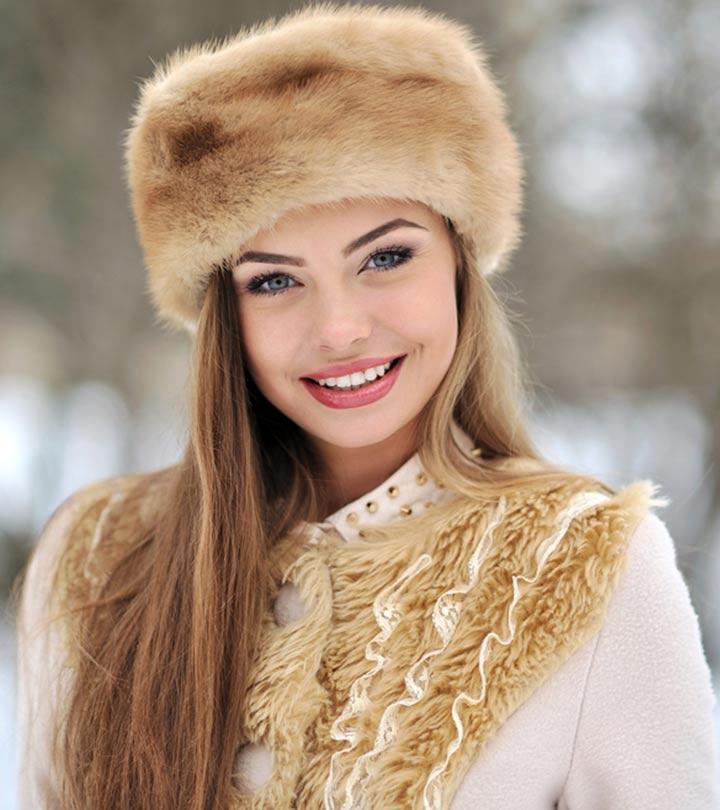 Beautiful Russian women have overall appealing personalities. Their facial features set the benchmark for beauty and glamor as these women sport stunning looks, sharp face structures, and toned bodies. Moreover, these ambitious women are known for their incredible charms and intelligence. They have taken the movies, fashion, politics, music, and other fields by storm. From leadership to science and arts, there is no area that these women have ventured into and not captured. Swipe up to know more about their beauty and work that inspired the world!
Most Beautiful Russian Women
Let us quickly see which gorgeous ladies get the crown of the top 24 most beautiful Russian women and represent their culture in the world.
1. Anna Kournikova
She is another beautiful Russian personality, a professional tennis player. Her charming beauty, grace, and increasing celebrity status have made her one of the best-known tennis stars worldwide. She was also the youngest participant in the Olympic history of Russia (all sports).


Did You Know?
Anna Kournikova made her WTA debut at the age of 14 years. She got a wildcard entry and competed in the qualifier matches for the Moscow Ladies Open.
2. Natalia Vodianova
This Russian beauty has run away from poverty and went onto become a famous fashion model. She has worked for several reputed international brands like YSL, Chanel, and Calvin Klein.
3. Maria Sharapova
Maria is the most searched tennis star on the internet. She is well-known for her beauty and sports worldwide. This Slavic beauty was born on April 19, 1987 in the small town of Nyagan in western Siberia. She began playing tennis from the early age of four.


Did You Know?
Maria Sharapova was a natural left-hander when she was young. However, she switched to being a right-hand player and practiced playing with both hands.
4. Alina Kabaeva
Alina Kabaeva is a world champion rhythmic gymnast. She has won many medals and is widely known for her absolutely amazing flexibility. She has an exquisitely sculpted body. Kabaeva retired in the year 2007 from competitive sports and has since been a member of the Russian Parliament. She is also said to be secretly married to Putin in 2008. This Olympic champ has the most irresistible smile.
5. Glukoza
Glukoza's real name is Natalia Chistyakova-Ionova. She is a Russian singer and solo artist by profession. She was born on June 7, 1986 in the Volga Region, USSR. Her hobbies are ballet and chess. She has also done a role in films like "Triumph" and "War of the Princesses", as well as acted in some episodes of "Yeralash". Glukoza got lucky with her music career when she was discovered in the year 2002 by producer Maxim Fadeev. She also recorded her music video, "Nevesta" (Bride) and "Nenavizhu" (I Hate), which was completely computer-animated.
6. Alla Pugacheva
She is the mother of popular actress and pop singer Kristina Orbakaite as mentioned above. She is а musical performer for the Soviet Union and Russia. She started her career in the year 1965 and is still in much demand.
7. Victoria Bonya
She was the TV host of the program 'Cosmopolitan' that aired on the channel TNT from September 2007. Victoria was also a participant in the reality show "Dom-2″ on TNT. This show was in demand for 11 months. She has also won the title of the "Sexiest star of domestic show business".
8. Maria Kirilenko
Maria is a professional tennis player from Russia. During the year 2008, this Russian tennis player became popular by the votes of the readers of the British newspaper, 'The Sun'. She then was known as the sexiest tennis player and still is one of the top beautiful Russian girls in the world.
9. Anna Semenovich
She is a Russian beauty who is a retired competitive ice dancer, a singer, an actress and has made her name in the modeling industry. She is a combination of beauty with brains. This diva was also an ex-soloist of the group "Blestyashie" (2003-2007).


Trivia
Early in her career, Anna was a figure skater and competed twice (1993-94) in the World Junior Championship.
10. Nyusha
Nyusha's real name is Anna Vladimirovna Shurochkina. She was born on 15th August, 1990 in Moscow, the capital of Russia. Though quite young, she is already a popular singer. She started her singing career at the tender age of 3 and had always cherished the dream of becoming a singer. Her first recorded song was "Pesenka Bolishoi Medveditsi" at the mere age of 5. Nyusha's first concert took place when she was only 12 years old.
11. Kristina Orbakaite
She is a Soviet and Russian actress. By profession she is a well-known pop musician and pop singer. Her mother, Alla Pugacheva was also a popular singer.
12. Dana Borisova
She is a popular name on Russian TV as a host. She has also been awarded with a diploma by the Ministry of Defence of Russia for her achievements in patriotic propaganda.
13. Alsou
She is a well-known Russian pop singer. She has been awarded with the following – Honored Artist of the Republic of Tatarstan (2000), People's Artist of the Republic of Tatarstan (2010) and UNESCO Artist for Peace (2011).
14. Kseniya Sobchak
This gorgeous Russian beauty is a TV host and a "socialite". She is the daughter of the first Mayor of St. Petersburg, Anatoly Sobchak and a member of the Federation Council, Lyudmila Narusova. In 2004, Sobchak played one of the lead roles in the reality show "Dom-2″ on the TV channel TNT.
15. Anfisa Chekhova
This Russian beauty is well-known as a TV host, singer and actress. She conducts erotic shows on television including "Sex with Anfisa Chehova" on the Russian channel, TNT, and "Good night, guys!" on the channel DTV.
16. Lera Kudryavtseva
Lera Kudryavtseva was born on 19th May, 1971. She is a Russian beauty known for her TV anchoring, acting and dancing. She married a musician Sergei Linyuk in the year 1990, which only lasted till 1992. She also had her first child at the age of 18, a son named Zhan Lenyk. Then, she married Matvei Morozov in the year 2004 which lasted till 2007. And now she is said to be in a relationship with the acclaimed musician, Sergei Lazarev since 2008.
17. Zoya Berber
Zoya Berber was born on the 1st of September, 1987 in Permi. The star is very popular for her TV series "Realinie Patsani" (Real Guys). In the year 2011, Zoya Berber earned the 5th place in the Russian edition of 'Maxim' magazine in which she was nominated in the list of "100 sexiest women in the country".
16. Kseniya Borodina
This beauty was the lead in the reality show called "Dom-2″ on TNT channel.
19. Tamara Gverdtsiteli:
Tamara is a Soviet, Georgian as well as a Russian singer, actress and composer. She is a complete package of beauty and talent. She was awarded the following: People's Artist of Ingushetia, People's Artist of Russia (2004), Honored Artist of Georgia (1989) and People's Artist of Georgia (1991). She can perform songs in more than ten languages.
20. Alina Artz
She is an ex-soloist of the band, 'Sirius' and the winner of the 'Miss Russian Night' competition. She was the presenter of the first Russian sport reality-show, 'M-1 Fighter'. She is also an actress, a TV and radio host. She made her debut as the presenter for the TV program named 'Das ist Fantastisch' on NTV channel in which each new program was performed as a theatrical miniature. During those days, Alina Artz was also acting in movies, plays in theatre and took part in the musical project named 'Sirius'.
21. Elena Zakharova
Elena Zakharova is a well-known theatre and film actress. She started her acting career very early during her school days. Elena Zakharova was born on November 2, 1975, in the city of Moscow.
She loves the Russian language, literature, and foreign languages. After her graduation from college in the year 1998, she began to work at the Moon Theatre. In 2005, Elena also took part in the reality show named "Empire" and the TV series, "Kadetstvo".
In September 2010, she got married to Sergei Mamontov, CEO of Systematic Software Solutions (Russia). In February 2011, Elena gave birth to a beautiful daughter and named her Anna Maria. But, unfortunately the baby died in eight months and the couple got separated.
22. Lisa Boyarskaya
Another stunning Russian woman we can't help but swoon over. Lisa Boyarskaya is a well-known and popular name in the Russian theatre and film industry. She is the daughter of Mikhail Boyarsky. Her popular films like 'Timur Bekmambetov' and 'Irony of Fate, Continued' (2007) have given her huge stardom and celebrity status.
23. Alena Sviridova
Alena Sviridova was born August 14, 1964 which makes her 40+. And gorgeous that she is, she still posed for Playboy! She loves music and started playing the guitar when she was in the seventh grade. This Russian beauty is a singer, TV actress, presenter and author of the book named "Suitcase Mood." She was also leading the program "Harem" in Kenya. Her discography includes a total of 8 albums.
24. Tatyana Arno
Her real name is Tatiana Sheshukova. She is a popular Russian TV host. Her mother is half-Estonian by nationality.
Infographic: 6 Strikingly Gorgeous Russian Women
Having sexy accents, desirable physiques, to insanely attractive faces, these Russian women are the embodiment of style, elegance, sophistication, and overall femininity. They can all band together and probably take over the entire world. Moreover, not only are they beautiful, they are also well-accomplished in their respective fields.
Check out the infographic below for a round-up of our top 6 picks of beautiful women from Russia who don't need any cosmetics to shine bright.


Russian women have attractive facial features and toned bodies. Most of them are independent and believe in their talent. They are blessed with impressive personalities and love to choose different fields like sports, music, and modeling. Their charming faces set the benchmark for glamour, and they are also known for their intelligence. You can find many beautiful women as professional tennis players, fashion models, gymnasts, singers, and dancers. Russia, a country in eastern Europe, is the birthplace of many beautiful women sports personalities and actresses. You can take inspiration from these women and work on achieving your dreams.
Frequently Asked Questions
Who is the most famous woman in Russia?
Actress and philanthropist Chulpan Khamatova, who is best known for co-founding a charity organization for cancer, is said to be the most famous woman in Russia.
Who is the most beautiful woman in Russia?
Model Irina Shayk is considered to be one of the most beautiful Russian women.
How can we appreciate and celebrate the beauty and diversity of Russian women without objectifying or fetishizing them?
While appreciating and celebrating the beauty and diversity of Russian women, avoid generalizing based on stereotypes. Instead, focus on their unique qualities and accomplishments that make them beautiful and worth celebrating. By respecting a Russian woman's individuality and culture and not treating her as a mere object of desire, one can appreciate and celebrate her respectfully and avoid limiting their mind to focus on physical appearance alone.
What are some of the qualities that make Russian women so captivating and alluring?
Russian women possess several qualities that are captivating and alluring. Some of these qualities include their strong and striking personalities apart from their slim and toned figures, sharp facial features, and beautiful eyes. Russian women are known for their incredible confidence, independence, and intelligence. They often have a strong sense of style and are unafraid to express themselves in their respective fields. They also have a deep appreciation for literature, music, and the arts. All of these qualities together contribute to the allure and mystique of Russian women, making them a subject of fascination and admiration around the world.
Experience the allure of the most beautiful Russian women in Moscow. Watch this video to be awed by the charm and elegance with which they have captivated hearts around the world.

Image source: 1 , 2 , 3 , 4 , 5 , 6 , 7 , 8 , 9 , 10 , 12 , 13 , 14 , 15
The following two tabs change content below.