Top 10 Most Beautiful Violet Flowers
Violet is the colour which symbolises royalty as well as deep mourning. Quite an irony, but in conduct it is true. Whether it is for a special occasion, your house or even your garden, violet can easily bring an intense touch of colour. Violet coloured flowers have the same effect. Read on to discover the top 10 violet flowers.
Enchanting Violet Flowers
1. Phalaenopsis Orchids:
The Phalaenopsis Orchid, also called the Blume, is quite beautiful when it fully blossoms. These flowers can bloom for several months if well taken care of and kept in balanced temperatures. They are one of the easiest forms of orchids to be grown for beginner gardening enthusiasts.
2. Agapanthus:
Originating from the southern part of Africa, Agapanthus is a summer blooming flower which has an upright position. They are best suited for your coffee table and can be kept upright with a mixture of sand and straw to form a dry mulch.
3. Aster:
Happy Daisy, as it is popularly known as, is presented to someone to show how much you like them. Hailing from North America, this violet flower belongs to a 600 species family and is a very popular flower species.
[ Read: Carnation Flower Meaning ]
4. Columbine:
A gardener's choice, this flower is best grown uphill and looks best in small gardens as they outsmart all other flowers with their beauty. They look like beautiful lanterns; the way they blossom. The yellow pollen is honey bees staple diet.
5. Freesia:
Born in a group of 16 species, these flowers are mostly found in Kenya and refresh the person who gets spell bound by its beauty. They not only bloom in your garden very easily, but also have a charming effect when donned on your suits or wedding bouquets.
6. Irises:
Inspired from the colours of the rainbow, this flower gets its name from the Greek word, Irises. Adorned with mini flags all over, they are delicate and charming to see. They stand tall and sway in the breeze without any fragrance, with a beautiful streak of violet all over.
7. Pansies:
Just like the Disney character Mickey Mouse, these flowers have their own spectacular charm when they bloom in your garden. Pansies have been a favorite since the 19th century, as Lady Bennet cultivated this species in her mini garden.
[ Read: Black Rose Pictures ]
8. Petunia:
With the power to blossom from spring to fall, these flowers look like shoe-flowers but without the pollen stick. They love sunlight and bloom to their fullest when exposed to the bright sun rays. They can grow easily on any soil with the help of good fertilizers.
9. Phlox:
These star shaped flowers bloom in groups covering the entire plant just like mini bouquets hanging around. They are bright, multi-floral and have a magical effect when they blossom in gardens. They easily attract birds and butterflies all the time.
10. Verbenas:
Just like multiple stars in a bright night sky, these buttons like flowers are pretty and bloom largely in gardens and meadows.
[ Read: Getting Over a Breakup ]

The following two tabs change content below.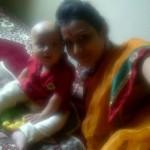 Latest posts by Khushboo Mehta (see all)