Top 15 Most Beautiful Zinnia Flowers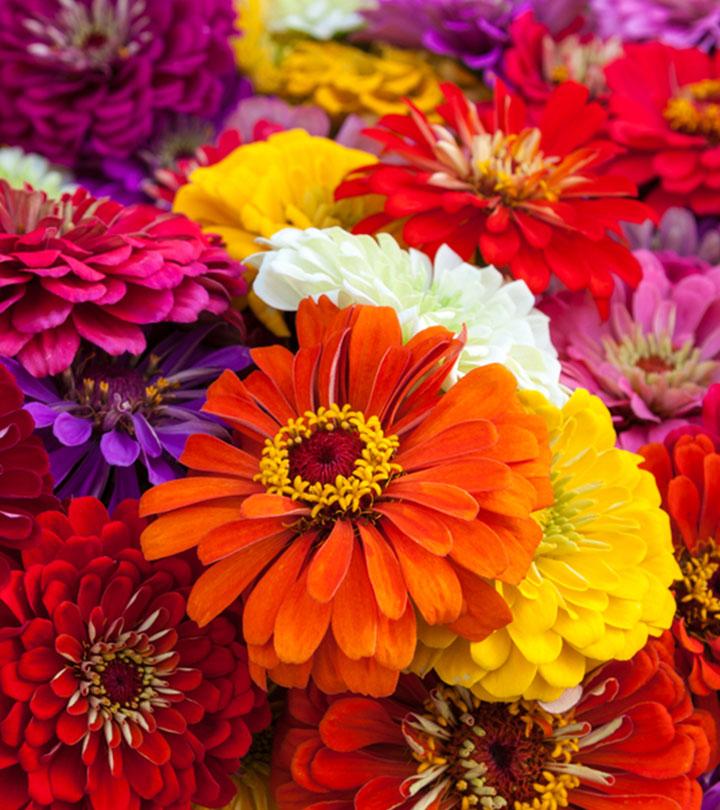 Zinnia flowers belongs to the family, Asteraceae and has around 20 species. It originates from the warm regions of Mexico, United States, Central and South America. Zinnias are annual flowers and add a vibrant charm to your gardens and decorations. They naturally exist in meadows and dry grasslands.
Zinnias are tiny, round flowers with green leaves and no stems. The leaves are oval in shape with slight surface hair. The solitary, round, daisy-like flowers have petals in single, semi-double or double rows. The flower blooms in shades like white, green, brown, purple, maroon and are even bi-colored. Zinnias are wonderful summer flowers and grow best in tropical and sub-tropical regions. Zinnia is a common bedding plant and looks great in containers and even as cut flowers as they last quite long. (Image 0)
Most Beautiful Zinnia Flowers
1. Zinnia angustifolia 'Classic':
This one is a bushy upright annual flower which belongs to the angustifolia species. Classic bears a profusion of small golden-orange daisy flowers with yellow centers. It blooms mainly in summers, in rich, fertile soil. It will make a splendid cut flower. This one, unlike other Zinnia flowers does not fade in summer. The flower blooms non-stop until frost and is ideal for a hot and humid summer climate.
Via Pinterest
2. Zinnia angustifolia 'Crystal White':
This is a cherry little annual which spreads joy in a sunny garden. Crystal white is one of the most lush and beautiful flowers of Mexican Zinnia. The blooms are startlingly white and have large golden centers and 2 layers of overlapping petals. The flower rests on beautiful green foliage and has bright green leaves. Crystal white has also received the AAS award for its abundant bloom and bright blossoms. The flower performs beautifully either in the garden or in containers. It blooms yearly from July till frost.
[ Read: Flowers ]
3. Zinnia angustifolia 'Star Gold':
Star gold is a bright yellow-colored flower which blooms yearly, in early summer till early fall. It has smooth-textured green foliage which bears single, star-shaped flowers. The flower can tolerate heat, humidity and even drought, making it a very hardy plant. The flower attracts bees, butterflies and birds.
Via Pinterest
4. Zinnia angustifolia Crystal Orange:
Crystal orange is a narrow leaf Zinnia that spreads broadly and randomly where conditions are ideal for the seeds to germinate. It grows quickly to a height of 25 cm and 14 cm in width. The flower grows best in direct sunlight exposure every day, in soil with consistent moisture.
Via Pinterest
5. Zinnia Star White:
White star Zinnia is a wonderful hanging basket variety flower. The flower is 3 inches wide and has pure white petals with yellow centers. It grows in partial to full shade in early summer. It is heat and drought-tolerant and can be grown even in mild climates. It is a low maintenance plant but should be pruned regularly. This pure white flower will make an excellent contrast to yellow golden zinnias. White star is much more resistant to diseases such as powdery mildew.
Via pinterest
6. Zinnia 'Cherry and Ivory':
Cherry and Ivory is a red and white bi-colored bloom and is a Zinnia grandiflora hybrid. The inner circle of each flower is a fire engine red and is succeeded by a narrow white circle with red edges. The color and beauty of this flower will renew the soul and will surely bring sunshine to your drawing room. It grows best in warm climates, in well-drained soils. The blooming begins in late spring to early September and continues till frost if the flowers are regularly pruned. The flower will make an amazing cut flower.
Via Pinterest
[ Read: Most Beautiful Lilies ]
7. Zinnia 'Dasher Pink':
Dasher pink is a round cheerful pink Zinnia which grows as a warm season bedding plant. The flowers germinate in warm garden soil so they can be easily planted indoors. It is a long-lasting flower with double flower heads and lance-shaped leaves. The flower is bright green in color and is 3 inches long. It thrives in sunny areas and is great for beginners.
Via pinterest
8. Zinnia elegans 'Benary's Giant Bright Pink:
It is a giant dahlia flower in bright pink color which grows on a long, sturdy stem. The blooms are clear and bright in color which makes them very eye-catching. It holds up well in summer, heat and also rain. The flower is perfect as both as a cut flower and for garden planting. It was awarded with the title of the Fresh Cut Flower of the year by the ASCFG. It is highly tolerant to diseases and mildew.
Via pinterest
9. Zinnia elegans 'Benary's Giant Carmine Rose:
This flower belongs to the Zinnia elegans genus and grows typically as an annual. The Giant Carmine Rose originates in Mexico and matures, and completes its life cycle over the course of a single year.
Via pinterest
10. Zinnia elegans 'Benary's Giant Deep Red:
This is a deep red Zinnia flower which would look amazing in both the garden and the living room. It thrives in full sun and loamy soil. The flower attracts bees and butterflies and is even disease-resistant.
[ Read: Most Beautiful Black Roses ]
11. Zinnia elegans 'Benary's Giant Lime':
Giant lime is a fully double flower which grows on long, sturdy stems. It grows in the foreground of darker foliage and green stems. It is an excellent flower and attracts butterflies. It blooms every year from late summer to mid fall and is native to North America. It has a deciduous broad leaf with greenish yellow petals.
Via pinterest
12. Zinnia elegans 'Benary's Giant Orange:
Giant Orange is an easy to grow Zinnia which yields long and sturdy stems with 4 to 6 inches fully double dahlia-like blooms. It is a vigorous plant which holds well in summer heat and rain.
Via pinterest
13. Zinnia elegans Lilliput Gem Golden:
Gem Golden belongs to the elegans genus and is part of the Lilliput GEM series. The compact and long-stemmed zinnias produce large, double blooms, are fully round and have flattened petals. This flower was developed by the German Seed Company, Benary, and blooms every year in late spring to early summer. They are desirable to butterflies and bees and are long-lasting flowers.
Via pinterest
14. Zinnia elegans 'Dreamland Yellow':
These are bright yellow-colored flower Zinnias that can perk up your garden instantly. It is a part of the Dreamland series and produces large flowers throughout summer. They are reliable, high performers and can tolerate harsh weather conditions.
Via pinterest
15. Envy Zinnia:
Envy Zinnia is one of the most stunning Zinnia flowers. It is a magnificent, lime-toned flower which acquires a green hue as it ages. It will make your garden gleam and your indoor arrangement delights with its unique look. It measures 2 inches in diameter and has a super packed, semi-double form that holds well in gardens and even vases. It grows best if given partial shade, in climates which are quite hot.
[ Read: Most Beautiful White Roses ]
The following two tabs change content below.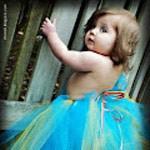 I'm Arshi who loves makeup, fashion and cars. Writing is my comfort!!! I love learning new languages. Gardening and cooking are my passions. I love to write articles which would simplify people's life.I go crazy when it rains and find fun in getting drenced. Life to me is a cup of coffee you need to blend all the ingradients in right proportions, Hope my posts are helpful!!! stay positive and keep smiling !!