29 Makeup Mistakes You Didn't Know You Were Making
Avoid these simple and common makeup mistakes to help you get your makeup game on point.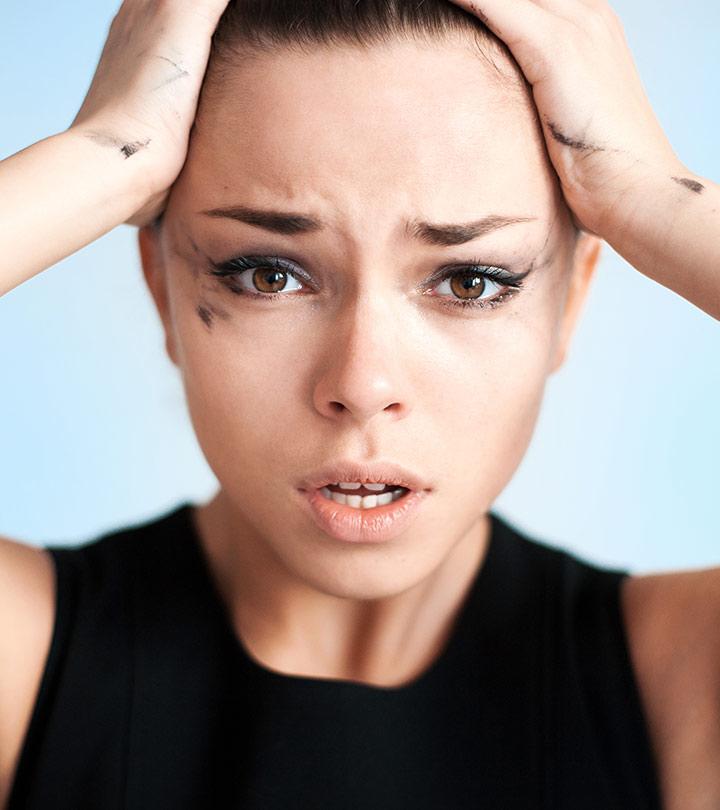 Some of us are often unaware of the makeup mistakes we commit every day. Finding the shades and brands of makeup that suit your face is a tricky task in the first place. It might take years for some to get their makeup right. And once you have found the right products, you might still struggle to create the desired look. Your favorite beauty influencer might make it look simple, but the truth is blending makeup to perfection is no easy task. But that does not mean you have to stop experimenting. We are here to explain the common makeup faux pas that you should avoid. This will help you figure out the dos and don'ts and ensure that your makeup is on fleek. Swipe up!

Keep In Mind
Occasion And Outfit: Occasion And Outfit Match your makeup and out to the event. For a formal event, opt for a more natural look, and for an informal event or party, opt for a more dramatic look.
Makeup Finishing: Occasion And Outfit A good quality setting spray, primer, and hair setting spray are necessary to avoid spoiled makeup. Use waterproof makeup if you live with humid weather.
Products: Occasion And Outfit Use trustworthy makeup brands and ones made with highly nourishing ingredients suitable for your skin type, tone, and complexion.
Most Common Makeup Mistakes And Beauty Blunders
1. Over-Washing Your Face
Cleansing or washing your face is the first and the most important step in makeup. Every woman has a different skin type, and with age, our skin undergoes many changes. But once you apply foundation and notice dry, flaky skin, it is a sign that you have to stop over-washing your face.
It is ideal to wash your face twice daily – once in the morning, and once at night, before you go to sleep. It is best to use a mild, gentle cleanser. The natural skin oils work wonders on your skin and do their job without the interference of soap.


Quick Tip
Use cleansers with moisturizing ingredients like hyaluronic acid, ceramides, squalene, and glycerine to prevent dryness.
2. Applying Makeup On Dry Skin
Applying makeup on dry skin is one of the biggest makeup mistakes, which can make the face look dull, cracked, old, and tired. Everything good is built on a solid foundation, and in this case, a properly moisturized face. So, ensure that your face is properly hydrated before you apply makeup.
Haley Kim, a YouTuber, shares the mistakes that she made in her 20s and how she has recognized those mistakes and rectified them later. She admits, " I didn't even know about the importance of prepping my skin with good skincare before doing my makeup, so my skin looked cakey dry and matte, even though I had the most youthful skin in my 20s (i)."
3. Makeup Application In The Wrong Lighting
When you need to decide what works for you and what doesn't with regard to makeup, you need to test it on your skin in natural lighting. When you try on makeup in unnatural lighting, you will notice that it doesn't look as flattering as you hoped. Pick what suits you best in the best lighting possible.
4. Wrong Blending Techniques
Makeup is much more than dabbing on a blush or eyeshadow. Even if you apply a neutral shade, it is going to look unnatural and out of place, unless you blend it properly. The key to natural looking makeup lies in mastering the art of blending. Makeup that isn't blended well can look quite comical. Watch some makeup videos and tutorials online and invest in a few good brushes to get started.
5. Incorrect Application Of Concealer
There's always a conflict when it comes to deciding whether the foundation goes first or the concealer. It does make more sense to cover the flaws once the foundation is set, which means it's better to use the foundation before the concealer. But when you do so, here are two things you must keep in mind.
Never use too much product at once on the targeted area. Too much concealer on your dark circles will make you look older. The correct way to cover dark circles is to dot a few drops of color-corrector concealer on the bone below your eyes and blend it up. Also, do not apply it directly to dark circles. You can also use the layering technique. Apply a little over a blemish, allow it to dry, and then apply another layer. You can also use a setting powder between the layers.
You can't use one concealer for everything. Concealers are available in many colors, each having different uses. A peach-toned corrector concealer cancels out the blue and is best to combat dark circles. Green cancels out red, therefore a green-toned concealer must be used to hide pimples and blemishes. Yellow-toned concealers are best to even out large areas of your skin. Once you use these tinted concealers as the first layer, you need to follow it up with a concealer that matches your skin tone.
6. Too Much Foundation
Over- application of foundation will do no good to your face, and your makeup will end up looking cakey. Or worse, you look like a clown in costume. In fact, unless you are wearing light and sheer makeup, you don't need to use foundation all over the face. Simply apply it on your cheeks, nose, and under-eye areas. Some women use it to cover blemishes, and unevenness, but that is a concealer's job.
Ensure that you pick the right shade of foundation that matches perfectly with your skin tone. Don't use a foundation lighter than your skin tone. Using the wrong shade will only accentuate the blemishes, fine lines and all that is bad about your skin. Using a shade that matches your skin, is the only way you are going to get that flawless face. And never forget to blend properly. Make sure to apply it on your neck and ears as well. Otherwise, with a different face and neck color, everyone can figure out that you are wearing makeup.


Quick Tip
For a natural look, apply foundation in the center of the face and blend outwards. This catches the target spots like cheekbones and corners of the mouth.
7. Eyebrow Disaster
Eyebrows frame those beautiful eyes that are, as they say, the windows to the soul. Neatly shaped eyebrows can highlight the eyes beautifully. Bushy eyebrows or overdrawn eyebrows look untidy and unkempt. Thin or tadpole-shaped eyebrows don't flatter your eyes either and will change your look entirely. It is essential to go to a professional and get proper advice on how your eyebrows must be shaped.
Over the years, it is normal for your eyebrows to diminish, and then you start filling them up. However, the last thing you want is for them to look drawn and unnatural. A brow pencil works best to give you that natural look. You must avoid harsh lines at all costs.
A dark shadow applied with an angled brush works better than a pencil. You can also use eyebrow cake powders that have everything you require for perfect brows in one little package.
8. Unwanted Shimmer And Glitter
Shimmery eyeshadows are very attractive, but when you use them over the entire eyelid, they can look extremely shiny and over the top. Use shimmery eyeshadow on the inner eye area, or in the center of the eyelid to make your eye makeup pop, and go for a matte shadow for the rest. Ideally, use nude eyeshadows, or eyeshadows that are a couple of shades darker than your skin tone.
9. Using The Wrong Eyeliner
It is advisable to use black eyeliner only if you have a darker skin tone, else it ends up looking quite harsh. If you have a lighter skin tone, it is best you stick to brown liners. Black is a no-no if you have blond hair and blue eyes.
Here are a few tips on how to use your eyeliner:
Always pick a lighter or a more subtle color for your bottom lids.
Using a liner on your waterline is not a good idea. Instead, use a nude pencil on your waterline as it will help open up your eyes, and make them look wider.
For a more natural look, it is best to apply it only to three-fourths of the upper eyelid.
It makes no sense to draw harsh, marker-like lines. For a natural look, use pencil liners instead of liquid liners.
10. Mascara Mistakes
First things first, you must use a mascara that is two shades darker than your eyebrow color. Never apply more than two coats of mascara, or your eyelashes will end up looking extremely clumpy. Mascara that is three to four months old also results in clumping of your lashes.
Don't use mascara on your lower lashes the same way you apply on your upper lashes. It will clump up and give your spider leg lashes. Instead, hold the wand vertically and apply.
Waterproof mascara is obviously amazing, and it's most likely that you will be inclined to invest in one, and use only that. But, it is not a very good idea. Waterproof mascara is much harder to remove, and its application and removal could seriously affect your lashes. Your lashes may wither away sooner. If you must use waterproof mascara, make sure you do it only during the summer months.
11. Bronzer Blunders
A bronzer is not meant to be swept all over the canvas of your face. Avoid using too much bronzer. The idea of a bronzer is to use it exactly where the sun would naturally hit your face. Make sure you apply your bronzer only on your cheekbones, the top of your forehead, and the jawline. If you are doing it right, you will notice that you are actually drawing the number 3 on both the sides of your face.
12. Lip Liner Woes
Harsh lip lines while doing your makeup is the worst thing you can do to yourself. Do not draw a thin sharp line on your lips to outline them. It is one of the biggest peeves. Also, your lips can end up looking weird if you have chosen a dark liner with a lighter lipstick shade. They are meant to define your lips and not to create border line around them.
You wear a lip liner to keep your lipstick from bleeding. If you draw a harsh outline, it will tend to fade away, making your lips look terrible. The idea is to blend well. Draw a smudged outline, almost like you are shading your lips with the pencil, for best results. Another correct technique is to draw the outline and then fill in your entire lips with a lip liner that suits your lipstick shade and then go over it with the lipstick. This will help you avoid a lipstick on teeth situation.
13. Tacky Lipstick Color
A lipstick can make or break your look. Stick to colors that are natural and suit your skin tone. Dark shades can look tacky. They also make you look much older than you are. If you do go in for dark colors, make sure the rest of your makeup is light.
14. Face Powder Fetish
Face powder seems like the perfect makeup finale to lock it all up, and keep the shine at bay. But, it can also make you look aged. Believe it or not, face powder emphasizes fine lines and wrinkles. It is best to use it only on your T-zone, and try and avoid it completely as you age.
15. Clown Cheeks
Without proper application, blush can make you look like a clown. Whenever putting on blush, use foundation. Otherwise, the color becomes too hard on your cheeks. And make sure to swirl the brush in the product, tap off excess and then apply on your face. Otherwise, you will pick up too much product and end up looking overdone.
16. Highlight At The Wrong Places
Do not apply a single eyeshadow color to your entire eye area, as they may give you racoon eyes. Always use a highlighter shade to enhance your brow bone. Golden or silver highlighters will compliment all the shades under the sun.
17. Flashy Fingernails
Long, flashy fingernails don't always give the best impression. They can look witchy and claw-like. Always keep your nails neatly groomed.


Quick Tip
For the optimum bling for your nails, spread out your nail art. Add glitter, rhinestones, and other art pieces only on the ring-finger nail. Some designs are done along the cuticles or simply at the tips.
18. Dry Shampoo Distress
Dry shampoo is probably one of the best inventions yet. For those of you who don't know what it is, it involves putting dry powder on your scalp such that it absorbs all the oil. Here's how to do it right.
You must wait for the powder to absorb all the oil. So, in effect, it takes a while for the dry shampoo to do its job. Do not get impatient.
You can use a dry shampoo immediately after you wash your hair. Using it immediately after a shampoo will help your hair stay fresher for a longer time.
Do not spray it too close to your hair. Holding it six inches away while you are spraying is ideal.
You need to wash your hair after one or two uses of the dry shampoo, else the chemical build-up will make your hair look dull and dry.
19. Perfume Overload
One spray of perfume is all it takes to make you smell like a dream. Too much perfume, however, can be offensive. It is very easy to get carried away with perfume, but overdoing it can cause allergies and headaches. A body mist is less concentrated and is a better option.
20. Sleeping With Makeup On
There are absolutely no excuses for going to bed without removing all traces of makeup. To keep your skin healthy, make sure you remove the makeup before you go to sleep. Failing to do so will make your skin dry and prone to acne and infections.
21. Sleeping On Your Side
A supine position is not only good for your back, but it also helps avoid lines and wrinkles on your skin which can develop if you sleep on your side. It might take a little practice to make it a habit of sleeping on your back.
22. Entangled Beauty Trends
Either play up your eyes or your lips. Too much makeup on both will make you look unsightly. If you are wearing bright/smoky eye makeup, go for pale, nude, or natural-looking lipsticks. If you are wearing loud shades on your lips, go for natural, slight eyeliner and lots of mascara.
23. Matching Your Makeup With Your Clothes
Matching is old-school, and in no way classic vintage. When your clothes are bright and so is your makeup, it only spells tacky. Makeup artists believe that if your clothes are vibrant, you should go for a neutral palette makeup-wise. If you pick a metallic wardrobe to dazzle through the holidays, make sure you avoid glossy cosmetics and stick to the ever-so-classic smoky eye.
24. Too Much Glitter Is Not Gold
Shimmer is fun, and it sets the ambiance for the festivities. But not if you looked like you smeared your face with glue and dipped it in glitter. That is just a big NO.
25. Playing Up Both The Eyes And The Lips
You either let your eyes dazzle or glam up your lips. It has to be one or the other, and not both. If you are going gung-ho with your eye makeup, keep your lips nude or neutral, and if your lips are stealing the thunder, keep your eye makeup natural. Or else, you will be summoning disaster.
26. Smearing Lipstick Until It Starts To Bleed
Lipstick is lovely, but that doesn't mean that you need to touch it up every time you visit the bathroom. After a point, it will start to look messy, and then you will hardly be able to tell where your lip line begins and where it ends. Touch up, but be aware of how it looks.
27. Omitting The Primer
Primers have been around for a while, but women are beginning to use them only now. You might spend all your time perfecting your makeup but unless you have a primer, the chaos of the party will either cause your makeup to bleed or fade, or your face will look like you have just taken a dip in oil and posed. To keep your makeup intact for a fair period of time, and to look flash-ready all the time, it is best you use a primer before you apply your makeup.
28. A Runny Eye
Girls just want to have fun, and when you are all caught up in the heat of the night, dancing away to glory, you might not notice that bleeding eyeshadow. The best way to ensure you look as fresh as a daisy even at 2 am is to use an eyeshadow primer.
29. Trusting A Friend Who Is "GOOD" At Makeup
Yes, she is your best friend, and you don't want to hurt her. But if she doesn't know makeup, don't let her touch your face. Not even if the celebrations have made you woozy.
10 Celebrity Makeup Mistakes
Now let's check out some celebrity makeup faux pas.
1. Mismatched Foundation: Demi Lovato
Foundation helps the skin in contouring, adds texture to the skin and highlights the right features. Mismatched foundation and harsh contouring can be very prominent, and apart from looking bad, it gives the skin a distinct made up look. It is always wise to choose a foundation that matches your skin tone, rather than, as in the picture here, where Demi Lovato has chosen a foundation two shades paler than her skin tone. When a foundation is a shade lighter, it becomes very prominent. You must refine the shade with a powder blush and deepen the color of the cheekbones and the forehead to add warmth to the face. Taking a damp sponge and pressing it onto the skin without wiping helps revitalize the natural shade of the skin.
2. Clumpy Eyelashes: Kim Kardashian
Clumpy eyelashes look fake and unattractive. It is important to only apply two coats of mascara and not use a lash thickener. A milder cosmetic that builds up the lashes is preferable. If you want to straighten out clumpy lashes, it can be fixed by using a spiral brush and gently combing the lashes.
3. Obvious Lip Liner Fail: Rebecca Romijn
Clown mouths are caused by obvious lip liner that can be seen outside the lip color. It makes the mouth look artificially drawn on and unattractive. It is important to pick a color of the lip pencil that is the same as the natural color of the lips and outline it with that. This will keep the gloss looking natural and the lip color concealed.
4. Streaky Blush
Check the bristles of the blush brush to make sure it is voluminous and the hairs have not separated or become damp. Apply a toner, or a moisturizer followed by a foundation and let it get soaked by the skin before applying blush. Keep your blush brush clean always. The blush in the compact should be the same shade all over.
5. Using Too Much Eyeshadow: Eva Longoria
It is important to make sure that the eyeshadow you are using during the daytime is not too dark or overpowering. To fix this, take a cotton bud dipped in moisturizer or a makeup removing tissue and swipe off the excess eyeshadow. Then follow it up by dabbing a little foundation of the same color as your skin to tone down the shade of the eyeshadow and also help avoid any creasing.
6. Melting Lip Gloss
Glossy pouts and luscious lips look kissable but putting on too much lip gloss can cause it to get a goopy and melting look that looks unattractive. It is best to apply a layer of lip balm, follow it up with a neutral lipstick and then add the lip gloss to make it stay and not give it the unattractive melting look.
7. Over-Plucked Eyebrows: Nicole Scherzinger
Too much tweezing can give the eyebrows an over plucked look. To fix this, take an eyeshadow shade that is matte and two shades paler than the natural eyebrow hair color, and outline the brow shape you want. Eyebrows can also be filled in with a pencil but make sure it doesn't get smudged.
8. Smudged Eyeliner
If your eyelids are warm and prone to watering or sweating, it is best to use a shadow base before applying eyeliner. The smudgy eyeliner can also be turned into a smoky eye look by just adding the right amount of dark eyeshadow. Make sure the eyeshadow is the same shade as the eyeliner you have used.
9. Flaky Lipstick: Evan Rachel Woods
This is caused by dry and flaky lips that are not well-moisturized. To fix this, apply a generous coat of petroleum jelly or lip balm to even out the lips.
10. Prominent Concealer: Kelly Osbourne
This can be easily fixed by using a moisturizing cream that will even out the skin tone and give it a beige smoothness.
Infographic: 7 Major Makeup Blunders To Avoid For A Flawless Look
Makeup is an art, and we all strive to get that flawless, natural, celebrity-like finish. However, while you may be putting a lot of effort into purchasing the right makeup for your skin type, not using it the right way can ruin the final outcome. Check out the infographic below to know about 7 such makeup mistakes you need to avoid to slay your makeup game every time.

If you are a beginner, these makeup mishaps might occur. But now that you are aware of them, you can avoid making these blunders. Makeup is an art, and it requires skills to achieve that flawless look. Worry not! You will be skillful with a couple of trials and practices following our step-by-step guide. So, do not worry if you fail to achieve your goals right in the beginning. Take this article as your guide, and follow it religiously. As mentioned before, do not over wash your face. Also, a cakey and patchy appearance is not what you want, so moisturize your face before applying makeup.
Frequently Asked Questions
How do you avoid overdoing makeup?
Start small. Instead of applying loads of foundation right at the start, apply just a little bit, blend it well, then add a little more if you need it and blend again. The same goes for concealer, contour, eyeshadow, and lipstick. Also, you don't have to apply every makeup product. Use the trial-and-errors method to see which products work best for you and stick to those.
What is makeup mist?
Makeup mist is a setting spray that keeps your makeup intact for a long time.
Why does my makeup crack?
The main reason for makeup cracks is insufficient skin hydration. But, it may also happen if you apply two different textures or consistencies of makeup products that don't blend well together.
Key Takeaways
Do not skip the moisturizer before applying makeup. This can make your skin appear dry and dull.
Use a peach or yellow-tinted concealer first to hide your dark circles. Then follow it up with the one that matches your skin tone.
Do not pair dark lip liners with light-shade lipsticks.
Always remove your makeup before going to bed to prevent acne trouble.
We've all made mistakes while applying makeup, but don't worry! Watch this video to learn how to avoid them and look your best!
Personal Experience: Source
i. Makeup Mistakes I Made in My 20s • how to look youthful & put together
https://www.youtube.com/watch?v=XGnGMh46xgI
The following two tabs change content below.