Top 11 Most Expensive Clothing Brands In The World
Apprise yourself of the most famous and luxurious rulers of the apparel world.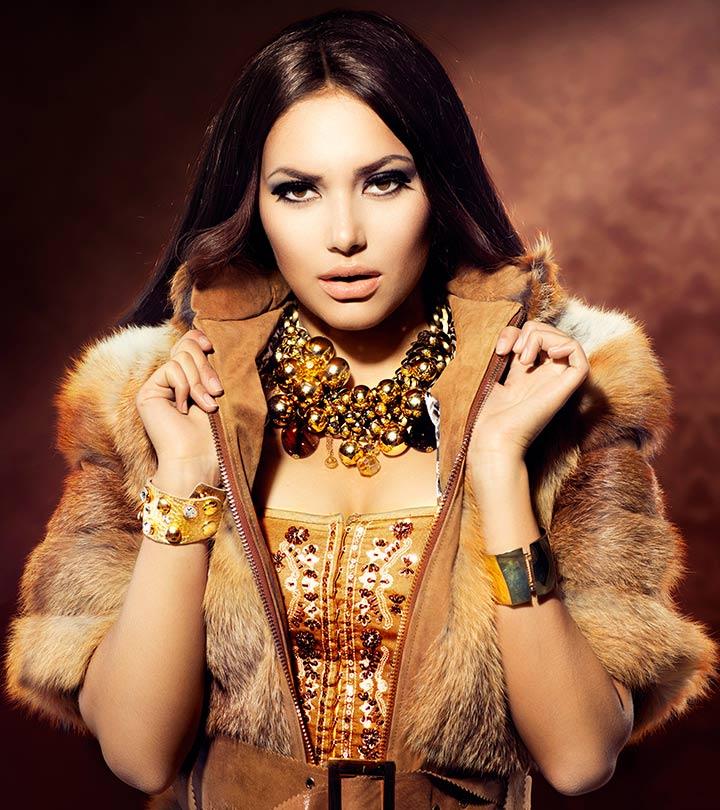 If you are obsessed with expensive clothing brands and want to know more about them, then you would be in joy to know that you have landed yourself in exactly the right place. Today, in this article, we are going to discuss all the big names in the industry of apparel. Yes! That sounds great! Well, thanks to the famous movie "The Devil Wears Prada", today, we are pretty acquainted with many upscale clothing brands. But when it comes to the journey of these brands, how they managed to find a significant position in the world of fashion, and so on, we are not always fully informed. But do not worry when we are here. This article will give you all the deets that you need relating to some of the most expensive and posh brands in the clothing department. So brace yourself, for we are going to take you on a wonderful tour. Scroll down and get inspired by the successful journeys for some really stylish and opulent clothing brands that are there. Get, set, go!

Ace The Look
Aesthetic: For people who prefer streetwear, Prada is ideal. If your taste is more soft and feminine, choose Dior, and if your style is minimal and chic, Chanel is your best bet.
Accessories: For an everyday look, opt for basic and sleek jewelry such as a small hooped earring or a pendant necklace. For evening events, wear a blingy necklace with small earrings to look stylish.
Footwear: To appear chic and sophisticated, choose basic black, white, or tan high-end boots and heels over gaudy colors like shimmering yellow or magenta.
Hairstyle: To create an elegant style, consider sleek back hair, center-parted loose hair, or a French twist. Choose tousled waves, side-parted fringe, or a messy low bun for a relaxed and casual appearance.
World's Expensive Clothing Brands
Top 11 Most Expensive Clothing Brands In The World
1. Chanel
This fashion brand is synonymous with luxury, sophistication, and timeless elegance. It was founded by Gabrielle "Coco" Chanel in 1909, and since then, it has become one of the most iconic and influential names in the fashion industry.
Coco Chanel's journey is nothing short of epic and legendary, which is what the brand is too. Brands with incredible stories like these are worth the extravagant price tag they come with. Chanel had a unique talent of reading what the world needed and making clothes accordingly. And, her designs are relevant to this day. The revolutionary little black dress (LBD) remains the must-have most prized possession in every girl's closet. Not to forget the 'Chanel No. 5' perfume, which was one of its kind. Chanel was one of the very first revolutionaries who believed that luxury has to be comfortable, otherwise, it's not really luxury!
The brand to this day continues to be at the forefront of luxury and premium brands for not just apparel but accessories too. Chanel's brand value is a whopping 7 billion dollars owned by the grandsons of Pierre Wertheimer, who was the earliest business partner with Coco Chanel; while Karl Lagerfeld continues to be the creative director for over three decades now.
2. Burberry
It's been around for over a century and is probably the oldest fashion brand in the world. Thomas Burberry started this store in 1856 in Basingstoke, England, and slowly blurred boundaries. The latest additions to the brand are Burberry London and Burberry Prorsum.
The signature checkered khaki and plaid jacket is the first thing we relate to when we say Burberry. It was designed for the military and then gained popularity amongst civilians too. The design went on to become such a hit, that it's now part of every single piece of trendy apparel and accessory in one way or another. With an estimated brand worth $3.4 billion, only their customers understand what Burberry is.
3. Hermes
Hermes as a brand has been around for over 200 years now. They first started in the 18th century as a label making leather harnesses, saddles, etc. and then slowly ventured into retail after Charles-Emile Hermes took charge. Adolphe and Emile-Maurice then took over from their father Hermes and got into the business of making clothes for men, women, and children.
Hermes is the epitome of sophistication and class with everything they make, be it bags, shoes, perfumes, apparel, or even interiors for the house. Just like a lot of other companies, Hermes saw their share of ups and downs in business. However, they weathered all storms and continued to be a sought-after sophisticated premium brand, serving the elite. With a revenue of $5 billion, Hermes has come a long way and, that's why they say that you don't create a multi-billion dollar empire overnight.
4. Prada
Miuccia Prada born in 1949, a Ph.D student in political science and a former member and activist in Italy's communist party is the current owner of Prada. She was the most unassuming heir of Mario Prada's elite brand "Prada" that he started in the year 1913. Muccio took over Prada in the year 1978 when her male cousin who according to her grandfather was expected to take over had no interest in fashion or design. Mario Prada never believed in women, in general, taking up higher positions or never considered that either of his other female grandchildren was capable of doing it.
Prada was initially into making handbags, travel bags, and suitcases for the Italian elite. However, when Miuccia Prada took over, she launched men and women's ready-to-wear luxury clothing. Prada gained popularity even before this collection took off when she introduced luxury nylon handbags and backpacks without the big choking logos taking over the design element which was the scene with premium brands back then. And, that's really why this label has always been perceived differently by their loyal customers. Patricio Bertelli, her then boyfriend and now husband, helped Prada in taking it into different directions and finally opening her first flagship store in 1986. Prada eventually went public in Hong Kong and slowly opened stores world-wide. The company's net worth is an estimated $2.4 billion dollars and continues to be one of the most sought-after swanky clothing brands across the world.
5. Gucci
Guccio Gucci first started "Gucci" in the 19th century. It is considered to be the most successful Italian brand in the world right now. Guccio, who worked in Paris as an immigrant hotel worker, was fascinated with the premium handbags, leather handbags customers would bring and envisioned a business model based on the idea. He then went back to Florence, his hometown and started Gucci during the Second World War-2. His sons joined him later and helped him expand business in Milan, Rome, etc.
Gucci's symbol got them a lot of attention, and Hollywood stars flying out of Italy started posing with these bags. That's how they penetrated into the US markets slowly. Gucci then opened their first store in New York in 1956 and eventually in the other big cities in the United States. Dawn Mello took over the company in 1989 after the company went through turbulent times with the passing of Gucci Mello. He got Tom Ford onboard as the creative director to up their apparel and accessories game. Gucci went on to sign a lot of partnership and contractual deals with other big Italian and American brands. According to Forbes, Gucci is the 38th most valued lavish brand in the world with a brand value of$12.4 billion and sales close to $5 billion, and this speaks for itself.
6. Dior
Christian Dior famously known as 'Dior' started as a premium brand designing haute-couture for women in 1946. They later expanded into 'Baby Dior' for children and 'Dior Homme' for men. Dior was one of the very first brands to present their full-fledged collection at their residence which was also their flagship store on 30 Avenue Montaigne Paris. He presented his collections named 'Corolle' and 'Huit' with 90 different looks which were soon called 'New Looks' by Harper's Bazaar. In 1947 Dior got into manufacturing perfumes with their first one named after his sister 'Miss Dior.'
Christian Dior soon hit the American markets and expanded their brand into other segments like makeup, perfumes, accessories, and of course remained top contenders in the ready-to-wear and haute-couture segments with an estimated brand value of $43 billion.
One of the reasons for Dior's success is its focus on innovation and creativity. Christian Dior's groundbreaking "New Look" collection in 1947 revolutionized women's fashion and helped to establish the brand as a leader in the industry. Today, Dior continues to push the boundaries of fashion with its innovative designs and use of cutting-edge technology.
7. Dolce And Gabbana
Dolce & Gabbana is relatively new when compared to the other big old names in the luxury brands. It started in the year 1985 by Domenico Dolce, and Stefano Gabbana and was steadfast in gaining popularity. They went on to tie up with a firm in Japan to launch their collections who exported clothes to the USA and that eventually catapulted them into the American economy.
Dolce & Gabbana started knitwear collections in 1987, and two separate lines of lingerie and swimwear, which were a big hit too. Their clothes were a big hit amongst Hollywood actresses and wearing this label was considered a status symbol. They eventually got into making perfumes and succeeded by launching some of the best fragrances out there. Dolce & Gabbana's revenue worth $1.4 billion speaks volumes about the brand.
8. Ralph Lauren
From serving the Army to becoming a salesman and now part of the 'World's Richest Men List,' Ralph Lauren had a lot of firsts associated with his name. Soon after quitting his job in the army, Ralph Lauren joined the Brooks Brothers as a salesman and became the best of their lot. This evoked an interest in him who then went on to make ties for men. He convinced the management to let him open his own line. Bloomingdale's approved his first venture of making an exclusive men's collection and is the first time they let their space for a designer's boutique.
Ralph Lauren then launched his corporation in 1971 with a Polo emblem and launched collar T-Shirts with the logo near the chest which to date are a rage. Lauren opened other labels like Ralph Lauren Black, Ralph Lauren Polo, etc. They are into perfumes, accessories, men, and women's luxury plus ready-to-wear segments. Ralph Lauren is also a hot favorite on the red carpet and his famous costumes for the cast of the movie 'The Great Gatsby.' The corporation's net value is estimated at a whopping $5 billion as we speak.


Trivia
Ralph Lauren was awarded an honorary knighthood at a private ceremony in June 2019 by Prince Charles. He is the first American fashion designer to get an honorary knighthood.
9. Versace
Gianni Versace is an Italian, who comes from a family of designers. His introduction to fashion happened quite early because of his mother who was into the dressmaking business. Fashion and designing clothes came to him inherently, as he started working for his mother right after high school. He later moved out to Milan and started freelancing. Eventually, he began his label 'Versace' in the year 1978 and launched his first ready-to-wear collection. Versace always worked with his brother and sister who helped him in expanding horizons.
Versace launched his first couture collection in 1989 and subsequently two other labels called 'Versus' and 'Instante.' He was also the very first designer who understood the importance of a Hollywood star or a supermodel presenting collections. They slowly moved into accessories, perfumes, swimwear, etc and built a ritzy empire worth $800 million in less than a decade. Ironically Versace was murdered by a serial killer in 1997 right outside his house in South Beach, Florida. His sister took over the reigns of Versace ever since and the brand has been nothing but unstoppable with a brand value of $5.8 billion.
10. Giorgio Armani
Giorgio Armani is nothing but sheer sophistication, and if you see someone wearing the label in any capacity, you know that they belong to the cream of society. Armani started the 'Giorgio Armani Corporation' in the year 1978 in Milan. However, his fashion journey began in 1958 when he worked with different Italian brands designing exclusive men's wear. His fashion stint helped him build a strong network within the industry, which compelled him to open a brand of his own.
Giorgio Armani signed an agreement with L'oreal, and that propelled them towards making perfumes. Around this time they expanded into Armani Jeans, Armani Kids, and Emporio Armani. They have close to 2000 stores in Europe, the USA, and across the world. Over the years Armani continued to increase their market share consistently, and with estimated brand sales of over $3 billion, there's no looking back.
11. Balenciaga
The Balenciaga luxury fashion house was founded in 1919 by Cristóbal Balenciaga, a Spanish couturier. Currently located in Paris, the brand is owned by Kering and is redefining the definition of luxury fashion. Demna Gvasalia, the current Creative Director of Balenciaga, has maintained the luxury standards of Cristobal's shapes and cuts. The brand offers a wide selection of products, including apparel, handbags, footwear, accessories and fragrances, and has been at the forefront of the Paris couture scene since the early 1950s. With heavy competition from Dior, Balenciaga still managed to revolutionize women's fashion in a radically different way and both brands developed their own signature fashions. The Balenciaga aesthetic is characterized by a combination of modernity and comfort and is renowned for its striking designs. Its customers are drawn to and are willing to invest in this high-end brand because of their unconventional designs and bold and courageous pieces.

Trivia
Armani was the first fashion designer to forbid size 0 models from appearing in his fashion shows in 2006. His stance is in favor of a healthy appearance and ladies of regular weight and shape.
Infographic: Top 5 Global High-End Fancy Fashion Brands
The fashion industry is ruled by multiple high-end luxury brands that have captured everyone's attention from regular ol' people like you and me to famous celebs. We have handpicked our favorite top five high-end fashion brands that are truly dominating the industry right now.
Check out the infographic below to see our carefully curated list of the best global high-end chic fashion brands along with their brand value.


We are sure you are dazzled by our ultimate list of the most expensive clothing brands. While Chanel is a revolutionary brand that focuses on comfort above everything else, Hermes keeps sophistication and class in mind. These brands have indeed never failed to mesmerize us. So, if you have been meaning to loosen your purse strings on some expensive yet worth-it brands, you know where to come for inspiration. This article has covered all the top expensive brands that you can consider. So, now it is your time to flaunt those out-of-the-world outfits these brands offer.
Frequently Asked Questions
Is Calvin Klein a luxury brand?
Yes, Calvin Klein is a luxury brand.
Is Kenzo a luxury brand?
Yes, Kenzo is a popular French luxury brand now owned by Louis Vuitton, another famous luxury brand.
Is Vogue a luxury brand?
Yes, Vogue is a luxury brand. While it is mainly known for its magazine coverage of all things high fashion, beauty, and lifestyle, it also sells products like clothes, sunglasses, etc.
Discover the most prestigious clothing brands, renowned for their opulence and luxury. Check out the video below and find out the price comparisons, quality, and exquisite fashion and pick your perfect match.
The following two tabs change content below.