40 Stunning Bob Haircuts With Bangs | DIY Bob Hairstyles
Bobs and bangs combined together can take your chic-game to the next level.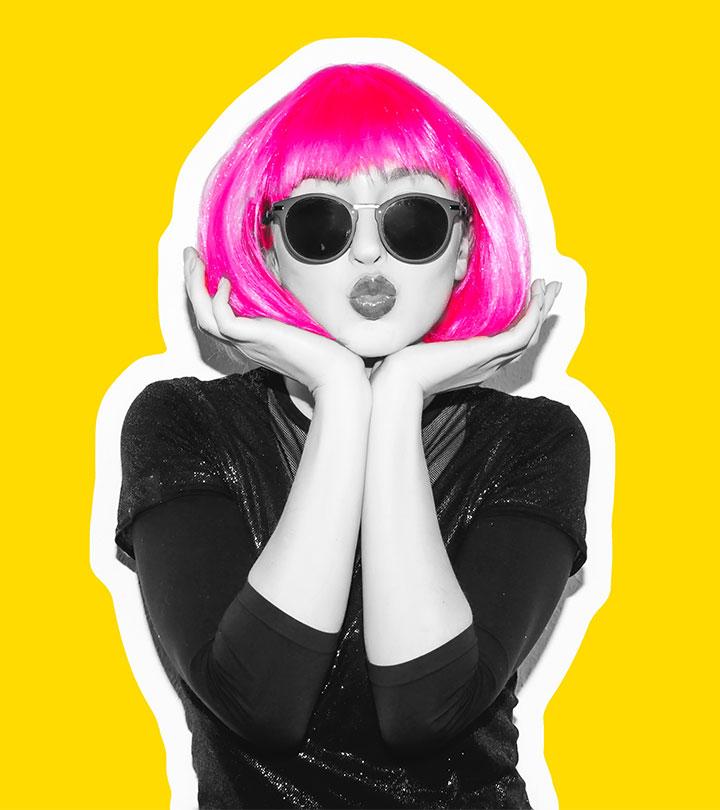 Today we are discussing bobs, not men, but the haircut bob. If the bob is your choice of hairstyle, it can get monotonous sometimes. But trying the bob haircut with bangs changes your look entirely.
Bob cuts look chic, but adding a fringe, like side-swept bangs, can dial up your short hair a few notches. Also, if you have a particular bob style in mind, but the hairstylist suggests it won't work for your face shape, bangs can change that! And there are so many bob and bang styles to mix and match, so you find the best one for your face.
Eat your heart out with these brilliant bob haircuts styled with bangs. However, if you are unsure which bang style to suit, here are some tips to help with styling or cut choice.

Before You Get Started
Bobs as well as bangs are cuts that need regular trimming to maintain the shape. An extra centimeter can easily alter the entire look. Therefore, get all your edges trimmed every 4-6 weeks for a neater and more precise look.
Side-swept or face-framing side bangs are ideal for a softer look on wide and angular face shapes.
Fine hair types will require more texture and graduation to enhance volume. The bangs also need to be heavier to look full and healthy.
Anti-frizz products are a must for bobs with bangs in humid weather conditions if you want to have a sleeker feel.
A bit of sea salt spray will give texture to bobs and bangs giving a refreshing summer or beachy vibe.
5 DIY Bob With Bangs Hairstyles
We all love DIY things. Whether it's lamps, clothes, or hair – we all want to try it out at least once. However, precision bobs are not easy to cut by yourself. I advise you to practice multiple times, maybe on wigs, before you cut your own hair. To figure out which bob cut with bangs will suit your face shape, check out this article!
1. Classic Lob With Feathered Bangs
What You Need
Elastic bands
Comb
Scissors
Blow dryer
Round brush
Hand mirror and main mirror
How To Do
Comb your hair to remove any tangles or knots. Comb all your hair back behind your shoulders.
Tie an elastic band where you want to cut your hair. Do this with the help of both the mirrors.
Once you're sure, cut your hair just below the elastic band. Do this carefully as one wrong move can change the length of your hair or the style itself.
Once you are satisfied with the outcome, section out some hair at the front for the bangs. Brush the hair down on your face. With one hand, mark the length of the bangs, and cut it straight across with the other.
Spritz a little water on your hair. Brush your hair inward with a round brush while blow drying it at a low-medium setting. Hold it for three seconds at the ends before you let go. Do the same for the bangs.

Quick Tip
If you have a thin, long face, you can try a shorter clean-lined bob cut with straight angles.
2. Wavy Shaggy Bob With Tapering Bangs
What You Need
Curling iron
Heat protectant
Hairspray
Volumizing spray
How To Do
Go to a salon and ask for a shaggy bob with layers paired with tapering bangs at the front.
For at-home styling, spritz some heat protectant all over your hair.
In sections, wrap your hair around the barrel of the curling iron for about five to seven seconds – longer if you want a stronger curl.
Curl all your hair in this manner.
Spritz on some dry texturizing spray.
Flip your hair forward and shake it up. Run your fingers through your hair to give it that messy look.
3. Layered Lob With Light Bangs
What You Need
Straightener
Hairspray
Scissors
Comb
How To Do
Using the same method as in the first DIY, cut your hair to the desired length for the lob and bangs. Since the bangs need to be feathered, you'll need to cut them near or just above the eyebrows.
Using the point cut method, begin feathering your lob and bangs. The point cut method involves holding the scissors facing down to the ends and cutting into the ends on an angle vs a straight edge. Point cutting encourages movement.
Style your hair in waves using a straightening iron by twisting your wrist at the midshaft with the iron vs pulling the flat iron straight down.
Spritz on some hairspray to set the waves in place. Part the bangs slightly in the center.
4. Undercut Bob With Side Swept Bangs
What You Need
Razor
Rat-tailed comb
Sectioning clip
How To Do
You need some hair-cutting experience to do this haircut. If you are a beginner, practice on a mannequin a few times before cutting your own hair.
With the pointed end of the rat-tailed comb, section off the hair you want to shave, clipping off the rest.
Razor off the hair from the segregated section carefully.
With the pointed end of the comb, part your hair in a deep side parting, making sure the bangs fall on the side that is opposite to the shaved side.
Note: If you are not a stylist, get a professional to do this style for you.
5. Asymmetric Bob With Layered Bangs
What You Need
Scissors
Elastic bands
Comb
Round brush
How To Do
Comb your hair to detangle it.
Using the method in the first DIY, cut your hair into a bob and bangs. Remember to keep one side long to create an asymmetrical look.
By cutting the hair back, you're creating a slight angle where the back is shorter than the front. With this in mind, keep some hair in front of the asymmetric section, so it appears longer.
Spritz some water on your hair and style it with a round brush and blow dryer.

StyleCraze Says
If you have a rounder face and your goal is to create an illusion of shape, the graduation at the back with the slight angles at the sides towards the front will help you reach your hair goals.
Now that you have your DIY game in place, take a look at 40 of the best
bob hairstyles
with bangs for some inspiration!
40 Stunning Bob Haircuts With Bangs
1. The Atomic Blonde
Julianne Hough sure looks like an atomic blonde! This hairstyle puts her facial features on display perfectly. Notice how her hair gets much fuller near the mouth? That enhances her jawline.
2. Wavy Bob With Lifted Bangs
Kaley Cuoco is the poster child for blonde hair! Her bangs are lifted at the roots to give her more height. This is great if you have a wide face shape, like a round face or a short forehead. And those waves perfectly accentuate her jawline.
3. Cute Bob With A Heavy Fringe
This hairstyle is ideal for those with large foreheads or oblong faces. The heavy bangs completely cover your forehead and let the facial features pop, especially the cheekbones and eyes.
4. Bronde Lob With Long Bangs
Actor, singer, producer, entrepreneur, and still always looking on point – is there anything that Selena Gomez can't do! See how her lob follows her face shape but is flicked outwards just at the ends? That accentuates her facial features and her neck. And she's paired her shoulder-length hairstyle with light makeup that brings out her eyes.
5. Deep Side Swept Bangs And A Lob
America's sweetheart Reese Witherspoon can do no wrong, especially when it comes to hair. If you have thick hair, this is perfect for you. When you grow it out, thick hair can become heavy and shaped like a fluffy triangle. But with a lob, you get length without the heaviness. And the side-swept bangs conceal a wide forehead.
6. Shaggy Bob With Subtle Bangs
A bob with heavy sharp layers takes the focus off your face shape and brings it onto your facial features. The subtle long side bangs accentuate her eyes and cheekbones. The ends are styled outwards to make her hair look thicker and her face slimmer.
7. Choppy Ended Bob With Long Bangs
Selena perfectly shows us why long bangs pair so well with bobs. Keep your bangs long if you want to get a bob shorter than your jawline. Long bangs help in face-framing.
8. Side Swept Bangs And A Lob
This hairstyle is super cute. Her bangs and the front face framing layers draw attention to her facial features and streamline her face shape. She's kept her roots dark to add height to her look.
9. Finger Waves Bangs And A Classic Bob
Everyone has been completely besotted with Millie Bobby Brown since Stranger Things. Not only does this girl have great acting skills, but she slays on the red carpet! You can copy those finger waves with some mousse, a comb, and long clips.
10. Messy A-line Bob With Gentle Long Bangs
Malin Akerman is a blonde bombshell with flawless taste. The dark roots make her hair look thicker. The messy A-line enhances her jawline. The light side bangs with a subtle wave at the end accentuate her eyes, nose, and cheekbones.
11. Classic Cutesy Bob
Ever since The Wizards Of Waverly Place, Selena has been slaying her hairstyles. This neck-length bob pairs so well with the light side-swept bangs. And the blonde highlights accentuate her features and add a pop of color to her tresses.
12. The Slick Bob With Fluffy Bangs
Julianne Hough knows how to blow away the red carpet! She has impeccable taste, especially when it comes to her hairstyles. To mimic this style, all you need is some mousse or styling foam. Part your hair in a deep side parting, and apply mousse to your bob, leaving out the bangs. Comb your hair back to give it that slick look.
13. Heavy Side Swept Bangs With A Classic Bob
Your bangs can make or break your hairstyle. See how the bangs are put in layers? That accentuates her eyes while concealing her forehead. Her bob is brushed outwards at the ends to enhance her jawline and neck.
14. Wavy Side Bangs And A Wavy Lob
Jessica Alba is badass! She is a great actress who can dance and fight and is also an entrepreneur. And her hair is impeccable while she plays all these roles. The long side bangs are wavy, with the ends pointing outward. This accentuates her cheekbones and eyes. The wavy lob gives her hair volume.
15. Hollywood Glam Curls
This is Reese's take on the classic Hollywood retro curls look. The deep side bangs are curled with some mousse on one side, while the rest of her hair is left straight and combed down.
16. Feathers Long Bangs
See how her hair flicks out at the end, but her bangs turn inwards? This aids face framing and highlight her jawline. It takes away focus from the forehead and brings it to the lower half of her face.
17. Blunt Lob With Side Bangs
Once again, Millie Bobby Brown shows us how it's done! Those heavy side bangs bring out her eyes and eyebrows, while the blunt lob enhances her jawline. She's paired her makeup to go with the dark hair and outfit perfectly, light and not heavy.
18. Curly Bob With Curtain Bangs
Malin Akerman takes us back to this retro style! The wild curls and curtain bangs bring out her grayish-blue eyes. Her bob ends just below her cheeks which accentuates her cheekbones and jawline.
19. Layer Heavy Bob With Side Swept Bangs
Malin's eyes are to die for! And this hairstyle put them on display. The side-swept bangs enhance her eyebrows and eyes, while the flicked-out layers accentuate the curve from her cheekbones to the jawline.
20. Curtain Bangs With A Bob
The curtain bangs bring the focus to her eyes and off her forehead. The bob itself perfectly accentuates her face shape from the eyes to her jawline. Her hair has been cut in layers midway down, which enhances her jawline.
21. Classic Bob With A Side Sweep
From giving us catchy and romantic songs to being a style icon, TayTay has it all! This classic bob is so perfectly styled that her personality bleeds through it. And that sweep! Have you seen anything more flawless?
22. Hollywood Bob With Retro Bangs
This is a classic Hollywood look that never goes out of style. Her hair is brushed inwards after applying gel to it. You can create the retro waves with your bangs with the help of a straightener or a round brush and blow dryer.
23. Slick Straight Bob With One Side Bangs
Aca-girl Brittany Snow is one stunning beauty. Her hair looks flawless!  Her bob with the bangs beautifully showcases her heart-shaped face, and her blonde locks draw attention to her blue eyes. If you have a round face with wide cheeks, don't opt for this slick straight hairdo as it will over-accentuate your face shape.
24. French Bob With A Fringe
The only thing more iconic than Taylor Swift's red lips is her French bob! It is inspired by that '20s flapper style. It is perfectly paired with a thick fringe in the front. The fringe draws attention to her eyes, nose, mouth, and jawline. This is the ideal look to slay at the red carpet.
25. A-Line Bob With Perfect Side-Swept Bangs
This A-line bob sported by Emma Stone is short at the back and long in the front. It can be at a steep or minimal angle, according to your preference. This hairstyle is more on the minimal side. Keeping your hair short at the back can add volume and texture to your hair. The silky straight side-swept bangs bring a nice distinction to Emma Stone's otherwise wavy hair. The bangs reinforce a lateral focus on her face, making her eyes and mouth more prominent.
26. The Lob With Side Bangs
With her signature blonde hair, blue eyes, and light lip shade, Brittany Snow has amazing taste. The side bangs and long bob soften her face, giving it a rounder appearance. The slight side parting tapering to the center covers any asymmetrical features and adds volume to the front of her hair.
27. Curly Bob With A Swivel
This curly bob looks so stunning! Spritz on some heat protectant and volumizing spray, and use a curling iron to give your hair those impeccable curls. Then, spritz on some hairspray to set the curls in place. Use a round brush to give your side-swept bangs a perfect swivel.
28. Chin-Length Bob With A Side Parting
A side parting is great for covering large foreheads and wide cheeks. But, if you have great cheekbones (like Brittany Snow), simply tuck the ends of the side sweep behind your ears to flaunt your earrings. If you have a heart- or an oval-shaped face, this hairstyle will really suit you. The chin length of the bob accentuates her jawline and puts it on full display.
29. Retro Waves Bob With Pin-Up Bangs
AnnaLynne McCord is best remembered for her role in 90210, where we get a glimpse into the lives of the elite kids in Beverly Hills. Everyone wanted to copy her iconic style. Style your hair in these perfect sea waves with the help of a curling iron. Do the same for your bangs. Apply some gel to set the curls in place
30. Mohawk Bob With Curled Bangs
Fashion meets edge in this fabulous hairstyle sported by Kristen Stewart. If you love your face shape and aren't afraid of cutting your locks short, this is the look for you. The sides are cut short and gelled back. Curl the mohawk with a curling iron and set your bangs in the front. Color your hair blonde or in contrasting shades to add texture to your hair.
31. Curly Layered Lob With Side Bangs
Big curls make hair look voluminous. Just take a look at Brittany Snow's locks. Don't they look bouncy and lush? Your hair can look like that too! This layered bob is perfect for those who want short hair, but want to play it safe as well. Allow your bangs to fall along with the layers to make your hair look more voluminous and slim down your face. Add the big curls just below the cheeks to streamline your jawline.
32. The Grunge Bob
Feeling dark? Try this edgy chin-length bob. The key is to play with contrasts. Case in point, Taylor Swift's white blonde hair paired with a dark purple lip shade. Her bangs are light and tapered while her bob is messy. Notice how the entire ensemble makes her eyes pop.
33. Blonde Dimension Lob With Long Bangs
Color dimensions are great for face framing. Dark roots make your face look longer while lighter ends and long side bangs streamline and soften your jawline. If you're like me and prefer sweeping your bangs to one side, you can do what Brittany did and tuck one side of your hair behind your ear. It's a great way to showcase your wide cheeks without making them appear big.
34. Long Side Swept Bangs With Curled Ends Bob
Experimenting with contrasts always draws attention. Snow's hair starts straight but ends curly, which is a great way to make feathered ends look voluminous. The long, deep side bangs draw focus to her eyes.
35. Curled Out Bob
Clearly, Taylor Swift favors deep side-swept bangs, and they totally suit her. These bangs focus all the attention on her eyes and chiseled nose. The flicked-out ends of her bob draw attention to her jawline and make it look sharper.
36. Dark Rooted Lob With Wavy Bangs
I love this hairstyle because it has a double contrast. The dark roots flaunt Selena's light blonde hair while the wavy bangs bring some dimension to her otherwise straight hair. The dark roots also give the lob an undercut feel without the need for shaving a side off. I love how minimal her entire ensemble is – the hairstyle, the red lip color, black leather jacket, and the infinity earrings. Perfecto!
37. Perfectly Curly Bob And Bangs
Nothing can beat the euphoria you feel when your curls turn out perfect. It's almost the same feeling I get when I eat fries from my favorite McDonald's outlet. It's the same calm I feel when I look at this curly lob. Use rollers and curl defining cream to achieve this look.
38. Graduated Bob With Outwards Bangs
Let your natural hair texture shine through with this graduated bob. Wash your hair and let it air dry. Blow dry your bangs while brushing them forwards, leaving the rest of your hair natural. It's the best messy bob look.
39. Asymmetrical Bob With Wavy Bangs
The asymmetrical bob is making heads turn all over the world. It's an edgy hairstyle, and Charlize Theron is totally pulling it off. Keep your wavy bangs crisp, and allow the rest of your hair to frizz out.
40. Dark And Light Bob With Feather Bangs
This dark and light dimension bob is incredible. You can see how the contrast makes Julianne Hough's eyes pop. The bangs show off her cheekbones while covering her forehead. The soft ends make her facial features look sharper in comparison.
A blogger shared her personal experience of experimenting with a bob and bangs. She adds" I have a love/hate relationship with it, as it either looks great or awful, with no in-between. It's definitely high maintenance (i)."
Infographic: 5 Glamorous Bob Hairstyles With Bangs
Bobs and bangs are the new Monica and Rachel of hairstyling. They have their own personalities but are a blast when they are together! Wondering which are the best of the best from the list above? We have you covered!
Check out the below infographic to know which bob hairstyles pair well with which type of bangs.



A bob hairstyle with bangs will never go out of style, even though hair trends keep changing from time to time. The cropped cut seems daunting, but there is a reason it is a classic. Going chin-length is instantly eye-catching and draws attention to your face. Moreover, it is a lot less hair to cope with. We hope we have covered everything you wanted to know about bob haircuts with bangs and that you will be able to figure out which bangs would look best on you. Don't forget to bookmark this article, so whenever you are confused about which bob haircut with bangs to try, just crosscheck it!
Frequently Asked Questions
Do bangs make you look younger?
Yes. They cover the forehead and soften and shape the face to make it appear youthful.
What is a feathered bob?
A feathered bob is a short haircut characterized by feathered layers that give your head a full and airy look.
What is a Dutch bob?
A Dutch bob is characterized by straight bangs cut across the forehead, while the rest of the hair is cut slightly below the ears in uniform length.
Should a 60-year-old woman wear bangs?
Why not! Bangs will help cover forehead wrinkles and hairline, making for a younger look.
Discover the hottest bob haircuts from this must-watch video! Stay trendy with these short, chic hairstyles that will elevate your style game and leave you feeling fabulous.
Personal Experience: Source
i. My Ever-Changing Hair: Pixies, Bobs, And Bangs
https://wideeyesandwanderlust.wordpress.com/2017/07/16/my-ever-changing-hair-pixies-bobs-and-bangs/
The following two tabs change content below.