30 Elegant Mother-Of-The-Bride Hairstyles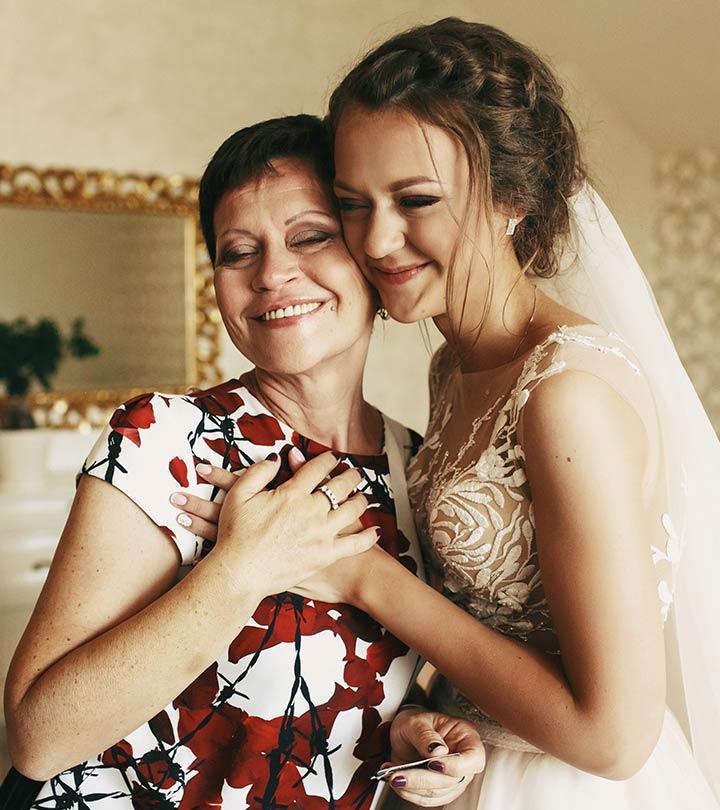 You love her, you raised her, and now, it's her big day!
Hello, mom of the bride! As the big day is coming closer, you have gone through that checklist of wedding duties. I'm sure you've picked a stunning outfit and shoes to go with it, but what about your hair? Oh no, did you forget about it? Don't worry, I've got your back! Since you have a ton of things to do, I'm going to ease your mind a bit and help pick a hairstyle that will complete your beautiful ensemble. Check out these 30 charming hairstyles that are perfect for the mom of the bride!
30 Elegant Mother-Of-The-Bride Hairstyles
1. Big Soft Curls
Simple doesn't have to mean boring. Simple can also be very elegant – just like this hairstyle Cate Blanchett is flaunting. Get those big soft curls by wrapping the ends of your hair around a round brush and blow drying them. Don't forget to spritz on hairspray to set the curls in place!
2. Short Pixie With Side-Swept Bangs
If you have short hair, consider getting this pixie haircut with dramatic side-swept bangs. It looks chic and barely requires any time to style. If you have thick hair, this hairstyle will showcase its volume very well. The uneven sculpted bangs add oomph to the whole look.
3. The Classic Side Sweep
You can never go wrong with the classic side sweep hairstyle. It's as easily achieved as it sounds. Simply sweep all your hair to on one side and pin it at the back to keep it in place. The side sweep looks great when paired with side-swept bangs on the opposite side.
4. Low Bun With Side-Swept Bangs
If classy is what you're looking for, look no further. Leaving out your bangs, tie all your hair into a low bun. Curl the ends of the side-swept bangs, and finish off the look with a hit of hairspray.
5. Slick Straight Lob
Sophistication is an art that needs to be mastered. This lob has captured it well. This is a graduated lob with slightly feathered ends. If your hair is not naturally straight, use a straightening iron to give yourself that slick straight curve.
6. Big Smooth Curls
Your hair becomes weaker as you age. So, instead of using heat styling tools to achieve those flawless curls, opt for velcro rollers. You'll have to keep them on for a while, but the results are worth the wait.
7. Brown-Blonde Combo
Coloring the roots of your blonde locks a deep brown shade can add dimension to your hair and face shape. Choose a shade of brown that suits your skin's undertone. You can pair this color blend with a pixie cut to transform into a badass mom!
8. Curved Out Ends
A simple touch can go a long way in making you look gorgeous. For instance, the curved ends here transform this regular medium-length layered haircut completely. Apply some mousse to your hair, making sure to start at the ends. Wrap the ends of your hair halfway around a round hair brush and blow dry them on a low setting to create the curve.
9. Flowy Curls
Apply some heat protectant and curl your hair from the ear down. This will give your curls a natural and flowy feel. Take this look a notch higher by adding some color to your blonde locks and giving it a dimensional look.
10. The Bouffant High Ponytail
Brush your hair to remove all the knots and tangles. Take the hair at the crown and tease it to create volume. You can also use a small chignon maker if you don't like teasing your hair. Comb the front of the crown section neatly and pin it at the back to form a bouffant. Gather the rest of your hair and tie it in a high ponytail.
11. Elegant Curly Updo
Elegance and romance come together to create this great hairstyle. Part your hair on one side and curl it. Leaving out the hair at the front, tie all your hair in a neat low bun. Let the ends fall out to give it that soft romantic look.
12. Kinky Curls Afro
Embrace your naturally kinky curls with this stunning afro. Apply curl-defining cream your hair, divide it into small sections, and tie them in Bantu knots. Tie a satin scarf or a thin cotton t-shirt around your head and leave it on overnight. Untie your hair in the morning and fluff it to create this gorgeous afro.
13. Flicked-Out Bangs
Angela Bassett never seems to age! Get these flicked-out bangs to look youthful at your daughter's wedding. They look great with a variety of outfits, from open-neck gowns to smart pantsuits.
14. Blow-Dried Bob
Add some lift to your hair to give it more volume. Wash your hair and blow dry it on a low setting. Brush your hair upward with a round brush while doing so. Brush your bangs forward with the round brush beneath your hair to give it some lift.
15. Go Natural
Have you always been complimented for your hair? Flaunt your natural locks then! Just make a small change to change your look. For instance, instead of parting your hair as you naturally would, part it on a different side. This will add volume to your hair.
16. Beachy Curls
Now, this is a hairstyle that's perfect for a beach wedding. Add some light blonde highlights to your hair to give it dimension and texture. Then, curl your hair and brush it out to give it a more natural look. Finish off with a few spritzes of sea salt spray to give your hair that naturally tousled look.
17. Soft Bob
Wash your bobbed hair and brush it down while blow drying it. This will give it a soft touch. Pair this style with natural makeup, and you'll look stunning! The beauty of this simple hairdo is that it shows off your natural facial features.
18. Big Hair
Tease all your hair at the top and smooth it down to achieve this look. Style your hair in big curls from the ear down. This hair look is perfect for those mums whose daughters want them to look fashion forward at the wedding.
19. Retro Rolls
Everyone loves a good retro roll updo. This flapper hairstyle was designed to make long hair appear short since short hair was the fad back in the '20s. Style your hair in some nice big curls and spritz on some hairspray. Brush your hair, so the curls look flowy and vintage. Fold your hair inward and pin it at the back. Style your hair at the front in a dramatic side sweep.
20. Low Updo With Deep Side Swept Bangs
Style your hair in some waves with the help of a straightening iron. Part your hair at the front in a deep side-swept parting. Gather all your hair and wrap it in a low bun on one side. This is, by far, the most sophisticated mother-of-the-bride hairstyle.
21. Silky Layered Bob
If you have silky hair (lucky you!), get this layered bob. The layers will showcase your silky straight hair in all its glory. They will also flaunt the thickness of your hair. This is a great hairstyle for framing your face and drawing the attention to your eyes.
22. Big Messy Curls
Recreate this stunning hairstyle with velcro rollers and hairspray. The beauty of this hairstyle lies in its messiness. You don't want your hair to be so messy that it looks like you walked through a storm. At the same time, you don't want your hair combed down too neatly.
23. Big Side-Swept Curls
Just because you are the mother of the bride does not mean that you need to look simple. Jazz up your look with this old Hollywood-inspired side-swept hairstyle. After all, it's not every day that your daughter gets married!
24. Au Naturel
Sometimes, sticking to your regular hairstyle is all you need to look perfect. Amp it up with some light makeup and chic jewelry. This simple yet pretty hairstyle looks best on a long flowy gown.
25. Curly Locks
Natural, well-defined curls always look good. Wash your hair and let it air dry until it is damp. Apply some curl defining cream to your locks. Tie your curly hair in a pineapple ponytail and wrap it in a silk scarf, leaving it on overnight. You will wake up the next morning with really amazing curls.
26. Faux Undercut Curls
If you're looking for a hairstyle with a little bit of edge, this is it. Part your hair on one side. Curl your hair in big chunks, apply some mousse, and comb down the side that does not have the deep side sweep. This will give it a faux undercut look.
27. Curly Low Side Bun
Brush your hair to remove all knots. Spritz on some heat protectant on your tresses and curl the ends, about an inch or two. Wrap your hair in a low side bun, leaving out the curled ends to neatly fall over the bun. Curl the bangs in the front to romanticize the look.
28. The Messy Parting
The messy parting is great for creating an effortlessly chic look. If you have straight hair, comb your hair down neatly. If you have curly hair, consider straightening your hair as it will help you achieve that slick look.
29. Low Side Ponytail
Michelle Yeoh must have a fountain of youth hidden in her house. If you want to look youthful like her, try out this hairstyle. Curl your hair and create a bouffant at the top. Leave out your bangs and tie the rest of your hair up in a low ponytail. Part your bangs down the middle to finish off this chic look.
30. Sleek Top Knot
Demi Moore is absolutely slaying with this edgy hair look! Apply some mousse to your comb and comb down your hair. Part your hair down the middle. Leave out a thin section of hair on either side to frame your face. Tie the rest of your hair in a high top knot.
Those were my top picks for mother-of-the-bride hairstyles! Hope I have helped you moms pick a lovely hairstyle for your daughter's big day. Try accessorizing your hairdos with some barrettes or designer hair clips. Which of these hairstyles are you going to sport at your angel's wedding? Comment below to let me know. All my best wishes to you and your daughter!
The following two tabs change content below.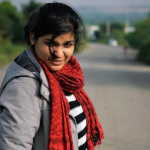 Latest posts by Anjali Sayee (see all)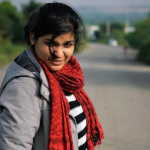 Anjali Sayee
Anjali Sayee is a writer and an introvert. From studying Aeronautical Engineering and wanting to design her own airplane to writing articles on hairstyles, she has been on quite a journey. She believes that hair is one of the key factors that define a woman's personality. To quote her, "What's the first thing they do in the movies to show a personality change? Change the hair – because it has a life of its own." She's here to help you find the hairstyle you need. This bookworm is a self-professed Wholocker, a talented drummer, and an amateur photographer.