61 Best Movies To Watch With Your Boyfriend (With IMDb Ratings)
Have a fun time and deepen your bond with your partner on a special movie date.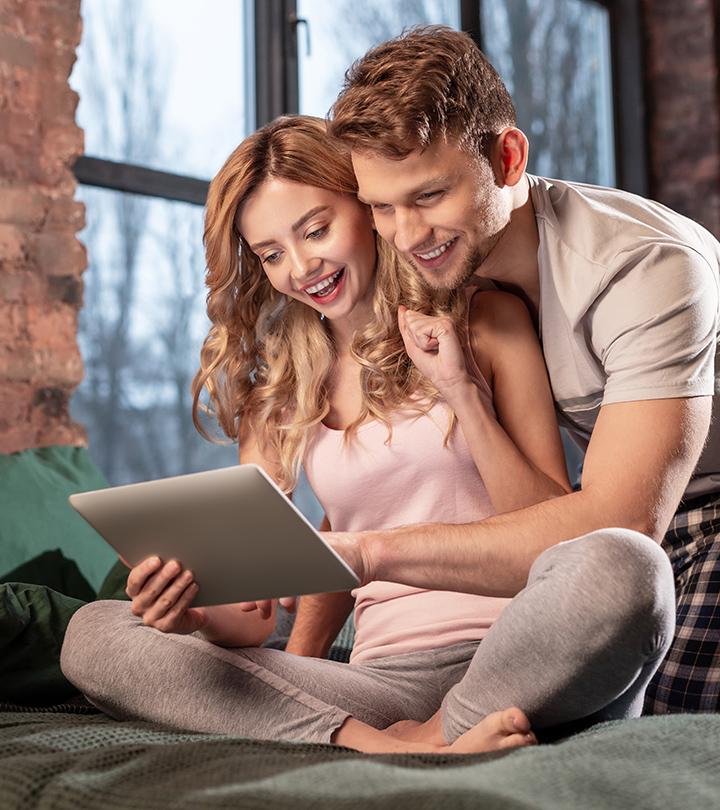 "Netflix and chill" has lost its meaning in this age of online dating. But, if you want to spend a relaxing weekend with your boyfriend, there's nothing better than watching a movie. Wondering which movie to watch with your boyfriend? With so many options available on OTT platforms and in theatres, making a decision can get difficult. Don't worry! Here's a list of 61 movies that you can watch with your boyfriend. Check it out!
Romcom Movies To Watch With Your Boyfriend
1. How To Lose A Guy In Ten Days 
Released In: 2003, IMDb Rating: 6.4/10
What happens when bets go wrong? Love! When Andy, a columnist for a women's magazine, and Ben, an advertising executive, make bets with their coworkers to get rid of a guy in 10 days and to make a woman fall in love in 10 days, sparks fly and so do wigs! The movie takes you on a roller coaster of laughter and romance.
2. Just Friends
Released In: 2005, IMDb Rating: 6.2/10
Just Friends is what one would call an awakening. When Chris, the handsome guy who was overweight in high school and humiliated for it, and Jamie, the sweet beautiful girl, meet after 10 years, sparks are supposed to fly… but not so easily! Add in a crazy diva and an old flame, and Christmas, this movie promises to be a ride of fun, frustration, and laughter!
3. Friends With Benefits 
Released In: 2011, IMDb Rating: 6.5/10
Justin Timberlake and Mila Kunis win hearts with this romcom flick. When Jamie decides to recruit Dylan, there's no way she would have expected what would come out of it. A friends-with-benefits situation? Check. Falling in love? Check. Finding that the guy doesn't love you? Check. A situation of 'Only know you love her when you let her go' ? Check. This movie is sure to make you and your partner laugh and revel at the beauty of romance.
4. The Princess Bride
Released In: 1987, IMDb Rating: 8.1/10
What could possibly be more romantic than when the hero saves the damsel in distress from being married when she doesn't want to? Nothing. Buttercup is about to be married to the mean and cruel Prince Humperdinck before she is kidnapped by the Dread Pirate Roberts. What happens then is the perfect romantic comedy, with Buttercup finding true love and the Prince finding his evil fate.
5. Sleepless In Seattle 
Released In: 1993, IMDb Rating: 6.8/10
You know who the best cupids in the world are? Kids. When a kid sad after watching his dad miss his mom for so long after her death decides to take up the cause of saving his dad's love life, hearts are bound to melt. Add in a little manipulation by a child and a little romance by the adults. This movie is the perfect romcom to snuggle up with your partner after a long Friday!
6. You've Got Mail
Released In: 1998,  IMDb Rating: 6.6/10
This movie might have shown the first online romance to have ever existed. Tom Hanks and Meg Ryan created the game plan of today's Tinder through AOL! Kathleen owns a small bookstore, while Joe belongs to the grand chain of Fox Books. It's not just sparks that fly with them, it's quips, knives, and glares. But behind the privacy of the internet, their romance comes alive in a way that is sure to make hearts melt.
7. Set It Up
Released In: 2018, IMDb Rating: 6.5/10
When two overworked assistants decide they've had enough and they'll have to set up their bosses together, even Cupid is shell-shocked! Harper Moore and Charlie Young, with their smart-but-stupid ideas and adorable chemistry, make this a laughter-inducing, tear-jerking romantic comedy.
8. About Time
Released In: 2013, IMDb Rating: 7.8/10
Tim Lake has grown up as a simple boy, but in his 21st year of life, his father tells him a delightful secret. The men in their family have the power to time travel. This beautiful ability, of course, has Tim over the moon, until he realizes the downside. If you're looking for a light comedy that stresses on living life to the fullest, this is your pick.
9. The Proposal
Released In: 2009, IMDb Rating: 6.7/10
What's the best way to not get deported? Get hitched! When Margaret Tate is going to be deported back to Canada, she finds the best way to escape her fate – get married to the assistant. What was supposed to be a relationship based on mutual benefit ends haywire after she meets her assistant's family and realizes that she may just fall for him for real.
10. To All The Boys I've Loved Before
Released In: 2018, IMDb Rating: 7.2/10
Lara Jean Covey writes a letter whenever she has an extreme crush. These letters are her little secret that she expects no one to know about. Until they are posted. Enter chaos into her life, with people from the past resurfacing… and maybe even feelings!
11. Office Space
Released In: 1999, IMDb Rating: 7.7/10
When Peter, a tired office worker, is presented with an opportunity of hypnosis by his girlfriend, he takes it. The hypnotist dies during the treatment, Peter becomes super confident, his girlfriend leaves, and he decides to take revenge. On everything. This movie makes for a super fun romantic comedy.
12. Marley And Me
Released In: 2008, IMDb Rating: 7.1/10
What happens when newlyweds John and Jenny adopt Marley, a cute, rambunctious, and crazy little Labrador Retriever? Lots of things! Marley drives them up the wall but also becomes the bond that makes them grow. This romantic comedy is definitely one where you just cuddle with your partner and smile.
13. When Harry Met Sally
Released In: 1989, IMDb Rating: 7.6/10
This classic movie is, for sure, the best idea for a romantic comedy date night. Harry and Sally, two estranged people, become friends, then stop being friends, then meet again, then again become friends, and then stop being friends, then set each other up with each other's friends, and then become a couple. It catches your breath… in the most beautiful and spectacular manner.
14. 17 Again
Released In: 2009, IMDb Rating: 6.3/10
Mike, a 37-year-old office worker, is tired of his life, and his wife asks for a divorce. His whole world collapses until one day – he is transformed into a teenager. He is 17, again! Follow his journey in realizing his priorities in life and finding what he truly needs is not success but the love of his life.
15. Definitely, Maybe
Released In: 2008, IMDb Rating: 7.1/10
What happens when you find your true love and let it go? Despair and despondency set in. Will Hayes has wasted his love luck on everyone but whom he should, and it isn't until his daughter steers him in the right direction does he find his true love.
16. Isn't It Romantic
Released In: 2019, IMDb Rating: 5.9/10
Natalie hates romantic comedies. Then she realizes that her life decides to shove her into one – in an alternative universe. This movie takes us through Natalie's journey of finding herself and loving herself while trying to find ways to get back to the real world. Rebel Wilson's perfect portrayal of Natalie is sure to make you laugh until you cry!
Funny Movies To Watch With Your Boyfriend
17. Sex And The City
Released In: 2008, IMDb Rating: 5.6/10
Sex And The City is a rollercoaster of emotions – with Carrie's wedding and Charlotte's baby and Samantha's business and Miranda's love life. The movie is sure to make you and your partner have a fun romantic movie night.
18. My Super Ex-Girlfriend
Released In: 2006, IMDb Rating: 5.1/10
Looking for something that's going to keep both of you laughing like crazy? This is your pick! Matt Sanders realizes that his girlfriend is G-girl and that he is getting super tired of her controlling ways. He decides to break up. Bad decision! She decides to break him, for, he broke her heart.
19. Crazy Rich Asians
Released In: 2018, IMDb Rating: 6.9/10
When Nick Young proposes to his girlfriend on a vacation in Singapore, Rachel Chu doesn't think much of it. Until she realizes that Nick isn't an average guy next door – he's the heir to the Young empire! Follow Rachel's adventure, maneuvering through high society with her steely nerves and an economic mind.
20. Journey To The Center Of The Earth
Released In: 2008, IMDb Rating: 5.8/10
When Sean is left to stay with his Uncle Trevor for a week, adventure ensues. Blips appear, so does a hot mountain guide, and also, a world within the world! This movie is a perfect balance of sci-fi, comedy, and family.
21. Home Alone
Released In: 1990, IMDb Rating: 7.6/10
Kevin McCallister has one wish for Christmas – 'I hope my family disappears.' Lo and behold! It comes true. The McCallister family has gone on a vacation to Paris, leaving Kevin behind. Kevin's adventures involve protecting his house and finding the importance of family while dealing with a pair of thugs.
22. The Hangover
Released In: 2009, IMDb Rating: 7.7/10
This movie is the ultimate comedy. Imagine going to a bachelor party. Then getting drunk. And then proceeding to forget about EVERYTHING. This is the definition of a comedic rollercoaster. Have tissues at hand to wipe your tears due to laughing.
23. Zoolander
Released In: 2001, IMDb Rating: 6.5/10
Derek, a model, has just been ousted by a critic, which causes a downfall spiral for him. He plans to leave the fashion industry and goes back to his hometown, where he is shunned. Meanwhile, an evil mastermind wants someone to murder the President, and Derek makes for the perfect scapegoat.
24. A Cinderella Story
Released In: 2008, IMDb Rating: 5.8/10
When Mary Santiago loses her zune at a black and white ball, and it falls into Joe Parker's hands, sparks are set to fly. But what happens when the evil stepsisters and their mean friend intervene?
25. We're The Millers
Released In: 2013, IMDb Rating: 7/10
When David is robbed of his stash of marijuana and his money while trying to save a teenage girl, he is in grave debt. His only way to appease the loan shark is by smuggling a 'smidge' of marijuana from Mexico. Add in a fake family and a traveling partner who is the police – this is a bubble waiting to burst!
26. Bridesmaids
Released In: 2011, IMDb Rating: 6.8/10
What happens when your only best friend is about to get married and is going to be stolen by some rude, fake person? Your brain blows up. That's what happens to Annie when she finds herself sidelined in her own life and in a place where she is desperately alone. Watch how Annie gets her life back on track by losing the dead weight and taking back the reins of her life.
27. Meet The Parents
Released In: 2000, IMDb Rating: 7/10
When Gaylord 'Greg' Focker decides to go meet his girlfriend's parents, hell comes to life. Her dad is an ex-CIA officer. Everything seems to work against Greg – from her dad pulling the lie detector and hidden cameras on him to his awkwardness as a male nurse.
28. Elf
Released In: 2003, IMDb Rating: 6.9/10
Buddy, who has misplaced belief of him being an elf, is shocked to the bone when he finds out that he is actually a human. He sets out to find his dad and who he is. The movie takes us on a magical adventure with Buddy finding his worth and the world believing in Santa again.
29. Night At The Museum
Released Year: 2006, IMDb Rating: 6.4/10
Larry Daley is in need of a job. When he was able to score one as the night guard of the museum, he didn't think life would be so difficult – until he realizes that the exhibits come to life at sundown. It's a perfectly funny movie series to just chill with your boyfriend!
30. The Princess Diaries
Released In: 2001, IMDb Rating: 6.3/10
Amelia Thermopolis is a nerd. And an outcast. What happens when she finds out that she's the heir to the throne of Genovia? Chaos! Makeovers, etiquette, balls, and dresses later… Was Mia better off as a normal teenager?
31. We Bought A Zoo
Released In: 2011, IMDb Rating: 7.1/10
Benjamin Mee is getting over his heartbreak at the death of his wife. His son is expelled, and his little daughter feels lonely. Deciding to move away from the haunting memories, they buy a house – which comes with a zoo! Their life enters madness when they find that the zoo is not only a place with animals in cages but a place where love can brew!
Romantic Movies To Watch With Your Boyfriend
32. Pretty Woman
Released In: 1990, IMDb Rating: 7/10
Edward finds himself lost after his girlfriend refuses to be his chauffeur anymore and dumps him. He has no way out – until he finds Vivian, the pretty Hollywood prostitute, who guides him through his way. Seeing her familiarity with the road, Edward hires Vivian as a chauffeur and hired help during an important business meet. What he didn't expect was finding a kind and funny girl hiding behind the exterior of the tough girl and falling in love with her. This is a perfect movie to laugh and cry along with your partner!
33. Monte Carlo
Released Year: 2011, IMDb Rating: 5.8/10
When Grace Bennet, Emma Perkins, and Meg Kelly decide to go on a trip to France after graduation, they didn't expect to be ripped off, they certainly didn't expect to be stranded, and they definitely didn't expect to find a doppelganger in the form of a rich girl. Watch how their story turns into a rollercoaster of finding true love and themselves.
34. Eat, Pray, Love
Released In: 2010, IMDb Rating: 5.8/10 
Eat, Pray, Love takes us on a journey of finding oneself. Elizabeth Gilbert has the perfect everything, except for personal fulfillment. She decides to find herself after her divorce. She finds the power of fulfillment in eating, praying, and loving. This awesome flick is sure to make you appreciate the one beside you!
35. Titanic
Released In: 1997, IMDb Rating: 7.8/10
Titanic is one of the most classic romance movies of all time. Two lovers from two different sides of the society meet on The Titanic, which is set on the course of doom. This love story immortalizes forbidden lovers and is sure to induce tears. This is a must-watch with your boyfriend if you don't mind crying ugly.
36. The Notebook
Released In: 2004, IMDb Rating: 7.8/10 
The Notebook is set against the backdrop of youth and the World War. The two young lovers, Allie and Noah, who are from two different strata of society, fight for their love against the social norms. This movie is sure to make you cry and seek the comfort of the one beside you!
37. Eternal Sunshine Of The Spotless Mind
Released In: 2004, IMDb Rating: 8.3/10
Have you ever wondered if you could erase your memories? When Joel and Clementine break up, each of them decides to erase the memory of the other in an attempt to forget the heartbreak. But what if you are just meant to be? Find out how they find each other again and fall in love with each other again after having their memories erased.
38. Me Before You
Released In: 2016, IMDb Rating: 7.4/10
William 'Will' Traynor has had an accident that leaves him paralyzed from the neck down. Enter Lou Clark, the fun bubbly girl who has just been fired. Lou is hired as a companion for Will by his parents, who hope that an energetic friend may change Will's presently deteriorating outlook on life. Follow Lou's journey as she embarks on adventures to show Will that life is worth living. Will he decide against life? Or will he embrace it? 'Just Live.'
39. Call Me By Your Name
Released In: 2017, IMDb Rating: 7.9/10
Based on the book of the same name, Call Me By Your Name explores growth and finding friendship that's more than one through a series of events and simultaneous reactions to them.
40. Chocolat
Released In: 2000, IMDb Rating: 7.2/10
When Sweet Vianne and her daughter arrived in a quiet French village in the winter of 1959, nobody would have thought of the effect they'd have on the quaint village. The village follows strict traditions and has an even stricter mayor. The thought of a chocolatier making chocolate during Lent was unfathomable. Watch how the stubborn villagers slowly warm up to this sweet chocolatier and give into temptation.
41. A Star Is Born
Released In: 2018, IMDb Rating: 7.7/10
Want to watch a tear-inducing romance? A Star Is Born stars Lady Gaga as Ally and Bradley Cooper as Jack. Jack, an established singer and songwriter, is slowly losing his fame when he comes across Ally, an aspiring singer and songwriter. The two meet, talk, and fall in love. The movie shows the journey of Jack helping Ally reach the top while slowly falling to the bottom himself.
42. P.S I Love You
Released Year: 2007, IMDb Rating: 7/10
After the death of Gerry, Holly's husband, Holly is grief-stricken and distraught. Finding herself unable to live without him, Holly recedes into a shell of loneliness. Then arrives a letter written by Gerry before he died, ending with 'P.S. I Love You'. This starts the chain of letters by Gerry, all ending with the same and helping her move on. This movie is sure to melt your heart and feel all fuzzy on the inside.
43. The Vow
Released In: 2012, IMDb Rating: 6.8/10
When Paige and Leo's car is hit by a truck, it ends up with Paige losing her memory and forgetting everything about Leo and her present life. The Vow shows the viewers the journey of a man who does everything to make his wife fall in love with him again after she loses her memories.
44. Letters To Juliet
Released In: 2010, IMDb Rating: 6.5/10
Sophie goes on a pre-honeymoon with her fiance to Verona, the place of Romeo and Juliet. She finds Juliet's secretaries, who respond to the letters that Juliet's courtyard receives. She replies to one such letter, which draws her into an adventure with elderly Claire and Charlie, her grandson, to find Claire's long lost love. Will love blossom? Watch it to find out!
45. Love Actually
Released In: 2003, IMDb Rating: 7.6/10
Love Actually follows the lives of eight different couples who navigate their way through love and find their way toward who they belong with. If what you're looking for is a happy flick, this is the way to go.
46. A Walk To Remember
Released In: 2002, IMDb Rating: 7.4/10
Landon, an arrogant high school boy, is roped into community service after a set of bad deeds, where he meets Jamie Sullivan. The girl he's known all his life, but never really known. The community service begins in the form of a play they act in together. As the story develops, Landon and Jamie fall in love and eventually marry each other. But is love really that simple? Get ready to cry bucketfuls of tears and snuggle in with your partner for a heart-wrenching movie.
Top Movies To Watch With Your Boyfriend
47. Forrest Gump
Released In: 1994, IMDb Rating: 8.8/10
Forrest Gump is one of THE best movies of all time. While it doesn't particularly talk about romance, Forrest Gump shows the hardships of living and how it is always better to keep trying. This is, for sure, a tear-jerker!
48. A Quiet Place
Released In: 2018, IMDb Rating: 7.5/10
What better movie to watch with your boyfriend if not something that shows the power of love but also has a few horror scenes enough for you to cuddle close to him! A quiet place shows a family surviving extra-terrestrial organisms who hunt at the slightest sound.
49. Train To Busan
Released In: 2016, IMDb Rating: 7.5/10
What happens when Earth is infiltrated by zombies? Utter destruction. Follow the journey of Seok-woo and Soo-An as they fend of a zombie epidemic and fight for safety. This father-daughter story will leave your heart aching, and the scary parts are sure to help cling to your partner!
50. Indiana Jones
Released In: 1981, IMDb Rating: 8.4/10
Are you the couple that enjoys action-packed movies, with loads of mysteries and a splash of romance? This is your stop! Indiana Jones follows an archeologist as he digs the secrets buried deep under and saves the world time and again with his ingenious skills. This movie is sure to keep you on your toes!
51. Little Women
Released In: 2019, IMDb Rating: 8.1/10
Based on the book of the same name, Little Women talks about four sisters, The March's, and how they go on in their lives as a poor-middle class family. How they grow to become different individuals and how they find love. This movie is perfect for watching if you're looking for a calm weekday movie night with your boyfriend. It is sure to make you smile.
52. Lara Croft
Released In: 2001, IMDb Rating: 5.1/10
What better way to spend movie night if not watching a movie with a femme fatal kick-ass lead? Angelina Jolie stars as Lara Croft, the athletic English archeologist who fights for what's right.
53. Mission Impossible
Released In: 1996, IMDb Rating: 7.1/10
The Mission Impossible series is definitely one for the top list. Follow Ethan Hunt and his way of making the impossible possible and saving the world. Tom Cruise just makes the deal better!
54. Lord Of The Rings
Released In: 2001, IMDb Rating: 8.8/10
Follow the journey of Frodo as he fights his way to destroy the One ring that rules all other rings. The One ring, if in the wrong hands, can bring destruction and chaos to the world, especially if those hands are of Dark Lord Saurons. This series is sure to work if you wish to watch something every day in succession.
55. Up
Released In: 2009, IMDb Rating: 8.2/10
Do you want the most romantic, crazy, adventure-filled movie for your movie night? Up it should be. The opening sequence defines what true love is. Carl and Ellie loved each other so much that even after death, Carl fulfills his promise to Ellie and also sets out on a new adventure and finds reason for life again.
56. The Breakfast Club
Released In: 1985, IMDb Rating: 7.9/10
What's more charming than a group of outlaws deciding that there is something more to them? One Sunday, the jock, the geek, the outcast, the rebel, and the stuck-up of Shermer High School – Andrew, Brian, Allison, John, and Claire – are called for all-day detention. The day gives them insight into themselves and finds them new choices in life. The movie focuses on friendship and mutual growth and also coming to terms with oneself.
57. The Truman Show
Released In: 1998, IMDb Rating: 8.1/10
"In case I don't see you… good afternoon, good evening, and good night."The Truman Show is a must-watch classic wherein we see the inane nature of human greed where one man has trapped a person in what one can call a pseudo-society for the entertainment of others.
58. The Imitation Game
Released In: 2014, IMDb Rating: 8/10
This movie shows the journey of Alan Turing, a smart cryptographer who has a secret he cannot share. Add in the World War and the Germans threatening to destroy everything. Turing is called to form the cryptography team that decodes the Nazi messages. The movie follows Turing's journey of discovering what he is meant to be and who he is supposed to be.
59. The Sound Of Music
Released In: 1965, IMDb Rating: 8/10 
The Sound Of Music is the most beautiful story of a family finding love for each other. Julie Andrews portrays the outgoing and bubbly Maria, and Cristopher Plummer plays the Captain who hires her as a governess for his children. The children who were in despair since their mother's death come to love and trust Maria as she gets closer to them and teaches them to sing. The movie shows how relationships are based on mutual trust, love, and respect. 
60. Life Is Beautiful
Released In: 1997, IMDb Rating: 8.6/10
This tear-jerking, heart-melting, gut-wrenching movie is sure to make you cry extra-large tears of sadness. The movie shows the life of Guido and Dora, who, along with their son, Giosui, fight and survive the Nazi concentration camp. The sacrifices the parents make and the lengths they go to keep each other safe are shown beautifully in this movie.
61. E.T. The Extra-Terrestrial
Released In: 1982, IMDb Rating: 7.8/10
The movie shows the alien ET and his friendship with 10-year-old Elliot and how the arrival of ET sends Elliot's life into a world of adventure. This movie is sure to make for a perfect date night.
Infographic: Tips To Plan A Cozy Movie Date
Movie dates are always special for spending some quality time together. That said, it is important to value the taste and preference of your partner. While there are innumerable movies to watch together on a movie date, the planning is what makes the whole experience memorable. Check out the infographic below to learn how to plan a cozy movie date and enjoy those special times with your partner.



Cuddling in a blanket as you watch a romantic movie together can be one of the most beautiful memories you can create with your boyfriend. You can also opt for romcoms, comedy, drama, action-adventure, or even horror flicks. What matters is the two of you enjoy the show and the moments of togetherness. To make the experience more pleasant, you can set mood lighting and order in or cook your favorite snacks and food. So, all you got to do is sit back and enjoy the precious time with your beau.
Frequently Asked Questions
What are some factors to consider when choosing a movie to watch with your boyfriend?
Choose a movie that you will enjoy and give importance to personal preferences like language, genre, and length of the movie, and also consider the mood you both are in when choosing a movie to watch with your boyfriend.
How can the genre of a movie impact the viewing experience for both partners?
The genre you are going to choose can impact your viewing experience. For example, if you want to watch a comedy film, it will provide some laughs. Romantic feelings can create a feeling of intimacy, and horror ones are meant to scare.
Can the mood or current events impact the type of movie that is suitable to watch with a significant other?
Yes. If you are feeling sad or low, then watching any comedy film that can make you laugh and lift your mood. In addition, if you find yourself caught up in an overwhelmed situation, selecting a good movie can make you happy.
Can watching a movie together help to open up new conversations and perspectives between partners?
Watching a movie together helps to start a new conversation about their views, opinions, feelings, or perspectives on the movie.
Check out this video for the top 10 romantic movies to watch with your special someone! Enjoy a night in with your loved one and get ready for a romantic movie marathon!