What Is The Nance Fruit And Is It Good For You?
This bite-sized yet incredibly flavored fruit packs a punch when it comes to health benefits.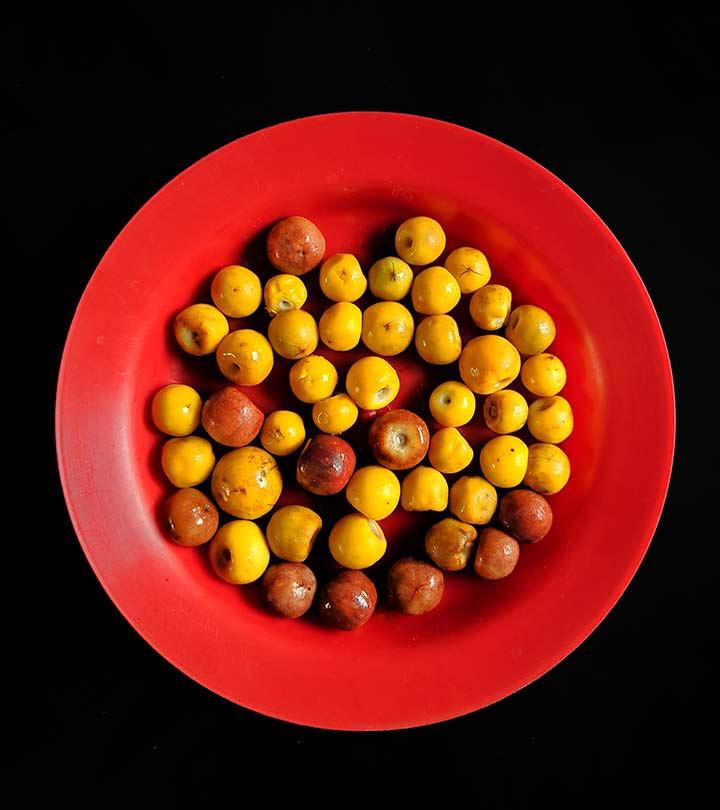 Nance fruit is slowly gaining popularity for its unique odor and taste. This bright yellow, cherry-like fruit is the latest addition to many modern delicacies. The benefits of nance fruit can be attributed to its nutrients. Even though it is popularized as an ingredient in modern cuisine, it has been a part of many traditional medicines, dishes, and beverages. Read on to know more about nance fruit, its nutritional profile, benefits, simple ways to include this fruit in your diet and, and possible side effects.
What Is The Nance Fruit?
Nance is a cherry-sized yellow or red berry that grows wild in the Central and Latin Americas and the Caribbean. It is also referred to as nanche, hogberry, or yaca. It is sweet and pungent and has a big pit containing one to three seeds nestled within its whitish, creamy, and oily pulp. The fruit can sometimes taste acidic or bitter as well. What sets the nance fruit apart though is its distinctive smell. Some describe it as soapy, while others can't quite describe it.
Nances grow on the nance tree (Byrsonima crassifolia), a flowering shrub that thrives in backyards, open forests, and savannas. Nances are used in jams, popsicles, preserves, desserts, beverages, and even savory dishes. You can even eat it straight off the tree. The nance is generally yellow, but you can find a red variety (commonly called guajacote) in Mexico and Costa Rica.
Fun Fact
In Mexico, nance is called 'nanche' and is a common dessert element that can be found in the form of popsicles and ice sorbets.
Now that you know what a nance fruit is, let's take a detailed look at the nutrients it contains.
Nutritional Profile Of The Nance Fruit
You can cook with nances or eat them raw. Either way, the fruit has a lot to offer in terms of the macro- and micronutrients (1).
Nutritional Content Of Nance Fruit (112 g or 1 cup, without pits)
Energy
81.8 kcal
Iron, Fe
0.426 mg
Carbohydrate
19 g
Magnesium, Mg
22.4  mg
Dietary Fiber
8.4 g
Phosphorus, P
11.2  mg
Protein
0.73g
Potassium, K
273   mg
Fat
1.3g
Vitamin C
104   mg
Sugar
9.31g
Sodium, Na
3.36  mg
Calcium, Ca      
51.5  mg
Zinc, Zn
0.101 mg
Carotene, beta      
44.8  µg
Copper, Cu
0.046 mg
Carotene, alpha      
3.36  µg
Manganese, Mn
0.278 mg
Cryptoxanthin, beta
5.6 µg
Selenium, Se
0.448 µg
Vitamin E
1.4 mg
Folate
8.96  µg
Lutein + zeaxanthin
637   µg
Thiamin
0.017 mg
Vitamin K
13.3  µg
Niacin
0.325 mg
Tocopherol, beta
0.056 mg
Riboflavin
0.02  mg
Tocopherol, gamma
2.11  mg
Pantothenic acid
0.202 mg
Tocopherol, delta
0.325 mg
Vitamin B-6
0.024 mg
Tocotrienol, alpha
0.034 mg
Vitamin A, IU
82.9  IU
Tocotrienol, gamma
0.056 mg
Vitamin A, RAE
4.48  µg
The nance fruit is loaded with vitamin C and dietary fiber. It is also replete with carotenoids and minerals. Its rich nutrient profile makes the nance fruit quite beneficial for human health. We discuss its health benefits in the following section.
5 Potential Health Benefits Of The Nance Fruit
1. May Promote Gut Health
The dietary fiber in nance may help improve symptoms associated with irritable bowel syndrome, Crohn's Diseasei  XA chronic inflammatory bowel disease that causes irritation in the digestive tract, leading to abdominal pain, diarrhea, and fatigue. , ulcerative colitisi  X A long-term inflammatory bowel disease that can cause inflammation and ulcers in the digestive tract. , and chronic constipation. Half a cup of the nance fruit can offer 4 grams of dietary fiber. That is 16% of the daily value for a 2000 calorie diet as prescribed under the Dietary Guidelines for Americans (2). Dietary fiber can do wonders for your intestinal environment as the friendly gut bacteria feed and thrive on it. Dietary fiber, especially from whole fruits, can also lower the risk of various diseases associated with the gastrointestinal tract (3).
2. May Help Maintain Skin Health
Have a cup of nance fruit and you are on top of your required vitamin C intake for the day. Vitamin C is linked with increased collagen production and helps reduce photo UV damage. It may help keep your skin youthful and resilient against environmental damage. The antioxidant-rich profile of nance fruit helps fight against free radicals and reduces the chances of premature skin aging (4).
Nances also contain vitamin E that is quite popular in the cosmetic industry. Vitamin E stabilizes the skin barrier and protects it from photodamage. Although further studies are required, vitamin E may help reduce the risk of skin cancer and UV damage (5). This vitamin also reduces inflammation and may help in the treatment of eczemai  XA long-term inflammatory condition that causes itchy, red, bumpy, cracked skin and rashes along with soreness. or acne (6).
The combination of vitamin C and vitamin E is effective in reducing skin damage and regenerating healthy skin (7). While the effects of vitamins C and E have been well studied, further research on the nance fruit and its skin benefits is warranted.
3. May Reduce Risk Of Heart Disease
The dietary fiber in nances may help regulate blood pressure, blood cholesterol, and triglyceride levels (8).
Studies suggest that soluble fiber can reduce levels of low-density lipoprotein (LDL) by obstructing its absorption. LDL cholesterol is often responsible for high blood pressure and may also increase the risk of stroke (9). Another study has found that eating at least 25 grams of fruit with white flesh may reduce the risk of heart attack (or stroke) by 9 percent (10).
4. May Help Counter Lead Toxicity
Vitamin C in nances may help reduce the effects of lead accumulation in the body. Lead poisoning increases oxidative stress and disrupts bodily functions. In a study, exposed battery workers (with high blood lead levels) on vitamin C supplementation had reduced levels of oxidative stress and increased antioxidant status. While vitamin C may not lower blood lead levels, it may help reduce the associated oxidative stress (11).
5. May Reduce Cancer Risk
Vitamin C in nances may reduce the risk of lung, mouth, stomach, rectum, throat, and esophageal cancers (12). In a study, terminal cancer patients given supplemental vitamin C had improved quality of life and longer survival periods (13).
The dietary fiber in nance fruit may also reduce the risk of colon cancer. Dietary fiber may also decrease the risk of gastrointestinal cancers and cancers of the breast, ovary, and endometrium (14).
Nance fruit has not been studied individually as a potential anti-cancer food. But there is substantial evidence to suggest that the selenium and carotenoidsi  XA class of naturally-occurring pigments found in many fruits and vegetables with anti-inflammatory and antioxidant properties. in the fruit play a protective role in cancer prevention. Nances are rich in lutein and alpha- and beta-carotenes as well that may have anti-cancer potential (15), (1).
So how do you get all these benefits from nance?
How To Add The Nance Fruit To Your Diet
If you live in Central or Latin America or the Caribbean, chances are you will easily find fresh nance fruits. If not, you may always look at international or frozen food sections of your nearest supermarket. You can identify nances by their smooth and thin golden yellow, orange or red peel and a distinctly strong odor. You may eat them raw (discard the pit with seeds) or cook them to prepare delicious meals. Nances also do well in smoothies and fruit salads.
In Mexico, locals enjoy nances with a sprinkle of chili powder and a squeeze of lime. If you know how to make marmalade, you can prepare a batch with nances. Nances also work great as a vinegar pickle or jam. They are quite versatile as they are used in desserts and savory dishes. If you are looking to satisfy your sweet tooth, you can add sliced nances to a one-pot meal of chicken, olives, and rice.
Let's check out one popular recipe using nances that you can prepare at home.
Popular Recipe Using Nances
There are many different ways to enjoy nances. Pesada de nance, a recipe from Panama, is quite popular among kids and adults. It is also easy to prepare.
Pesada De Nance
This is a traditional recipe that uses the pulp from tart nance fruits, water, cornstarch, and sugar. It is a smooth cream that can be served hot or cold with crumbly and salty fresh cheese on top.
Preparation Time
15 minutes
Cooking Time
12 minutes
Ingredients
8 cups of nance
3 liters of water
¾ cup of water
1 cup of cornstarch
Optional: 1 lime/a handful of pineapple chunks
Process
Add the nance to a blender and pour water till it covers the top of the fruit.
Blend for 5 to 10 seconds. Do it quickly so you do not break or blend the seeds.
Sieve the puree through a colander, pressing gently with your hands to get all the creamy pulp and leave the seeds behind. Add a little water if required to get all of the juice out.
Taste the pulpy juice you have collected. If it tastes bland, squeeze in some lime or add some sieved pineapple puree.
Pour the juice into a pot and set it over medium-high heat.
Add sugar and cornstarch and the remaining water (if any).
Keep stirring for 7 to 12 minutes or until it thickens up to a consistency that you like.
Serve it hot with feta, cottage cheese, or queso Blanco. If you want it cool, chill it in the fridge.
Trivia
The people of Central America prepare a popular alcoholic beverage with nance called chicha.
Now you know a delicious way to have the nance fruit. However, before you indulge in this cherry-like fruit, you must consider certain safety precautions.
Safety Precautions To Be Considered While Eating Nances
Nances have not been studied widely or extensively. Hence, not much is known about how these fruits may interact with medications or specific health conditions. You can consult your doctor if you are worried about including nances in your diet. In case you are allergic to acerola cherries, you may want to steer clear of nances (as the two belong to the same Malpighia plant family).
The benefits of nance fruit are numerous. It can promote gut health, reduce the risk of cardiovascular diseases, and help in countering lead toxicity. It also promotes skin health and reduces the risk of cancer. Nance fruit can be eaten raw or included in fruit salads or smoothies. Although the consumption of nance fruit is generally safe, this fruit may trigger allergic reactions in individuals allergic to acerola cherries as they both belong to the same plant family. Hence, caution is advised. Try the recipe mentioned above with nance fruit to include it in your diet.
Frequently Asked Questions
What happens if you swallow a nance seed?
Swallowing one or two nance seeds may not cause any harm. However, excess intake may cause intestinal obstruction or blockage. If you experience any discomfort, fever, or pain, seek medical help immediately.
Can dogs eat nance fruit?
Yes, dogs can eat nance fruit. However, the seeds may choke and cause intestinal obstruction in a few. Take proper precautions if you plan to feed the nance fruit to your pet dog.
Key Takeaways
Nance is a cherry-sized yellow or red berry native to Central and Latin America that has a distinctive scent.
It is an excellent source of vitamin C, dietary fiber, carotenoids, and minerals that promote gut, heart, and skin health.
Nances are versatile in culinary preparation as they can be used in a variety of sweet and savory dishes.
Avoid eating nance if you are allergic to acerola cherries.
Sources
Articles on StyleCraze are backed by verified information from peer-reviewed and academic research papers, reputed organizations, research institutions, and medical associations to ensure accuracy and relevance. Read our editorial policy to learn more.
The following two tabs change content below.