REVEALED! Natalie Portman's Most Well Kept Beauty & Fitness Secrets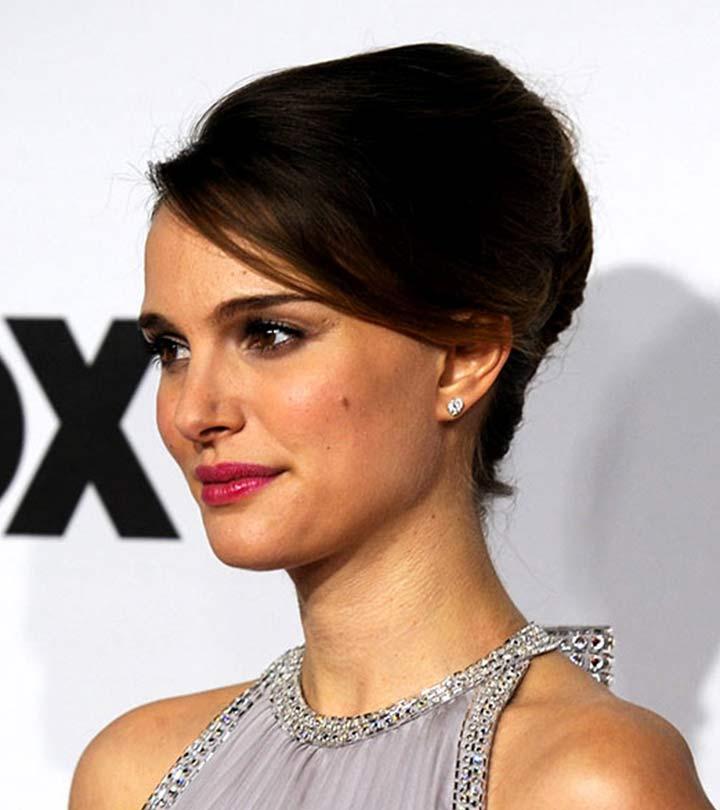 Natalie Portman is one of the prettiest and most elegant stars of Hollywood. She is admired not just for her talent but also her timeless beauty. She is the perfect combination of beauty with brains!
If you're a fan of Natalie's performances, you would definitely want to know her beauty secrets and how she takes care of that crystal clear skin and lustrous hair. So read below to know her secrets.
Natalie Portman Skincare Secrets:
1. Known and adored for her glowing radiant skin and extremely lucrative features, Natalie Portman follows a strict skincare regimen to maintain her healthy, fresh and youthful skin.
2. Divulging about her skincare secrets, Natalie says that she never skips cleansing and moisturizing treatments in the morning and before going to bed.
3. She added that she does not go to bed with her make up on, because it can harm the skin.
4. Natalie's skin is flawless so far, so she doesn't prefer anti-aging creams and other lotions. Instead, she stays with an alcohol-free moisturizer and an eye outliner.
5. Natalie happens to be very choosy and attentive to the beauty products and generally prefers organic beauty products such as Chamomile and Rosehip Cream.
6. Regular exfoliating treatments with a mild, creamy scrub to reveal the fresh skin by purging off the dead cells is another secret to Natalie's ageless beauty
7. Natalie is an avid user of an Australian lip ointment called papaw ointment. The product has managed to catch her attention because of its quality.
8. Moreover, Natalie never forgets to wear a sunscreen before hitting outdoors.
Natalie Portman Makeup Secrets
1. Natalie says that she loves to feel natural and likes her natural self the most. So for the daytime events she tries to keep the makeup minimal, however, for the night she uses a splash of lipstick and slaps thick coats of mascara to meet the demand of the occasion.
2. She confessed that she has not been a fan of red lipsticks until she wore a Rouge Dior Rouge Blossom for the Miss Dior Chèrie ad, and she currently is in love with the product.
3. Natalie prefers to use Dior show Mascara, as it helps he brighten up her pretty lashes, thus adding drama to her overall look.
4. Floral and Jasmines are Natalie's favorite fragrances.
Natalie Portman Diet Secrets
1. Incredibly slim and smart, Natalie Portman confessed that she is a strict vegetarian. She loves to have vegetarian snacks for lunch and dinner, for breakfast she prefers toast with eggs or oatmeal.
2. The star admits that eating eggs and dairy products make her gain weight but she doesn't regret it as she claims that her body needs these products.
3. Natalie had a drastic change in her diet after her pregnancy and also to prepare herself for the role of ballerina dancer in the movie "Black Swan." She restricted herself to a rigid diet composed mostly of green leafy veggies, almonds, carrot and ample water. Accompanied with intense workouts, this diet plan of Natalie turned her to a real ballerina dancer in a short span of time.
4. Natalie revealed that she takes supplements of vitamin D and Calcium on regular basis to keep up her energy levels. She also said that she takes vitamin B12 shots every month.
Natalie Portman Fitness Secrets
1. To keep her body in shape, the Star Wars actress exercises for one hour, four days in a week. Her regular workouts and exercises include swimming, stretching, spinning, Pilates and elliptical machines.
2. Natalie claims that Pilates and elliptical machines strengthen her body, spinning boosts her metabolic process, and swimming makes her legs and heart stronger, while stretching works to make her body supple and flexible.
Skincare Advice
If you want to procure Natalie's glowing skin, follow her basic skincare tips like drinking plenty of water to ward off skin dehydration. It helps your skin from making it look tired and worn out. Always keep your hands away from your face. Another, general beauty tip from Natalie is to avoid over-plucking of the eyebrows since they never tend to re-grow.
The following two tabs change content below.


Shaista
I have a great passion to write on health, beauty and hair care. I believe that combination of these three will make anyone's life happy. My other areas of interests are cooking, gardening and travelling. I always strive for new things and try to live my life to the fullest.