How To Make Natural Lip Stains – 2 Popular DIY Methods
Add stunning hues to your lips without worrying about chemical-laden commercial products.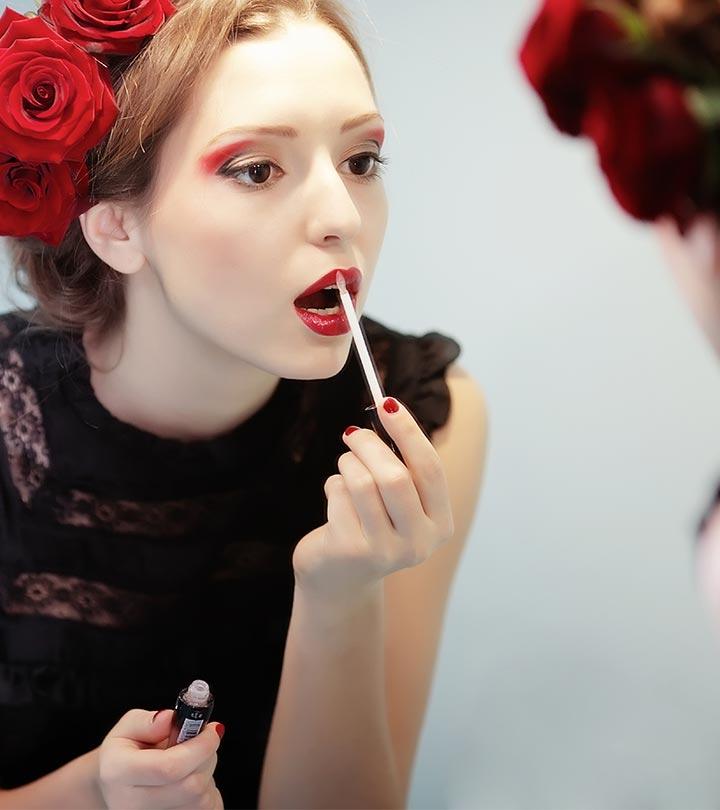 Natural lip stains are ideal for coloring your lips without turning them greasy or dark. Unlike lipsticks that need regular touch-ups, lip stains are long-lasting and customizable as desired.
In addition, natural lip stains give you a decent finish and color, making your lips appear extravagantly plump and juicy.
A beautiful smile reflects the twinkle in your eyes, and when the smile has color, it is like icing on the cake. Check out some of the best lip stain recipes you can conveniently prepare at your home. Keep reading!
Why Use Lip Stains?
Even color
Sober finish
More staying power
If they are homemade, no chemicals either
Usually being thin, lip stains give a natural tint of color to your lips. It's easy to prepare the natural lip stains. Some fruits and vegetables from your kitchen may turn into your natural lip stain with simple steps.
Stylecraze Says
Exfoliate your lips before applying these lip stains to ensure they are applied evenly and provide a better color payoff.
Let's delve into preparing our own lip stains with some yummy recipes. Check below for some interesting yummy lip stain recipes that you can make of your own.
Best Natural Lip Stains – Preparation Methods
Natural Lip Stain With Berries:
Choose berries of different kinds to achieve the colour you want, ranging from pinks, reds to purples.
Mash four berries well and extract the pure juice from them.
This juice can be applied over your lips and allowed to dry for a natural stain. However, adding a bit of olive oil or Vaseline gives a glossy look to your lips.
You can even add a touch of espresso powder for a darker hue
Beetroot Lip Stain For Pigmented Lips:
Berry stain is a delicate tinted color. In case we need to beautify pigmented lips. Beetroots can hide them and give a lovely dark tint.
Grate half a teaspoon of beeswax and melt it in a double boiler.
A teaspoon of olive oil should be added to this melted beeswax .Immediately switch off the stove
Now mix required beetroot powder to the mixture and stir well. Alternatively you can use strained mashed beetroot pulp.
Store this lip stain in a small and clean container. Regular use of this lip stain results in soft and pink lips.
Stylecraze Says
You may customize these recipes by adding a few drops of your favorite essential oils (appropriately diluted). This will give your lip tints an enticing fragrance.
So, are you ready? Which natural lip stain recipe you are going to try at home?
As a quickie you can also opt for a convenient lip stain that is not natural .Chip an eyeshadow and add a bit of rose water to it. Apply this colored liquid on your lips and allow drying for a quick and long lasting lip stain. Make sure to use a good branded eyeshadow for this.
As a fun experiment try using children drink powders like Strawberry or cherry kool aids / rasna. Mix with a teeny amount of water and layer on using fingers / Ear buds.
These natural ingredients give a good healthy look. They will nourish and hydrate your skin too.
A few tips to remember for DIY stains
Always store the lip stains in the fridge or in the freezer for longevity
Check the stains periodically for any fungal growth as they are preservative free
You can even use these stains as blushers or cheek stains. Simply Dot and blend
Did you like this article? Do comment and tell us!
Infographic: How To Apply Lip Stain: A Detailed Guide
Lip stains give your lips a flushed look without feeling heavy and sticky. They are simple to use and provide superb coverage all day long. In addition, lip tints may make your pout appear fuller and smooth if used correctly. Check out the infographic below to learn how to prep your pout and apply lip stains.
Lip stains have gained popularity over lipsticks for their lightweight texture, color payoff, and the natural flush they give to the lips. However, if you do not prefer to buy commercial lip stains, you may follow the recipes we shared and prepare natural lip stains at home. They look and feel gorgeous on the lips, are extremely gentle, and are easy to prepare. The best part is – you can also use them as cheek tints. So follow the instructions above and gift yourself a self-made lip stain.
Frequently Asked Questions
Do you peel-off lip stains?
Yes, you must peel off lip stains to reveal the gorgeous wash of color that it leaves behind on your lips.
What is the difference between a lip stain and lipstick?
Lipstick and lip stains give the lips color, although they do it in different ways. A lip stain stains your lips, and its color lasts all day. Lipstick adheres to the lips' surface but fades throughout the day and requires reapplication. Lipstick is typically produced as a solid, whereas lip stains are more of a gloss or gel.