Natural Methods To Manage Restless Legs Syndrome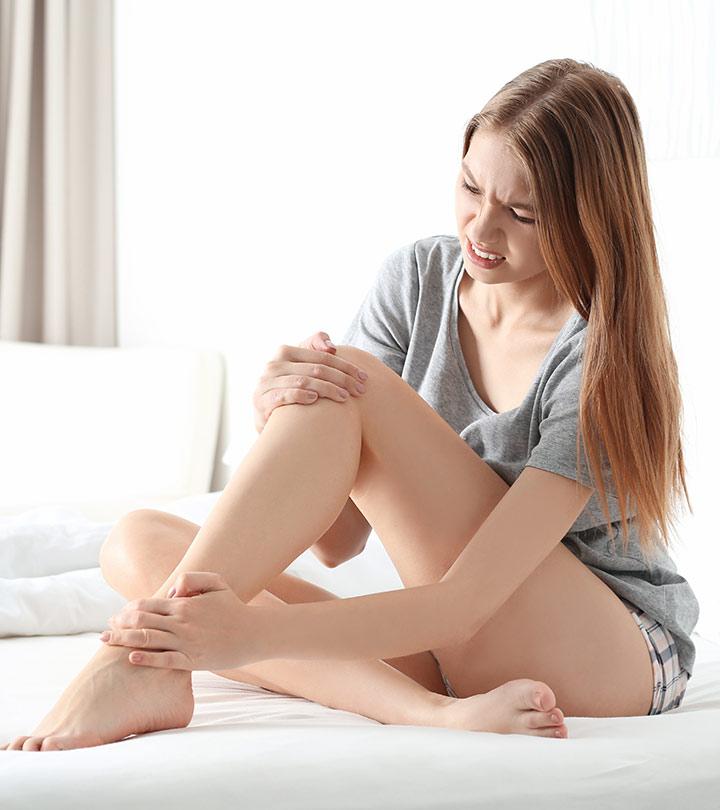 Do you feel an uncomfortable sensation in your legs when you sit or lie down? Does it also cause an inexplicable and uncontrollable urge to move your legs? You might have restless legs syndrome (RLS).
RLS is a condition that spreads a sense of discomfort along your legs. This discomfort usually eases once you move around. About 3%-15% of the population in Western countries may be affected by RLS (1).
RLS, also known as Willis-Ekbom disease, is a progressive condition and can occur in people of any age group. This condition can disrupt your daily activities as it can strike when you are asleep or doing any of your daily activities.
It is important to seek medical intervention and take medication to deal with this condition. However, following a few simple self-care tips and lifestyle changes can help in managing the symptoms. Let's check out what they are.
Restless Legs Syndrome: An Overview
Restless legs syndrome is a neurological sensorimotor disorder. It causes an uncomfortable sensation in your legs and is usually accompanied by a strong urge to move them. For most people, this urge to move their legs becomes stronger while they are relaxed or lying down. This directly contributes to daytime sleepiness or fatigue as the patient's nighttime sleep is disturbed.
RLS and sleep deprivation can also lead to other health problems, such as depression and anxiety.
Research points out that there are more than 3 million cases of RLS per year in the US (2). RLS can affect people of any age group, but it tends to be more severe in middle age or later. Women are at a higher risk of being affected by this disorder than men.
Periodic limb movement of sleep (PLMS) is a condition that accompanies RLS, and it affects a majority of patients. As the term suggests, PLMS causes the patient's legs to twitch while sleeping. The frequency of the spasms can be between 15-45 seconds and can last all night long.
RLS is a lifelong condition with no likely cure. However, medical help can manage the symptoms.
What Causes Restless Legs Syndrome?
RLS is a disorder that is very often unidentified and usually misdiagnosed. As discussed, it is characterized by an uncomfortable sensation in the legs. It develops when the patient is at rest and compels them to move around.
1. Genetic Disorder
The cause of RLS may be traced to a genetic disorder or intracellular iron dysregulation (3). Some patients with RLS can trace back the disorder to a family history of the condition. In such cases, the onset of the condition can happen before the age of 40 years.
2. Iron Deficiency
Other studies also show that there could be a connection between RLS and dwindling levels of iron in the brain (4).
3. Pregnancy
Pregnant women undergo hormonal changes during their pregnancy. These changes can worsen RLS symptoms temporarily. An increase in the severity of the symptoms is usually observed in the last trimester (5).
The onset of RLS is not related to an underlying condition. However, it can be the result of other health conditions like diabetes, kidney failure, or neuropathy. In such cases, treating the primary condition may help address RLS symptoms.
Let us understand who is more susceptible to RLS and why.
What Are The Risk Factors Associated With RLS?
RLS is not always due to a serious medical condition and can develop at any age. However, it is more prominent as you get older.
RLS is, however, known to accompany other conditions in some cases. These are:
Conditions Of The Spinal Cord
The presence of lesions along the spinal cord can, in some cases, be indicative of RLS. If you have been administered anesthesia to the spinal cord, there is a risk of developing RLS (6).
Patients with a history of kidney failure may stand at the risk of developing RLS (7). If the kidney function is impaired, the iron in your blood can decrease and lead to anemia. All this can aggravate the symptoms of RLS.
Deficiency of iron in your blood causes anemia. This can result in an aggravation of RLS symptoms (8).
Let us now understand the symptoms of RLS.
Symptoms Of Restless Legs Syndrome
The most common complaint of a patient with RLS is the uncontrollable urge to move their legs. They may experience the following sensations:
Tingling
Itching
Pulling
Throbbing
Moving the limbs may help relieve these sensations.
Depending on whether you have a mild or a severe case of RLS, the symptoms may occur at varying frequencies.
Mild RLS: If you have mild RLS, you may not feel the uneasiness every night.
Severe RLS: The severe cases are characterized by more frequent bouts of discomfort. It can also end up complicating relatively smaller tasks.
Restless legs syndrome is known to affect both sides of the body. However, in some people, it may affect only one side. RLS can also affect your arms and head.
How To Diagnose RLS
Your doctor will diagnose you based on your medical history and symptoms. Typically, you will describe your symptoms as a very strong urge to move your limbs. The symptoms will include an uncomfortable pulling or tingling sensation along your legs.
Your doctor may then conduct a physical examination. This will be accompanied by a neurological exam. You may even have to undergo a blood test to determine the iron levels in your blood. Some doctors may ask you to take a sleep test to check for conditions like sleep apnea.
What does the medical treatment look like for patients? Read on to find out.
Medical Treatment For RLS
Based on the diagnosis by your doctor, they may prescribe OTC medications like (9):
Selective Serotonin Reuptake Inhibitors (SSRIs)
Antipsychotic drugs
Antihistamines
Antinausea drugs
Caution: Some medicines can worsen the symptoms of RLS. Make sure you take these medicines only if you are advised by your doctor.
Now that we have understood what causes RLS and how to tell if you or your dear one have it, let us look at how you can help manage the condition at home.
Natural Ways To Manage The Symptoms Of RLS
1. CBD Oil
Research shows that indica strains of cannabis contain more cannabinoids (CBD), which exhibit analgesic and sedative properties (10). This may help in relieving the pain and sense of discomfort and also help with sleep deprivation.
You Will Need
2-3 drops of CBD oil/balm or CBD Tincture
Dropper
What You Have To Do
Take two to three drops of CBD oil/balm.
Apply it to the affected area and massage for a few minutes.
Alternatively, you may ingest two to three drops (0.50 mL) of CBD tincture. Administer it under your tongue and hold for about a minute before swallowing it.
Consult a doctor before doing so.
How Often Should You Do This
Repeat 1-3 times daily as needed.
2. Warm Or Cold Compress
Using a hot or an ice pack a few times a day can help soothe the pain and discomfort that arises due to RLS (11).
You Will Need
A hot/ice pack
A bucket of water
What You Have To Do
Place an ice pack on the affected area for 20-30 minutes before sleeping.
Alternatively, you may use a hot pack or take a shower in warm water before going to bed.
How Often Should You Do This
Repeat as needed until the pain subsides.
3. Vitamin Supplements
Administering vitamin supplements, like vitamins C and E, to patients diagnosed with severe RLS may help in reducing the severity of the symptoms (12).
Vitamin D deficiency may also be linked to RLS. Taking vitamin D supplements can help alleviate the discomfort that arises due to RLS (13).
You can consume citrus fruits and broccoli for vitamin C, fatty fish like tuna or mackerel for vitamin D, and spinach, avocados, and peanuts for vitamin E.
Note: Take vitamin supplements in the dosage prescribed by your doctor.
4. Banana
Bananas are rich sources of B vitamins and potassium (14). These nutrients can have a calming effect on the nervous system and reduce muscular spasms, thereby helping reduce the severity of the symptoms of RLS.
You Will Need
One ripe banana
What You Have To Do
Include at least one banana in your diet daily.
You may have the fruit on its own or consume it in the form of a protein shake.
How Often Should You Do This
Repeat as needed.
5. Warm Bath and Massage
Taking a warm water bath and following it up with a relaxing massage can go a long way in relieving the pain and uneasiness due to RLS. It can help in releasing dopamine, which, in turn, can help reduce the symptoms of pain (15).
You Will Need
A bucket of warm water
Essential oils like lavender oil
What You Have To Do
Draw a warm water bath and soak your body for about 15-20 minutes.
Follow this up with a relaxing massage using a few drops of essential oils like lavender oil.
How Often Should You Do This
Repeat at least three times a week or as needed until the pain subsides.
6. Turmeric/Curcumin
Turmeric contains a compound called curcumin, which exhibits anti-inflammatory properties (16). These properties can help reduce the pain and slight inflammation associated with RLS.
You Will Need
Curcumin supplements
What You Have To Do
Take the curcumin supplement as prescribed by the doctor.
Remember to drink as much water as you can all day.
How Often Should You Do This
Repeat as prescribed by your doctor.
Now, you have learned how you can manage the symptoms of restless legs syndrome at home. But you might be curious to know if the symptoms can be prevented. Let us find out in the next section.
How Can I Prevent RLS?
1. Physical Exercise
Physical exercise, such as aerobic exercise, walking, and cycling, can help in relieving pain and uneasiness that accompany RLS (17), (18). These exercises can help in fighting the urge to move the limbs and reduce the severity of the symptoms.
2. Avoid Caffeine
As discussed earlier, patients with RLS have trouble sleeping at night. Due to sleep deprivation, they are sleepy during the day or fatigued. Avoid consuming caffeine-rich foods or caffeinated drinks and chocolates to get a good night's sleep (19).
Try out a combination of these tips and remedies to address the symptoms of restless legs syndrome. However, remember, it is best to seek medical help and follow these easy-to-do home remedies in conjunction to obtain the best results.
Was this post helpful? Share your views and feedback in the comments section below.
Frequently Asked Questions
Can pregnant women have restless leg syndrome?
Lack of iron can trigger RLS in pregnancy. It can cause an uneasy sensation in your legs and loss of sleep at night.
Does stretching help restless leg syndrome?
Stretching and light aerobic exercise can help alleviate RLS symptoms like pain and discomfort. It can also help reduce the urge to move your limbs while at rest.
When to see a doctor for RLS?
RLS can have an adverse effect on your sleep and cause daytime fatigue. At this stage, you must consult your doctor to determine if you have RLS.
References
The following two tabs change content below.

Latest posts by Atulya Satishkumar (see all)

Atulya Satishkumar
'Techie by day, writer by night' is how she described herself before embarking on the journey of writing. Her strong belief in the magic of the written word, coupled with a very keen eye for detail, helps her guide her team to create quality content. When she is not editing beauty, fashion, and lifestyle-related content, she writes prose and poetry, plays her ukulele (and/or guitar), and pets floofs.