How To Get Mirror Shiny Hair Easily
Effective methods to fulfill your dream of flaunting glossy and healthy-looking hair.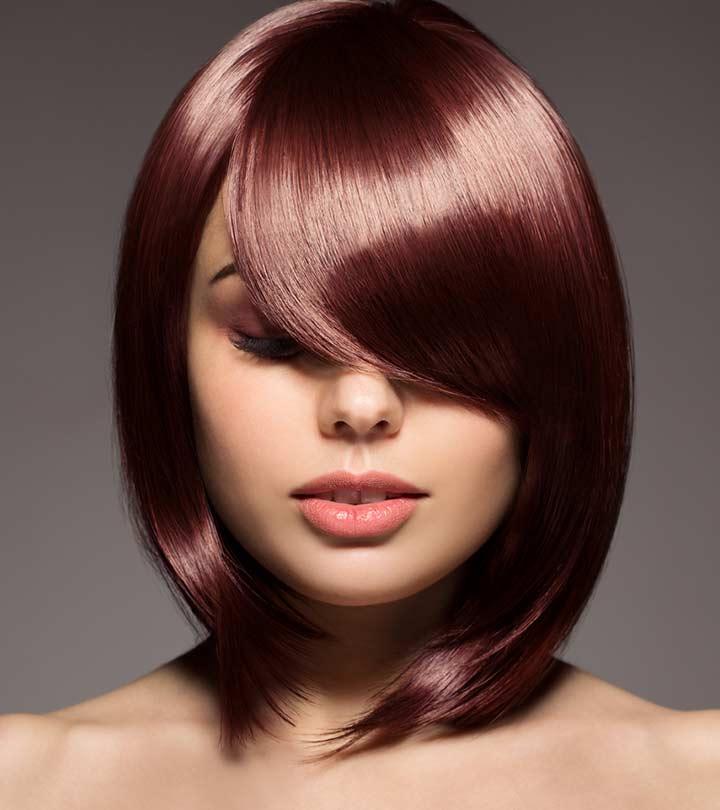 Luscious thick hair with that extra shine – that's every hair fiend's dream! In this article, we give you the inside scoop on all the ways to get shiny hair. We delve into hair care tips and natural treatments that make hair maintenance easier and transform lackluster hair into radiant and glossy tresses. Additionally, we discuss some important hair care tips for people with low porosity hair. Scroll down now to discover a hidden cave of shiny hair secrets!
What Causes Your Hair To Lose Its Shine?
Liz L. Sowers, a licensed cosmetologist says, "When someone's hair is lacking shine, it typically means that it could be lacking moisture. This could be due to your diet, what products you use on your hair, or even what treatments (chemicals or tools) you use on your hair. It could also be due in part to the health of your scalp as well."
Katelyn Ellsworth, a natural color and extension specialist, briefly lists down reasons your hair lacks an envious lustrous shine. She says, "The dry winter weather can make hair feel more dull and dry. Other factors like hard water, over processing, home care that isn't prescribed to you or meant for a different hair type, or using too many protein products without enough moisture can also make your hair look dull."
Fortunately, these factors can be managed by following a good hair care routine. The next section lists some steps that can help you achieve healthy and shiny hair. Take a look!
Easy Ways To Get Shiny Hair 
Brush Your Hair: Brushing your hair at least twice or thrice a day helps improve blood circulation. It also helps the nutrients to reach the hair follicles. This makes your hair healthier and shinier.
Use An Oil Treatment: An oil treatment works well for dull, rough, and shiny hair. Oil helps retain moisture and makes hair soft and shiny. Use deep nourishing hair oils like coconut or almond oils twice a week. Massage it over your scalp in a circular motion. Leave it on for 30-45 minutes and rinse (1).
This study showcased how massaging helps in the reduction in the rate of hair fall and signs of hair regrowth. Among 340 of the total individuals, 327 of the participants completed this study. This 17.2% of the total participants practiced standard scalp massages for approximately 6-7 months for 11 to 20 minutes per day. Almost 69% of the participants, that is 7 out of 10 individuals noticed either a stabilization of hair loss or regrowth.
Use A Hair Mask: Applying a hair mask at least once a week can do wonders for your hair. A hair softening, hydrating, and nourishing mask can improve your hair shine. You can use ingredients from your kitchen (more about it later) or buy a hair mask (2).
Sowers adds, "Start with your scalp health, and make sure that you are doing a scalp facial at least three times a year to detoxify and moisturize the scalp. A healthy scalp equals healthy and growing hair."
Change Your Shampoo: Are you using the right shampoo for your hair? Different shampoo formulations suit different hair types. and the wrong ones can lead to hair damage. Using an oil-controlling shampoo on rough and dry hair can turn it frizzy and your hair may suffer if you use a shampoo that does not suit its type. Try changing your regular shampoo and see if your hair responds well to it (3) Try adding a conditioning shampoo to your routine instead of washing your hair too frequently with a regular shampoo.
Use Warm And Cold Water: Using only warm water can make your hair dry while using only cold water can make your hair stiff. But using lukewarm water to shampoo your hair and cold water for the final rinse can soften hair and enhance its shine. Lukewarm water opens up the cuticles and washes away the dirt. Coldwater (water at room temperature) closes the cuticles, seals hair moisture, and prevents frizz.
Avoid Frequently Heat Styling: Frequently using a blow dryer, straightener, or curling iron can make your hair extremely dry and strip away the natural hair luster. Avoid heat styling too frequently. You may instead use heat-free styling like curling rollers. Getting a keratin hair treatment could also be a good option for improving hair texture and shine as it adds a protective layer of hair protein to your hair strands (4).

Quick Tip
Always use a blow dryer at a distance of 15 cm from the hair and with a continuous motion to retain hair shine and minimize damage.
Protect Your Hair At Night: Sleeping with your hair open at night causes friction with the pillow and may make your hair dull. You can bun or braid your hair or wear a satin cap while you sleep at night.
Be Careful With Hair Dyes: Coloring hair is fun and adds some personality to it. However, harmful ingredients, like ammonia, could make your hair dry and rough. Hence, choose a good, ammonia-free hair color. Ask your hairstylist to recommend good post-color shampoo and conditioner to keep your hair healthy and shiny (5).Sowers adds, "Look at the labels on your hair products and make sure that there is no high alcohol content in any of them, as this can cause excessive dryness of the hair as well."
Use A Hair Gloss: A hair gloss can give you instant results. It is a hair shine-enhancer that is color-safe as well. It seals moisture, closes the hair cuticles, and improves hair softness, making them shinier, and frizz-free. A hair gloss can also reduce the brassy tones in bleached or blond hair color.
Use Hair Spray With A Glossy Finish: Gone are the days of hair sprays that make your hair stiff and rob off the hair glossiness. A good hair spray with a glossy finish hair styling. It will keep your hair in place without making it prickly to touch or dull to look at.
Use A Serum: A hair serum not only enhances hair shine but also makes your hair silky smooth. You can use argan oil or any other serum available on the market. Apply it lightly to your hair and brush your hair before stepping out (6).
Use A Leave-in Conditioner: If you want to go swimming in a pool or the ocean, apply a leave-in conditioner for hair protection from absorbing the pool or ocean water and becoming dry.
Consume Omega-3: You can consume omega-3 fatty acids through fatty fish, nuts, and seeds. These polyunsaturated fatty acids are extremely good for your hair health. They also rejuvenate your hair (7), (8).
Use A Silk Pillowcase: Similar to using a satin cap for reducing friction, silk pillowcases are another great choice that may help prevent hair breakage and preserve the natural luster of your hair. Silk pillowcases also work for greasy hair as they may help control excess sebum production in the scalp.
Avoid Touching Your Hair Too Much: Frequently touching your tresses may cause dirt to build up on them, result in moisture loss, and lead to unwanted dryness, thereby causing them to lose their natural shine.
Deep Condition Your Hair: This step should be added to your regular hair care routine. This intensive treatment works on the hair shaft, from the roots to the ends, and combats dry, frizzy tresses, restoring the natural luster of the hair.

Did You Know?
The conditioner molecules give a positive electric charge that helps reduce static electricity and friction between hair fibers and boost light reflectance for shiny hair (
3
).
These are the simple ways you can make your hair shiner. You also can use hair masks weekly for deep hair nourishment to make your hair shinier and glossier.
Hair Masks For Shiny Hair
Preparing a quick hair mask and leaving it on for 20-30 minutes can have some great advantages. Here are a few effective hair masks you can check.
1. Egg White Hair Mask 
What You Need
1 or 2 eggs, depending on your hair length
How To Use
Crack open the egg(s) and separate the yolk.
Beat it lightly.
Section your hair and apply the egg white to your hair, from the roots to the tips, using an applicator brush.
Make a loose ponytail or a bun.
Cover with a shower cap and leave it on for 20 minutes.
Wash with water and a mild shampoo.
Use a conditioner and towel-dry your hair.
2. Coconut Oil Hair Mask
What You Need
2-5 tablespoons of coconut oil, depending on your hair length
How To Use
Section your hair.
Rub the coconut oil in your palm to warm it a little.
Apply the coconut oil from the roots to the tips.
Massage your scalp for 2-5 minutes.
Leave it on for at least 3 hours or overnight.
Wash with lukewarm water and shampoo.
Use a conditioner and wash with water at room temperature.
Towel-dry your hair.
Doro, a YouTuber, shared her experience of using coconut oil as an overnight hair mask in her video. She explained, "My hair is shining like a diamond and is extremely soft. It looks and it feels silky. And one of the things that I love the most about these results is that I never felt my hair this thick before (i)."
3. Almond Milk Hair Mask
What You Need
½ cup of store-bought almond milk (You also can make almond milk at home by blitzing a handful of soaked almonds (peel the skin) and warm water. Strain the liquid and you have your almond milk).
How To Use
Section your hair.
Apply the almond milk from the roots to the tips using an applicator brush.
Tie your hair into a loose bun.
Cover with a shower cap and leave it on for 30-45 minutes.
Wash with a mild shampoo.
Use a conditioner and towel-dry your hair.
4. Mayonnaise Hair Mask
What You Need
2-5 teaspoons of mayonnaise
How To Use
Section your hair.
Apply the mayonnaise to your hair strands with an applicator brush.
Make a loose bun and wear a shower cap.
Leave the mask on for 30 minutes.
Wash with lukewarm water and shampoo.
Use a hair conditioner and wash with water at room temperature.
Dry your hair with a towel.
5. Ghee Hair Mask
What You Need
3-4 teaspoons of ghee (clarified butter)
How To Use
Section your hair.
Apply the ghee to your hair, from the roots to the tips, using an applicator brush.
Wear a shower cap and leave the mask on for 20 minutes.
Wash your hair with lukewarm water and shampoo.
Use a conditioner.
Wash the conditioner with water at room temperature.
Towel-dry your hair.
Experts also recommend using an apple cider vinegar and honey hair mask. Sowers adds, "It is an old wives tale that a vinegar rinse on the hair every so often will add to shine, and it is TRUE. After washing and conditioning your hair in the shower, mix a 1:1 ratio of water and vinegar (apple cider or white) and rinse over the hair. This will make the hair shiny, as it strips away any build-up and lays down the cuticle of the hair shaft."
She continues, "Honey has also been used for centuries due to its healing properties, and it can be used on your hair too! DIY or store-bought honey hair masks are great for bringing the shine back into your locks due to its humectant properties. Meaning it will bind with water and add back moisture to your hair!"
You can use any of these six hair masks once a week and see an instant difference in your hair shine. However, the process could be a challenge if you have low-porosity hair. The following section can help.
Additional Tips For Taking Care Of Low-Porosity Hair
Use coconut oil. Leave it in overnight before washing it off.
Go for a hair spa once a month.
Use steam to help the oil penetrate the cuticles.
Always braid your hair and use a satin cap while sleeping.

Quick Tip
Low porosity hair cannot absorb heavy creams and hair butters. They prevent moisture absorption. Always use lightweight products.
Infographic: Best Practices You Can Adopt To Achieve Glossy Hair
Having strong and silky hair is just within your reach. All you need to do is make a few changes to your regular hair routine. We have narrowed down the important steps you need to perform regularly for easy understanding. Check out the infographic below to learn more about the best practices one should follow to achieve healthy and shiny hair.



You can skip the trip to the salon as several natural remedies can give you shiny hair from the comfort of your home. Following these secrets of shiny hair such as regularly brushing your hair, massaging your scalp, and consuming omega 3-rich foods, and taking hair vitamins and hair supplements in your diet can add moisture and shine to your hair improving your hair health. Making hair masks using ingredients such as coconut oil, almond milk, or mayonnaise once a week can do great wonders for hair hydration and gloss. Additionally, get a hair spa once a month and sleep with your hair in a cap to give you bouncy and shiny hair.
Frequently Asked Questions
How can I make my hair shiny overnight?
You can use coconut oil. Leave it on for 45 minutes and wash off with a shampoo. Use a conditioner and hair serum. Let it dry (if using a blow dryer, use the cool setting) and brush your hair. You can also apply a hair gloss to add instant shine to your hair.
Which oil is best for making hair silky?
Coconut and argan oils are the best oils for making hair soft and silky.
Why does my hair have no shine?
Factors such as the hair product buildup, overexposure to the sun, hormonal changes, and an improper hair care routine can lead to dry and dull hair.
Does shiny hair mean healthy hair?
Yes, shiny hair is indicative of healthy hair. It shows that your hair cuticle is properly lying flat and creating a smooth and flat surface which allows the light to bounce off. This gives your hair a beautiful and shiny appearance.
Key Takeaways
Brush your hair twice a day; this will help increase blood circulation and impart shine to the hair.
A warm oil massage with coconut or almond oil every week is essential for dry, lackluster hair.
Try to keep the usage of heat-styling appliances to a minimum, as they can extensively dry out hair strands.
Keep away from hair dyes. They contain harmful chemicals like ammonia that can make hair dry and brittle.
Learn how to get shiny, healthy hair naturally with this helpful video! Get tips and tricks to make your hair look its best without harsh chemicals.
Personal Experience: Source
i. I Left COCONUT OIL in my hair for 24 HOURS & THIS HAPPENED! *I can't believe it!*
https://www.youtube.com/watch?v=_JKbWuCsLbA
Sources
Articles on StyleCraze are backed by verified information from peer-reviewed and academic research papers, reputed organizations, research institutions, and medical associations to ensure accuracy and relevance. Read our editorial policy to learn more.
The following two tabs change content below.