11 Best Expert-Approved Neck & Shoulder Massagers For Pain Relief – 2023
Let these God-sent products take your stress away so you can feel nothing but comfortable.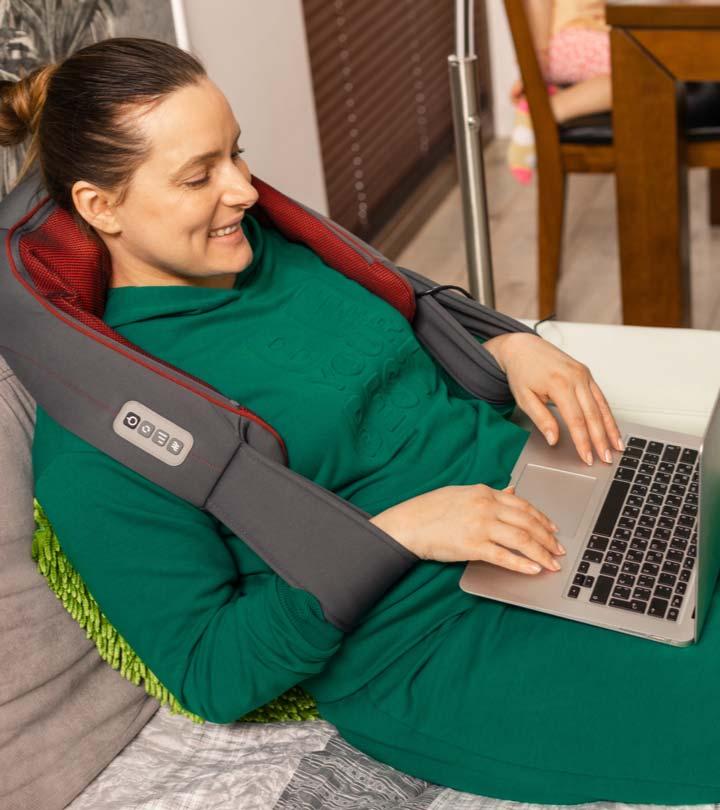 A therapeutic massage, or any massage for that matter, at any time of day, can be such a treat. However, we rarely have access to a personal masseur when we need one, so the next best thing is to purchase one of the best neck and shoulder massagers in the market. Massage therapy can heal your neck and spine and make it feel relaxed and at ease, whether you've worked out hard, slept on the wrong side of the bed, or carried the world on your shoulders. It soothes all our anxiety, stress, and discomfort and refreshes us like anything.
Are you itching to have a neck and shoulder massage right at home? If you're clueless about where to start looking or what to search for, don't worry because we've got you covered. We've prepared a list of the top-rated shoulder and neck massagers on Amazon, as well as a buying guide to help you find one that's right for you. If you have never used one, that's fine as well! We'll help you understand how to do it! Let's get started!
11 Best Neck & Shoulder Massagers For Quick Pain Relief – 2023
Imagine coming home after a long tiring day at work and propping your feet up with a rich glass of wine and a shoulder and neck massager like this one to melt away all the worries of the day. It comes with 8 kneading massage nodes that work on the tissues and muscles to provide a Shiatsu-based deep massage. It also radiates infrared heat for quick pain relief for aches, cramps, muscle tension and the like while improving blood flow and circulation. Made of high-quality PU leather and a breathable mesh the massager is easy and comfortable to use. With 3 adjustable positions to choose from, you can control the speed of the massage the way you like it. This video documenting the tester's experience will give you more insights into the product.
Pros
 Auto shut-off in 15 minutes
 8 kneading massage nodes
 3 speed settings
 Infrared heat
 Power adapter and car charger included
Cons
 Some may find it slightly bulky
If you've ever wondered what a Shiatsu massage feels like, you can get your hands on this massager for neck and shoulder pain as it comes with a whopping 16 massage modes! Made of comfortable faux leather, the 3D rotating kneading massager precisely targets pain and pressure points to rapidly relieve you of a stiff neck, tackle muscle tension, and provide a deep tissue massage to help improve blood circulation. If you would like some heat while being massaged, you can turn on the infrared heat and also adjust the massage speed as it comes with 3 speed settings. To make an informed decision before buying, you can check out this video.
Pros
 Ergonomic "U" shape
 16 massage nodes
 3 speed adjustment settings
 Optional infrared heat therapy
 Provides muscle tension relief
 Can be used for the feet
 Overheat protection
Cons
 Some may find the massage balls in the highest setting slightly stiff
One of the best neck and shoulder massagers on Amazon, this one is battery powered! This means that you need not carry long, winding cables along with you to use it each time and is as portable as your water bottle is! This wireless massage machine provides a neck and shoulder massage so thorough, it will make you feel like it's the real deal. This Shiatsu pain relief massager runs on a rechargeable lithium-ion battery and can run up to 80 minutes on a single charge. It comes with 8 Shiatsu rollers and 8 massage nodes that are rotatable and offers 2 levels of Shiatsu intensity. It also offers soothing heat therapy with infrared heat and helps improve body circulation. Click here to check out this YouTuber's unbiased review. People experience multiple benefits by using this product including relieving pain, releasing knots in the back, and reducing soreness.
Pros
 8 massage nodes
 Rechargeable
 Wireless
 2 levels of intensity
 Runs 80 minutes on a single charge
Cons
 Some may find it slightly rigid
Suffering from neck and shoulder pain lately? If yes, it's time to bring home what has often been touted as one of the best handheld massagers for neck and shoulders! This heat therapy device alleviates pain and reduces soreness in a jiffy as it is outfitted with 8 bi-directional kneading massage nodes, which mimic the movements of a masseur's hands following the Shiatsu technique. The massaging heads change directions automatically to give you a relieving experience. It comes with 3 levels of massaging intensity, an auto shut-off feature, and a heat function that penetrates deeply to help sore muscles and cramps.
Pros
 3 massage levels
 8 bi-directional nodes
 15-minute auto shut-off
 Wall and car adapter included
 Handheld massager option
Cons
As the name suggests, this portable neck and shoulder massager is as comfy as comfy can get. Made of a leather exterior, this dual-voltage deep tissue kneading massager comes with 3D massage rollers and 8 rotating massage nodes to fight cramps, soreness in muscles, and release tight muscles and knots. To further enhance the massaging experience and aid in blood circulation, you can choose the active heat therapy feature. Don't worry about overheating though as it turns off automatically in 15 minutes. Adjust the straps for the perfect fit and let your hands stay free and relaxed. According to reviewers, the device is comfortable and customizable.
Pros
 Hands-free massager
 Dual-voltage
 3D massage rollers
 8 rotating massage nodes
 Auto shut-off in 15 mins
 Heated massage option
Offers muscle knot treatment
Cons
 Some may find the leather slightly sweaty and sticky
The Shiatsu technique is often considered the best massage for neck and shoulder pain and this device with 4 massage nodes can help you experience that from the comfort of your home. Lightweight and portable, it features an in-built vibrator which is ergonomically designed and placed for a comforting massage. The product offers a stress reduction technique that aids in relaxing stiff muscles. When the heating function is on, you can keep a track of it as the massager will illuminate, and with 3 different intensities to choose from, you can customize your massage the way you like it.
Pros
 Auto shut-off mechanism
 Lightweight and breathable
 4 different massage modes
 3 speed settings
 Comfortable handle
Cons
 Some may find it slightly heavy
Why step out of home when you can enjoy the benefits of a healing Shiatsu massage at home? By getting yourself this deep kneading massager, you'll be doing yourself a huge favor! It comes with 8 bi-directional massage balls which change direction automatically every minute, mimicking the art of a Shiatsu massage by hand. However, you can choose the intensity of the massage as it offers 3 speed settings. And to keep you safe, it turns off on its own after 15 minutes. Many reviewers shared that it provides excellent real-life results for relieving pain.
Pros
 8 massage directions
 3 intensity levels
 Auto shut-off feature
 Built-in overheat protection
Cons
 Must be plugged in for use
Shoulder blade pain, neck pain, sore and tense muscles, cramps — all of these niggly issues can be a thing of the past as you bring home this back, neck, and shoulder massager. It offers a deep kneading Shiatsu massage and is designed to relieve aching muscles in a matter of minutes. For days when you want to amp up the stress-relief, you can use the heat therapy feature as well. It is equipped with a built-in controller that allows you to change the direction of the massage nodes and also choose the speed and intensity of the massage. According to reviews, the device has 4 rotating balls that provide precise and direct targeting of tense muscles, helping them relax and provide pain relief.
Pros
 DC adapter
 Optional heat therapy
 Built-in controller
 Different speed settings
Cons
Dream of a soothing and healing massage after a tiring day at work but can't find the time to visit a massage therapist? This massaging neck and shoulder heat wrap can do that for you! With 8 massaging nodes that offer a deep-kneading Shiatsu technique and an in-built heat therapy feature, the ergonomic U-design massager offers instant neck pain relief. The 3D-rotational kneading massage rollers get in action instantly to help relieve sore muscles and backaches.
Pros
 Anti-friction
 Skin-friendly material
 Sweat-proof and odorless
 Increases blood circulation
 3 speed levels
Cons
 Some may find it slightly noisy
A massage therapist can be a thing of the past as long as you get yourself massage tools for the neck and shoulders such as this one. It is equipped with 8 3D kneading nodes that rotate and also features an infrared heat option for a powerful, deep tissue massage. With comfortable arm slings and slots, you can comfortably lay back and enjoy the healing touch of the massager. It comes with 3 intensity options and you can also use the massager on other parts of your body like the lower back and your legs. The product features self-massage techniques that will vanish your stubborn neck and shoulder pain in minutes.
Pros
 8 3D kneading nodes
 3 speed options
 Infrared heat option
 Different node sizes
 Can be used hands-free
Cons
 Some may find it slightly heavy
Sweet relief and a rejuvenated body is only a step away with the help of this massager for neck and shoulders. With 8 massage rollers that rotate in 2 directions and 3 speed settings, what more could one ask for? It is equipped with adjustable straps with loop handles, so you can also use it as a foot massager. You also get a bonus neck massage accessory for free that is made with silicone balls that target trigger points to relieve pain. The massager also features an easy-to-use control panel with clearly defined buttons.
Pros
 Adjustable straps
 Neck massage accessory included
 Provides trigger point therapy
 8 massage rollers
 3 speed settings
 Car adapter included
Cons
 Weighs slightly over 3 pounds
Now that we've looked at the 11 best neck and shoulder massagers available in the market, let's take a look at a few things you should keep in mind before buying one and how you can use one as well.
What To Look For In A Neck And Shoulder Massager
 Shiatsu massaging technique
If you don't know what a Shiatsu massaging technique is, here's all you need to know. It's a traditional form of Japanese massaging therapy that works with the body's energy and flow. With the use of acupressure on specific trigger and pressure points in the body, it aims at releasing tension from the body to bring about balance and subsequently to make the body feel relaxed and lighter. So, when buying a neck and shoulder massager, it's best to look for one with massaging nodes that mimic the Shiatsu technique. To ensure more safety, you can opt for ones recommended by a medical device expert or a healthcare specialist.
As the massager is to be placed on your back, neck, shoulder, and arms, it is important to look for materials that are comfortable. Most neck and shoulder massagers are made with PU leather, neoprene, and synthetic rubber. However, if you live in hot climates or have extremely sensitive skin, look for breathable materials like mesh.
Most neck and shoulder massagers offering a Shiatsu massage through kneading nodes often also offer intensity settings. Look for one that has at least 3 speed settings that include low, medium, and hard. While some like their massages to be stiff and almost painful, some like their massages nodes to gently go over trigger points to help alleviate pain.
 Corded or battery powered
The design and ease of use also matter significantly when purchasing neck and shoulder massagers. If you will be using it in one specific room or spot and won't be moving it around often, it's best to buy one that's corded. Dr. Dave Candy, physical therapist and owner of More 4 Life says, "One of the best advantages of wearable neck and shoulder massagers is the ability to move around and use them during your daily life without having to take time to stop and use a hand-held massage device." However, these types of massagers have to be plugged in throughout the duration of the use and must be turned off in 15 minutes to avoid overheating. If you're the type who is always on the move, it's best to buy ones that are powered by lithium-ion batteries and are rechargeable. They can be used hands-free, don't require to be plugged in while in use, and often offer more massage time.
How To Use A Neck And Shoulder Massager
While different models and types of massagers are to be used in their own unique ways, here are some basic things that are common to all and can help you get started:
 Set aside 15-20 minutes of your day to fully relax and immerse yourself in the massage without any distractions.
 Find a comfortable and quiet space to begin.
 Place the massager over your neck, ensure that you've found a comfortable fit, loop it over your shoulders on the front and insert your hands in the slit provided.
 Activate the massager and try all levels of intensity the device offers till you find one that suits your needs best.
 Turn on infrared heat for a more healing experience.
 If you're using a corded massager, ensure that you don't use it for more than 15 mins.
 Wipe the massager after use and carefully stow it away. Keep away from the reach of children.
Why Trust StyleCraze?
The author, Shreya Vishwnathan, is a health and wellness enthusiast and loves reviewing products and devices that can improve your overall wellness. She prepared this list of the best neck and shoulder massagers after checking the user feedback, quality, features, and safety factors. The author browsed different online forums and brand websites and conducted thorough research to pick only the best ones for the list.
Frequently Asked Questions
Do neck and shoulder massagers work?
According to a 2013 study published on the NCBI website, massaging the neck and shoulder was proven to be more effective than false therapy. However, it was not more effective than active therapies such as physical therapy and acupuncture.
Why use an electric neck and shoulder massager?
Most electric neck and shoulder massagers come with several nodes that offer deep kneading following the Shiatsu technique. These nodes target specific trigger points as with acupressure and help reduce stress, calm sore muscles, and provide relief from neck and back pain. They replicate an acupressure points therapy, thereby aiding in relieving muscle tension.
Will a neck and shoulder massager beat professional treatment?
While a neck and shoulder massager does provide instant and short-term relief, it is best to consult a doctor if you are looking for long-term solutions.
Are neck and shoulder massagers safe?
When used correctly, yes they are safe. They have to be placed ergonomically on the neck, should not be used in an intensity the body can't handle, and when the heat is on, it is best to wear clothing. The massager should not be used for more than 15 minutes at a stretch.
How often can you use a shoulder and neck massager?
Use a neck and shoulder massager thrice a day for fifteen minutes in each session.
Which part of the neck should not be massaged?
Massage any part of your neck except the anterior which contains the thyroid gland. Use medium to light pressure while massaging over the hyoid bone which is located in the anterior as well.
Can you massage your neck too much?
Yes. Massaging your neck too much may lead to serious injuries and complications including vertebral artery damage or even a stroke.
Is massage good for arthritis in the neck?
Yes, reduce chronic pain and neck arthritis with the help of effective massage therapy.
Recommended Articles