How To Use Nettle To Promote Hair Health
Soothe your scalp and boost your hair growth with this powerful spiky plant.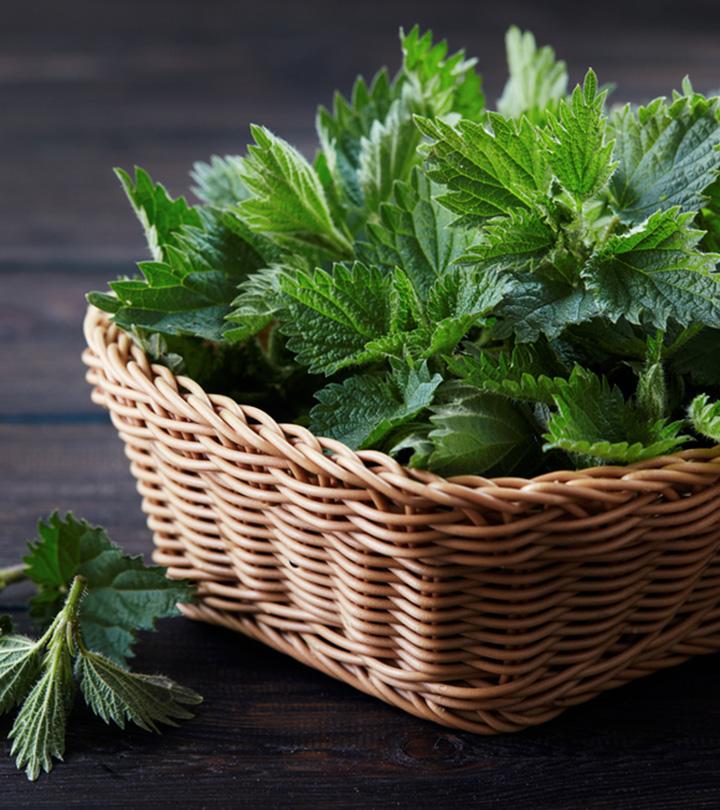 The newest craze in the hair care world is using stinging nettle to promote hair health. Stinging nettle is a weed plant from the nettle family. Its roots and shoots have therapeutic value. In this article, we look at the benefits of nettle for hair growth and hair restoration. This plant is found in America and Europe along the rivers and lakes. It has bristly hairs on its leaves and stalks that can inflame your skin. However, it is not all bad. Stinging nettle can provide nourishment to your hair. The vitamins, minerals, and polyphenols in the nettle plant boost hair growth and prevent hair fall. In addition, extracts from nettle can prevent dandruff. Read on to know more about this therapeutic weed.

Know Your Ingredient: Nettle
What Is It?
A shrub with pointed leaves. It causes a stinging sensation when it comes in contact with our skin.
What Are Its Benefits?
It helps treat scalp inflammation and infections reduce hair fall and manage dandruff.
Who Can Use It?
While it is safe to be used on all hair types, those with skin conditions like eczema or dandruff might find it really beneficial.
How Often?
You can apply nettle oil regularly and consult with your doctor before taking any supplements.
Caution
Avoid using or consuming nettle if you're pregnant or experience any skin irritation or diarrhea.
What Is Stinging Nettle?
Stinging nettle (Urtica dioica) is a non-woody plant and weed commonly found in parts of America and Europe. It is infamous for the bristly hairs on its leaves and stalks. These fine hairs sting when rubbed against the skin. They cause an acute burning sensation and a temporary rash (1).
The stinging hairs are designed to act as a natural defense mechanism to ward off insects and pests. However, nettle leaves are rich in several biologically-active compounds, vitamins, and minerals like iron and sulfur (1).
Along with the leaves, nettle flowers also contain potent antioxidants (1). Despite being classified as a weed, these potent biochemicals make stinging nettle a therapeutic and cosmeceuticali  XAmalgamation of 'cosmetics' and 'pharmaceuticals' indicating a cosmetic product with possible medicinal benefits. herb.
What Are The Benefits Of Nettle For Hair?
When used the right way, stinging nettle can be a great nourisher, particularly for hair and skin.
Anti-inflammatory Effects: The active biomolecules have potent anti-inflammatory properties that help in the treatment of skin and scalp conditions like eczema (1).
Controls Hair Loss And Baldness: By controlling and maintaining a clean scalp, nettle extracts prevent hair loss (1). Nettle may also strengthen hair anchorage by clearing clogged cuticles, thus preventing baldness. However, there is no scientific evidence to prove the same.
Antimicrobial Effects: Nettle leaves and flowers have shown antimicrobial effects against bacteria and fungi like coli and Candida albicans (1). So, you can use this herbal extract to manage scalp infections often caused by such microbes in humid conditions.
Heals Bleeding Wounds: Turkish ancient medicine uses a combination of thyme, licorice, common grape, and nettle to stop bleeding and blood loss (1). This may also effectively heal painful bleeding wounds and scabs on the scalp too.
Manages Dandruff: Massaging nettle oil into the scalp or using a shampoo containing nettle is said to control dandruff and flaking on the scalp (2).
Now that you know all about the benefits of nettle for your hair, find out how to use this natural remedy in the next section.
How To Use Nettle For Hair DIY Methods
1. Nettle Extract Salve
This salve uses nettle leaves and seeds that are rich in nutrients and polyphenolsi  XA family of naturally occurring organic compounds mainly found in fruits, vegetables, teas, and spices. . These active molecules nourish the scalp and strengthen the hair fibers. Applying this salve may help prevent baldness and dandruff.
You Will Need
Dried nettle seeds
Surgical spirit (alcohol/ethanol): enough to cover the seeds
Nettle herb: 1 part
Olive oil: 3 parts
Muslin cloth or sieve
Rosemary or lavender essential oils (optional)
Glass bowls or mixing bowls (small or medium-sized)
What To Do
In a bowl, steep 1 part nettle herb in 3 parts olive oil for 7 days. You can lightly cover the bowl at this step.
Moisten the dried seeds with alcohol in a glass bowl.
Blend the seeds and treated herbs together.
Leave the mixture to resettle and filter the contents into a fresh bottle or bowl.
Add a few drops of rosemary or lavender essential oil.
Rub this mixture into your scalp. Leave it on for 5-10 minutes.
Wash it off and continue with your hair care routine.

Did You Know?
You can replace olive oil with other carrier oils like coconut or rosehip seed oil. Also, you can use other essential oils of your preference, like peppermint, sage, or thyme, in the salve.
2. DIY Herbal Rinse
This nettle-based hair rinse uses herbs like rosemary, sage, and lavender. Rosemary leaves and lavender flowers improve the hair count and control hair loss and alopecia (3), (4). Sage has a characteristic camphor scent and potent anti-inflammatory effects, both of which may be beneficial for your hair and scalp (5).
You Will Need
Nettle dried leaves: 10 teaspoons
Dried lavender flowers: 7 teaspoons
Dried sage herb: 6 teaspoons
Rosemary herb: 5 teaspoons
Filtered water: 2 cups
Mixing bowl (medium-sized)
Saucepan
Amber bottle (small/medium)
What To Do
Add the dried and fresh herbs and flowers to a saucepan.
Add 2 cups of water.
Simmer the mixture for 10-15 minutes.
Let the mixture cool down. Strain the contents into a bottle.
Pour the mixture all over your hair after shampooing as a final rinse.
Massage it gently into the scalp.
Allow it to sit in your hair for about 4-5 minutes.
Rinse it off and condition your hair.
3. Rosemary-Nettle Anti-Dandruff Rinse
Rosemary extracts can easily penetrate the scalp to treat dry scalp and dandruff (6). When combined with apple cider vinegar and nettle leaves, it is said to effectively maintain hair and scalp health.
You Will Need
Nettle dried leaves: 1 tablespoon
Rosemary dried leaves: 1 tablespoon
Apple cider vinegar (ACV): 2 tablespoons
Filtered water: 2 cups
Glass or ceramic pot with lid
What To Do
Boil two cups of filtered water.
Place the dried herbs in a glass or ceramic teapot and pour boiling water over them.
Cover the teapot and let it steep for 10 to 20 minutes.
Let the herbs cool down.
Strain the infusion through a non-aluminum strainer into another container.
Stir in the apple cider vinegar.
Use the mixture as a final rinse after shampooing your hair.
Massage it into your scalp and wait for about 4-5 minutes.
Wash it off and condition your hair.
You can also store the rest of the mixture for about 24 hours in the fridge.

Did You Know?
You can add nettle leaves to most homemade hair masks and packs. You can also buy hair care products made with nettle leaves to enjoy their hair-enriching benefits.
You can also nettle in other forms to improve your hair health. Check them out in the next section!
Other Ways To Use Nettle For Hair Health
Stinging nettle leaves are not limited to external use and topical application. They retain their nutrients even when cooked or boiled. Some Native American tribes eat nettle as the first green food of the season (7). Here are a few common ways to use nettle to improve your hair health. However, note that not all of them have supporting scientific evidence.
Nettle Oil: Add a few nettle leaves (fresh or dried) to a container with olive oil. Let it infuse for about a month. Massage the oil into your scalp regularly before washing your hair. The active molecules in this oil infusion may help in hair loss prevention.
Nettle Tea: Boil a spoonful of dried nettle leaves in 2-3 cups of filtered water. Let it steep for 4-5 minutes. Strain and serve the tea warm or cold.
Nettle Shoots And Roots: Blanch or boil tender nettle shoots and roots. Sprinkle some salt and pepper on them. Add a dollop of butter and combine well. This can be a nutrient-dense side-dish or salad as the toxic chemicals in nettle are deactivated during the cooking process (8).
Not a fan of nettle leaves? Try nettle supplements. These herbal supplements come in the form of capsules or tablets that retain all the nutrients of fresh nettle. No more fear of stings, rashes, or irritation!
There are many other options to get your share of nettle nutrients. However, you should be cautious in choosing which ones you use and when and how you use them. The active molecules of this powerful weed could trigger side effects.
Does Stinging Nettle Have Risks And Side Effects?
Not using proper equipment while harvesting or handling nettle can cause severe rashes and irritation.
Pregnant and lactating women are advised against using nettle. It may induce abortion and uterine contractions (7).
Nettle juice may cause diarrhea and

gastrointestinal complaints

i

  X

Issues or disorders related to the stomach and intestine, including heartburn, constipation, bloating, and irritable bowel syndrome.

(7).
If you are on blood thinners,

diuretics

i

  X

Water pills that help remove water from the body through the kidneys and increase the production of urine.

, blood pressure, or diabetes medication, consult your doctor before using nettle products.
Key Takeaways
The antimicrobial and anti-inflammatory properties of stinging nettle help treat scalp infections and eczema and prevent hair loss.
You can use nettle along with rosemary or sage as a herbal rinse for hair nourishment and hair strengthening.
You can also use nettle in the form of nettle oil, nettle supplements, or nettle tea to improve your overall hair health.
The consumption of stinging nettle may cause side effects such as rashes or diarrhea in pregnant women, lactating mothers, and individuals on blood thinners.
Infographic: Things To Know About When Using Nettle
The humble nettle leaves have important vitamins, minerals, and properties that can provide nourishment to your tresses and prevent hair loss. If you want to know about the important benefits and side effects of using nettle leaves, check out the infographic below.

Using stinging nettle to promote hair health is a good decision due to its rich vitamin, mineral, and antioxidant content. It helps treat scalp conditions like eczemai  X A chronic skin condition characterized by irritation, dryness, inflammation, and red rashes on the skin. through its anti-inflammatory property while preventing hair loss by cleansing the scalp and de-clogging the hair follicles. The antimicrobial properties of nettle also aid in preventing scalp infections and dandruff. Prepare the above-listed DIY nettle recipes at home to naturally avail these benefits. However, consult your doctor before using nettle products as they may react with certain drugs, like blood thinners.
Frequently Asked Questions
Does nettle tea block DHT?
Yes. Nettle has the potential to block DHT (dihydrotestosterone), i.e., the hormone responsible for hair loss and thinning hair. Nettle extracts inhibit the enzyme called 5-alpha-reductase, which converts testosterone to DHT, thus blocking its production.
How do you make nettle spray for hair?
Boil a cup of fresh nettle leaves in a cooking pot for 10-20 minutes. Strain out the leaves and let the water cool down. Add about 2 tablespoons of apple cider vinegar to the water and store it in the fridge. Pour the water into a spray bottle and spray your hair and scalp with it after shampooing.
Can you leave nettle in your hair?
While nettle is beneficial for hair growth, to avoid any residue or buildup it's essential to rinse the hair properly and not leave it for longer periods of time.
Is nettle cooling or heating?
Nettle is a cooling herb for hair as it is known for its anti-inflammatory properties and is often used to soothe and calm the scalp. Nettle helps to reduce itching and inflammation on the scalp and also helps those with dandruff.
Does nettle help with oily hair?
Yes, nettle helps with oily hair due to its astringent properties which control excess oil production on the scalp.
How long does it take to see results from using nettle for hair health?
There is no specific timeline, however, it depends on the severity of the condition, the frequency of use, and the method. Some may notice an improvement in their hair health after just a few uses of nettle, while others may need to use it regularly for several weeks or months to see significant results.
Can nettle be used for all hair types?
Yes, nettle be used for all hair types.

Learn how to naturally restore lost hair with the help of a stinging nettle. This enlightening video showcases proven techniques and tips to revitalize your hair growth using this powerful herbal solution. Check it out!

Sources
Articles on StyleCraze are backed by verified information from peer-reviewed and academic research papers, reputed organizations, research institutions, and medical associations to ensure accuracy and relevance. Read our editorial policy to learn more.
The following two tabs change content below.