Neutrogena Ultra Sheer Dry-Touch Sunblock SPF 50+ – Review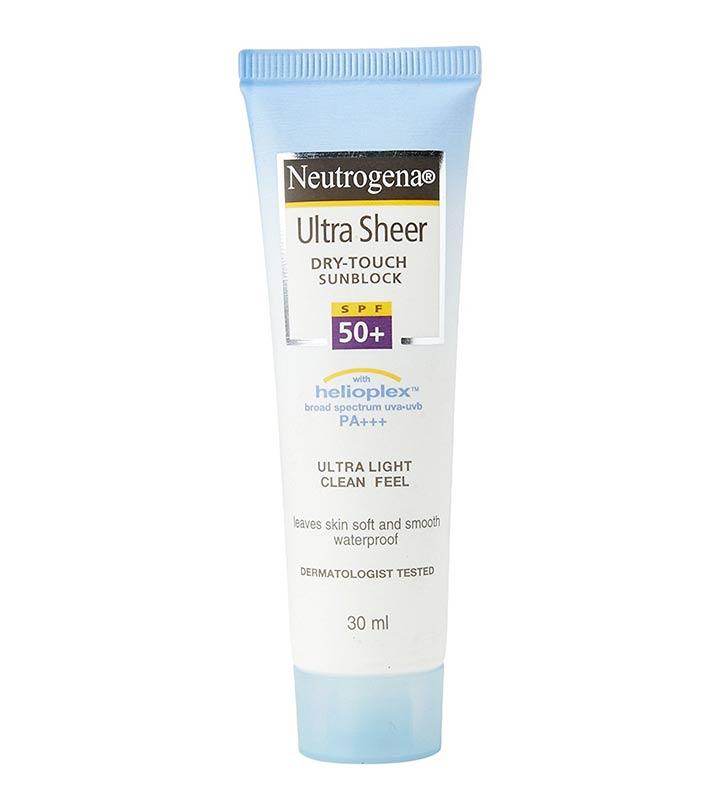 No one dreads summers as much as we Indians do. As if it isn't hot enough in most parts of the country all year round, the summers decide to really turn up the heat. Not only does it get excruciatingly hot, but being out in the sun feels almost like you're volunteering to get your skin singed. It's next to impossible to get through the season without a good enough sunblock. In this article, I'm reviewing the Neutrogena UltraSheer Dry Touch Sunblock SPF 50+ (PA+++). Keep reading to find out if this sunblock makes the cut for Indian summers.
Neutrogena Ultra Sheer Dry Touch Sunblock SPF 50+ Review
Packaging
The sunblock comes in a neat blue and white soft squeeze tube with a screw cap. This makes it easy to squeeze the product out when it starts to run out.
Unlike most sunblock lotions, the Neutrogena UltraSheer Dry Touch Sunblock SPF 50+ (PA+++) does not have a runny consistency. Instead, it is thick and creamy. But, again, unlike most other sunblocks, it is easily absorbed into your skin with quick massage, without leaving behind a film of grease. The product also has a very light lotion-like fragrance, making it perfect for those who prefer products that do not have a strong fragrance.
Ingredients List
The Neutrogena UltraSheer Dry Touch Sunblock SPF 50+ (PA+++) does not claim to have any special ingredients that make it more effective. Following is a list of the ingredients used to formulate this product:
Water, Homosalate, Ethylhexyl Salicylate, Benzophenone-3, Octocrylene, Butyl Methoxydibenzoylmethane, Silica, Styrene/Acrylates Copolymer, Potassium Cetyl, Phosphate, Beeswax, Glyceryl Stearate, PEG-100 Stearate, Cetyl Dimethicone, Caprylyl Methicone, Dimethicone, Ethylhexyglycerin, Behenyl Alcohol, Sodium Polyacrylate, Xanthan Gum, Dimethicone/PEG-10/15 Crosspolymer, Acrylates/C12-22 Alkyl Methacrylate Copolymer, Fragrance, Disodium EDTA, Ethylhexyl Stearate, BHT, Trideceth-6, Polyaminopropyl Biguanide, Methylisothiazolinone, Diethylhexyl 2, 6-Naphthalate.
Features
There are a number of claims made by Neutrogena UltraSheer Dry Touch Sunblock SPF 50+ (PA+++). Keep reading to find out what they are.
The product is described as a breakthrough in sun protection.
It is stabilized with HelioplexTM technology, which provides superior balanced broad-spectrum protection against skin aging UVA and burning UVB rays.
The Dry Touch technology used gives an ultra light and non-shiny finish.
The product has a mild fragrance, making it gentle enough for sensitive skin.
Is waterproof and sweat proof, and resists rub-offs.
Non-comedogenic.
Oil-free and PABA-free.
Benefits
The claims made by this product are not an exaggeration. Here are the benefits it offers, which put it at the top of all good sunblock lists:
PA+++ is the highest grade of UVA protection available, which makes this one of the most effective sunblock lotions available in India.
This sunblock also has a high SPF, which is suitable for the harsh summers in India.
The broad-spectrum protection against UVA and UVB rays helps slow aging and prevent burns.
How To Apply Neutrogena Ultra Sheer Dry Touch Sunblock SPF 50+?
Apply the product liberally onto your face and the exposed parts of your body 15-30 minutes before you head out into the sun. Reapply it often especially after swimming, extended sun exposure, or if you have been sweating and towel-drying.
Pros
The biggest pro is that this lotion is easily absorbed into the skin without leaving behind a layer of grease. It is super light.
This product is quite travel-friendly. The tight screw cap prevents any possibility of spillage while the compact tube can easily fit into any handbag.
Long-lasting because of its waterproof, sweat proof, and anti-rub off features.
Efficient sun protection owing to its PA+++ and SPF 50+ formula.
Ideal for all skin types, including oily skin, because of its oil-free, dry touch formula. It is also ideal for people with sensitive skin because of its mild fragrance.
Non-comedogenic. This will keep the product from causing breakouts or clogging your pores, which can cause blackheads.
Can be used on your face as well as your body.
Does not whiten the skin.
A little goes a long way.
The product is affordable and easily available in beauty supply stores and on e-commerce websites like Amazon.
My Experience With Neutrogena Ultra Sheer Dry Touch Sunblock SPF 50+
This is, definitely, no doubt, one of my absolute favorite products. I might be biased because of my love for Neutrogena's products. I also use their Deep Clean Cleanser in the summers when my face tends to get really sweaty. I've been using this sunblock on and off since 2013 when I was in college.
I was a bit hesitant at first to purchase this product because you can find other sunblocks that are way more budget-friendly (being a student, this was an issue). But once I got it, I realized that a little product goes a long way, and so, the price is actually quite reasonable.
I remember, back then, it gained a lot of popularity because of its PA+++ formula and protection against UVA rays. I was swimming in the summer and desperately needed a waterproof sunblock. I did quite a bit of research, and let me tell you, I was NOT disappointed.
I apply the sunblock once before leaving to work and again on my way back home. I love the subtle fragrance and how it feels on my skin. I have a teeny blackhead problem, which flares up when I use too many products. But Neutrogena UltraSheer Dry Touch Sunblock SPF 50+ (PA+++) does not cause this issue. It also helps keep my skin moisturized to a certain extent.
I will definitely rebuy it as I have been doing for a couple of years now.
Shelf Life: 24 months
Rating: I don't do this very often, but I'm giving this product a 5/5.
Will I Recommend It?
I would recommend this product to EVERYONE. It suits all skin types because of how extremely light it is on your skin. And since it is so perfect for the summer, it can be used all year round too.

Indian summers, too, can be handled. You just need the right products by your side to help you get through. Have you used Neutrogena UltraSheer Dry Touch Sunblock SPF 50+ (PA+++)? Tell us about your experience in the comments section below.
Frequently Asked Questions
Has Neutrogena Ultra Sheer Dry-Touch Sunblock SPF 50+ been dermatologically tested or recommended by professionals?
Yes, this sunscreen is dermatologically-recommended. Thus, it is safe to use and has remarkable benefits for the skin.
Can Neutrogena Ultra Sheer Dry-Touch sunblock be used as a standalone product, or does it require additional moisturizers or skincare products?
Yes, the Neutrogena Ultra Sheer Dry-Touch sunblock has a light and slightly moisturizing texture that neither feels dry nor too moisturizing on the skin. Therefore, it can be used as a standalone product. However, if the skin feels dry in winters, it is best to use a moisturizer to keep your skin healthy.
Does Neutrogena Ultra Sheer Dry-Touch Sunblock SPF 50+ have a non-comedogenic formula that won't clog pores or cause breakouts?
Yes, the Neutrogena Ultra Sheer Dry-Touch Sunblock SPF 50+ is a non-comedogenic formula that does not clog your pores. It delivers impressive results, while feeling weightless on the skin and rendering a lovely matte finish.
Recommended Articles:
Neutrogena Hydro Boost Sunscreen
The following two tabs change content below.