5 New Ways To Wear A White Eye Liner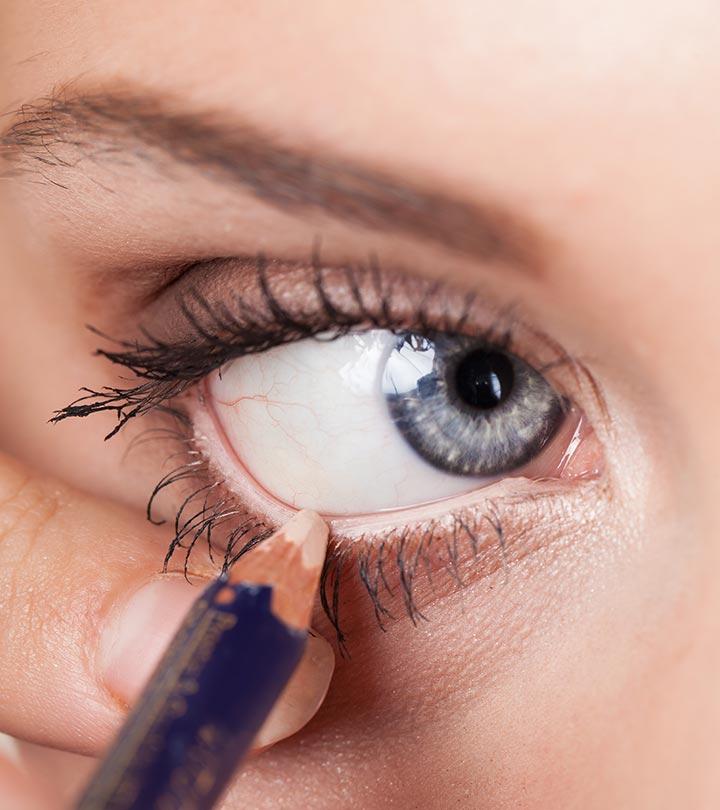 Black kajal or eyeliner has always been a staple in every makeup kit. But white eyeliners have recently stolen their spotlight, and for a good reason too! So, here we discuss some most effective ways to wear a white eyeliner.
Black has always been a classy and timeless color for accentuating the eyes with makeup. It adds drama and intensity to the eyes. But white eyeliners are no less appealing, and the current generation of beauty influencers are certainly discovering unique, elegant, and attractive ways to incorporate them in their eye makeup. So, if you have bought white kajal or eyeliner but don't know how to use it, we have got you covered.
Have faith in your choice because we are about to tell you how that white eyeliner can brighten up your eyes and give them a stunning look. Celebrities have time and again rocked this eyeliner shade, and you can do it too. You just need the right guidelines to apply the eyeliner properly, and you will get a magnificent look. Swipe up!
5 Different Ways To Use A White Eye Liner:
So, how do you use a white eyeliner? Here are the top 5 tips to use white eyeliner in 5 different ways to break the taboo:
1. Line Your Waterline:
You can use the white eyeliner to line your waterline to instantly lift your eyes and make them appear bigger. When you apply it on your waterline, it makes your eyeballs appear bigger. It is also a trick to use it on people with Oriental, Asian and deep set eyes. It will help transform their eyes and make them appear bigger and brighter. If you have a dark skin tone, you may think that the white eyeliner will give a contrast or unflattering look. Then you can line your upper lash line with a black eyeliner and fill the waterline with a white pencil. To create a balanced and subtle eye look, use a black eyeliner along your lower lid's waterline.
2. Inner Corner Pop:
Use the white eyeliner at the innermost corner of your tear duct area to give an instant pop to tired and dull eyes. If you are still thinking that this trend is kind of crazy, but want to include it in your makeup, then it is best to trace it in the inner "V" of your eyes. This way, you can try a white eyeliner without stepping out of your comfort zone.
3. Eyeshadow Pop:
Use the white eyeliner and apply it to the entire eyelid area. Then, use a stiff eyeshadow brush or your ring finger and softly blend it out for even distribution of the product. Now use your favorite eyeshadow to create an instant pop of color. The white base will prevent creasing of your eyeshadows and also make it last longer.
4. Brow Bone Lift:
White eye liner can also be used to lift your eyebrows. You can trace the shape of your natural eyebrows to give them appearance. You can just apply it right under the highest point of the brow bone to highlight your eyes softly. For a dramatic and intense look, use the white liner to line from the beginning of your natural brow, from where your eyebrow arch starts and where it ends. Do this trick to lift your eyes.
5. Perfect Cupid Bow:
Apply the white eyeliner to the top most cupid bow area to highlight and create an illusion of bigger lips. The key to achieve this trick is to blend the product seamlessly otherwise it might stand out stark and unflattering.
White eyeliners are not everybody's cup of tea—or so it may seem till you take the plunge and try out these different ways to wear white eyeliner. Depending on how bold or impactful you want your look to be, you can apply it to line your eyes or highlight your cupid brow for fuller lips. In addition, white eyeliners can help your eyes look bigger and brighter, especially when applied on the waterline. If you are apprehensive about sporting a white liner but still want to try it out, you can pair it with a black liner or kohl.
The following two tabs change content below.