20 Cute And Funny Nicknames For Your Sister
Be that annoying sibling but never fail to show your love to your sister with crazy names.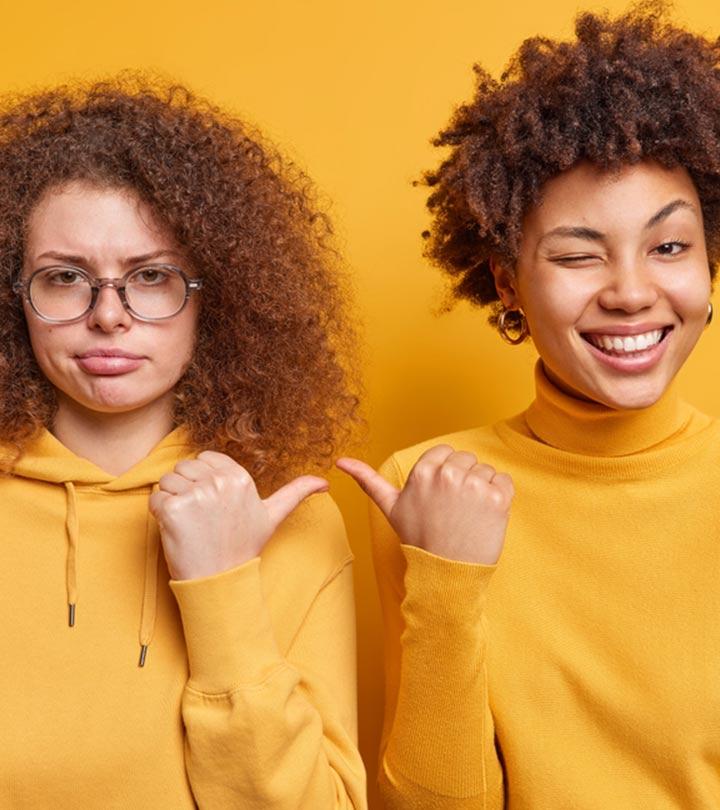 Sisters are a real blessing. They make a great companion and are loveable, funny, and sometimes crazy. Ever thought of any nicknames for your sister? Well, you must have. If you have not finalized any names for your sibling, go through this article. We have listed 20 sweet and funny nicknames for sisters. Keep reading!
20 Adorable & Funny Nicknames For Your Sister
1. Chatterbox
Does your sister not stop talking once she starts? Do you wonder where from does she get all the information and the energy? Well, no other nickname than 'chatterbox' is apt for her. Calling her chatterbox playfully can also make her stop, even if it's only for a minute.
2. Cupcake
Who doesn't like cupcakes? They are a sweet, delicious pack of joy. And, if you have a sweet, cute and little sister, this nickname will suit her the best.
3. Buttons
Babies are adorably round! If you have a baby sister who has an adorable round face, googly eyes, and a short and cute nose, "buttons" would be the best way to call her and show her your love.
4. Smarty
If you have watched the viral "smarty pants dance" clip, you know how cute that was! Whether your sister is older or younger, if she is smart and a quick learner, give her the credit.
5. Sweetsu
Just another way of letting your sister know how adorable she is and how much you love her. Calling "sweetsu" to your sweet-natured sister who is kind to all will help you both bond better and be kind to each other.
6. Windster
Whether your sister is responsible for that smell or not, calling her out for it can be fun. And an apt but usual nickname would be Windster.
7. Copycat
Sisters, especially the younger ones, are big-time copycats. While that's a compliment to you, copying your fashion, hairstyle, and everything else can get to you sometimes. But guess what younger sisters do not like? Calling them a copycat! This way you will not only name her appropriately, but it can also discourage her from copying you.
8. Booger
Does your sister pick her nose too often? A funny nickname for your nose-picking sister would be "Booger". Teasing her with this nickname will help you both have a little game of tag and laughter – just how siblings play-fight.
9. Geek
With her big glasses, always in the library, sleeping on an open book, and having answers to all your questions – your sister has all signs of a geek. Nicknaming her "Geek" would therefore be apt for your sister.
Quick Tip
You can also call your sister a nerd, dork, boffin, or techie instead of geek to appreciate her studious nature.
10. BB
A few sisters have all the good qualities any human being can have – a sharp brain and a compassionate heart. If your sister is one such soul, nickname her BB or beauty with brains. Your gorgeous sister deserves this cool name.
11. Couch Potato
Do you always find her on the couch in a sitting position? Well, she can work, read, or be productive, but making the couch her study and bedroom can be annoying. Instead of bickering, nickname her couch potato. That'll do the trick (wink!).
12. Brat
Younger sisters are often spoiled by their parents. They need attention all the time and want their demands met by hook or crook. If your sister is also spoiled, Brat is the perfect nickname for her.
13. Lilliput
Do you have a naughty baby sister who is a 24/7 goof? Or, a sister who is a tad too short compared to you and does all sorts of notorious activities to tease you and seek your attention? The nickname Lilliput is perfect for her, who loves to be around you and has a ton of curiosity.
14. Plum
Do you have a sweet sister who is moody and gets upset a little too quickly? If your sis is sweet and sour, but you love and adore your sister for being so true to who she is, Plum will be her ideal nickname.
15. Genius
Is your sister extremely talented when it comes to studies or sports? Nickname her "Genius". However, if your sister is just the opposite of a genius, calling her Genius can be a Chandler-like humorous move.
16. Nugget
Nugget is the perfect nickname for a loving sister who is super cute, a goof, and downright adorable. Whether you mean her to be a "nugget of joy" or an "adorable nugget", it's a cute name – just the one you are looking for your baby sister.
Quick Tip
You can also call your sister nugget or nuggy if she loves to consume chicken nuggets anywhere and any time.
17. Pingu
Pingu is the name of a baby penguin in a hit stop-motion children's show. Pingu is cute but clumsy. If you have a baby sister who is adorable but also wrecks a mess around the house, this nickname is perfect for her.
18. Smelly
Your sister may not smell or be smelly at all, but isn't it fun to push her buttons by calling her smelly? Siblings bicker, and a cute way to do so is to poke fun, laugh, and be playful.
19. Diva
Whether your sister loves to dress up, sings like a soprano, or is tough to please, nicknaming her Diva would be the best one.
20. Mumma Bear
Regardless of age, many sisters act like mothers. She is protective of you, helps you with your studies or relationships, and gives wise advice. In that case, Mumma Bear is the perfect nickname for your sister.
Infographic: Ideas For Sisters Bonding Time At Home
You and your sister may share a great bond and still lead individual lives that do not intersect. Upon finding yourselves alone at home, there may be an air of awkwardness because you might not know what your sister is like outside of the home and what they do for fun. So, how do you bond with them? You might have an understanding where you both can do your own thing and not bother each other, but that slowly widens a gap that leaves behind a shell of a relationship. If you have been feeling distant from your sister, check out the infographic below for fun, quality time ideas to rekindle your bond.


Sisters are a blessing. All the bickering aside, they could be the most loyal companions when dealing with family. You couldn't ask for a better cheerleader than a sister at the end of the day. Your bond with your sister is unlike any other, and giving her a nickname is a simple and sweet way to let her know that she is special to you. Take ideas from this list of funny and adorable nicknames for sisters to come up with a nickname for her. Years from now, you could look back on it and reminisce all the simple and good times together.
Frequently Asked Questions
What is slang for sister?
Seesta, sista, sib, sis, siska, and skin and blister are some common slang terms for sister.
What is a sister's love called?
Sisterly love or sibling love are common terms that refer to a sister's love.
The following two tabs change content below.