100 Sweet Nicknames Your Wife Might Actually Love To Hear "Happy is the man who finds a true friend, and far happier is he who finds that true friend in his wife" – Franz Schubert
Calling each other sweet, corny, romantic, and funny nicknames can keep the spark in your marriage alive. It is a cute gesture of expressing your love to your partner. So, if you are trying to woo your wife, try our favorite nicknames. It is the best way to add an element of fun to your relationship and let her know how much you cherish, admire, and adore her. Check out these 100 sweet nicknames your wife will love to hear.
Romantic Nicknames For Wife
Romance can keep the relationship fresh. So, amp up your love life by making sweet, romantic gestures followed by mush and sweet nicknames for your wife.
Bon Bon: This can mean short for cinnamon – an exotic spice that makes everything better.
Boo: This is a popular name to address your sassy wife
Baby: This is a classic nickname that you both can call each other.
Darling: Another classic way to address the woman who stole your heart.
Babe: A sweet and romantic way to get your wife's attention.
Sugar: What better way to acknowledge that she adds sweetness to your life.
Sunshine: A perfect nickname for a wife with a bright and cheerful disposition.
Gorgeous: Everyone needs to know what a beautiful person she is.
Peaches: This is a cute and adorable way to call your wife.
Beauty: That does not make you the beast! It is simply a loving way to address your wife.
Heartbeat: An apt name for someone who makes your heart skip a bit.
Princess: A perfect name for your wife whom you spoil endlessly.
Buttercup: This is an endearing nickname for your wife.
My queen: She rules your heart, and it makes sense to call her so.
Pretty lady: A simple but much-appreciated nickname.
Cuddle bug: For the expert cuddler, this rings just right.
Kitten: This nickname with a hint of mischief is perfect for a passionate wife.
Honeypie: A romantic nickname for your wife who is sweet and warm.
Snuffles: This is perfect for the times she throws cute tantrums.
Candy: A tempting name to spice up your love life.
Cuteness: For that adorably cute wife.
Angel: A perfect nickname for a wife who changed your life for the better.
Junebug: A popular name to call your wife anytime she wants a hug.
Munchkin: For your sweet and romantic wife.
Precious: A quirky nickname for your wife, who is also a fan of LOTR.
Sweet Nicknames For Wife
Try these nicknames for your loving wife to show how much you appreciate her presence in your life. Let her and the whole world know she is special and makes the world go around.
Sweetie: A common nickname when you want her to pamper you.
Sweetheart: A classic nickname that will never go out of style.
Wifey: This is a popular and sweet nickname for the wife.
Bumblebee: Perfect nickname for someone who is always busy and the life of the party.
Your Highness: Let the whole world know that she is your world.
Bow: Short for Rainbow, this is a sweet name for a wife who is always there for you, rain or shine.
Dimples: An adorable way to call your wife who melts your heart with her dimples.
Oreo: Pretty self-explanatory nickname.
Cheesecake: Who does not love a good blueberry cheesecake? Also, a great way to call your wife.
Sweet pea: Give this nickname to your cute and utterly lovable wife.
Cutie patootie: Another classic and endearing nickname for your wife.
Little monkey: That perfect nickname for your wife who always teases and makes you laugh.
Pudding: An adorable name to address your wife, who is sweet and caring.
Butterfly: This is a romantic way to call your wife, who is the life of your dinner parties.
Lady Luck: This is a great way to tell your wife how fortunate you are to have her in your life.
Snookums: This is a common yet sweet nickname for your wife.
Toots: If your wife makes your tummy ache with laughter, this is a perfect name for her.
Tinkerbell: Is your wife always fiddling with appliances? You gotta call her tinkerbell.
Mittens: If your wife is warm and has an old soul, use this nickname.
Pumpkin: A cute and sweet nickname for your wife.
Twinkle: Of course, she is the twinkle of your eyes! Let her know that.
Lady boss: If your wife is the boss of the house and has unstoppable energy, this is a lovely way to say that you appreciate her.
Blankie: Short for a blanket that makes you feel safe and loved.
Honeybuns: A romantic and naughty nickname for your wife.
Heartbreaker: A comic way to tell your wife that she is admired.
Funny Nicknames For Wife
Good humor can diffuse and lighten those tense moments in life. Love and laughter go hand in hand. Check out our funny nicknames for your wife below.
Boo boo: Just a sweet way to annoy your wife.
Pooh bear: A reference to Winnie, the Pooh. This is a cute and funny way to address your wife.
Dumpling: A perfect nickname for a wife who is always hungry.
Dee Dee: Just a funny nickname for your wife.
Cuddle buddy: It takes two to cuddle. Let her know you want some love.
Partner-in-crime: Your favorite accomplice in life. No better way to address her.
Trouble: A playful nickname for your wife.
Tickle monster: Get ready for tickle wars.
Cherry: A classic nickname for getting into your wife's good books.
Wife for life: She will be thrilled to know that she is the only one for you in this lifetime.
Sugarplum: An adorable nickname for your wife who is always teasing you sweetly.
Chatterbox: You can listen to her talk for hours. She deserves this nickname as she keeps you entertained.
Pottymouth: A fun way to call a wife who is a little loose with the language.
Gangsta baby: Never a dull moment? A badass nickname for your wife.
Silly goose: If she is silly, but in an adorable way, use this nickname.
BBC: If she knows everything about everyone. This nickname is a great way to tease her.
Yum yums: For those times when your wife is delicious, and you can eat her up.
Sun, Moon, and Stars: A little long but ah, she means everything to you. So, address her like this sometimes.
Hurricane: If your wife has anger, that is as bad as a hurricane.
Hot sauce: A fun nickname if she loses her temper easily.
Potato: Say this in a funny minion accent, and you have a winner.
Bulletproof: If your wife is tough, this is a perfect nickname for her.
Giggles: Try this sweet nickname if your wife cannot stop giggling.
Banana: A cute name for your fun-loving wife.
Missy: An old-school nickname for a wife who is adorable and funny.
Pamper your wife with these adorable nicknames. She takes care of you, makes you feel like a king, and loves you with all her heart. Don't you feel lucky to have such a sweet and caring woman in your life? Then compliment her with some of these cute, sweet nicknames.
Recommended Articles
The following two tabs change content below.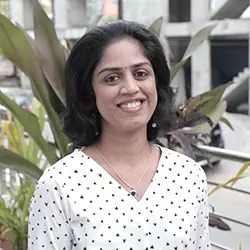 As Chief Editor, Harini sets the tone and editorial direction for StyleCraze to deliver engaging, interesting, and authentic content revolving around women's health, wellness, and beauty. She has over 14 years of experience in content writing and editing for online media. She specializes in the areas of Beauty, Lifestyle, and Health & Wellness and is proficient in Medical Sciences (Biology, Human Anatomy and Physiology, and Biochemistry). Her background in Biomedical Engineering helps her decode and interpret the finer nuances of scientific research for her team. Harini is a certified bibliophile and a closet poet. She also loves dancing and traveling to offbeat destinations.