7 Best Nighttime Skincare Routine Products To Use In 2022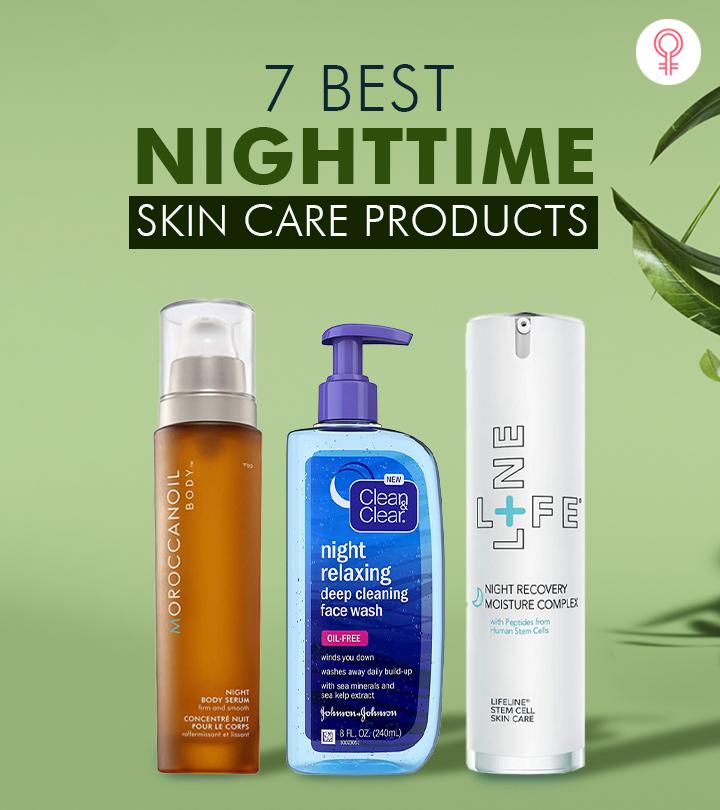 Your skin gets a lot of time at night to heal. Nighttime is ideal for pampering your skin. The best nighttime skincare routine helps restore your skin, repair it, and make the skin appear radiant and healthy. The skin care products penetrate well during the night by providing countless benefits.
However, you can not randomly use any formula at night and expect good results. Certain skin care products are formulated specially to repair your skin at night, and only such products are helpful. Finding the one right formula that matches your skin can be tricky. So, we have listed the 7 best products for your night skincare routine. Read on.
The Best Nighttime Skin Care Routine Products
The LL REGENERATION Revitalizing Night Cream visibly firms your skin and makes it wrinkle-free. It contains natural antioxidants, moisturizers, and vitamins that protect your skin.
Vitamin E and shea butter help moisturize the skin and strengthen the skin barriers. Retinol and vitamin C reduce the signs of aging.Hibiscus, echinacea, and calendula are rich in antioxidants and help condition the skin. This night cream also contains hypericin and hyperforin, which support skin regeneration. It is vegan, cruelty-free, hypoallergenic, and does not contain mineral oil, phthalates, GMOs, parabens, BPAs, silicones, petrochemical, and aluminum.
Pros
Hypoallergenic
Mineral oil-free
Paraffin-free
Silicone-free
Cruelty-free
Phthalate-free
GMO-free
Paraben-free
BPA-free
Petrochemical-free
Aluminum-free
Cons
The Moroccanoil Night Body Serum makes your skin youthful and radiant. It contains argan oil, vitamins, fatty acids, and antioxidants that help nourish the skin. The non-greasy formula enhances the skin texture and shows visible results within weeks. This serum also contains Tsubaki oil and holy basil, which protect the skin from environmental aggressors.Vitamin C smoothens and firms the skin. This product is suitable for women between the ages of 21 to 40.
Pros
Pleasant fragrance
Non-greasy
Brightens the skin
Smoothens the skin
Cons
The Clean&Clear Night Relaxing Deep Cleansing Face Wash cleanses dirt,oil, and impurities from the skin. It contains sea kelp and deep sea minerals that purify the skin. The oil-free formulais hypoallergenic and non-comedogenic. This face wash is suitable for all skin types and can be used daily.
Pros
Non-comedogenic
Hypoallergenic
Pleasant fragrance
Suitable for all skin types
Can be used daily 
Cons
The Aveeno Positively Radiant Intensive Night Cream tones the skin and enhances its texture to prevent dullness, spots, and blotches. This night cream contains an active natural soy complex that helps reduce discoloration and brightens your skin. The vitamin B3 moisturizes and nourishes the skin. This unisex night cream is hypoallergenic, lightweight, and dermatologically approved. It is non-greasy, oil-free,and suitable for sensitive skin.
ros
Oil-free
Hypoallergenic
Dermatologically approved
Suitable for sensitive skin
Lightweight
Non-greasy
Unisex
Cons
The Drunk Elephant T.L.C. Framboos Glycolic Night Serum helps brighten your skin. It contains 12% AHA/BHA that smoothens and purifies the skin. This serum facilitates the absorption of other skincare products into the skin. It removes impurities and dead cells to keep the skin clear and even-toned.
This serum helps exfoliate the skin without damaging or drying out the skin. It contains lactic acid, citric acid, salicylic acid, glycolic acid,and raspberry extracts that diminish the signs of aging, skin pores, and oiliness. Horse chestnut, white tea, and bearberry soothe the skin and improve its texture. This night serum is cruelty-free and does not contain essential oils, alcohol, silicones, chemical screens, fragrance, dyes, and SLS.
Pros
pH-balanced
Silicone-free
Fragrance-free
Dye-free
Colorant-free
Non-irritating
Alcohol-free
SLS-free
Cons
The Simple Water Boost is a sleeping cream that helps refresh and revitalize the skin. The silky formula transforms tired and dull skin into hydrated and supple skin. This cream is formulated with essential skin minerals and natural plant extracts. It is unisex, non-greasy, and absorbed easily into the skin. This product is free of any harsh chemicals, perfumes, and colors.
Pros
Unisex
Non-greasy
Absorbed easily
Long-lasting
Cons
The Lifeline Night Recovery Moisture Complex heals and moisturizes the skin. The smart molecule technology with potent growth factors, non-embryonic human stem cells, and amino acids help reduce fine lines and other signs of aging like wrinkles and spots.
This antioxidant-rich serum combats skin-damaging components. It visibly firms and lifts the skin, restoring its moisture barrier. This night cream helps stimulate cell regeneration and cellular metabolism. It is non-irritating and fragrance-free.
Pros
Non-irritating
Fragrance-free
Long-lasting
Reduces fine lines and wrinkles
Cons
Expensive
Not suitable for sensitive skin
Let's now look at the steps of a proper nighttime skincare routine. 
Steps For Nighttime Skin Care Routine
Cleansing: Cleansing excess oil, dirt, and impurities from the skin is imperative. Using any skin care product without cleansing your skin will lead to pore-clogging. Hence, use a face wash or facial cleanser at night to remove any toxins from your skin.
Treating: If you use any skin treatment cream or serum to combat skin conditions like acne and blemishes, do it as a second step of your skincare routine. These products seep deep into the skin after proper cleansing.
Toning: Toning your skin is essential to get soft, glowing skin. Toners help soothe, nourish, and hydrate the skin, restoring its pH balance. Use a mild toner after treating your skin.
Moisturizing: Moisturizing your skin at night is the key to maintain its health. Dry skin can trigger excess oil production, leading to breakouts. It also causes redness, flaking, and premature aging. Use a night cream before hitting the bed to seal the natural moisture of your skin and prevent dryness. 
Why Trust Stylecraze
A certified skin care coach, Shiboli Chakraborti, strongly advocates maintaining a nighttime skin care routine as an integral part of skincare. After exhaustive product research and close examination of user reviews, she has put together a list of the best nighttime skincare products. These products are formulated with special ingredients that penetrate well during the night and help restore, repair, and make the skin appear radiant and healthy.
Recommended Articles