Stronger, Thicker and Longer Hair! How? The All In One iVEDA NIVR Hair Growth Oil Review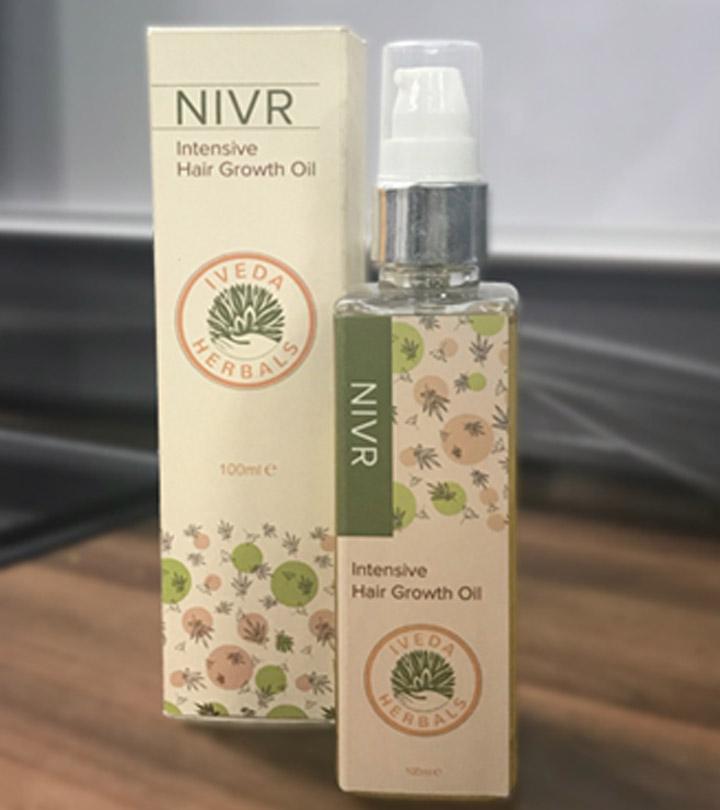 Most Indian women are blessed with luscious thick hair. Thanks to our beautiful parents! But due to the current urban lifestyle, digital exposure, UV rays, pollution and lack of proper diet, our hair is prone to a lot more hair damage and breakage.
The market is filled with hair products targeting specific hair problems like hair loss, balding, gray hair, damaged hair, greasy hair etc. Even though there are many solutions out there, most of them are temporary and filled with a mix of chemicals [minoxidil]  damaging the roots of our hair. Naturally infused products are so rare.
In today's market there aren't many hair growth solutions for women. Most of these exclusive hair growth treatments target men as hair loss is not clearly visible in women compared to men. This leaves women trying out a number of hair oils, serums, hair masks in the market and figuring out which oil is best for hair growth and thickness . Trying out different products on our hair damages the hair from root to tips. 
I agree that it is tough to take out time for yourself being either an employee of the month, best cook, best student, a mother, wife or all at once but…
Here's the hair growth oil for women that you ladies out there must try out!
iVEDA NIVR Ayurvedic Hair Growth Oil
This oil claims to be the best ayurvedic hair oil for hair growth and is free from chemicals causing no damage and side effects. It gives you stronger, thicker and longer hair after regularly applying it for one hour a day.
It reduces hair damage and hair breakage. Treats hair allergies and infections. Aids in improving overall hair growth, thickness and hair length by a minimum of 10-15%.
This hair oil for good hair growth definitely protects your hair from any further damage caused by hair styling tools, hair color, leave-in products etc. It is also induced with 6 organic hair growth inducing herbs making it a complete nourishment package for your hair.
The oil has been made carefully with a lot of research with time-tested Ayurvedic formulas. It has also been certified by the ministry of Ayush (Ayurveda, Yoga, Unani, Siddi and Homeopathy), Govt of India. And all these features make it the best hair oil for hair growth and thickness in india.
First Impressions About The Oil
After getting my hands on this best hair oil for hair fall control and hair growth, I used it as directed for about 3 weeks. Now, I have a very oily scalp and my hair gets greasy on day 2 of hair wash itself. But after using this ayurvedic hair oil for strong hair, I have noticed how clean my scalp has become after washing it off and it has reduced the sebum secretion in my hair.
While washing my hair, I usually had a lot of hairfall and saw a bunch of hair gathered at the drain of my bathroom. Surprisingly, I have seen a gradual reduction in my hair fall and it feels stronger than before.
Not just is it great for my hair, but the mint oil in it gives the scalp a cooling sensation reducing any kind of headache I get due to stressing out at work. I sometimes leave it overnight and wash it off in the morning to have my hair looking healthy and grease free for a longer time. It is also said to be the best hair regrowth oil for baldness.
Ingredients:
Amla

Mint oil

Jojoba oil

Neeli

Bhringraj

Aloe Vera
3 Easy Steps To Use The Oil:
Take a good quantity of the oil in your palm and pour it on the center of your head.

Use your palm to pat the oil into the scalp 8-10 times.

Gently stimulate the area with your fingers for a minute. Once done, massage the oil all over the scalp.
PROS:
100% Natural and Ayurvedic

Infused with 6 powerful herbs

Very easy to use

Reduces stress with mint and jojoba oil

Keeps your hair grease free for longer than usual

Reduces hair fall

Fights skin allergies and infections based on your scalp type

Certified by the ministry of Ayush (Ayurveda, Yoga, Unani, Siddi and Homeopathy), Govt of India
CONS:
It takes 3 months to see sustainable changes in your hair length. Patience required.
RATING:
4.5/5
Will I Purchase This Again?
Definitely! I would recommend this to all you lovely ladies to show some love to your hair.  


Click here to know more about Nivr –> https://www.stylecraze.com/Nivr-women/
The following two tabs change content below.

Latest posts by StyleCraze (see all)