Top 10 North Indian Rangoli Designs To Try In 2022
Prep for the festive season by decorating your entryway with a lovely rangoli design from up north.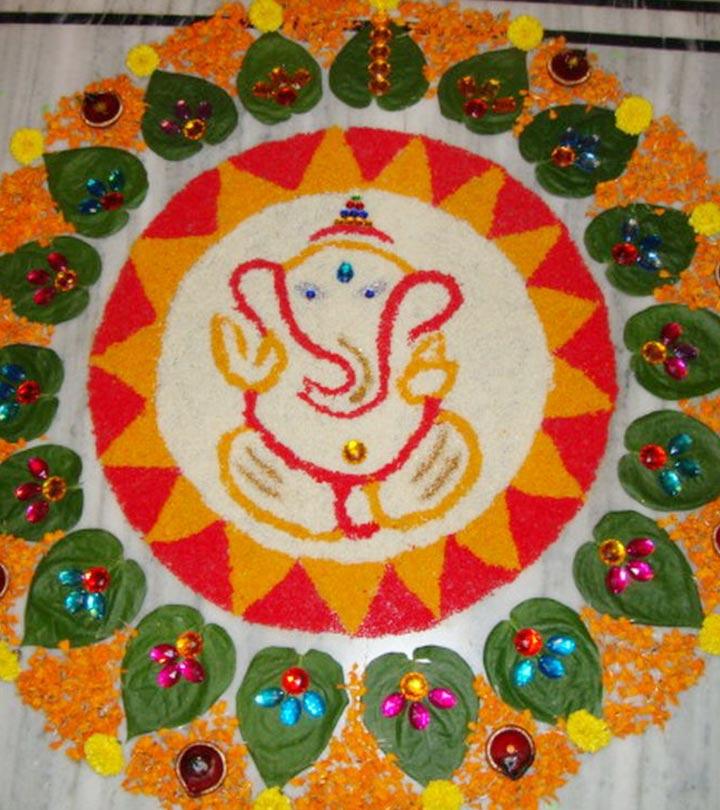 Rangoli is a popular art in India known for its unique charm and vibrancy. The regions and cultures influence it, and thus, North Indian rangoli designs are different from those found in the South or elsewhere. It is a traditional art that uses rice, flour, salt, flowers, leaves, vermillion, colored sand, unique rangoli colors, and more.
Given its immense significance, today, we are here to show you some breathtakingly beautiful North Indian Rangoli designs that are worth trying and decorating your house with on festivals. Scroll down the page and find your inspiration. Go on!
1. Simple Ganesha Rangoli:
This is a very common and most loved design in North Indian rangoli. It is made of flower petals and leaves with colored stones and diyas. This design can be made on the occasion of Diwali, Navratri fests etc. It will suit your house entrance, veranda or any favorite part of your house.
2. Wet Paint Flowers Rangoli:
This rangoli design is very easy to make. It lasts for a long time as it is made using water colors or poster colors. This design is best for outdoors. As it is painted on floor, you also need not to worry for it to get spoiled if someone by chance steps on it or if high wind blows.
3. Peacock and Flowers Rangoli:
This is a very beautiful and unique rangoli design. North Indians love to make Peacock in their drawings, fabrics and even rangolis. This design is big and covers a larger area. It is made up of flowers and dry colors. It is a very iconic design and a must try for rangoli lovers.
4. Auspicious Om Rangoli:
This is a very auspicious design which has 'Om' in its center. It is made up of dry colors. It has a message 'Happy Diwali' written as a part of it. If you are not making this on Diwali, then you can write your own favorite message or greeting on it.
5. Wheat flour Rangoli:
North Indians while worshipping create a rangoli made of Wheat flour. It is considered as auspicious and divine. The main design is made from wheat flour while it is decorate with flowers and other elements of performing puja. This North Indian rangoli kolam is usually seen inside house-temples.
6. Ganesha Rangoli with Swastika:
Swastika is a powerful symbol in Hindus. This rangoli design is very auspicious as it has Lord Ganesha idol and swastika make up of beautiful and bright colors. Though this is also a tough design to make, but if you'll try making it, you will surely end up making a very beautiful and eyeball catching rangoli design.
7. Flower made of Flowers Rangoli:
I named this design as 'Flower made of Flowers' rangoli design. This is a very beautiful and easy to make design. It has three colors only i.e. Green, Orange & white but then too, it looks fabulous. What makes this design more beautiful is the lighted gleaming diyas.
8. Parrots on Rangoli:
This is a very perky and lively design as it has parrots on it. Parrots are considered as a symbol of cheerfulness and joy and so does this design. This design too can be decorated with keeping diyas on its borders as adding diyas and flower-petals make a rangoli even more beautiful.
9. Abstract Floral Pattern:
Different kind of floral patterns can be seen as a rangoli design in North India. They do not have any specific symbol, idol or meaning but they look beautiful. Though they do not have any specific flower made in it, but still the design and pattern looks like a bunch of flowers connected with each other which looks really very beautiful.
10. Colorful Circular Rangoli Design:
This design is easy to make and you can add as many circles and as many colors you wish add to it. You can make your favorite symbol in the center like here some common music symbols have been made. Size is also not a bar in this design. You can cover a larger area by making this design or it can be made in a small corner of your room. No matter which colors you use and how many circles you make, this design will always look beautiful.
Rangoli is a traditional Indian art form that has been practiced for centuries. Many women draw rangoli in various designs and patterns using a variety of colors, seeds, wheat flour, grains, flowers, leaves, stones, and other materials. Rangolis are particularly popular among North Indians. North Indian rangoli designs are created to greet guests with love and joy at the house's entry. These rangolis are also made on home temples and balconies. So, celebrate your festivals with joy and happiness with gorgeous rangolis, food and drinks, flowers, new clothes, and sweets.
The following two tabs change content below.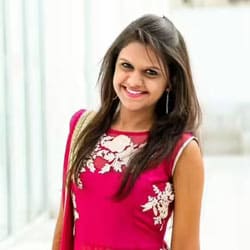 Nisha is a contributor to StyleCraze. She is a makeup aficionado and combines her love for makeup and writing to...
more