10 Best NYX Soft Matte Lip Creams That Look Awesome on Everyone
Give your lips an envious, vibrant, smooth matte finish that lasts all day long.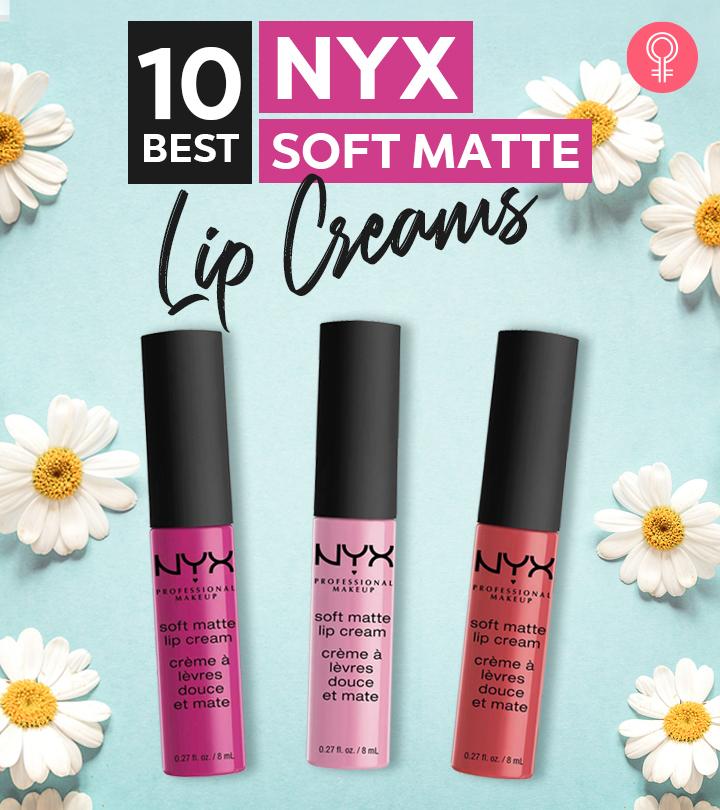 Are you a fan of experimenting with different lip colors? If yes, then with glosses, mattes, stains, and various other formulas available in the market, picking the perfect finish that suits your preferences might be a struggle. In this article, we have got you covered with the best NYX soft matte lip cream collection that is a one-stop solution for you. Launched in 2011, this range of bold colors has been a hot-selling one. In this post, we have rounded up the 10 noted NYX soft matte lip creams available online right now. Keep reading to explore our top picks!
Features And Benefits Of NYX Soft Matte Lip Cream
NYX Soft Matte Lip Cream is neither a lipstick nor a lip gloss. This matte lip cream is a new kind of lip color that goes on silky smooth and sets to a matte finish. These sweetly intense scented and delightfully creamy texture tubes are available in a wide shade range. Its features include:
Sets to a velvety smooth, soft matte finish
Sweetly scented and delightfully creamy
Lightweight and long-lasting
Available in 34 shades
Packaging
NYX Soft Matte Lip Cream comes in a super cute tube in vivid colors that represent the shade of the lip cream. The applicator wand has a convenient doe-foot applicator. It helps you get that precise edge and apply the formula evenly and with ease. Always test this lip cream on the back of your hand as the color of the tube is not always the exact shade as its formula.
Ingredients
Pentaerythrityl Tetraisostearate, Dimethicone, Beeswax, Glyceryl Behenate/Eicosadioate, Phenoxyethanol, Dimethicone/Dimethicone Crosspolymer, Talc, Methyl Methacrylate Crosspolymer, Silica, Aluminium Starch Octenylsuccinate, Isohexadecane, Disteardimonium Hectorite, Propylene Carbonate, and Parfum.
Texture And Fragrance
The NYX Soft Matte Lip Cream has a delightful mousse texture that goes on silky smooth and sets into a stunning matte finish. It is easy to work with, and its fragrance is sweet! It has a sweet vanilla essence fragrance and smells like freshly baked muffins.
Pigmentation And Efficacy
Most of the shades from this range are super saturated and pigmented. However, some of the shades can go on streaky. The second coat of smooth application is enough to cover up any streakiness and create a flawless finish. Also, these lip creams are notable for being comfortable on the lips.
Staying Power
This lip creams easily lasts for a good 3-5 hours without eating before it needs to be reapplied. However, since it is so easy to apply, the short wear time does not seem to be a matter of huge concern with most people.
Now that you know everything about these stunning lip creams, let's check out the top 10 trendy shades right now!
10 Best NYX Soft Matte Lip Creams Available Right Now
Budapest is a deep mauve shade with red undertones. This non-drying shade looks amazing on dusky skin tones. Swipe it on right before heading out to the club or when you are rocking a jewel-toned outfit.
Price at the time of publication: $6.49
This lightly scented formula of the shade Addis Ababa provides a smooth coat of pigmented color. It is light on the lips and perfect for any day. This cheerfully bright blue-based fuchsia pink instantly lights up your face and suits all skin tones. Pair this gorgeous pink lip cream with a pastel sundress during springtime.
Price at the time of publication: $5.65
Transylvania is a delightfully deep violet shaded with a cool undertone. It is a vampy shade that offers a matte finish. It looks especially gorgeous on dark skin tones. All-day wear lip cream with an all-black outfit to keep your lips the center of attention. If you need more convincing, feel free to take a look at this YouTuber's video on the merits and demerits of the product.
Price at the time of publication: $12.52
NYX Soft Matte Metallic Lip Cream is a versatile sweetly scented lip cream with a pearly metallic finish. Monte Carlo is a deep cranberry red shade that is perfect for autumn or winter. It easily complements every skin tone and instantly brightens up your entire look. Swipe on this lip cream before heading to a Christmas party.
Price at the time of publication: $6.49
NYX Soft Matte Lip Cream in the shade Ibiza delivers a smooth coat of creamy color with a velvet matte finish. This shade is a deep rose color with a hint of coral. It brightens up your face and is perfect for spring or summer. It is suitable for medium to fair skin tones.
Price at the time of publication: $5.78
Sydney is a soft lavender shade with a pastel tone to it. It is a unique shade that suits fair skin tones. There are tons of unique ways to style this quirky lip cream. You can go for a statement monochrome look by pairing it with a lavender minidress and heels.
Price at the time of publication: $9.99
Morocco is a vibrant orange shade with a hint of coral. It is the perfect shade for medium and dusky skin tones. It is the ideal smudge-proof match for your beach vacay and stays on for hours without smudging.
Price at the time of publication: $5.95
NYX Soft Matte Lip Cream in the shade Vancouver is a deep purple lip cream. This lip cream is light on the lips and keeps your pout looking and feeling soft. It is formulated with skin-smoothing silicones and looks wonderful on all skin tones, especially dusky skin.
Price at the time of publication: $7.5
The shade Rome is a medium nude with red undertones. It has a subtle pink tinge to it and is the perfect neutral shade for daily comfortable wear. You can pair it with just about any outfit, but it looks especially great with formal workwear.
Price at the time of publication: $6.5
Milan is a medium blue-toned pink. It is not too flashy or bright. This shade looks pretty on medium to dark skin tones. Pair it with a pretty floral blouse or dress to create a sweet summer look. Alysha Tucker, a permanent makeup artist, exclaims, "This lipstick will help your teeth appear whiter."
Price at the time of publication: $6.48
Now, let's check out how to apply these gorgeous lip creams the right way! 
How To Use NYX Soft Matte Lip Cream
Exfoliate your lips well before application to ensure that they are smooth and slightly plump. You can also apply a nourishing lip balm and let it soak into your lips. Use the doe-foot applicator for a seamless finish, allowing the first coat to dry for 4-5 minutes before applying your second coat. You can build coverage or layer different shades to achieve the desired finish.
Shelf Life: 18 months
Why Trust StyleCraze?
Baishali Bhattacharya, the author of this article, is a certified expert in makeup artistry. She is fond of matte lip creams and it motivated her to study different brands and products in detail. She has conducted thorough research of user reviews and filtered out the best NYX soft matte lip creams to make your job easier. These lip creams offer the perfect finish and help you level up your glam quotient.
Frequently Asked Questions
How long does NYX lip cream last?
NYX lip cream lasts up to eight hours.
Is the NYX Soft Matte Lip Cream transfer-proof?
No, the NYX Soft Matte Lip Cream is not transfer-proof.
Is NYX Matte Lip Cream cruelty-free?
Yes, NYX Matte Lip Cream is cruelty-free.
What does NYX stand for?
NYX stands for NYX Professional Makeup. It was named after Nyx, the Greek goddess of the night.
Is NYX a good brand?
Yes. NYX Professional Makeup is renowned for its premium formulations and flawless look, making it one of the most sought-after lines in the cosmetics industry.
Recommended Articles