Oil Slick Hair: What Is It And How To Get It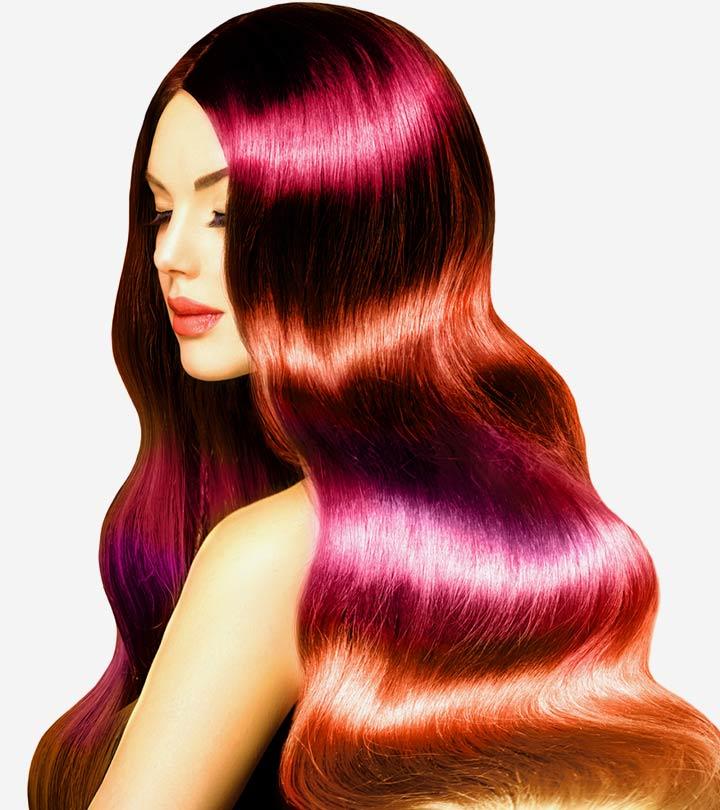 Oil slick hair is a fun hair color trend created by Aura Freidman, celebrity colorist from the Sally Hershberger Salon. She formed rich jewel-toned blends of purples and greens on the hair to give it an inky and oil spill look. This article explores the oil slick hair color trend and how to achieve and maintain it. Read on to know more.
What Is The Oil Slick Trend?
If you have seen an oil spill, you will notice how the oil bleeds into different colors, giving a rainbow effect. The oil slick hair color trend imparts a similar style to your hair.
The oil slick trend is a rainbow color treatment for brunettes. It involves adding ultra-fine baby highlights of different colors to the hair that look like the shifting shades of an oil spill.
This trend mainly uses jewel tones and is best-suited for warm and neutral skin tones with dark hair. The oil slick hair color trend works best for brown and black hair as the jewel-toned highlights make dark base hair colors stand out.
When it comes to the oil slick trend, color is the key. Therefore, choose your highlight shades carefully.
How To Choose A Shade
Pick colors that complement your base hair color and skin tone. For warm skin tones, shades like yellow and orange work well. For cool skin tones, go for blue and green shades. If you have a warm skin tone but want cooler shades, find warmer hues of those shades.
Rainbow color and jewel tones, such as burgundy, royal blue, deep purple, emerald, and deep red are mostly used in this hair color treatment. The best way to complement your hair and skin tone is to alternate the colors that give your hair an oil spill look.
Once you have chosen the highlight shades and bought your dyes, the next step is achieving the look. Here's how you can do that.
How To Do The Oil Slick Trend
Pick jewel-toned colors that match your base hair color and skin tone. Otherwise, color your hair in a deep and intense brown shade, so the highlights stand out.
Lighten your hair following the balayage technique. This method uses the hand to apply color to the hair, leaving it with a natural flow that suits the oil slick trend. Lighten your hair from midway to the end – only a few layers at the top.
The application of highlight color depends on how you want your hair to look. You can use a brush or your hands for a more natural flow. Apply the colors alternatively using aluminum foil to separate the layers of hair. For instance, begin highlighting a hair section in deep purple ending it in deep red. Follow this up with royal blue bleeding into emerald green.
Leave the colors on your hair for about 30-45 minutes. Keep checking your hair to see if you have achieved the desired effect. It might require an extended period to achieve some shades.
Wash your hair with a color-friendly shampoo and conditioner. Do not use any toning products unless you want to as they can change the color of your oil slick hair.
Style your hair as desired to flaunt your new oil slick hair color.
While this might seem like any other hair color trend, it has a few benefits over others. Scroll down to find what they are.
Benefits Of Oil Slick Color Trend
The oil slick hair color trend does not require bleaching the hair. It uses iridescent colors that work well with the brunette and black hairs without leaving them damaged, dry, and lifeless.
Jewel tones last long, which means weekly salon visits for touch-ups are not required. Also, with the right hair care products, you can extend the life of the oil slick colors.
Jewel-toned shades, such as cobalt, magenta, and emerald, are all customizable. Thus, you can get the perfect shade as per your skin and hair color.
The oil slick hair trend highlights only parts of your hair, leaving the base color natural. Only the top layer of your hair is colored, which reduces the risk of hair damage and dryness.
Here are some tips to help you maintain and care for your color-treated hair.
How To Maintain Oil Slick Hair
Use products that are formulated especially for color-treated hair. They help prolong the lifespan of the colors, prevent early fading, and repair damaged hair.
Moisturize your hair regularly and apply serums that keep the hair color fresh and nourish the hair.
Massage your scalp with coconut oil to prevent hair damage and oxidation of the hair caused by UV rays and free radicals.
Get regular touch-ups, depending on your hair texture. Touch-ups will keep your hair color fresh and allow you to play with various oil spill shades.
The next section will answer a few questions related to oil slick hair color.
Cost Of Oil Slick Hair Color
This hair color trend generally costs anywhere between $100 and $350. Some salons may charge you based on the length, thickness, and texture of your hair. Salons with expert hairstylists may charge you separately for their services.
How Long Does This Hair Color Last?
The oil slick color lasts for at least six to eight weeks. With proper hair care, it might last even longer. But regular touch-ups are required to prevent color fading. You can make the color last longer by using color-friendly hair care products like shampoos, conditioners, and hair masks.
Can This Trend Be Done At Home?
Although not advisable, the oil slick hair color trend can be done at home. The application of color requires a professional hand since several colors are used, and there's a specific appearance and tone that needs to be achieved. Thus, it is recommended to get this hair color trend done at a salon.
At home, you might not be able to achieve the desired shade. However, if you decide to try this trend at home, ask a friend to apply the colors or give you directions in the application process.
Styling oil slick hair depends on the placement of the highlights. Let's explore the various ways to style oil slick colored hair.
How To Style Oil Slick Colored Hair
Half Ponytail: This is an ideal style for highlights at the back of your hair. It draws attention to the jewel-toned colors, making your natural hair the perfect canvas for it.
Braids: No matter the placement, braids accentuate the colors, making them seamlessly flow into each other.
Top Knot: A top knot distinguishes the colored hair from the base hair color.
Wet Slick Look: Giving your hair a slick wet look with mousse or gel enhances the jewel tones and imparts shine.
Natural: Leave your hair to fall naturally. Apply styling serum to add shine and brush your hair to remove knots. Since the oil slick style looks like a spill, leaving your hair loose will enhance the look.
Summing It Up
This hair color trend is a godsend for brunettes and black-haired women who do not want to bleach or color their hair too often. It not only adds the right amount of pop to your gorgeous dark hair but also comes with hair care benefits. So ladies, switch up your hair quotient with hints of jewel-toned rainbow shades. Get to it now!
Recommended Articles
The following two tabs change content below.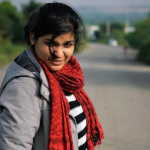 Anjali Sayee is a writer and an introvert. From studying Aeronautical Engineering and wanting to design her own airplane to writing articles on hairstyles, she has been on quite a journey. She believes that hair is one of the key factors that define a woman's personality. To quote her, "What's the first thing they do in the movies to show a personality change? Change the hair – because it has a life of its own." She's here to help you find the hairstyle you need. This bookworm is a self-professed Wholocker, a talented drummer, and an amateur photographer.