The 10 Best Olive Oil Brands Available In India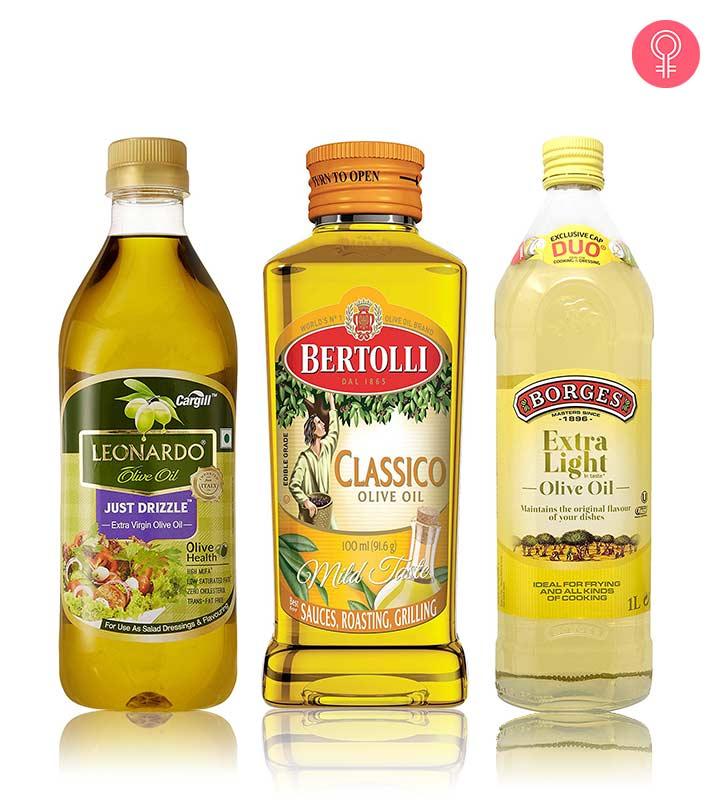 As per Harvard Medical School, monounsaturated fats constitute 75% of olive oil, which lower bad cholesterol and offer powerful antioxidant and anti-inflammatory protection (1).
There is no doubt olive oil is one of the healthiest (if not the healthiest) oils on the planet. Hundreds of studies have proven it already (2). But that throws a challenge too – which one to choose? There are several brands. Which of those can you trust?
Hence, this post. After working through consumer reviews and other forms of data, we have compiled a list of the top ten olive oil brands in India. This should give you an idea as to which brand to pick the next time you head to the nearest supermarket. Keep reading.
In This Article
This oil is extracted within 24 hours of harvesting of olives. Being an excellent source of vitamin E, it not only boosts skin health – but also promotes heart health and metabolism.
This olive oil brand makes for a healthy substitute for butter. It can also be used in dressings and dips.
Pros
Great quality
Pleasant flavor
Trusted brand among consumers
Cons
None
This oil is unrefined, and the brand ensures most nutrients are retained in the oil. These nutrients include vitamins A and E, antioxidants, and essential fatty acids.
Applying the oil to the face or body offers great moisturization and keeps the skin smooth and supple. You can use this as a makeup remover as well – add two drops to a cotton ball and gently wipe the makeup off your skin.
Pros
Non-greasy
Helps smooth skin and even treats acne
Cons
None
Del Monte is an Italian brand. This oil is known to be derived from cold extraction of olives within 24 hours of harvesting. It is perfect for sautéing, roasting, baking, and frying.
Pros
Effective for body massage as well as salads
Cons
Some deliveries have been from old stock – please check the date
This oil is especially effective in smoothing cracked heels. You can also use this for toning your skin and strengthening your hair. Morpheme Remedies claims to use only natural and organic ingredients – which is why it works great for cooking as well.
Pros
Free of parabens, sulfates, and artificial colors
Has anti-aging benefits
Helps remove makeup easily
Cons
Issues with taste, when used for cooking
The mild taste of this oil makes it easy to add to most dishes. Bertolli Olive Oil is stable even at high temperatures, and hence, it works best for frying and roasting. And given this is a Mediterranean brand, the quality is supreme.
Pros
Reasonably priced
Good to use as baby oil as well
Good packaging
Cons
May not be suitable for all skin types
This is another oil from a Mediterranean brand. The oil is manufactured and packed in Spain, and the brand guarantees 100% quality.
You can use this oil for roasting, baking, and even frying. In Indian dishes, this oil can be used in the place of ghee. You can also use this oil for dressing salads, marinating and grilling dishes, in pasta preparations, and adding to steamed veggies.
Pros
Great packaging
Acceptable taste
Cons
Issues with product quantity
Soulflower oil works particularly well for moisturizing and conditioning your skin. It works well for all skin types. Made from 100% pure and naturally cold-pressed olives, this olive oil variety comes with a 100% satisfaction guarantee.
Pros
Softens and smooths skin
Can help reduce hair fall too
Reasonably priced
Cons
None
Mature olives are handpicked between November and February, post which they are taken to a mill and crushed to make a paste. Figaro Olive Oil is a mixture of refined olive oil (though only in small amounts) and extra virgin olive oil – that makes for a pleasant aroma and taste.
The maximum acidity is less than 1%.
Pros
Useful for multiple purposes (skin health, cooking, etc.)
Especially good for babies and their sensitive skin
Cons
This brand hails from the Mediterranean region. The Mediterranean diet is one of the healthiest in the world, and olive oil is an important part of it. The oil has a light flavor and a high smoking point and hence works quite well for Indian cooking.
The oil can be used for roasting, frying, and baking.
Pros
The high smoking point so works well for Indian cooking
Reasonably priced
Excellent packaging
Cons
Some deliveries have been from old stock. So, please check the date before making your purchase.
This thick fruity oil is extracted from high-quality olives. Replete with vitamins, minerals, and proteins, the oil works well as a moisturizer for dry skin. You can also use the oil for treating minor wounds and burns, and inflammation.
The oil also contains important fatty acids (like oleic acid) and vitamin E – which further help tone the skin and protect from UV exposure.
Pros
Effective in improving skin health
Helps remove makeup
Cons
Packaging issues (though rare)
Now that you know which are the best olive oil brands, here are a few points to consider before picking any of them.
Things To Consider When Buying Olive Oil
Look for extra virgin olive oil to gain the maximum benefits for your skin and overall health. Extra virgin olive oil is obtained from the first cold press of olives. But, be careful because, at times, extra virgin olive oil is also mixed with other essential oils like rosemary or lavender oil to enhance its smell.
The purest form of olive oil should be rich in fats. Therefore, stay away from products that are labelled as 'low-fat olive oil.' The low-fat version is treated with heat and, thus, loses most of its nutritional properties.
Avoid buying olive oil stored in plastic bottles. When exposed to heat and light, olive oil loses its quality. Therefore, choose one that comes either in an opaque or dark-colored glass bottle.
Olive oil is replete with essential nutrients and other fatty acids, which is why including it in your diet and skin care routine is a good idea. We hope this list has given you an idea as to which brand to choose. Go ahead, make a wise choice.
Let us know about your experience by leaving a message in the comments section below.

Sources
The following two tabs change content below.