42 Best Ombre Hair Color Ideas And Styles To Try In 2023
A specially curated list of fun and out-of-the-world options to try for your next dye job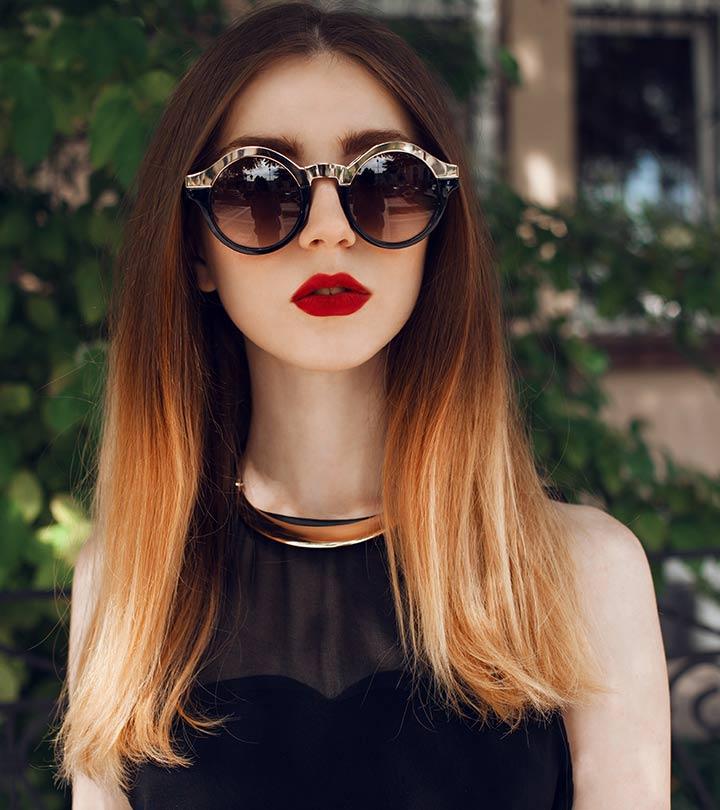 If you have opened your Instagram account in the last decade, your feed was probably flooded with #ombrehair posts with people flaunting colored hair trends. We have stayed on top of this hair fashion and compiled a list of our top ombre hair coloring ideas. An ombre is a hair color technique where the color at the roots is darker than the color at the tips of your hair. The darker color bleeds into a lighter or softer shade. You can try two different hair colors to create a hair gradient. Or experiment with a few more to achieve a vibrant ombre. You can play around with natural hair colors or even opt for more pastel or vibrant shades. You can also use hair toning products to enhance the hair tone and remove the brassy or yellow tones from blonde or bleached hair.
But before you delve into the inspiring 42 hair color ideas, you may want to learn how to achieve an ombre first from the below hair tutorial. So, keep reading to check out our tutorial on how to color your hair in an ombre.

Before You Get Started
Ombré hair shade is low-maintenance because the roots growing out have no effect on this color look. This can help reduce hair salon visits.
It is less damaging to the hair because hair dye is only applied on the lower half of the hair rather than all over the scalp.
It can look unappealing or flat if your hair is very fine and super straight. This look is best for people with wavy or curly hair.
Copper, caramel brown, and deep reds compliment dark skin tones. Toffee and rich browns are ideal for people with medium skin tones. People with light skin should choose sombré blonde and ash tones.
How To Ombre Your Hair At Home
You Will Need
Hair bleach
Hair color (in a shade that is lighter than your hair)
Rubber/plastic gloves
Hair coloring brush
Paddle brush
An old t-shirt
Rubber bands
How To Ombre
Mix and prepare your bleach according to the instructions given on the box.
Put on an old t-shirt that you don't mind spoiling with bleach and hair color.
Brush out all the knots and tangles from your hair.
Part your hair down the middle all the way till the nape of your neck so that all your hair is divided into 2 sections.
Now divide these 2 big sections into as many smaller sections you want, depending on the length and thickness of your hair.
Tie each section with a rubber band a couple of inches below the roots.
Begin applying your bleach to each individual section of hair, starting from the ends and working your way up. A good place to bleach hair upto is just below your jawline.
Make sure to apply more bleach on the ends of your hair and reduce the amount as you work your way up.
 If you want to go only a few shades lighter, leave the bleach in for just about 10-20 minutes. If you want to go even lighter, keep checking your bleach every 5-10 minutes until you have reached your desired shade.
Wash the bleach off with shampoo.
Blow dry or air dry your hair completely.
Redivide and tie your hair up in the same sections as earlier.
Mix and prepare your hair color according to the instructions on the box.
Put your gloves back on and apply the color to all the bleached sections of your hair, and an inch above the hair fading line, so that the color blends into your natural hair color seamlessly.
Leave it on for the duration of time indicated on the box.
Wash off the color and use a deep conditioner to restore the moisture in your hair.
Congratulations! You have successfully ombred your hair! Now it's time to look at all the glorious shades that you can color it in!
42 Oomphalicious Ombre Hair Colors And Styles To Try Today
1. Lavender Ombré Curls
If you have your eyes set on pale purple or soft blue ombre looks, why not try an amalgamation of both – lavender? FYI, we are not talking about its pinker, warmer cousin, lilac! A perfect smoky lavender combo, this look speaks of elegance and luxury, with the right hair blending. Blow dry your hair into soft curls at the end to create movement and let your inner diva shine!
2. Dip Dyed Pastel Ombré
Need a stunning and vibrant shade for your next hair fashion look? Go crazy with this pastel pink and blue ombre look on medium hair. Start your lob with a soft shade of pink and color the ends with a beautiful powdery blue hue. The look is playful, flirty, and totally worth it! Curl the ends of the lob to add bounce to your hair.
3. Ashy Blonde Ombré Waves
Live on the edge with an ashy blonde ombre that has an element of champagne and platinum tone running through it. Done on a mid-length bob, this wavy look is best paired with some neutral toned clothes and nude makeup to show off its understated but beautiful effect.
Celebrity hair colorist Amanda George, who has worked with celebrities like Victoria Beckham and Charlize Theron, says, "Always seek a professional opinion on how to approach going lighter since it can take multiple sessions depending on the client's hair texture, strength, and color history. Bleaching is the only way to lighten hair to reach this ombre look."
4. Warm/Cool Blonde Ombré Blunt Cut Ends
Now, here's an ombre style that you don't get to see often. The deep brown at the roots melts into a warm honey blonde in the middle and ends with a cool platinum blonde at the bottom. The three shades merge to create a spun gold effect on medium length haircut blunt at the ends.
5. Platinum Blonde Ombré Straight Bob
Have you always harbored the fantasy of looking like a corporate hotshot? Well, one way to get the kind of confidence that is required for such a job is to have a killer style. This cool toned ombre starts off with darker roots and ends with platinum blonde tips that create a mesmerizing effect. The long bob styled in a straight manner is perfect to be paired with a lady suit.
6. Warm Blonde Ombré On Long Waves
If you describe yourself as a chilled out person who takes pleasure in the simple things in life, I've got a style for you that will perfectly reflect your personality. This warm toned ombre in blonde shades creates a beautiful sun-kissed effect that is complemented by the long hair done up in relaxed waves.
Trying this ombre at home, but unsure of how to achieve a less lighter blonde shade at the crown? No worries, here's some advice from celebrity hair colorist Amanda George. She says,"If you want to go only a few shades lighter, leave the bleach in for just about 15-20 minutes." For the lightened lower half she recommends, "If you want to go even lighter, keep the bleach on for longer. But keep checking your hair every 5-10 minutes to avoid over-processing your tresses."
7. Classic Ombré Tight Curls
Going for a classically feminine look? Look no further! This quintessential ombre look retains the original jet black roots of the model that transition quickly into a blonde shade. The tight curls lend her an old Hollywood charm and make her look like a starlet who is haunted by her past.
8. Triple Toned Ombré Curls
Now here's an ombre look that you don't see often. Instead of using different shades of the same base color, you can go for a mix-and-match look to create a unique style statement. This ombre look makes use of mahogany roots, ashy blonde in the middle, and a stunning silver grey at the end to create an ombre style that is sure to make people ask you for your hairdresser's number.
9. Peacock Ombré On Straight Hair
In my humble opinion, the Swan Princess is pretty overrated. I mean, why would you want to look like a plain ol' swan when you can look like a magnificent peacock? This vibrant ombre style incorporates shades of purple, blue, and green to make your hair resemble a peacock tail. Straighten out your long hair to make the most of the vivid effect created by this magical look.
10. Molten Chocolate Brown Ombré With Big Curls
If you (like me) feel like you share a spiritual connection with chocolate, you need to get this hair look ASAP. Gina Rodriguez's luscious mane looks like a waterfall of molten chocolate that ends with a rich shade of caramel at the end. The full curls only add to the molten effect created by the ombre.
11. Brunette Sombre On Medium Length Hair
Just because you're coloring your hair doesn't mean that you have to go all out. If you are someone whose style is more subdued and elegant, this ombre look will suit you well. The subtle ombre starts off with deep brown roots that change into a lighter golden brown towards the end. Cut in a simple medium length and done up in beachy waves, this hair look is the epitome of sophistication.
Amanda George adds, "Brown sombre hair is such a flattering way for natural brunettes to experiment with lighter shades without losing those warm chocolate tones. The transition from dark roots to chestnut or caramel hair is one to try for sure!"
12. Purple Mermaid Ombré On Long Hair
Good news, ladies! You can still fulfill your lifelong dream of becoming a mermaid! Or, at least look like one. Color your long hair in a vivid shade of purple and ombre it down with an alluring cerulean blue to create a magical mermaid tail effect. Curl the ends of your hair to add a softer dimension to your mermaid hair look.


Quick Tip
Women of all base colors can wear this gorgeous hair color that is made up of a broad spectrum of blues and violets. So, whether you're blonde, brunette, or redheaded, you can look great in a purple mermaid ombre!
13. Mahogany Apricot Ombré On Long Layers
Now this one's for the ladies out there who like the idea of red hair but don't want to go for a bright and fiery look. This ombre starts with mahogany roots that melt into a soft apricot red and ends with a pastel peach. Get your hair cut in some long layers to finish off this ultra feminine look.
14. Blush Pink Ombré On Medium Length Curls
Let your girl power flag fly high with this stunning ombre hair look. Starting off with burgundy at the roots, the ombre fades into a beautiful blush pink shade that lends a sweet and feminine flair to this whole look. And with a color job this lovely, the hair itself needs to simply be cut in medium length and straightened to finish the look.
15. Navy Blue Ombré On Long Curls
I get it. Bright colors are just not your thing. When it comes to hair color, you'd rather go for the darker shades to match your soul. So try out this super subtle navy blue ombre that descends from jet black roots. Leave the black roots and deep blue ends completely straight to make the color stand out evenly.
16. Smoked Raspberry Ombré On Super Defined Curls
Looking for a hair color that's fun, funky, and fresh? This raspberry toned hair look should do it for you! The deep purple hair flows beautifully down into magenta and then bubblegum pink to create an eye-popping effect. Use lots of styling gel on each individual curl of yours to give it a super defined look.
17. Ice Queen Ombré On Blowdried Hair
Whether you love Frozen or hate it, there is one thing about that movie that we all can agree upon. Queen Elsa's icy blue aesthetic is to die for. This ombre style that incorporates shades of black, dark blue, and icy blue is every winter baby's dream hair look. Blowdry your hair into soft waves and curls at the end to create movement in this look and no one will be able to keep their eyes off you.


Quick Tip
It's ideal for a lady with a sense of adventure who isn't afraid of bold hair styles. This hairdo is satisfying. It works with all types of haircuts and lengths. Despite being such a statement color, it is also highly fashionable for adults (and not just young teenagers).
18. Fiery Sunset Ombré On Feathered Ends
There's a reason why sunsets evoke such childlike wonder in us. The beautiful mélange of reds, pinks, and yellows makes for nothing less than a masterpiece. Use your hair as a canvas and go for this breathtaking ombre look comprised of orange and peach with pink and yellow undertones. Feather out the ends of your hair to add more dimension to your whole look.
19. Autumn Ombré On Super Long Hair
When autumn rolls around, the fashion world goes into a frenzy with all the warm red tones it can get its hands on. This ombre look is no exception. The fusion of burgundy, magenta, and ginger in this look can bring anyone to their knees. When done on super long hair cut in subtle layers and styled in curls, there's nothing stopping you from becoming the Queen of Autumn.
20. Ultraviolet Ombré On Long Layered Hair
Who doesn't love a good galaxy hair transformation? I practically live for those Instagram accounts that are dedicated to galaxy inspired hair looks. This ombre look that goes from black to violet to electric blue is a perfect example of this trending look. Straighten your long hair and get a layered cut to showcase the beautiful shades blending into one another.
21. Magenta Ombré On Straight Long Hair
Don't believe all those Instagram videos that show hair being cut and only then colored. You can go in for a color job without having to cut off the length of your hair. This gorgeous magenta ombre look that starts off with dark brown roots creates a stunning curtain of deep pink hair hues.
22. Blonde Sombre Long Bob
All women want a sophisticated flare in their style while still remaining trendy and fun. This subtle ombre (or sombre, as it's popularly known) starts off close to the roots and beautifully blends down into a warm blonde shade. The long bob, which has been done up in loose waves, gives off a seriously beachy vibe. Celebrity hair colorist Amanda Georger offers a tip saying, "Use a honey blonde toner to match the brown roots for a seamless blend."
23. Honey Blonde Ombré Feathered Bob
If you're not one for totally outrageous colors, a classic blonde ombré look will suit you well. Keep the whole look warm with deep brown roots at the top and a rich honey blonde shade at the bottom. Get your haircut in a feathered bob to keep your style functional, yet chic.
24. Yellow Blonde Ombré On Blow Dried Curls
When it comes to popular style trends, Rumer Willis marches to the beat of her own drum. So it comes as no surprise that she put her own spin on the whole ombré trend. Willis went for a "hair as yellow as corn" look by going for dark brown roots that melt pretty quickly into a bright yellow blonde shade. She has kept her hair long and blow dried her ends into big curls to add a flair of glamor to her look.
25. Vivid Orange/Yellow Ombre On Straight Bob
Go absolutely crazy with your love for orange with this 'insane in the membrane' bright ombre look. Start off your bob cut hair with a vivid orange shade and step it up a notch with a sunshiny yellow at the ends. Totally out there but so worth it! Amanda George suggests, "To maintain this bright color, use a gloss or toner to keep your hair shiny. It adds color to your existing highlights to give you a 'lived-in' look and to refresh any faded parts."
26. Neon Green Ombré On Layered Hair
OK, the thought of looking like a swamp princess may not sound appealing, but who says that it can't be? This neon green ombré color for short hair hits all the right spots and then some. Because, besides having a gorgeous brown shade at the top, it also makes use of some elements of balayage by adding some gorgeous blonde highlights at the top. And with a layered cut thrown into the mix, there will be no stopping you, swamp princess!
27. Teal Green Ombré On Long Wavy Hair
I don't know about you but ever since I was a child, my dream has been to look like a dryad (tree nymph). You know, those magical pixie-like creatures that live in forests. If you have a similar dream (or just love the color green), you will love this teal green ombré look with deep brown roots. Leave your hair super long and style them in some relaxed waves at the end to keep the overall look super natural.
28. Copper Ombre On Wavy Bob
When summer rolls around, you've gotta have hair that goes with your cute sundresses and bikinis, don't you? This deep brown and copper ombre seems like it was made for the summer and autumn. Celebrity hair colorist Amanda George agrees saying, " Copper is the one shade we've seen all over our Insta feeds – it's the ultimate hair color trend for fall." The beachy waves on a mid-length bob work beautifully with the copper shades to create a beach-ready or cozy fall look.
29. Sea Green Ombre On Messy Long Bob
Now here's an ombre look that takes off from the conventional version of the style. While the jet black roots do fade into a muted sea green from about mid-way down, the sea green has also been put in as hair highlights to elevate the look to another level. Straighten out your long bob and add some texture to it to complete your grungy emo look.
30. Bottle Green Ombre On Blunt Cut Ends
Wanna look like a sexy, mysterious vamp straight out of the movies? Then check out this style. The jet black top half of the hair gradually transitions into a deep shade of bottle green to create a rich and lustrous look. The long poker straight hair has been cut bluntly at the ends to bring the focus on the beautiful color job.
31. Bright Yellow Ombre With Bangs
If you want your hair to look like sunshine, daisies, butter, mellow (10 points if you get that reference), here's a style you'll definitely love. This bright yellow ombre color is perfect for anyone who has a fun and quirky personality that they want to show off to the world. The straight cut bangs only add to the adorbs level of this look.
32. Mellow Yellow Ombre On Angled Cut Hair
Be a ray of sunshine for anyone you come across with this ombre look that is sure to make you the center of attention wherever you go. The warm brown and yellow blend together like melted butter on toast to create the perfect combination of hues. Cut your straight air into an angled medium length to add a touch of sophistication to this otherwise cutesy look.
33. Caramel Mocha Ombre On Layered Hair
It's a fact that coffee is the world's favorite beverage. So it's no wonder that the world of hairstyling would draw inspiration from it. This particular ombre look starts off with a deep coffee brown curl that swirls into a ginger hue and ends with caramel blonde at the bottom. Cut your hair in layers and style in some relaxed curls to further blend in the ombre.
34. Rose Gold Ombre On Bedhead Hair
Rose gold seems to have taken the world by storm in recent years. Rose gold jewelry, rose gold makeup…heck, there's even a rose gold iPhone now. So, of course this gorgeous color had to make its way into the hairstyling world. The dusty brown and rose gold ombre is subtle, elegant, and draws attention without screaming for it. The messy bedhead style works great with this beautiful look.
35. Dusty Pink Ombre On Blunt Edged Curls
Go for a flirtatiously feminine look with this pink ombre style. The chocolate brown and dusty pink combo works wonders to create a sophisticated look. Keep things simple by getting your ends cut in a straight blunt manner to finish off the look.
36. Golden Ombre On Flicked Out Ends
Look and feel like the princess that you are with this royal ombre look. With warm brown roots that melt into a rich gold, your hair will look like spun gold that is sure to make even Rumpelstiltskin jealous. Straighten out your blunt cut hair and flick out its ends with a blow dryer to get a more polished look.
37. Walnut Cappuccino Ombre On Lower Half Curls
What better way to show your love for coffee than through your hair? This beautiful fusion of brown and blonde shades is reminiscent of an iced walnut cappuccino on a hot summer day. Curl the lower half of your hair to create a look fit for the board room or the ball room.
38. Jet Black Ombre On Luscious Curls
Go a little more edgy and a little more emo with this ombre style. Instead of fading into a bright or pastel shade, this ombre flows from a chocolate brown shade to a midnight jet black to create an air of mystery around you. Style your hair in some luscious curls to add more oomph to the whole look.
39. Storm Silver Ombre On Waist-Length Hair
Ever since I saw Storm in the X-Men series, my goal in life has been to get super-cool gray hair like hers. Since getting all your hair colored gray may sound intimidating, a more trendy option could be to go in for a silver gray ombre look with jet black roots on top. This style looks best on long waist-length hair as it adds to the mysterious vibe of this look.
40. Molten Lava Ombre On Full Bodied Curls
"This! Girl!! Is on fire!!!" Become the embodiment of Alicia Keys' superhit feminist anthem with this fiery ombre look. This vivid red ombre is sure to make you feel as powerful as it looks and help you get shit done. Blow dry some big curls into your hair to make it look voluminous and full of life.
41. Lilac Gray Ombre On Long Hair
Look like an ethereal being who has descended from the moon with this gray ombre look. With lilac at the roots that subtly blend into a silvery gray at the ends, this hair look exudes a sense of magic and wonder. Leave your long hair unstyled to make the ombre color the center of attention.
42. Reverse Ombre On U-Cut Hair
With ombre hair being so in vogue, it's only obvious that the style went meta and developed some variations of its own. So, behold the reverse ombre! This look starts off with chocolate brown at the roots and descends into the richest jet black. Get your haircut into a simple U style at the ends and leave it super long to make the most of the dramatic effect.
Infographic: Top 10 Unique Ombré Hair Colors To Experiment With
Ombré hair colors are trending across the world. This hair coloring trend has become popular for its pattern – darker roots bleeding into lighter tips. There are multiple color combinations that are beautiful, but we have selected a few hair inspirations that are truly mesmerizing.
Check out the infographic below to know the latest top 10 unique ombré hair colors to experiment with.



Ombre hair colors look spectacular. Darker shades bleeding into lighter tones – it is no wonder ombres have become the trendiest hair coloring style. This hair coloring trend not only adds a pop of color to your tresses but can also be used to highlight certain facial features and frame your face shape properly. The partial coloring also makes hair care easier. You can opt for more natural blends like classic brown to blonde bleed or choose fun, and vibrant colors like pastel or electric pop bleeds. Ombres are a fun way to let people get a taste of your personality. Scroll back up to take another gander at the best ombre hair color ideas of 2023. Then book your appointment at your favorite salon, hair professional or DIY it, and see your hair make a stunning transformation.
Frequently Asked Questions
Which is better: balayage or ombre?
Balayage is easy to maintain when compared to ombre. It also grows out much less. However, ombre is a perfect fit if you have long hair as it helps show its colorful effect. Vibrant and contrasting ombre shades may require serious hair maintenance.
Does an ombre damage your hair?
Yes, an ombre may damage your hair. At times, this damage is irreversible and can only be managed by cutting the hair. To keep it protected, you may use hair products like conditioners and deep conditioning masks regularly to keep the hair moisturized.
Does ombre make hair look thicker?
Yes, ombre creates an illusion of thicker hair. This can be attributed to the dark roots and the depth of the hair color.

Get inspired and find the perfect hair color look for you! Check out this video for the top 30 ombre hair color ideas and ombre hairstyles!

The following two tabs change content below.