8 Open Relationship Rules That Will Do The Trick
Spoiler Alert! It's more than just physical intimacy.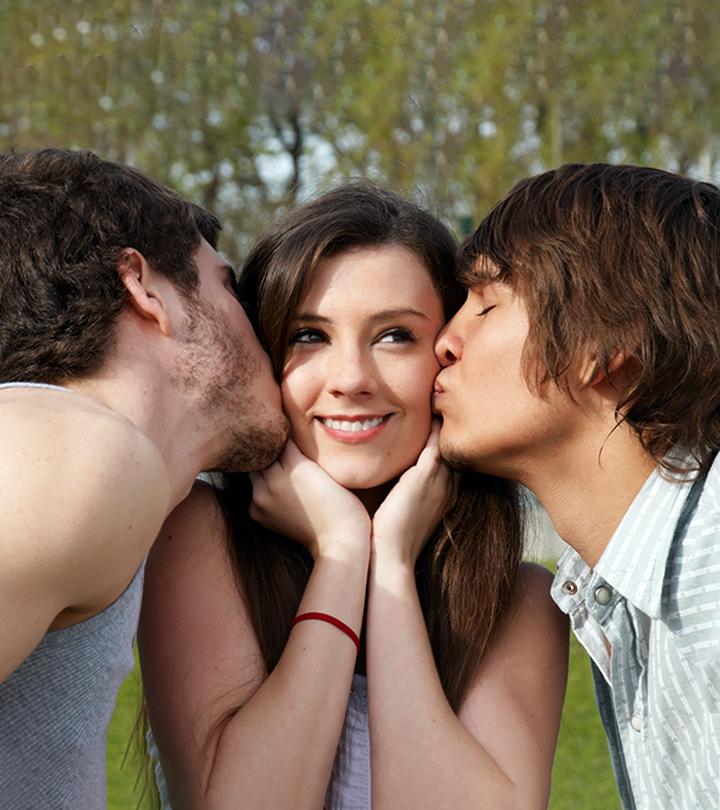 Maintaining a relationship is difficult in a world full of distrust and disloyalty. Relationships fall apart a lot these days because of the same reason. People fall out of love in a split second, and most relationships end in a breakup or marriages in divorce. But what if an open relationship can save your relationship or marriage? Yes, it's an option! Not everyone agrees to it, and people often confuse it with adultery. However, an open relationship has its beauty and charm. Let us learn more and explore the paths of an open relationship. Keep reading.
What Is An Open Relationship?
A mutually agreed upon non-monogamous relationship or marriage is considered an open relationship. Both partners seek physical satisfaction outside the marriage while setting some rules and guidelines that help maintain healthy boundaries and avoid hurting each other's feelings or invading each other's personal space.
Can Open Relationships Work?
Relationships where partners practice non-monogamy are much more challenging to maintain as they require immense courage, trust, commitment, and effort. Before getting into an open relationship, all those involved should discuss their take on it and be on the same page. The arrangement must be a hundred percent mutually consensual. This mutual consent is vital for any relationship, let alone a successful open relationship! Remember, "Whatever dies, was not mixed equally…" (Good Morrow, John Donne).
How To Deal With An Open Relationship?
Accepting who you are affects your fate. Some people are aware of their desires, choices and, most notably, themselves right from the beginning. Others need time to understand themselves and others. To establish a relationship, you should accept your desires and be honest. Managing a relationship can be tricky, especially when it goes against the set norms and rules of the world. One of the most significant factors of an open relationship is prioritizing. You should always prioritize your primary partner or husband.
In order to ensure you get your priorities straight, you need to stick to some basic rules of an open relationship.
8 Open Relationship Rules
1. Do Not Break Each Other's Trust
Every relationship is based on trust. When two people engage in a relationship, they build a life based on trust, which, once broken, can never be mended. In an open relationship, trust plays the most vital role. When two people decide not to be exclusive to each other, they are entrusting each other. Remember, with distrust comes jealousy, insecurity, and an abusive relationship (1).


Did You Know?
Jenny Block is in an open marriage and writes about it in 'Your Tango'.
2. Simplify The Relationship By Setting Priorities
While compersion from all sides is essential, your primary relationship should always be your priority. You must not affect or disrespect the central relationship for physical intimacy. Discuss priorities before getting into an open relationship; that way, you both will be clear and can avoid any possible pitfalls (2).


Did You Know?
French philosophers Jean-Paul Sartre and Simone de Beauvoir got into an open relationship in 1929 and were together till 1980, that is, until Sartre died.
3. Make Time For Each Other
No matter how busy you are, follow a schedule. Make it a point to go out with each other occasionally as it is essential to make time for each other. When people are too busy enjoying life outside primary relationships and marriage, they take the central relationship for granted. Do not neglect your primary relationship because of newly formed bonds.


Pro Tip
Take your significant other for dinner dates once every month to keep the spark alive.
4. Be Honest With Each Other
Honesty is the best policy in every sector of life. A mere lie can break all your ties. Do not lie to your husband, wife, or significant other in the relationship. Keep them in the loop about your relationships. Do not hide anything from them. If you are not on board with the idea, be direct. Let them know your thoughts about open relationships before getting into one.


Did You Know?
The concept of open relationship dates back to the 1970s.
5. Prioritizing Intimacy Safety Is Mandatory
Physical intimacy can be deadly if you do not use protection. Having healthy intimacy is not optional. You should always use proper protection before engaging in intimate encounters in or outside the central relationship. Know about the person you want to engage with. Keep contraceptives and pregnancy pills handy to avoid unplanned situations. If an unplanned situation occurs, consult your significant other before taking a major step.
6. Be Patient With Each Other
An open relationship might help certain failing marriages or relationships, but you must be patient. Things take time. You will still have to work on your primary relationship and give it time to heal and get better. Stepping into a happy relationship from a broken one takes time.
7. Respect Each Other's Boundaries
Set clear boundaries in an open relationship before getting into one. You both should be aware of each other's fantasies and needs. Communicate the goals and expectations out of the open relationship. You both should be on the same page. Do not force your choices and boundaries on others. Respect each other's boundaries and do not cross the line when things fall apart. Emotional and physical boundaries should be strictly followed to lead a happy and successful life (3).
8. Face Your Insecurities
It is okay to be insecure. However, face the insecurities before entering into an open relationship. Once you are in, coming back might be difficult. Be open about your feelings and insecurities. A mutual understanding is required, and if one of you is unsure, do not proceed.
Now that we have covered the basic rules to guide you in the initial days of exploring an open relationship, let's go through some of its benefits.
Benefits Of Open Relationships
Now that you know the rules, let's discuss the benefits that drive one to opt for an open relationship. Primarily, people get into open relationships for physical satisfaction. But is that all? Well, no. There's more to these than just intimacy.
You Experience New Adventures: When you meet new people, you enter their world and sign up for new adventures. These adventures may drive you crazy, but you enjoy life more.
You Become Cheerful: The mind is usually preoccupied with responsibilities and duties. But people usually get calm and begin to worry less as they enter an open relationship. It makes them feel energetic and youthful.
You Develop New Perspectives: New people bring in new perspectives. Sometimes, people don't realize when the monotony of life makes them bitter. New people help them see the other side of the coin and become better.
All relationships come with benefits and drawbacks in equal measure. We now look at some of the drawbacks of open relationships.
Drawbacks Of Open Relationships
Does it mean there are no setbacks in an open relationship? Well, that is not entirely true. The major setbacks of an open relationship are prejudice, jealousy, guilt, STDs, and unplanned pregnancies.
Prejudice: Societal pressure and norms at times create hazards that are beyond repair. The narrow-minded people around you can always devour your happiness and leave you astray.
Jealousy: Even when two entities decide and consent, they can get jealous. It is a feeling that cannot be controlled. For instance, a person may get jealous if their partner starts seeing someone else, especially after having been at the center of their attention for a long time.
Guilt: Mutual understanding is essential. Initially, people often feel guilty due to the lack of set boundaries, especially after being in a monogamous relationship. Hence, be honest about your feelings with each other and with yourself before you even enter into an open relationship.
STDs And Unplanned Pregnancies: Protected intimate encounters are vital. Know your partner before engaging in physical intimacy. Get health checks done before meeting your partner. STDs and unplanned pregnancies can spoil relationships. Keep condoms and other protections handy.
Technical drawbacks like unplanned pregnancies or STDs can be avoided with precaution. The rest of the drawbacks require a bit of unlearning, relearning, and detachment from society. Know that your relationships are ethical as long as there is transparency and mutual consent within their structure. Most people often confuse an open relationship with polyamory. Though the two might seem similar, they have some significant differences. Learn more in the next section.
Polyamory Vs. Open Relationship
The significant difference between an open relationship and polyamory is the involvement of multiple committed physical and emotional ties. In polygamy, one has multiple relationships simultaneously that may not include their significant other. Consent is crucial for both types of relationships. However, because of the many entities in polygamy, things may take a wrong turn over the long haul. Physical intimacy is a driving force in both relationships. However, in an open relationship, every relationship beyond the central one is casual.
How To Be In An Open Relationship
Start by discussing it with your partner. Whether you have been in a relationship for a month or several years, talk to your partner if you feel attracted to someone else. While some people are clear about their preferences right from the beginning, others may take a while to share them. In any situation, communication is key. Communicate with your partner, put forward your opinions, and set the rules accordingly if they are on board to form ties beyond a marriage or a monogamous relationship. You can proceed once you and your partner agree upon the rules. However, be prepared for things not going as planned – as such a discussion can turn into a toxic experience.
Infographic: 4 Open Relationship Rules To Make It Work For You
An open relationship is a sexually intimate relationship with someone outside a marriage or a preexisting primary relationship. If you feel you need a bond in your life to reignite the spark in your current relationship, talk to your partner. Mutual consent is vital. In addition to that, here are 4 major rules to make an open relationship work for you. Check out the infographic below.


Conclusion
Open relationships may initially seem daunting to those who haven't tried them before. However, some things about relationships stay the same, and the key to any happy and healthy relationship is trust and constant communication. You can only avoid the pitfalls when you both are there for each other. Finding the balance boils down to identifying the sweet spot – figure that out before getting into an open relationship. Also, remember that you are in uncharted waters, and there's no shame in figuring it out together as you go.
Frequently Asked Questions
Who chooses an open relationship?
People who feel their relationship is losing the spark or are unhappy with their existing relationship often engage in open relationships.
Is an open relationship healthy?
Yes, an open relationship can be healthy.
Do men prefer open relationships?
Even though preference is subjective in nature, going by Sigmund Freud's theory, men usually claim the person as their own when they engage in intimate encounters with them. Thus, men may enjoy intimacy but may not always prefer open relationships (4).
Can open relationships be romantic?
Yes, open relationships can be romantic.
Is it still adultery if you're in an open relationship?
No, being in an open relationship is not adultery unless you cheat on a person.
Key Takeaways
Boundaries are a must to ensure a healthy relationship, especially while exploring an open relationship and dealing with multiple equations.
Communication is key. Your needs have to be articulated.
Acceptance of each other's decisions as partners or couples is critical.
Allow the relationship to evolve based on your needs. Be open to change.

Learn the four essential rules to follow in an open relationship. Watch this video to discover how to make it work and keep everyone happy and communicative.

Sources
Articles on StyleCraze are backed by verified information from peer-reviewed and academic research papers, reputed organizations, research institutions, and medical associations to ensure accuracy and relevance. Read our editorial policy to learn more.
The following two tabs change content below.