Unique Outdoor Wedding Ideas You'll Fall In Love With (2022)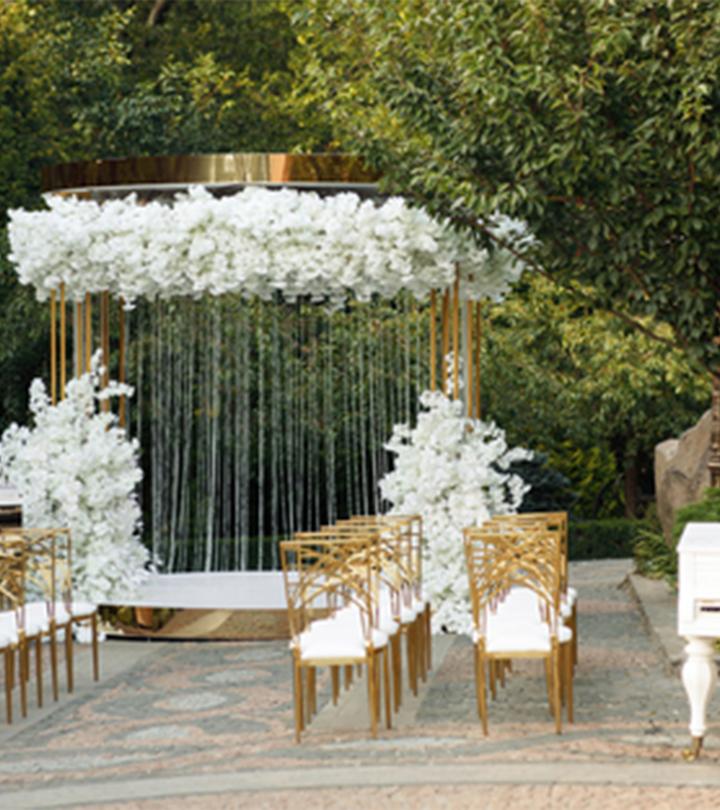 Weddings all over are more than just a celebration. They are a unique union of not just the bride and groom but also their loving yet diverse families. But when these weddings are planned outdoors, it simply adds more charm to the special day. This is because an outdoor wedding provides you with beautiful landscapes and ample space that is required. Also, an outdoor expanse is a befitting backdrop that makes one aware that marriage is all about expanding one's own mind and being inclusive. Here are some outdoor wedding ideas for you all to opt for. But before we discuss the ideas, it is best to have clarity about why you want to choose the outdoors for your wedding.
Is it your dream to have an unconventional wedding with great photoshoots?
Or, you and your spouse are outdoorsy people who connect with nature?
Or, do you have a dream destination wedding in your mind?
Or, you have a shoestring budget, yet you want a warm rustic wedding, a wedding to remember?
Well, once you identify your reason, you can plan the event way better! So, before you plan it, do find out the cause! Now, let us proceed and grab all the fantastic ideas listed below!
Best Outdoor Wedding Ideas On A Budget
The most common cause for an outdoor wedding is budget limitations. Here are some affordable outdoor wedding ideas that can be chic and cute and also super affordable!
Remember Steve Martin's character in "Father of the Bride"? Yes, loving father to a daughter but values his hard-earned money. Like him, if you do have a backyard, set it up for the wedding dinner or lunch. You can have the ceremony at the church or at home, too, but that would need some quick setup changes.
When you're thinking of executing unique outdoor wedding altar ideas, you need to have a focal backdrop; it can be a sycamore or maple, or poplar tree. A frame entwined with flowers or vines, fabrics, or beads goes perfectly well with the theme of an outdoor wedding.
Outdoor Fall Wedding Ideas
Colorful Autumn with its warm orange glow makes the perfect setting for an outdoor wedding.
For an autumn wedding, the decor must have wooden elements. The rustic brown complements the intense golden orange.
Vintage crockery is a clever addition to an autumn wedding.
Outdoor Wedding Decor Ideas
One needs to consider a few points while planning and executing decor ideas for an outdoor wedding—for example, the decor of the seating area, aisle, altar, and reception area.
The decor needs to complement the background landscape.
Decorations must not be too dainty as the outdoor atmosphere cannot be controlled.
Entries and exits should not be too constricted.
It would be best if you had a photo corner capturing the beauty of your surroundings. To make it exclusive and special, hang a simple ornate frame.
Elements used for the decor must make it look like a continuation of the amazing background. Lots of flowers and wreaths will undoubtedly help. Flower arrangements need to look natural. Pastel flowers and green foliage encircling a dark solid tree bark beside the bar counter or in front of the sitting area add warmth and color to the ambiance.
Hanging floral centerpieces and a nimbus of floating candles add a fairytale vibe to the atmosphere.
And when you are planning to bring to life some amazing outdoor wedding aisle ideas, know that they range from basic to intricate and detailed. An aisle usually has a ground strip covered with flowers on which the bride makes her entrance walking in with pride accompanied or unaccompanied. But for an eco-friendly wedding, you can choose an aisle bordered with lanterns and foliage. A border of DIY love popsicle sticks will also make a cute and colorful border for the aisle. The seating arrangement for the ceremony is usually chevron giving the audience and the couple a vantage point. Chairs are light and sturdy, upholstered with neutral-colored fabrics; even wicker chairs look suitable for a summer wedding. A wedding at a vineyard can also use discarded or unused barrels or casks and incorporate them into the wedding decor. An intelligent and apt way of using the background organically into the wedding decor. Awesome!
Outdoor Wedding Reception Ideas
In case you have a wedding reception and dinner in your own backyard, you can change the ambiance of the place with the right kind of lighting and simple yet elegant decor. A touch of tradition can be added with the best outdoor wedding unity candle ideas. Make sure to place the candle within a glass lantern so that the wind does not blow it off. Decorate the lanterns with flowers and ribbons to kindle a rustic and romantic surrounding.
You may want to check those unique DIY outdoor wedding arches ideas to make the reception look pretty and involve both the families in this activity. It can be cost-effective too. The arches made with scrap wooden frames, and colorful fabrics that fall in soft cascading layers can be a beautiful backdrop for the altar or the entry to the wedding reception.
Go for a rustic look using wooden or metal mesh frames to display the sitting chart near the reception area. You may keep it simple using a stark, dark blackboard but make sure to have the sitting chart calligraphed in an ornate style. A simple yet unique seating chart idea is to have it written on irregularly shaped scraps of paper on strings held by an individual wooden clothespin.
Outdoor Wedding Food Ideas
One may think that a wedding is all about the union of two minds and two families, but the one thing that is seriously taken into consideration is the "food". It is beyond the shadow of a doubt that food is a big deal at a wedding, and the items can vary in number, cost, presentation, but they have to taste yummy always.
Outdoor weddings will for sure include finger food and fancy drinks. For more sophisticated and refined items, one can also have the amuse-bouche like
Pesto Scallops
Champagne Shrimp
Figs and Bacon
Baked Polenta Fries
Brulee Crostinis
I can go on, but names and lists will never leave us content. Why go for finger food?
It is easy for the guests to eat them. Your folks can carry their drinks in their hands, move about freely, munch away these bite-sized appetizers, and also socialize at the event. Serving "hors d'oeuvres" is very French and also in style. So, do say "hello" to the canapes and the cold cuts too.
An elaborate buffet is expensive but often expected by guests! So sit-down dinners and toasts too are frequent features in weddings and contribute much to the fun and flair of such celebrations.
Outdoor Wedding Ideas For Summer
The above-mentioned wedding ideas work best during the summer. June and July weddings are viewed as special also because this time is also the peak time for weddings. So, if you are looking for those super unique July outdoor wedding ideas, know that they will have the same components of a summer wedding; blue sky, romance and a cheer in the air, and the ever glowing sun.
So plan and schedule keeping ample time in hand because getting bookings for locales will not be so easy.
Choose your wedding spot wisely, keeping in mind the weather and the surroundings.
A sea beach seems like a perfect spot for a summer wedding, and yes, for the ceremony, it indeed is. But for the reception you need to think about the hot sand, cool and strong sea breeze and most importantly if it will be fun for your guests. If your guests happen to be young and fun and are ready to take a dive in the sea just after the ceremony, you are on the right track.
A must for the summer wedding is a cool and fun ice cream bar counter.
For summer weddings, always choose seasonal fruits to eat and local flowers for decor.
Remember to hydrate; have an ample amount of chilled water or drinks handy, and put on that sunscreen.
An alfresco dinner is suitable for summer, and a barbeque just might bring in the fire to your wedding party.
An outdoor wedding can be a charming affair. With the expanse and proximity to nature, it can feel more relaxed and lively than a wedding held within the walls of an establishment. However, to pick the outdoor wedding ideas that will work for your wedding day and ceremony, you will need to consider quite a few things, including your budget, your intention behind choosing an outdoor wedding, and the kind of atmosphere you want to create. The best ideas will be those you can draw inspiration from and make your own. Your outdoor wedding will be a hit as long as you can find the perfect balance between friends, family, and fun.
Key Takeaways
Outdoor weddings are perfect for great photoshoots with beautiful landscapes.
Plan them with a focal backdrop that includes a poplar or maple tree, and make sure the decor complements the landscape.
Also, wooden elements are perfect for an autumn wedding, and local flowers can be the best addition.
Finger foods and fancy drinks can be a great addition to outdoor wedding food.
The following two tabs change content below.