15 Times Priyanka Chopra Gave Us Style Goals All Over Again
She's taken over the billboards in America, made it to the Forbes list of highest paid television actresses, rocked every talk show she has been invited to, and nailed all red carpet looks, amongst million other things. With an unassuming girl-next-door persona, this girl stops at nothing. There are no prizes for guessing, but I'll say it anyway – Priyanka Chopra!
Piggy Chops is known to pull off unusual and simple outfits in a stylish way. How she owns and oozes confidence speaks volumes about her. You'd agree if you've seen her on the red carpet or the latest Met Gala 2017 event. If you haven't already, you HAVE TO, so we will check that out and some of her other best outfits.
Get ready to be amazed and deal with the style goals PeeCee gives us every single time!
All About Priyanka Chopra's Outfits
1. Trench Coat For Met Gala – 2017
A night where all big stars and names from all over the world parade around the Metropolitan Museum Of Art's Costume Institute, wearing the best fashion labels of the world. One of the most awaited nights for not just fashion aficionados but anyone who is remotely interested in glamor. It is an annual exhibit where designers follow a specific theme for that year and create designs that translate their ideologies. The red carpet is more like a curtain raiser event for the exhibition that goes on for a couple of months.
This year's theme was Comme des Garcons (Art of the in-between). And, one of the most talked about dresses was donned by our very own PeeCee. The trench coat dress caught the eye like no other. Nobody could have ever carried it like Priyanka – the attitude, confidence, and presence; she proved to be a stunner all over again. Hey, there were trolls, but she tastefully put them at bay.
2. The Alex Parrish Look
The signature Alex Parrish look is a thing now. Black boots, leather jacket, skinny jeans, and a badass attitude. Priyanka totally nailed the character. With hardly any makeup on and aviators (she shows them off quite often), she rocked her look. Honestly, she does not need clothes that are OTT or consuming. Her screen presence is swoon worthy. We are not surprised that Quantico was an instant hit!
3. Glamour Mag Edition
She's been making rounds literally in India and America for all the right reasons. Just while we were getting over her recent India visit, she posted this on Insta, and we still cannot get over it. Can you imagine anyone else who can pull off a magazine cover shot In an oversized mint green top and a pair of Dior boxers? No? Well, Priyanka does it with elan. She just goes on once again to prove that your attitude and confidence are all that matter!
4. Distressed Jeans That Keep You Drooling
A major throwback from Season 1 of Quantico and a much-needed one. Priyanka loves distressed jeans, and it's something you always see her wearing. Be it her airport spottings, birthday parties, film promotions, etc., we cannot get enough of her in distressed jeans. Mostly because you can relate to her and her love for a particular piece of clothing. You go Priyanka!
5. At The Oscar Vanity Fair
Priyanka Chopra is now a staple at the red carpet, Oscars, Met Gala, Cannes or any other big stages in the world. She makes her presence felt and gets the attention for all the right reasons. She can compete with any Hollywood celebrity out there, and in this black sequined Michael Kors dress, she was amongst the best dressed for the party.
6. Distressed Jeans (AGAIN), But With A Long Jacket
A look that had to go in here simply because it's so chic. Like the denim shirt and distressed jeans were not cute enough, she took it all to the next level by folding it at the ankle, and donning white shoes, a messy bun, and aviators. Thank you once again, Piggy Chops, for showing us that we are all the same.
7. A Blue-Beachy Affair
Fashion goals alert – the first thing that comes to your mind when you think of beachwear is a bikini. But, for Priyanka, it's that and outfits like these. Dressed in a blue Fendi dress for a magazine photo shoot, she rocked that no-makeup natural look with beachy wavy hair. I was totally stumped by her hotness.
8. Easy Breezy
Anita Dongre is all about creating simple and soothing outfits that are not just aesthetically pleasing but also classy. Priyanka in this azure blue pants and a crop top look is inspiring me to get into something comfortable (like, right now!). She rounded off the look with minimalistic Amrapali jewelry.
9. Boyfriend Shirt And Torn Jeans
She is known as one of the most stylish women for a reason. And, it's an obvious one. Take a good look at her; she is wearing an oversized striped shirt, a not-so-fitted torn jeans, and nothing else – just doing her thing. Loose is equal to comfort clothing for most of us. And, she has proved it time and again that she is not very different from us.
10. Sultry In An Off-shoulder Dress
Sultry is the first thing that comes to my mind when I sneak a peek at her look, and I think it translated pretty well in her attitude too. Priyanka's doing what she is good at (being hot!). The off-shoulder maxi dress with thigh-high slits and pleated ruffles is not something all of us can pull off. Forget us, I don't think any other star can look this good in that outfit. Pardon me while I drool and dream about wearing something like this (ONE DAY)!
11. A Greek Goddess!
She looked nothing short of a Greek Goddess in this powder blue Salvatore Ferragamo dress. Her hair, the silver clutch, and captivating smile – she outdid everyone at the Filmfare awards that year. I love how the belt sits beautifully on her perfectly curvaceous body. And, also the fact that her makeup and accessories were on point – talk about making elegant outfits look stunning.
12. Victoria Leeds – Winning Hearts
The most-watched TV series then and the most-awaited feature film now – Baywatch is everyone's favorite. The movie is surely going to be a blockbuster. I mean, come on – Dwayne Johnson and Priyanka Chopra in lead roles for god's sake! This dress that appeared in the movie's first teaser took the internet by storm. CANNOT WAIT!!
13. Sizzling In Versace
She never ceases to amaze us, does she? If she has an invitation to an event, there will be heads turning toward her. That's what makes an actor a star. The cobalt blue Versace dress was absolutely breathtaking, and she made it look twice as good. She shared the stage with some of the biggest names in the music industry at this Billboard Music Awards, and lived it up with every hissing breath!
14. Our Desi Girl
You miss seeing her in sarees, don't you? Me too. With all the travel and international projects, we don't get to see her much, let alone in a saree. Do you remember Priyanka Chopra in saree, the 'Dostana' look? My jaws still drop every time I think about her in a saree. Talk about smoking hot! Phew! She looked stunning when she walked the ramp for designer Manish Malhotra in the event that was inspired by '100 years Of Indian Cinema'.
[ Read: Priyanka Chopra Without Makeup Pictures ]
15. The Damsel In Peach-Brown Gown
Rocking a standalone dress without any accessories is not possible unless you're Miss World or Priyanka Chopra, or both. Can you blame me for saying that? I mean, look at her. The dress was embellished in right proportions and accentuated at the right places. The high neck with a keyhole neckline, ruffled sleeves, and everything about the dress is awe-inspiring! Sighhh.
This is all about Priyanka Chopra's outfits. If this hasn't inspired you, I don't know what will! Her style statements are to die for. What are your favorite Priyanka Chopra looks? Did you like her Met Gala attire? Let us know by commenting below. Ta-da!
Recommended Articles

The following two tabs change content below.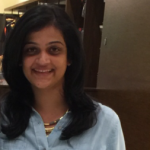 Latest posts by Pratima Ati (see all)