Top 12 Oxblood Lipsticks Available In India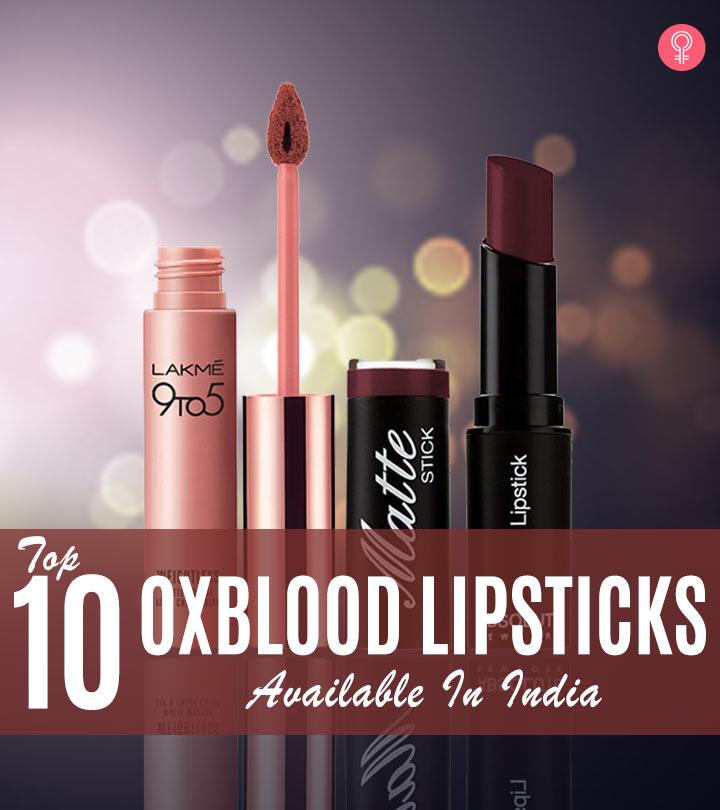 When fall is in full swing, oxblood lips are easily the hottest trend of the season. There's something irresistibly charming about dark-hued lipsticks, and oxblood is one such shade that looks fabulous on every woman. You are not just making a statement with this style staple but also bringing out the diva in you. Want to know which ones to look out for? We've rounded up the 12 must-try oxblood lipsticks to give you that gorgeous vampy pout.
Top 12 Oxblood Lipsticks In India
Oxblood is a dark shade of red. It resembles burgundy, tinged with dark brown and purple undertones. You get the picture, right? Here's your all-inclusive list of the best oxblood lipsticks available in India.
Top 12 Oxblood Lipsticks In India
Review
Our top favorite oxblood lipstick is the iconic shade 'Rebel' by M.A.C. It is a deep berry shade with a tinge of purple. Its satin finish formula glides on smoothly and is extremely pigmented. It is neither too glossy nor too matte – it lies somewhere in the middle. The lasting power of this MAC oxblood lipstick is incredible, and it requires minimal touch-ups. This shade is universally flattering and is bound to brighten up your face and outfit instantly. We totally get why this lipstick is a cult-classic!
Pros
Long-lasting
Does not dry out lips
Does not bleed or transfer
Smells incredible
Cons
Price is on the higher side
Purchase Link
Price at the time of publication: ₹2585
Review
'True Oxblood' is a burgundy red matte lip color perfect for the bold goddess in you. Even though this is a matte finish lipstick, it is quite creamy and moisturizing and gives you the benefit of complete comfort. It is enriched with micronized pigments and silica microbeads that give your lips a flawless finish. If you're looking for a pocket-friendly lip color that does not compromise on quality, you need to give this oxblood red lipstick a shot.
Pros
Easy application
Long-lasting
Won't dry out your lips
Affordable
Cons
Requires touch-ups after eating or drinking
Purchase Link
Review
Maybelline never fails to surprise us with its innovative and budget-friendly beauty products. The shade 'Burgundy Blush' from its Color Sensational range is a gorgeous deep wine shade with maroon undertones. It is very comfortable to wear and is non-sticky. One swipe of this oxblood matte lipstick is all you need for a seamless, opaque finish. We highly recommend adding this shade to your lipstick collection.
Pros
Lightweight
Moisturizes lips
Budget-friendly
Great color payoff
Cons
Needs a proper lip liner or it tends to bleed
Purchase Link
Price at the time of publication: ₹225
Review
Faces has come up with a new range of pigmented lipsticks that are enriched with the goodness of vitamin E. This one in the shade 'Oxblood' feels oh-so-good on the lips with its satiny finish. One stroke gives you a luxurious color payoff that lasts all day long. The shade is a deep plum with hints of brick, making it the perfect oxblood shade for every skin tone.
Pros
Great texture
Versatile shade
Affordable
Moisturizes lips
Cons
Transfers onto cups and glasses
Purchase Link
Price at the time of publication: ₹599
Review
'Liquorice' by Bite Beauty is a rich, medium-dark burgundy shade with warm undertones and a very natural finish. Its lightweight consistency is so impressive that you will want to go back to this lipstick over and over again. The formula is long-lasting and will stay in place for up to six hours without drying out your lips. You will need to use a lip liner to achieve a crisp edge since it's difficult to do so straight from the tube. Definitely give this shade a try if you're looking for a deep red lip color.
Pros
Smooth formula
Great packaging
Comfortable wear
Easy to apply
Cons
Purchase Link
Review
L'Oreal's Color Riche range is worth a mention owing to how luxurious its formula feels on your lips. The shade 'Burgundy Craze' is a deep wine color that looks beautiful on every complexion. Its metallic packaging looks and feels high-end. Texture wise, this is a holy grail lip color if you struggle with dry lips. The high-gloss shine lasts all day while leaving your lips feeling soft and supple.
Pros
Easy to apply
Moisturizing formula
Extremely pigmented
Budget-friendly
Cons
Purchase Link
Review
'Black Cherry' by Revlon is, hands down, the most gorgeous maroon-red out there. Its formula is infused with mega-moisturizers that seal in both color and softness. If you prefer a creamy, lustrous finish, you will love this lipstick. It stays put for about four hours with a few touch-ups here and there. For the cold, gloomy winters, this shade and its formula is something that you absolutely need to try!
Pros
Creamy texture
Decent staying power
Works as a lip stain
Affordable
Cons
If you don't use a lip liner with this lipstick, it tends to bleed and get messy.
Purchase Link
Review 
This waterproof lipstick by Swiss Beauty is a deep maroonish shade that suits all skin tones. The soft, creamy texture glides smoothly on your lips. This Oxblood shade is highly pigmented and provides a rich color payoff in a single swipe. It is free of artificial fragrance and does not feel heavy on your lips.
Pros
Travel-friendly packaging
Smudge-proof
Highly pigmented
No artificial fragrance
Lightweight
Cons
Not suitable for dry lips
Price at the time of publication: ₹279
Review
This cult-favorite lip cream from NYX is heaven in a tube. 'Copenhagen' is the perfect vampy shade that suits every skin tone. The formula glides onto your lips smoothly with a brilliant color payoff. If you are low maintenance and can't stand anything heavy on your lips or skin, this lip cream is made for you. Its matte effect is neither too drying nor too moisturizing. We also love how it smells sweet like a batch of freshly baked cupcakes!
Pros
Incredibly comfortable to wear
Does not transfer
Affordable
Cruelty-free
Cons
It takes practice to get the application right.
Purchase Link
Review
Our favorite drugstore brand Lakmé has made it to the list with its Weightless Soft Mousse range of lipsticks. 'Burgundy Lush' is a deep red with a tinge of brown, and it looks fabulous on Indian skin tones.  Its moussey and lightweight formula is something else – it glides on easily and is extremely comfortable to wear. We also love how long-wearing this lipstick is!
Pros
High-quality formula
Comfortable to wear
Long-lasting
Does not dry out lips like most matte liquid lipsticks tend to
Cons
If you apply too many layers, it can look a tad bit cakey.
Purchase Link
Price at the time of publication: ₹700
Review
The Divine Wine by Maybelline New York Color Sensational Creamy Matte Lipstick is a highly-pigmented deep wine color. The non-drying formula is infused with honey nectar that keeps your lips nourished all day long. This product does not feel heavy, cakey, or patchy on your lips.
Pros
Long-lasting
Super-saturated color
Convenient packaging
Smooth application
Does not feel cakey or heavy
Cons
None
Price at the time of publication: ₹245.0
Review
This creamy and comfortable matte lipstick by Absolute New York is a pleasure to wear. Its formula glides across the lips smoothly and lasts all day long for a perfect-looking pout. The shade 'Dark Plum' is a deep berry shade with purple undertones and is perfect for autumn. Want to channel your inner goth? Give this shade a shot!
Pros
Long-wearing
Comfortable formula
Transfer-proof
Cons
If you apply too much, it tends to dry your lips out.
Purchase Link
Price at the time of publication: ₹2741
When it comes to wearing dark colors on your lips, exfoliating your lips is key. You are drawing attention to your lips, so you need to make them look flawless with the right application technique.
Some days, all you need is a bold lipstick to complete your outfit and tell the story. That was our round-up of the 12 best oxblood lipsticks available in India. Which one are you excited to try out? Let us know in the comments section below!
Frequently Asked Questions
What are the benefits of using oxblood lipsticks over other shades?
Oxblood lipsticks create a bold and sophisticated look and add a unique statement over other shades. Its deep, rich tone offers versatility that is suitable to wear in all seasons.
How does the oxblood lipstick color complement different skin tones?
Oxblood lipstick color complements lighter skin tones with its contrast hue, and adds intensity to medium skin tones. It also offers an elegant look to olive skin tones.
How does wearing oxblood lipstick impact one's overall makeup look?
Wearing oxblood lipstick draws attention to the lips and complements a variety of skin tones. It also adds a touch of elegance and drama to your look.
How long does oxblood lipstick typically last on the lips?
It varies depending on several factors like the formula and application technique. However, in general, it may last around up to 6 hours on the lips.
Does oxblood lipstick have any age restrictions or considerations?
No, it does not have any age restrictions, but while choosing, consider lip health and skin tone to look confident, regardless of age.
Recommended Articles: