20 Best Paithani Sarees For Wedding That Will Stun You
These awe-inspiring designs will elicit gasps of admiration the moment you walk in.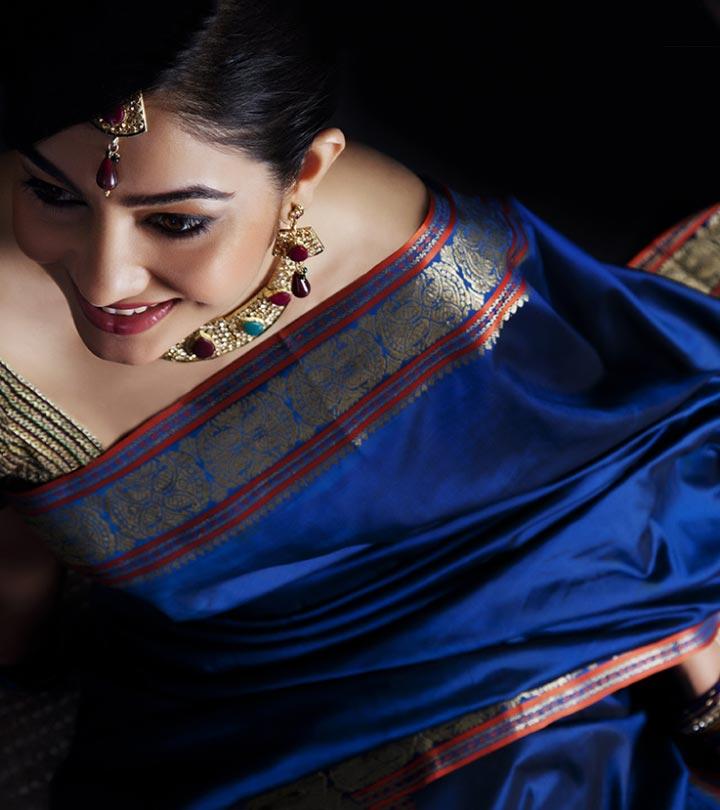 Paithani sarees for weddings are a big "Yes"! A part of our cultural heritage, its design is luxurious, and it makes you look gracious without a doubt. Its kaleidoscope effect is well known, and so is the square oblique border. So when you have a wedding party to attend, don't give it a second thought while choosing an attire inspired by artistry; just drape a paithani saree. You are going to be a show-stealer, undoubtedly. And don't worry; since you have landed yourself on this page, we are going to help you choose the perfect one. Scroll through the page and learn more about these sarees. Take inspiration from below to flaunt your royal Indian look and make a bold fashion statement. It is time for you to be the showstopper that you have always dreamt of being. So, without further ado, read on! Hurry!


Ace The Look
Draping Styles: Play around with different draping styles like the traditional Nauvari, contemporary Marathi, and dhoti saree draping.
Jewelry: Wear gold jewelry and green bangles for a traditional look and uncut diamond jewelry for an ultra-modern bridal look.
Makeup: Opt for glittery eyes, bright lips, and rosy cheeks over muted or nude shades to enhance the opulence of your saree.
Footwear: Pair your saree with strappy sandals, metallic stilettos, and wedge heels. Go for Mojaris with the dhoti-style drape.
Top 20 Paithani Saree Designs
1. Hot Pink And Parrot Green Bordered Saree
Everything about this saree is rich and screams grandeur. The muted self-design that subtly elevates the golden motifs and this majestic zari bordered saree will be a value addition to a bride's trousseau or for just about anyone really. The pallu design is what makes this saree stand out. The cosmic round zari design with a mix of parrot, algae green and a tinge of pink makes all the difference.
2. Burnt Orange And Diya Motifs Design
Designers are extensively using this color for lehengas, half-sarees, dresses and sarees. The best part about burnt orange is, it is not over the top and evaporates the gaudy element out of the equation when you choose orange as a color choice. In fact, you will see that a lot of paithani saree designs use colours that are bright but still elegant. The violet diya motifs with hues of blue all over and bottle green zari border makes this a stunning piece.
3. Indigo Blue With Peacock Monogram
The peacock leitmotifs are a constant in Nauvari/Paithani sarees. They are the symbols of elegance and beauty; I couldn't agree more. And, Indigo is a color that never fails you. It bursts fervor, particularly for ethnic dresses. I loved this deep azure blue saree with golden polka dots design, golden thread border embellished with peacock motifs and a thin lavender lining. The pallu is the showstopper in most paithani sarees, and comes with a rich zari thread work.
4. Parrot Green And Powdered Blue Polka Dots Design
A beautiful combination of two subtle shades of green and blue to arrive at an exquisite saree is a brilliant idea. Polka has been an eternal design and charms any ensemble. Plus, a saree with a distinctive blend of typical shades, is not something you see every day. It will definitely set you apart from the crowd.
5. Black And Green Saree With Meena Booti Design
This is one color I can never get enough of, and I am sure most of you agree too. It is a domineering shade in my closet, but the excitement remains the same for every new purchase. It is an excellent canvas that uplifts any design and optimizes the beauty of conception. This black silk saree with meena booti—a standard design for paithani sarees and the regal gold, green border is a stunner. Team it up with a bold green bindi and jhumkas to slay it in style.

Did You Know?
Paithani saree has its origin from the royal dynasties of the medieval town of Paithan in Aurangabad.
6. Olive Green And Gold Lotus Design
A typical paithani is all about exquisite zari work, vibrant colours and a hefty border (mostly in gold). This checks off all the elements of an authentic paithani saree. And, you will know when you see one. The trademark akruti print throughout the body, resplendent pallu with lotus designs and colored floral zari work is worth the investment.
7. Ink Blue Saree With Polka Dots Design
A nauvari saree, drenched in deep inky blue takes it to the next well. Blue depicts royalty, and with gold polka dots all over the body, this saree stays true to the paithani legacy. The roseate border with opaque zari weft, round motifs makes it top notch.
8. Light Blue Saree And Orange Pallu Paithani Design
This rich multi-shaded saree is an heirloom paithani design. Every intricate detail only adds to the elegance of the saree further. The blue sheen with a tinge of golden yellow in the background for the upper part of the body, with narali motifs, is a feast for the eyes. And, the vibrant orange, gold border with the trademark peacock design, is rounding everything off to a perfect hundred.
9. Coral And Fuchsia Pink With Bangdi Motif
Sarees like these adds light to your face and offer huge scope for accessorizing. However, you can still keep it simple—it works both ways. The signature paithani design of bangdi mor for the pallu, round zari embellishments for the body and peacock design with a pop of blue is sure a gorgeous choice for a saree.
10. Lilac, Gold And Purple Zari Saree
If you have noticed, a significant number of celebrities are flashing paithani sarees and it has increased exponentially in the recent past. We are not surprised because the colors, designs, and the motifs render grandeur and make you stand out in a crowd. Every single one of them is handwoven and polished; you will hardly find a paithani saree that is not appealing.
11. Ice Blue And Purple Saree With Peacock Design
The squarish floral motifs are one of paithani's hallmark designs and the best part about these ensembles is that they suit anyone irrespective of the age. The icy blue body color compensates the lavender and gold, a rather lavish border. And, the gold peacock design for the border is a significant addition.
12. Sepia Brown And Crimson Red Saree
A timeless choice of color and design. This mystical beauty is both authentic, matured and inspired from the Peshawari times. It oozes Maharashtrian saree tradition and style like no other, So if you are looking for a Nauvari saree in the true sense, here's something for you.
13. Pink Saree With Taupe Colored Pallu
The deep pink with a combination of muted brown depicts craftsmanship and gives you a unique sense of style. Paithani sarees have a consistent set of motifs, and it is the colors, weft, and warp they play around with. One cannot help but applaud for retaining the authenticity. This saree is everything they believe in and makes an interesting choice for bridesmaids too.
14. Electric Blue And Crimson Red Saree
If you love the color blue, this is one combination you ought to have in your wardrobe. A stylish electric blue saree that is both contemporary and traditional, plus it's not very heavy with the body work. The self-design border in red and hues of blue for the peacock motif is a smart addition to the overall look.
15. Baby Pink And Lilac With Peacock Motifs
This paithani silk saree was love at first sight for me, because pink is my second favorite after Black. Plus, silk sarees in pink, strike a balance between sophistication and tradition. The shy pink color borrows the sheen from the gold finish, plus the paithani signature peacock motifs, this time for the body of the saree instead of pallu is sheer elegance.
16. Parrot Green Body And Orange Embellished Pallu
Green, pinks, and blues are colors you will invariably see when you look at the Paithani collection. All these vibrant colors when optimized to their fullest, gives you masterpieces like these and a beautiful colored palette. It is not very easy to pick the best of the lot from such splendid options. The saree with illusion silver polka dots and dark gold work with peacock motifs is sure to find its way into a bride's wardrobe.
17. White And Chilli Red Saree With Oblique Border
A saree that inarguably best defines a bride and should probably be a definitive addition to her bridal collection. The minimalistic body pattern in white, with a pure gold hologram design and bright red border, is something I cannot stop admiring. You can team this up with a red zardozi work blouse with embellished peacock design.
18. Checked Body And Orange Pallu
I am not sure if you have heard it yet, but checkered designs are back with a bang. Checkered for any ensemble reflects one's taste. Plus the white and black combination is a classic that probably can never go out of style. Not to forget, even the checkered blouses are to die for. The green peacock motifs that further enhance the orange and gold bordered pallu is a visual treat. There's so much you can do with the blouse, so unleash your creative element, either way, this is a class apart.
19. Purple Saree With Gold Bangdi Booti And Oblique Border
This stunning purple beauty is irresistible and makes it a compelling choice for a bride. The luxurious bangdi booti design complements the overarching gold and purple color palette. The red peek-a-boo pattern in the pallu gives you an interesting choice of a red blouse. A red-zardozi work blouse with the staple navari accessories like a bindi, bangles and jhumkas will be a tale-to-tell.
20. Orange Saree With Paisley Design And Real Zari
The rich zari work from tip to toe and the paisley design throughout the body of the saree is an ideal fit for special occasions or weddings. Paithani sarees are all handwoven and swear by borders with oblique square designs; this particular piece lives up to its roots in its truest sense. If you are looking for something heavy and grand, this might be it.

Did You Know?
One paithani regular saree of six yards consumes 500-575 grams of silk threads and 200-250 grams of zari.
Check out our very own actors flaunting their Paithani sarees. Elegant and gorgeous, ain't they?
Infographic: 7 Best Paithani Saree Designs For Weddings
Sarees are an integral part of Indian weddings, and Paithani sarees are show stealers. They are characterized by their double tone and square borders. With their origin in the royal dynasties, they never fail to impress the wearer and the onlookers. Check out the infographic below to understand more about Paithani sarees.



Weddings are all about joy and laughter. So, planning what you wish to wear for these big events is always fun. And if you want to flaunt your desi side, this list of Paithani sarees for weddings is all you will ever need. Please choose from the wide range of colors and motifs provided above and get ready to rock your look. With these options in place, you will surely steal the show as you flaunt your Paithani saree look. So, get set and go!
Frequently Asked Questions
How do I know if my Paithani saree is real?
Check the designs on both sides of the saree. If they are the same, the saree is authentic. If you notice threads on the reverse side of the saree, know that it is machine-made and not handwoven. Also, authentic Paithani saree fabrics are heavy.
Which place is famous for Paithani sarees?
Maharashtra is famous for Paithani sarees. The saree gets its name from the Paithan town of Aurangabad.
How many types of Paithani saree are there?
Paithani sarees can be classified by motifs, weaving, and colors. There are three types of motifs – morbangadi, munia brocade, and lotus brocade. There are two weaving methods: kadiyal border sari and kad/ekdhoti. And lastly, kali chandrakala, raghu, shirodak are the colors used in Paithani sarees.
The beauty of the Paithani saree, some would agrue, is unparalled. Accompanied with an equally radiant blouse, it makes for the quintessential Indian look. Check out this video to browse some exquisite Paithani designs!
The following two tabs change content below.