How To Pamper Your Hair With A Hot Oil Massage To Prevent Hair Loss
Restore your tresses' former splendor, vigor, and shine with a relaxing massage.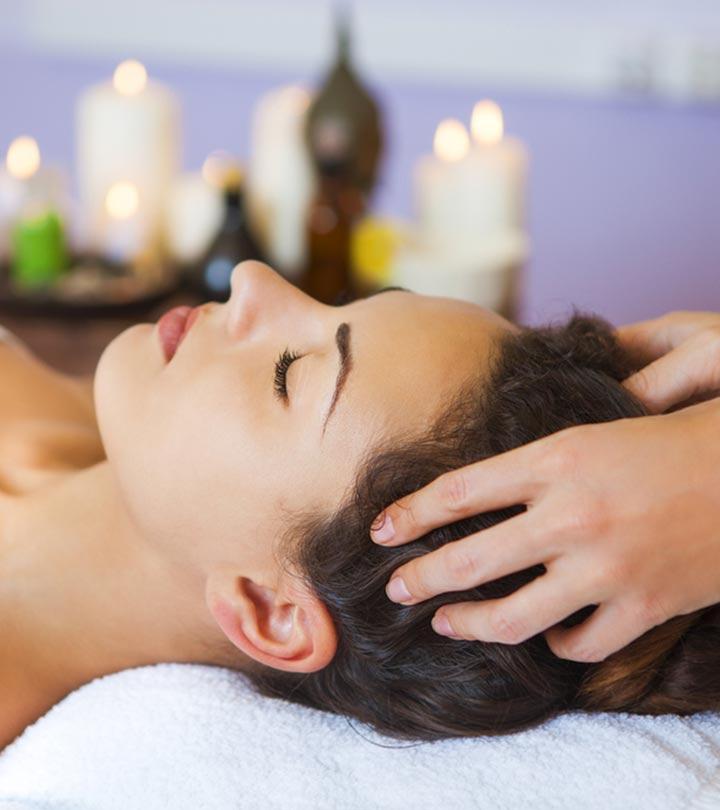 Oiling your hair can be a time-consuming process, and you don't want your hair to look oily and sticky, so you don't do it. But did you know that a hot oil massage can aid hair loss prevention? Yes, you can use this traditional technique to improve and protect your tresses.
Ignoring this age-old practice could leave your hair exposed to a variety of issues. A hot oil massage is beneficial and relaxing to your hair and scalp's health. This article will discuss how a hot oil massage for hair is beneficial and how to go about it. Keep reading!
Why You Should Apply Hot Oil To Your Hair
Everyone can benefit from applying hot oil to their hair, no matter their hair type. However, certain hair types can benefit more.
Women with straight hair can oil their hair once every one or two weeks. Their hair texture allows the natural oils from their scalp to distribute evenly down the length of their hair.
This may not be the case with ladies with curly or kinky hair. The kinks and curls could act as obstacles and prevent the natural scalp oils from traveling down the length of their hair. Hence, women with this hair type can use a hot oil hair treatment twice or thrice a week.
Apart from conditioning your hair, a hot oil hair massage could have other benefits  too.
What Are The Benefits Of A Hot Oil Hair Massage Treatment?
Incorporating hot oil massages into your regular hair care routine can benefit your hair in many ways. There are various reasons this treatment has stood the test of time.
Promotes Hair Growth: Massaging your scalp with hot oil stimulates blood circulation in that area, leading to better distribution of nutrients to your

hair follicles

i

  X

A tube-like structure found in the top two layers of the skin from where the hair grows out.

. This nourishment may lead to hair strengthening and aid faster hair growth.
A study was conducted in 2019 with a total of 340 (17.9%) participants experiencing hair loss and alopecia to measure the benefit of scalp massage. About 327 (17.2%) participants performed 11–20 minutes of scalp massage daily for 6.6 months. 68.9% reported stabilization of hair loss or hair regrowth. These changes were noticed after 36.3 hours of scalp massage. However, such improvements were less for participants who had frontal/temporal or vertex thinning.
Massaging your hair with hot oil can do more good in the long run. In the following section, we will discuss how you can prepare a hot oil treatment right at your home.
How To Do A Hot Oil Treatment For Hair At Home
Preparing the treatment at home is a simple process and takes about 30 minutes.
How To Prepare Hot Oil For Hair
What You Need
Oil of your choice
Glass bowl
Saucepan (make sure it is bigger than the glass bowl)
Water
Stove
What To Do
Pour a few tablespoons of the oil into the glass bowl. You can put as much or as little oil as you want, depending on the length and thickness of your hair.
Fill the saucepan halfway up with water and place it on the stove.
Place the glass bowl inside the saucepan and let the heat from the boiling water warm up the oil.
Dip your finger into the oil to check if it has heated up to your desired temperature before removing it from the stove.
How To Massage Your Hair Properly With Hot Oil
What You Need
Towel
Hairbrush/wide toothed comb
Shower cap
Shampoo
Conditioner
What To Do
Use a hairbrush or a wide-toothed comb for hair breakage prevention. A wide-toothed comb removes knots and tangles from your hair with minimal hair breakage.
Drape a towel around your shoulders to protect your clothes from the oil stains.
Dip your fingers into the hot oil and rub them together to spread the oil evenly.
Start massaging your scalp with your fingers in a gentle circular motion for 5-10 minutes.
Once you have applied oil all over your scalp, you can apply the remaining bit to your hair.
Tie your hair up in a bun and put on a shower cap.
Let the oil sit in your hair for an hour. You can also leave it overnight.
Wash your hair with a gentle shampoo and condition your hair. You may need to use warm water first to thoroughly remove the oil.
Massaging your hair with hot oil is a simple process that can give desired results. For instance, a blogger shared her experience with a hot oil treatment. The detailed recipe, including ingredients like sesame seed oil, castor oil, coconut oil, olive oil, amla oil, and vitamin E capsules, was provided for customization based on hair length and thickness. She said, "It revives my dry curls and gives them amazing shine and strength. Not only is this beneficial to curly girls but to all of you who are suffering from dry scalp/hair, dandruff, hair fall, split ends and damaged hair (i)."

Quick Tip
You can use a cotton pad to massage your hair with hot oil for better absorption and to prevent friction.
What Is The Best Oil For Your Hair?
There are plenty of oils that can promote hair maintenance and health. A few of them, however, are known widely for the same. Let us take a look at them.
1. Coconut Oil
One major benefit of coconut oil is its ability to reduce hair loss. It achieves this by easily penetrating the hair shafts (4).
Coconut oil has antimicrobial and antifungal properties, which help reduce and prevent dandruff (5). Penetration of the hair shaft by virgin coconut oil helps destroy any fungi cells (6). The oil improves hair hydration as it has moisture-locking properties that may treat split ends and prevent hair damage (3).
2. Almond Oil
If you are on the lookout for a light and aromatic hair oil, you may include almond oil in your hair routine. While there isn't much scientific evidence supporting almond oil's case in hair growth, there is a lot of anecdotal evidence. Almond oil contains lipids (monounsaturated fatty acids), proteins, and vitamins (7). These may help improve the overall quality of hair.
The presence of vitamin E and fatty acids suggests that the oil improves hair moisture and may treat split ends. Vitamin E is also known for its antioxidant properties that can help keep scalp infections away (8). Moreover, almond oil has anti-inflammatory properties (9). These could help soothe scalp inflammation.
3. Olive Oil
Olive oil is an excellent hair conditioner and is also known to reduce hair damage and split ends (3). The oil also has antioxidant and antibacterial properties (10) (11).
The following graph from a 2020 study published in Antioxidants noted the minimum and maximum concentrations of the key antioxidants present in extra virgin olive oil. The oil samples were taken from various regions in Italy. As shown in the graph, the main components that contribute to olive oil's antioxidant activity are phenolic compounds called secoiridoids and tocopherols (vitamin E).
Concentration Of The Main Antioxidants In Extra Virgin Olive Oil
Source: Antioxidants in Extra Virgin Olive Oil and Table Olives: Connections between Agriculture and Processing for Health Choices
Hence, it could be used as a hair cleanser. Animal studies suggest that oleuropein, a component of olive oil, could stimulate hair growth (12). Olive oil can also penetrate the hair shaft (13). Hence, it could work well in treating dry or damaged hair.
4. Castor Oil
The omega-9 fatty acids in castor oil could help make hair thicker and longer while providing natural hair care too. The oil also can treat split ends and dandruff (3). Some believe it also treats scalp infections, though more research is warranted.
5. Jojoba Oil
Clogged hair follicles can lead to immense hair loss. Jojoba oil is a natural wax ester that may condition the hair and is often used in conditioners and shampoos (14). Jojoba also has anti-inflammatory properties (15). Hence, it may help treat dandruff and other inflammatory infections and improve scalp health.
6. Avocado Oil
Avocado oil is a storehouse of fatty acids, amino acids, and vitamins A, D, E, and B6. These nutrients work to stimulate hair nutrition and growth, moisturize the scalp, and reduce split ends (8), (3).
7. Argan Oil
Argan oil (also known as Moroccan oil)  is often used to treat scabiesi  XAn itchy skin rash caused by tiny mites called Sarcoptes scabiei that burrow into the skin. and prevent hair loss and rejuvenate dry hair (16). It is packed with unsaturated fatty acids, and some claim the oil can help treat dry hair (17). It is a good source of antioxidants that are needed for hair; it also keeps hair moisturized (2).
You can pair these carrier oils with essential oils for hair growth such as peppermint, lavender, and rosemary oils. You can also buy hair products made with these oils to boost mane health like serums and hair vitamin capsules.
8. Sesame Oil
Sesame oil is a versatile elixir for promoting healthy hair. Rich in fatty acids, including oleic, linoleic, and linolenic acids, it nourishes your hair from root to tip. It contains antioxidants, sesamolin and sesamin, that protect your hair from oxidative damage, while its anti-inflammatory properties soothe the scalp. Sesame oil also acts as a natural shield against UV-induced damage, ensuring your hair remains damage-free and radiant. Its antibacterial effects keep your scalp healthy and free from infections. Plus, this oil is a good moisturizer, preventing dryness and enhancing hair growth. It may also help reduce grays and maintain lustrous, beautiful hair by improving blood circulation in the scalp (18).
You can try out a range of different oils until you find the one that suits your hair the best. But before you proceed with your hot oil treatment, here are a few things to keep in mind.
Tips To Keep In Mind
Hot oil treatments work best when your hair and scalp are clean. Hence, wash your hair a day before you oil it.
Always try to get virgin and organic oils for your hot oil treatments as the chemicals in processed oils can damage your hair.
Indulge in a hot oil treatment at least once a week to deep condition your hair.
Always do a patch test with the oil on the inside of your forearm before applying it to your head. This is to make sure you are not allergic to the oil.
Make sure the oil is not scalding hot when applying it to your scalp and hair. Too much heat can burn the scalp and damage the hair.

Quick Tip
The number of times you use hot oil treatment depends on your hair type. If you have oily hair, massage your hair with oil twice a week. If you have dry hair, massage your hair with oil thrice a week.
Infographic: Top 6 Benefits Of Hot Oil Hair Massage Therapy
Hot oil hair massage therapy is a popular technique that involves the application of warm oil to the scalp and hair, followed by a gentle and relaxing massage. This therapy boosts hair growth and prevents split ends and dandruff. Check out the infographic below to learn about the several benefits of including hot oil massage in your hair care routine.


Applying hot oil to your hair, irrespective of your hair type, has numerous benefits, such as increased blood flow that may stimulate hair regrowth. Simple hot oil hair massage techniques, like deep strokes, kneading and circular frictions can increase hair thickness, prevent dandruff, curb frizz, nourish hair follicles from within, protect the hair from UV damage, decrease hair breakage, and increase hair shine. But before you run off to oil your hair, remember to pick an oil that suits your hair type. Also, you don't want to burn your scalp, so warm up the oil only a little bit and make sure it is not scalding hot.
Frequently Asked Questions
Is hot oil treatment done on wet or dry hair?
The treatment must be carried out on only dry hair.
Do you need to wash your hair before a hot oil treatment?
It is best to wash your hair a day before a hot oil treatment. This ensures your scalp and hair are clean.
Do you need to wash your hair after a hot oil treatment?
Though you can leave the oil overnight, it is best to wash your hair before you head outdoors. This is because the oil can make dust and dirt cling to your hair.
How often should you do a hot oil treatment on your hair?
You can do a hot oil treatment on your hair once a week.
How long should you keep in the hot oil treatment?
You can keep the hot oil in from 30 minutes to overnight.
Can you do deep conditioning after a hot oil treatment?
Yes, you can do deep conditioning treatment after a hot oil treatment to reduce friction and nourish your hair. You can use simple ingredients from your kitchen like honey to condition your hair (19).
Do massages stop balding?
Yes, massages may stop balding to a great extent as it helps enhance scalp health and increase hair growth and thickness (20)
Key Takeaways
Hot oil massage may promote hair growth as it stimulates blood circulation.
The massage prevents hair breakage, mends damaged hair, and moisturizes the scalp.
The oil may form a protective sheath over the hair and protect it from UV rays.
For deep conditioning, hot oil massage can be performed once per week.
Reduce hair loss with a soothing hot oil massage. Feel your stress melt away while your hair becomes strong and healthy. Check out the video below to learn more.

Personal Experience: Source
i. My Weekly hot oil treatment and why I am obsessed!
https://forcurlssake.wordpress.com/2014/07/15/my-weekly-hot-oil-treatment-and-why-i-am-obsessed/
Sources
Articles on StyleCraze are backed by verified information from peer-reviewed and academic research papers, reputed organizations, research institutions, and medical associations to ensure accuracy and relevance. Check out our
editorial policy
for further details.
The following two tabs change content below.