5 Best Papaya Facial Kits In India For Super Smooth Skin
Rejuvenate your skin and get salon-like glow from the comfort of your home.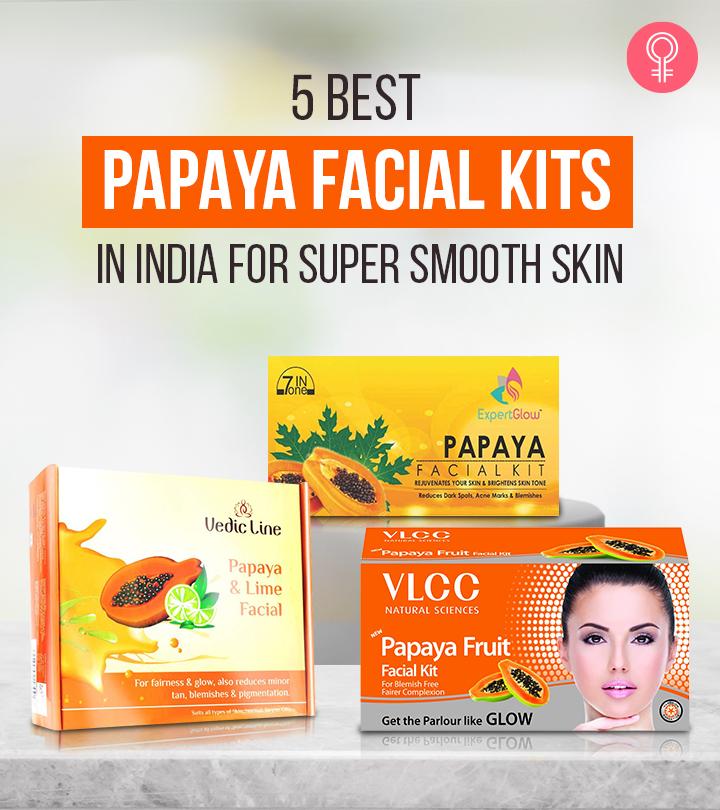 At-home facial kits are the new best thing! They give you an instant boost of radiance and glow – all in the comfort of your home and without burning a hole in your pocket. Papaya-based facial kits are considered the crème de la crème of facials. If you have skin concerns like acne, blemishes, fine lines, crow's feet, and wrinkles, papaya facial kits should be your pick!
Papayas are rich sources of vitamins A, B, and C, along with skin-benefiting enzymes, antioxidants, and minerals. They brighten and exfoliate your skin, fade visible signs of aging, and heal stubborn acne marks. If this has piqued your interest, scroll down to check out the 5 best papaya facial kits available in India.
5 Best Papaya Facial Kits Available In India
The VLCC Papaya Fruit Facial Kit combines ancient Ayurvedic formulas and the latest skin beneficial technologies to fade blemishes and improve your skin tone. The five-step facial routine consists of a papaya face scrub, a cucumber gel, a peach massage cream, an orange anti-tan pack, and a green apple skin guard lotion.
The papaya face scrub, rich in papain and vitamin A, helps lighten blemishes and superficial pigmentation from your skin. The scrub breaks down inactive proteins to ensure that the dead skin cells are thoroughly exfoliated. The cucumber gel soothes the skin and acts as a perfect hydrator and tan remover. It refreshes the skin under your eyes and eliminates under-eye dark circles and puffy eyes to leave your skin visibly radiant.
The peach massage cream is loaded with vitamins, minerals, and antioxidants that rejuvenate and tighten the skin to reduce the signs of aging like fine lines and wrinkles. The anti-tan pack is enriched with orange peel extract, a natural source of vitamin C, to help improve the skin and reduce age spots to brighten and even tone your skin. The green apple skin guard lotion soothes your skin and helps prevent pimples and acne breakouts and eliminates blemishes.
Suitable For: Normal, Dry, Oily, Combination, and Sensitive skin types
Pros
Pleasant fragrance
Affordable
Easy to use
Travel-friendly
Cons
Say goodbye to dark spots, blemishes, and uneven skin tone with the six-step NutriGlow Papaya Fruit Facial Kit. It consists of a deep cleanser, an exfoliating scrub, a firming gel, a nourishing cream, a face pack, and a serum. The papaya in the formula helps in detoxifying your skin and fading dark spots and blemishes. It also contains orange oil and peppermint oil that helps improve the skin tone and balance the pH level of your skin. These ingredients eliminate impurities from the pores, remove blackheads and acne, and help your skin brea freely.
While the cleanser cleanses your skin and gets rid of dirt, grime, and impurities, the scrub exfoliates the skin to get rid of dead skin cells that make it look dull. The gel tones the skin and increases its firmness, and the cream nourishes and hydrates it from within. The papaya pack reduces age spots and blemishes and adds a natural radiance to the skin. The serum locks in moisture to keep your skin soft and smooth.
Suitable For: Normal, Dry, Oily, and Combination skin types
Pros
Easy to use
Paraben-free
Sulfate-free
Mineral oil-free
Synthetic fragrance-free
Artificial color-free
Cruelty-free
Vegan
Cons
The Nature's Essence Papaya Facial Kit is loaded with papaya extract, bakuchi herb, coconut oil, and carrot stem extracts. Together, these ingredients help fade hyperpigmentation, lighten dark spots, and even out the skin tone. This papaya fruit facial kit contains a papaya milk cleansing cream, a papaya exfoliating scrub gel, a papaya anti-blemish cream, and a papaya depigmentation face pack.
The papaya milk cleansing cream is an oil-free cleanser that deeply moisturizes your skin while removing dirt, impurities, and stubborn makeup. The scrub gel contains tiny exfoliating and scrubbing agents that remove dead skin cells and leave your skin feeling smoother and radiant. The brightening and enzyme-rich papaya anti-blemish cream lighten blemishes, dark circles, and skin pigmentation, while the depigmentation face pack contains papaya enzymes and citrus extracts that improve the skin tone.
Suitable For: Normal, Oily, and Combination skin types
Pros
Easy to use
Affordable
Natural earthy fragrance
Cons
Sun exposure and suntan are inevitable, but with Vedic Line Papaya and Lime Facial Kit, you can minimize skin darkening caused by them. This papaya fruit facial kit gives you an instant boost of radiance and glows while removing minor tan, blemishes, and pigmentation. The contains six products – a lime shower gel, a papaya scrub, a papaya face cream, a papaya gel, a papaya pack, and a papaya lotion–loaded with antioxidants and enzymes.
Ingredients like papaya, aloe vera, and lime enhance the skin tone and reduce free radical damage to brighten up your skin. The clay blend absorbs excess sebum and detoxifies the skin, while aloe vera helps maintain pH balance and protects the skin. The vitamin C-rich lime has astringent and skin brightening properties.
Best Suitable For: Normal skin, dry skin, oily skin, combination skin, and sensitive skin
Pros
Herbal formula
Easy to use
Alcohol-free
Paraben-free
Cons
The ExpertGlow Papaya Facial Kit is a special de-tan kit that heals and repairs your skin after being overexposed to the sun. It helps soothe, nourish, and hydrate the skin while protecting against skin discoloration and premature skin aging. This seven-step papaya fruit facial kit contains a cleanser, a facial scrub, a papaya-infused exfoliator, a massage gel, a cream, a face pack, and a serum neatly packed in separate tubs to reduce wastage.
The products are enriched with organic mint, eucalyptus oil, clove oil, orange oil, rose geranium oil, turmeric extract, and vitamin E. These potent ingredients gently exfoliate your skin and remove tan, dead skin cells, and impurities from clogged pores. These products hydrate and nourish your skin, boost blood circulation to increase skin elasticity, and fade dark spots.
Suitable For: Dry, Oily skin, Combination, and Sensitive skin types
Pros
Organic ingredients
Can be used multiple times
Paraben-free
Sulfate-free
Oil-free
Mineral oil-free
Toxin-free
Vegan
Cons
Before buying a papaya facial kit, consider these essential points to choose the most suitable product.
Things To Consider When Buying Papaya Facial Kit
Most papaya facial products are loaded with vitamins C and A, papain, and a host of other antioxidants. These ingredients brighten the skin tone, regulate sebum production, and enhance the glow. But often, these active ingredients can trigger skin purging, especially for beginners. Hence, opt for a facial kit that has a low concentration of active ingredients.
An ideal facial kit should include a cleansing gel, a scrub, a face pack, a protection lotion, and a massaging cream. But kits with more or lesser number of steps are also available on the market. Pick a facial kit that suits your skincare routine and addresses your skin concerns.
Papaya is exceptionally great for the skin and including a papaya facial kit in your skin care routine can make a huge difference to your skin's texture and tone. The kits mentioned above address various skin concerns and help you achieve a radiant glow at home. Pick the best one from the list that suits your skin type and give it the care it deserves.
Frequently Asked Questions
How often should one use a papaya facial kit for optimal results?
Papaya facial kits work best when used once a week or as directed. Using them too frequently may lead to over-exfoliation or irritation, so moderation is essential.
Are there any side effects or precautions to consider when using a papaya facial kit?
Papaya contains enzymes that mildly exfoliate the skin. So, it is important to not over-exfoliate and wear sunscreen for optimal protection. Avoid open cuts or wounds while applying the facial. People with delicate, sensitive skin may face mild irritation. It is recommended to do a patch test before using papaya facial kits to check for allergies.
Is it safe to use a papaya facial kit during pregnancy?
If you are pregnant, it is recommended to consult with your doctor or healthcare professional before using a papaya facial kit.
How long does a typical papaya facial session using the kit take?
A typical papaya facial session can take 30-45 minutes or as mentioned on the product label.
Recommended Articles