13 Best Paraben-Free Skin Care Products For Women To Try In 2023
Grab these products if you want to take baby steps to adopting a cleaner beauty regime.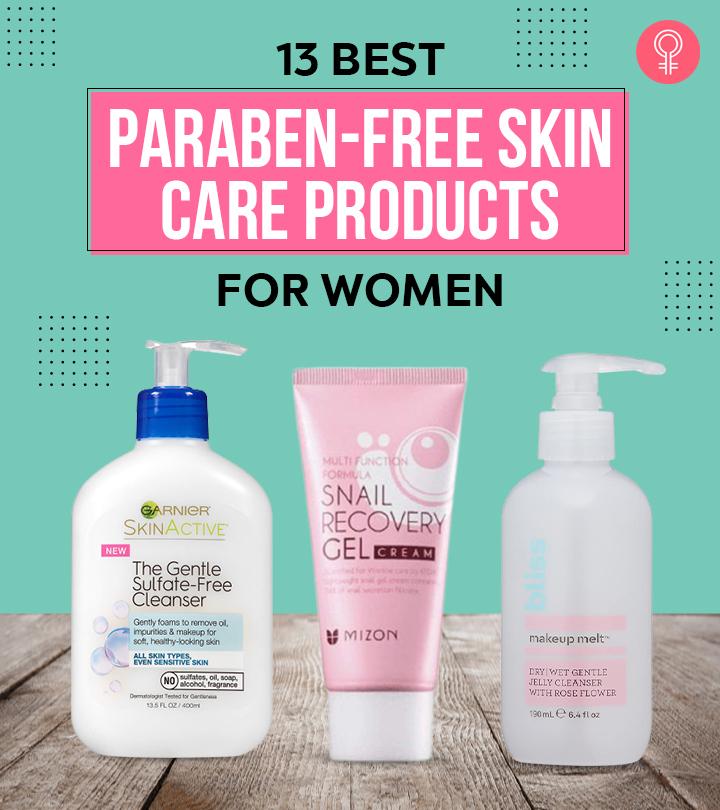 Paraben-free skin care products are in high demand in the beauty industry. Most of us are aware that it is good to avoid products that contain harmful parabens as they make your skin vulnerable to damage and breakouts. There are plenty of paraben-free cosmetics on the market that nourishes your skin, leaving it youthful and radiant. We have compiled a list of the 13best paraben-free skincare products that are perfect for including in your daily beauty regimen. Scroll down to check them out!
What Are Parabens And Why Should We Avoid Them In Our Skin Care Routine?
Parabens are chemical preservatives added to skin care products to prolong their shelf life. They are meant to prevent fungi, yeast, molds, and bacteria from forming in the products. However, these ingredients can irritate the skin and cause damage.
Parabens in skin care products are highly unsafe, harsh, and disrupt the hormones when they penetrate deep into the skin and build up gradually over the years. They may also enter the bloodstream and affect the normal functioning of the reproductive system. Hence, it is better to opt for products that do not contain these harmful ingredients.
Let's take a look at the 13 best paraben-free skin care products you can buy online.
13 Best Paraben-Free Skin Care Products For Your Routine
This Retinol Refining Moisturizer from Belei is infused with organic aloe vera and penetrates deep into the skin pores. It nourishes your skin with vitamin A and makes it look and feel younger from the first application.
This moisturizer is botanically enriched with hyaluronic acid, which helps even out fine lines, wrinkles, and blemishes. The squalene traps in moisture and keeps your skin hydrated for long. It is one of the best paraben-free moisturizers and works well on different skin types, whether dry, oily, combination, mature, normal, or acne-prone. The refining moisturizer uses cutting-edge technology to bring the best results for your skin.
Key Ingredients: Vitamin A, Squalene, Hyaluronic acid, and Organic aloe vera
Pros
Compact
Dermatologist-tested
Lightweight
Smells good
Cruelty-free
Sulfate-free
Artificial fragrance-free
Phthalate-free
Cons
Price at the time of publication: $25.92
This product from Bliss is a universal cleanser and effective eye makeup remover that soothes your skin. The jelly-like formula easily melts into the skin when applied. It is super mild and works instantly to soothe skin irritation, redness, and inflammation.
This cleanser is infused with rose flowers and balances gentleness and effective cleansing. The Bliss Makeup Jelly is suitable for use on sensitive skin. This paraben-free cosmetic contains vitamin B5 that seals in moisture and rejuvenates surface skin cells. The pump packaging is handy to use and carry along on travels.
Key Ingredients: Rose flower and Vitamin B5
Pros
Gentle
Non-drying
Cruelty-free
Phthalate-free
SLS-free
SLES-free
Formaldehyde-free
DEA-free
TEA-free
MEA-free
Petroleum-free
Urea-free
Mineral oil-free
Cons
Price at the time of publication: $11.99
The Snail Recovery Gel Cream from Mizon features the rejuvenating qualities of snail mucin extracts, boosts skin elasticity, and helps it recover. It minimizes wrinkles, marks, scars, blemishes, fine lines, and other signs of aging and makes your skin feel smooth, nourished, and youthful.
The cream contains hyaluronic acid that keeps your skin fresh and moisturized for a long period. The blend of Centella asiatica, green tea extract, and portulaca forms a protective barrier over the skin to prevent damage caused by free radicals. This gel also contains adenosine that diminishes wrinkles and vitamins and peptides that firm your skin. Watch this video of the product for more information.
Key Ingredients: Snail mucin extracts, Hyaluronic acid, Centella asiatica, Green tea extract, and Portulaca
Pros
Suitable for all skin types
Dermatologically tested
Lightweight
Non-greasy
Fragrance-free
Artificial color-free
Cons
Price at the time of publication: $21.98
This cream from Shea Moisture is made of 100% virgin coconut oil, antioxidants, and vitamin E. It nourishes your body from head to toe and serves as a good massage cream. You can apply it to the hair, body, face, hands, feet, and skin for its nourishing properties and healing benefits.
The unique blend of ingredients helps soften and repair damaged skin and eliminate the signs of aging. Whether you have normal, dry, combination, sensitive, mature, or acne-prone skin type, this cream is effective. It can be used to moisturize and nourish the skin, treat skin issues, and clear makeup impurities. The natural triglycerides in the formula decrease frizz and boost your hair's shine, softness, and manageability. Check out the detailed review of the product in this video.
Key Ingredients: Coconut oil
Pros
Absorbed quickly
Multipurpose
Phthalate-free
Mineral oil-free
Sulfate-free
Cons
Price at the time of publication: $11.79
The Elevated Hydration Mist by HONEST beauty is a refreshing facial mist formulated with aloe vera, watermelon extract, and hyaluronic acid to provide a quick and refreshing feeling. The mist leaves behind a pleasant and mild floral scent. Aloe vera helps moisturize and repair damaged and sunburned skin, while hyaluronic acid keeps your skin hydrated by attracting moisture. This product can be sprayed directly onto bare skin, over makeup, and at any time of the day for an instant touch-up.
Key Ingredients: Aloe barbadens is leaf extract, Watermelon extract, and Hyaluronic acid
Pros
Easy to use
Dermatologist-tested
Toxicologist-verified
Ideal for sensitive skin
Cruelty-free
PEG-free
Synthetic fragrance-free
Dye-free
Phthalate-free
Formaldehyde-free
Cons
Strong fragrance
May cause breakouts and hives.
Price at the time of publication: $12.99
This product from I DEW CARE is a purifying serum that is 100% vegan and perfect for women's skin. It contains an organic blend of antioxidants like chlorella, moringa seed extract, heartleaf extract, kale, and spirulina that works wonders on blemish and wrinkle-prone skin. The nutrients and antioxidants nourish and heal any scars and marks for healthy skin. The juicy formula brightens your skin and soothes irritation and suntan. This product works best when applied directly onto the skin after your daily cleansing regimen.
Key Ingredients: Chlorella, Moringa seed extract, Heartleaf extract, Kale, and Spirulina
Pros
Lightweight
Long-lasting
Vegan
Gluten-free
Cruelty-free
Sulfate-free
Formaldehyde-free
Cons
Expensive
May irritate sensitive skin.
Price at the time of publication: $25
This tonerfrom COSRX is a mild exfoliating toner formulated with AHA, BHA, and enriching botanical ingredients. It has skin purifying effects that last through the day. This toner improves skin vitality and texture and tones up the pores and facial muscles. It is a mild exfoliator and removes dead skin cells and dullness. The natural ingredients present in the toner include10% apple water and willow bark water that are gentle and soothing on all skin types.
Key Ingredients: Glycolic acid, Beta in salicylate, Apple fruit water and Willow bark water
Pros
Gentle
Suitable for all skin types
100% vegan
Cruelty-free
Cons
Price at the time of publication: $20
This cleanser from Garnier forms a rich lather that cleanses dirt, oil, dead skin cells, and makeup residue. The formula contains active ingredients that are mild and effective on all skin types. Glycerin soothes irritated skin, leaving your skin fresh and clean. This cleanser softens your skin and removes impurities easily with every wash. It makes your skin feel smooth, squeaky clean, and never dry.
Key Ingredients: Water, Glycerin, and Citric acid
Pros
Ideal for sensitive skin
Non-comedogenic
Dermatologist-tested
Ophthalmologist-tested
Sulfate-free
Alcohol-free
Fragrance-free
Oil-free
Cons
Price at the time of publication: $23.14
This gel-like body wash is suitable for sensitive skin. It nourishes and cleanses your face and the rest of your body of dirt, impurities, dead skin cells, and buildup. The formula includes natural skin nourishing ingredients and plant-based moisturizers that enhance skin texture. The unique Moisture Renew Blend penetrates deep into the layers of the skin. This body wash pampers your skin with its richly lathering and luxurious formula.
Key Ingredients: Glycerin, Lauric acid, Stearic acid, Palmitic acid, and Hydrogenated soybean oil
Pros
pH-balanced
Dermatologically recommended
Microbiome gentle
Hypoallergenic
Cruelty-free
Sulfate-free
Cons
Strong scent
May cause hives and breakouts.
Price at the time of publication: $9.97
This sunscreen from Sun Bum has SPF 30 that shields your skin from the harsh rays of the sun. It ensures protection from both UVA and UVB rays, is ideal for daily use, and smells like summer. It contains vitamin E that moisturizes and nourishes your skin. The formula is reef-friendly and suitable for use on all skin types.
Key Ingredients: Avobenzone, Homosalate, Octisalate, and Octocrylene
Pros
Has SPF 30
Water-resistant
Non-comedogenic
Hypoallergenic
Cruelty-free
Octinoxate-free
Oxybenzone-free
Oil-free
Cons
Price at the time of publication: $15.97
This unscented body butter from Ora's is blended with phytonutrients, antioxidants, and herbs that protect dull-looking skin and reduce the signs of aging. It contains organic shea butter, grape seed, apricot, and plantain extracts that nourish and moisturize the skin. This product is perfect for sensitive and dry skin types.
It deeply penetrates the skin and helps in treating dry skin, cracked heels, eczema, stretch marks, chronic keratosis pilaris, and other skin problems. The herbal base oil infused in this cream also helps to get rid of dry elbows, knees, and frizzy hair.  You can use this product not only on the skin but also as a deeply nourishing conditioner and hair pomade.
Key Ingredients: Shea butter, Calendula, Grape seed, Apricot, and Plantain
Pros
Pleasant aroma
Gluten-free
No synthetic chemicals
Toxin-free
Cruelty-free
Cons
Price at the time of publication: $11.97
The Aveeno Oat Mask contains oats, feverfew extract, and pumpkin seed extract to soothe and nourish the skin. The formula restores balance and hydrates the skin, making it feel velvety soft. This face mask can be applied directly onto a clean face and must be left on for 5-10 minutes before rinsing it off. It is recommended to use it at least 2-3 times per week for visible results.
Key Ingredients: Oat kernel flour, Pumpkin seed extract, and Feverfew extract
Pros
Gentle
Smells good
Non-comedogenic
Allergy-tested
Phthalate-free
Cons
Contains alcohol
Doesnot rinse off easily.
Price at the time of publication: $7.42
The Burt's Bees Lip Balm is enriched with natural oils and butter and is a must-have in every woman's beauty kit. It conditions your lips with kokum butter, shea butter, and cocoa butter. The balm makes your lips feel soft, plump, and smooth when applied regularly. The formula locks in moisture and prevents chapped and dry lips. All it takes is just one swipe on the lips for deep moisturization, and your lips feel refreshed for upto 4 hours.
Key Ingredients: Kokum butter, Shea butter, and Cocoa butter
Pros
100% natural ingredients
Matte finish
Phthalate-free
Petrolatum-free
SLS-free
Cons
Price at the time of publication: $7.49
No matter what skin type you have, avoiding paraben in your daily skincare is always a wise option. Paraben is a silent killer known to cause skin irritation and disrupt body hormones. Read the guide below to learn how to buy the best paraben-free skincare products correctly.
Things To Consider While Choosing The Best Paraben-free Skincare
Parabens are sneakily used in skincare products under different names that are hard to recognize. Know the other synonyms of paraben used in skincare and look for them in the ingredient list. Some commonly used names of paraben used in skincare that you should avoid are methylparaben, propylparaben, butylparaben, isobutylparaben, ethylparaben, and isopropyl paraben. Instead, look for alternatives such as Phenoxyethanol, Sodium Benzoate, Potassium Sorbate, etc.
Naturally developed skincare often contains good ingredients without adding synthetic and artificial chemicals. If you are looking for paraben-free skincare products, opt for organic or natural formulas.
Products that are formulated without paraben in them often label themselves as "paraben-free" on the packaging. Carefully observe the packaging on the skincare product and seek out these labels to ensure that your skincare does not have parabens in them.
It is important to buy skincare from credible and authentic brands. With multiple online brands, it can be tricky to find the one that provides authentic skincare and abides by what they claim. Read customer reviews and do your research before you decide on a brand.
Products designed specifically for sensitive skin often lack paraben in their formula. Going for sensitive skin-friendly products can ensure that you are avoiding paraben in your skincare.
Why Trust StyleCraze?
The author of this article, Shiboli Chakraborti, is a certified skin care coach who loves creating comprehensive beauty content for her readers. She has curated this list of paraben-free skin care products after carefully researching, checking reviews online, and going through multiple forums for user feedback. Her well-researched article ensures dermatologist-tested products that are gentle and suitable for every skin type. Not only are these paraben-free skin care products non-greasy, but they are also devoid of artificial coloring and easy to use.
Frequently Asked Questions
Are paraben-free products better?
Yes, paraben-free products are better. They do not trigger allergies or other skin conditions. Paraben-free products are best for sensitive and acne-prone skin.
Which moisturizer is paraben-free?
The Belei Retinol Refining Moisturizer is paraben-free. It reduces aging signs and keeps your skin nourished.
Does Cetaphil contain parabens?
No. Most Cetaphil products do not contain parabens.
Does Nivea have parabens?
Yes. Nivea reportedly uses parabens in 30% of its products.
Does Olay have parabens?
No. Most Olay products are paraben-free.
Do dermatologists recommend paraben-free products?
Yes, dermatologists recommend paraben-free products as parabens may worsen your skin condition and trigger sensitivity.
Recommended Articles