Paraffin Wax Manicure At Home: Benefits And How To Do It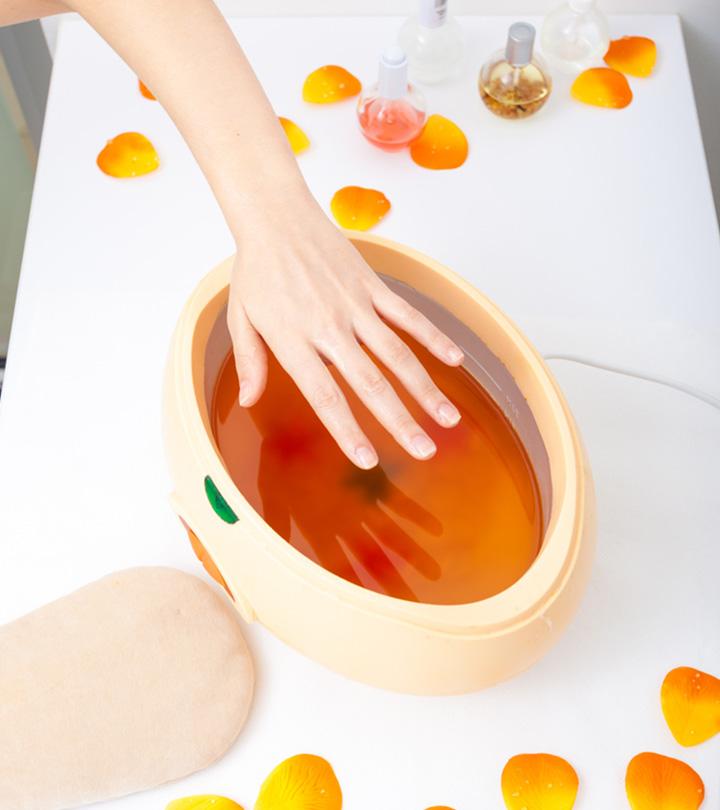 Your hands are one of the most hardworking body parts. Frequent hand washing and exposure to everyday pollution and dirt can dry them out. But worry not – because you can pamper your hands by getting a paraffin wax manicure.
This technique uses heat to moisturize and soften the skin and improve brittle nails. The best part is that you can easily do it at home. Scroll down and learn the benefits of a paraffin wax manicure and a detailed guide to do it at home!
What Is Paraffin Wax Manicure? Things To Know
Paraffin wax is a by-product of petroleum and is used in manicures, pedicures, and similar skin care treatments. A paraffin wax manicure involves treating your hands with warm paraffin wax. The warm wax softens dry skin and helps remove dead skin cells. Often, essential oils are mixed in the warm wax for aromatherapy benefits. While anyone can go for a paraffin manicure, this specialized treatment is beneficial for those who need additional hydration.
Who Should Opt For Paraffin Manicures?
You can go for a paraffin manicure if you have:
Paraffin wax manicures have a lot of benefits. Let's take a look.
Benefits Of A Paraffin Wax Manicure
Enhances Blood Circulation: The warm heat from paraffin wax treatments dilates the blood vessels to increase blood circulation (1). This enhances skin tissue health and strengthens brittle nails. It may also aid healthy nail growth.
Improves Skin Health: Paraffin manicures improve skin elasticity, smoothness, and softness. They cleanse the skin, removing dirt and bacterial buildup.
Opens The Skin Pores: Paraffin wax manicure opens the skin pores to promote better absorption of cream and oils.
Enhances Skin Appearance: Paraffin wax manicures improve the skin texture and tone. They promote skin cell regeneration to keep your hands youthful and plump. They may also help regulate the skin pH balance.
Improves Nail Health: Paraffin nail treatments can help rehydrate the nail bed and improve brittle nails (2).
Acts As An Emollient: Paraffin wax manicure moisturizes the skin around the nails and can keep the cuticles and the skin hydrated and soft.
You do not need to visit a salon to get a paraffin manicure. Follow the steps mentioned below to do it at home.
How To Do A Paraffin Wax Manicure
Note: You can apply the wax on your hands with a large brush or dip your hands into the warm wax (preheated to 49°C). Cover the area to prevent any stains from spills.
What You Will Need
Paraffin wax
2 large foil sheets (or plastic wrap)
2 medium-sized towels
A moisturizing or nourishing cream
A brush or a bath (big bowl)
Method
Step 1: Massage your hands with the cream or scrub it gently. Wash it off with water.
Step 2: Dip one hand into the wax bath and remove it immediately.
Step 3:
Repeat this five times to coat the hand evenly with wax.
Step 4:
Alternatively, you can use the brush to coat your hand with wax.
 
Step 5: Wrap the wax-coated hand with plastic or foil wrap.
Step 6:
Secure the plastic wrap tightly. You may also wrap it again with a towel.
Step 7:
Leave it on for about 20-30 minutes.
Step 8:
Repeat the same process on the other hand.
 
Step 9: Remove the foil and wax and massage your hands gently for 10 minutes.
Note:
You can also pour a small amount of the preheated wax into a glove and slip your hand in it. Make sure the wax spreads evenly inside the glove.
This is easy, right? You can also check out this video for more details.
Store-bought paraffin waxes contain a blend of paraffin wax and mineral oil in a 6:1 or 7:1 ratio. They may also contain essential oils and fragrances for added benefits. You need to keep a few things in mind when doing a paraffin manicure at home.
Things To Consider When Using Paraffin Wax At Home
Microwave the paraffin wax in intervals of 10 seconds. Use a thermostat to check the temperature to ensure it does not go beyond 49°C.
Moisturize your hands to prepare them for the manicure. It also makes wax removal easy.
To ensure the hands are evenly coated, wait for several minutes before removing them from the wax bath. If you are using a brush for wax application, apply a smooth, thick, and even coat.
Go one hand at a time rather than dipping both in the wax bath.
While wrapping the foil around your wax-coated hands, do not try to move or wiggle your fingers. This may break the wax coat.
Always wrap your hands with a towel to keep the wax warm.
After wax removal, avoid applying nail polish.
Always remove the foil and wax 10 minutes after you started. This prevents any burns.
Massage your hand thoroughly for at least 10 minutes after removing the wax. You can use oils and moisturizers.
Doing a paraffin manicure at home comes with certain risks. Scroll down to take a look.
Is It Safe To Use Paraffin Wax For Manicure?
Paraffin wax is safe to use. However, dipping the hands in a warm wax bath may cause burns. Take necessary precautions to avoid any accidents. Always use a brush to apply the wax on your hands, and make sure not to heat the wax beyond the recommended temperature.
Avoid a paraffin wax treatment if:
You have extremely vascular and irritation-prone skin.
You have impaired circulation and swollen veins.
You do not have any sensation in the area specific to the treatment.
The elderly should also avoid paraffin wax manicure as thin skin can be sensitive to heat.
The Takeaway
Paraffin wax manicure helps soften the skin and improve your nail health. It feels soothing as it improves blood circulation, relaxes the muscles, and relieves pain. However, applying warm wax to your skin may cause burns. Follow the tips discussed in the article and take all precautions while doing it at home. In case of accidental burns, apply a topical burn ointment and immediately rush to a doctor for treatment.
Recommended Articles
Sources
The following two tabs change content below.