2 Best Purple Eye Makeup Tutorials That Make You Look Amazing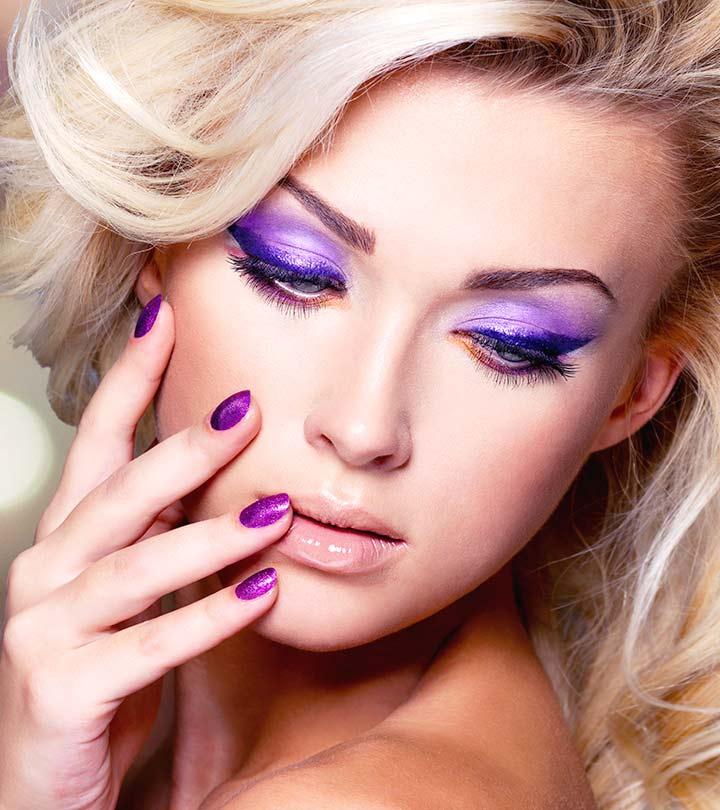 So here is something you could do for your party makeup! Eye makeup that guarantees to turn heads! Read these simple purple eye makeup tutorials to wear it perfect.
Purple Eye Makeup Tutorials
Tutorial – 1: Pink And Purple Eye Makeup Tutorial
Step 1: Prime Your Eyes
Always start with a clean face and primed eyes. Primer helps keep the makeup on for longer, prevents creasing and also helps your colors show up more vibrant.
Step 2: Apply Bright Pink Color
Take a very shimmery bright pink color and apply it carefully on the inner half of your eyelid. Follow the natural shape of your eye. Do not go all the way up to your brow bone.
To apply any color, the method is to pick the color on one side of the brush and pat the color gently onto the lids to deposit the color. Do not drag your brush on your eyelids.
Step 3: Apply Purple Shade
Take a dark purple shade, shimmery is better, and apply it onto the outer half your eyelid in the same way that you have applied your pink.
Step 4: Blend Purple into Pink
Thoroughly blend the purple into the pink such that no defined lines are visible. The colors should seamlessly flow into one another.
Step 5: Apply Blue Shade
Take a dark blue color to deepen the purple shade as this would give a smokey effect. Apply the blue in a V-es a sultry smoshape from the outer corner of your eye to your crease, and from the outer corner of your eye inwards onto your upper lash line. Again just pat the color onto your eyelid. Do not drag the brush.
The work need not be neat as we are going to blend the color anyway.
Step 6: Blend The Blue Shade
Blend the blue shade all the way into your crease and also into the outer half of your eyelid. This deepens the purple that we had applied earlier and creates a sultry look.
Here we should make sure that the blue does not mix with the pink and create a uniform look all over. We want the pink to stand out as well.
Step 7: Line Your Upper Lash Line
Line your upper lash line with a black eyeliner and for a dramatic effect create a wing outwards from the outer corner of your eyes. We need to create a basic shape for our liner.
Extend the wing inwards about a quarter of the way from our lower lash line. Do not line your water line black. And make sure you have lined only the outer one-fourth of your lower lash line.
Step 8: Create a Fishtail
Since we are going for an all-out party look, we'll add a little dramatic flair to our eyes. Create a fishtail at the outer corner of your eyes by lining the wing downwards also. Also, once you are happy with the shape of your liner, you can thicken the liner to the desired boldness. Since it is a party look, bolder seems better.
Step 9: Extend The Line
Once you liner is done, take a matte black color and draw a line extending from the outermost part of your liner wing and extend it into the crease.
This creates the illusion of huge deep eyes.
Step 10: Blend Black Into The Crease
Blend the black thoroughly into the crease as well as into the blue that we had applied earlier. Leave the pink as it is.
Step 11: Add Pink Above the Crease
Because we want our eyes to look huge, we can add a little pink above the crease that is above the black crease that we had blended earlier.
But make sure this pink is lighter than the one we used on our eyelids. The pink should be very lightly added and blended to just lift up the eyes.
Step 12: Apply White Color
Take a white color and apply it on the remaining three quarters of the lower lash line. Also, press the white into your tear duct.
Step 13: Line Your Waterline
For that extra glamorous look, line your waterline with a bright pink color instead of just boring black. This will make your eyes standout.
Step 14: Highlight Your Brow Bone
Use a white color to highlight your brow bone. Make sure to blend it thoroughly.
Step 15: Apply Mascara
Use as much mascara as you can on your lashes. You can also use false eyelashes for added drama. Give at least three to four coats of mascara. Avoid mascara on your lower lashes as it would take away from the effect you created for your lower lash line.
If you think that the fishtail is too much for you, you can avoid it. This is how it would be without the fishtail.
That's it. Here is the pink purple smokey eye makeup tutorial. You're all set to party.
2. Purple And White Eye Makeup Tutorial
Products Used:
Elf 144 eyeshadow palette for purple, light purple, dark indigo, black and white eyeshadows.
Lotus Herbals Kajal Black
Revlon eyeshadow palette in sand
Loreal Million Lashes Mascara
Maybelline kajal for the purple cream base
So, let's start our white and purple eye makeup tutorial!
Step 1: Apply Purple Base on Eyelid
Before you start working on your eye makeup, it is important to hydrate your eye area properly.
Start applying an eye cream to moisturize and relieve any dryness in the under eye area. Gently use the ring finger to apply and blend the product. Allow the product to be absorbed by the skin. Then apply your favorite concealer. If you have pigmented eyelids, then it is best to use a corrector prior to the application of the concealer. Set the concealer with powder to avoid creases and fine lines.
Pick a creamy purple base and cover up the center of the eyelid area. Don't worry about being precise as we'll be smudging the whole thing in the next step in any case!
Step 2: Apply Matte Soft Purple Eyeshadow
Use a smudger or pencil brush to gently blend the sharp edges of the purple cream base. Pick a matte soft purple eyeshadow and apply it to the crease area of your eyes. It is best to use a fluffy tapered blending brush to softly diffuse the color into the crease.
Step 3: Apply Bright Purple Eyeshadow in a Satin Finish
Now, pick a bright purple eyeshadow in a satin finish. Apply it to the entire eyelid area. Layer the eyeshadow just above the smudged base. Instead of using the usual sweeping motion, pat the eyeshadow in place to build maximum color intensity.
Step 4: Apply Matte Cream Eyeshadow to Crease Area
Then, pick a matte cream eyeshadow. Apply it to the crease area of your eyes above the soft purple shade applied earlier. It is best to use a fluffy tapered blending brush to softly blend all the harsh edges of the eyeshadow colors. This step is important as it will help the eye makeup appear soft.
Step 5: Apply Matte Indigo Blue Eyeshadow
Then, apply a matte indigo blue eyeshadow to the outermost corner and outer V area of your eyes. Use a pointed crease brush to precisely place the color.
Step 6: Final Look
Then, again pick a blending brush and softly diffuse all the colors for a seamless finish. Apply the same bright purple we used earlier to the lower lash line to create a balance in the eye makeup. As I wanted to create a smokey look, I added a soft touch of matte black eyeshadow to the outer thirds of my lower lash line. If you are going for a soft and subtle look, then you can replace it with the indigo color.
Apply a shimmery white eyeshadow to the innermost corner and one third of the eyelid area. Then, line your waterline and tight line your eyes with a dark black kajal. Curl your eyelashes and follow it up with mascara to create an illusion of thicker eyelashes. As I wished to create a soft and subtle eye makeup look, I did not go for false lashes. But you can apply false eyelashes for this eye makeup if you want to! Then, apply a soft white eyeshadow to the brow bone of your eyes to provide that perfect finish!
With a little purple and white eyeshadow look, your eyes will now really speak a thousand words! The thing I like most about makeup is that it allows you to play with colors and shades—isn't that what every woman dreams of?

If you are tired of the same old neutral eye makeup, try out some funky purple eye makeup. While purple may not seem like your first choice, this wonderful shade can glam up your look. You can use purple with other colors such as pink or white to create a balanced look. Go one step further and curl your eyelashes to create a gorgeous and fuller appearance. Lastly, apply kajal and mascara for a seamless finish. What are you waiting for? Start experimenting!
The following two tabs change content below.