20 Gorgeous Party Wear Saree Designs With Blouses For Women
Stand out from the crowd with the beauty of six yards of beauty paired with trendy blouses.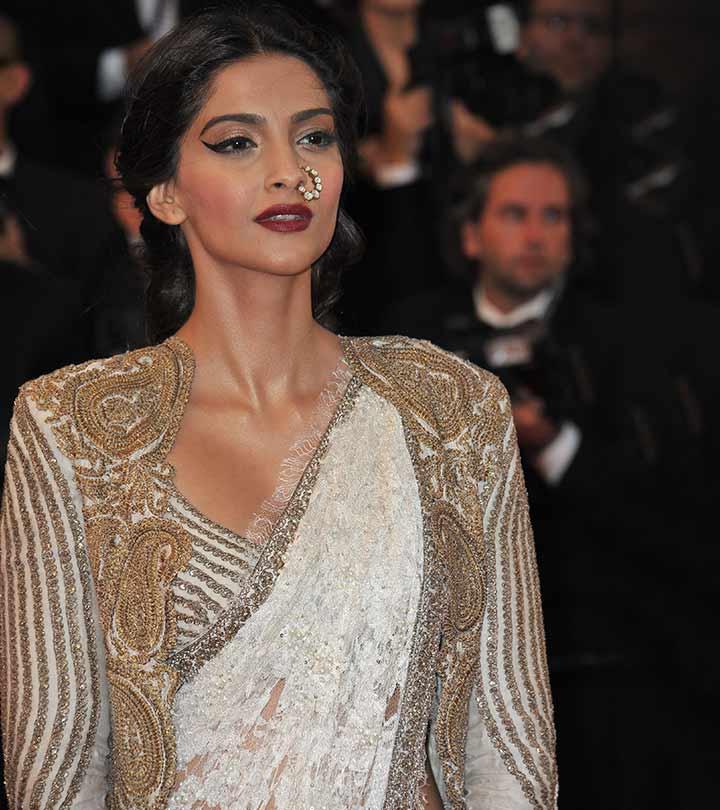 If you are on the lookout for some amazing party wear saree designs, then this is exactly the article you should be reading right away. Below, we have some of the coolest options that are totally worth trying. Don't worry about the hassle you are scared to experience because party wear sarees are easy to wear. And thanks to talented designers who have made it so convenient for us to flaunt the desi look at parties. You can wear your sarees in the most comfortable ways and yet look like a showstopper. Oh, and you can even choose from the very many tops that you already have in your closet to wear them as your blouse. Okay, this is way more fun to let you stay held up. So go on and read this article. Get your inspiration and rock these designs!
20 Latest Party Wear Sarees With Designer Blouses
1. Sheer Cape Blouse With Plain Georgette Saree
I don't know about you, but when I see a few designs that slowly find their way from the west into our fashion (Indian) world, they seem pushed and trying to fit in desperately. But, oh boy cape blouses, I did not see them coming. What a beauty! Now, I wonder why the ride took this long. And, I instinctively fell in love with this combination. Sheer or opaque cape sleeves gives you an edgy look and for any ethnic costume. The silhouette of the noodle strap blouse over the sheer cape and the golden border is ravishing. The muted peach georgette saree to go with it is even better and transpires into a sophisticated ensemble. You can afford to go minimalist with accessories—a classic pair of studs, and a chignon updo will also do. Also, you can swap the color combination and play around as you please.
2. Corset Kutch Blouse And Raw Silk Saree
Another commendable prodigal transformation of corset into the traditional Indian attire. As if the corset crop tops over long skirts and kurtas with corset fit were not innovative enough, our brilliant Indian designers took this a notch higher by pairing them with sarees. Exactly what makes this a definitive party duo. If you enjoy rustic attires and prefer elegance over style while exploring fashion, here something for you (us). This distinct style suits all body types and most of them can be worn as separates. Swap the saree with a lightweight chiffon or georgette deep colored plain saree with sequin border, and it will look just as good. Raw silk is classy but makes you party ready only if you pair it correctly.
3. Blood Red Georgette Saree With Black Kundan Blouse
Red screams party like no other. And, of course, the enthralling combination of red with black breaking the attention from flashy red is distinct. The Kundan embellished pallu and saree border with an illusion self-design makes it a perfect snapshot. The blouse design that follows the Kundan embroidery to the sleeves and the back neckline gives it a poised look. You could either go with a similar pattern for half or 3/4th sleeves, and it will look just as good. If you prefer sleeveless, just have them as broad as the embroidered strip and follow it along to a deep square backline to make heads turn.
4. Peach And Pink Georgette Saree With Multi Work Blouse
Sonam Kapoor is known for making style statements like nobody's watching. The way she pulled this beautiful peachy pink georgette saree with a twist swept me off my feet. If you can carry off something like this, go for it. The blouse is another element of surprise for this one and not an everyday design. A sheer flimsy fabric with the diagonal motifs is a generic piece you can definitely match with most of your sarees. The tussled lace border all along the length of the saree plus georgette dupatta attachment that gives a dimension to both the neckline and back is going to set you apart at parties.
5. Hot Pink Jute Saree With Halter Neck Blouse
A perfect balance of party wear with a traditional touch. If you are looking for some traditional party wear sarees, this might be it. And, that is the best part about fabrics like jute, chanderi etc., they swing both ways and are a win-win. The gorgeous hot pink Banaras gold booti design with a coral border and plain taupe body color are stunning. The designer did a great job of creating a perfect harmony with a plain blouse, but it is the halter neck that I can't take my eyes off. You know what I mean?
6. Green Tulle Applique Work Saree With High Neck Floral Blouse
Net and tulle fabric have been around for some time now. Honestly, we have seen designers rendering them in tackiest ways possible. But, here's one piece that is a welcome break and will change your opinion (it did that to me). There is the floral applique work for the body, sparkles for the border, booti design and the tulle fabric, basically a party wear saree in the literal sense. The best part of this is, of course, the blouse—the high neck floral design and half hand sleeves is a smart way to finish a party wear saree and ooze sophistication.
7. Parrot Green, Hot Pink Chiffon Saree With Rose Gold Blouse
Sridevi Kapoor is always at the top of her fashion game. Every single piece she renders exudes style and simplicity, but extremely polished. Well, at least most of the times with her everyday look. With sarees, she never misses a beat. Sarees like these create an impression that it does not necessarily have to be over the top for it to be a party wear. A lavish combination of a hot pink Banaras border with a pop of silver lining; matching it with a parrot green plain chiffon saree is brilliant. The plain sleeveless bronze blouse with a sheen is a quaint addition to the ensemble.
8. Black Chiffon Premade Saree With Sheer Tulle And Gold Embroidery Blouse
Readymade sarees are a blessing in disguise! For starters, they make life easier; they are form-fitting, chic and stylish. You don't have to fret over designing the blouse, so one less (big) thing to worry. I feel the blouse gives a faux strapless look, and the sheer tulle cover elegantly covers it with the gold embroidery. All you need is a beautiful pair of dull gold earrings. If you haven't noticed, this deliberately comes with a no-neckpiece tag. You're ready for the party in style and comfort.
9. Orange Chiffon Saree With Yellow Embroidered Boat Neck Blouse
Are you a Pinterest addict and already have this pinned? Or at least you have seen this floating around? If Yes, High five to that; No? Then create a board and pin it right now. This blouse design has been topping all the designer/blogger charts ever since. I loved it and got one done for myself; I think you should too. The boat neck strapless blouse, covered up in sheer tulle body, moving out into a floral embossing design, followed up with a gold shimmer border is an utter delight. Not to forget the plain orange saree with a tinge of the yellow, blue and gold border all along is indispensable.
10. Off-white Cotton Saree With Black Full Sleeves Embroidered Blouse
Sabyasachi is known for creating masterpieces like this, and when you see Vidya Balan flash them, you know these are tailor-made for her and anyone with an acquired sense of style. It is a classic combination of a traditional off-white cotton saree, with a tinge of taupe to the border. It is spruced up with the smart looking gold applique work on the black and darkest brown blouse. I am going to replicate this entire look for a soiree and would never miss a chance to doll up in an array like this – natty and non-complicated.
11. Royal Blue Georgette Saree With Velvet Blouse In Intricate Lace Embroidery
A stylish melange of a fragile georgette saree that swaddles around to reveal curves and the gold sequin borders that lift the spirit of the ensemble is jaw dropping. Combinations like these emphasize that you need to pay attention to detail for pulling off a party wear saree. You don't have to be in a gaudy diamond embellished garb to do so. If you already know what I am talking about? Yes, the intricate velvet blouse with lace sleeves, gold embossing motifs and the plunging neckline both at the front and back is a sensuous pick.
12. Plain Gray And Black Bordered Saree With Chantilly Lace Blouse
Combining little details and blowing up into something spectacular is a work of art, and here is proof. Plain gray is not the first thing that comes to your mind when you pick a color for a party wear, but this will prove you wrong. The gray saree with a black sequin border, a svelte border in yellow and pom-poms is a mixed bag of classy stuff. The illusion sleeves and bodice of the blouse in Chantilly lace creating an enthralling silhouette is something I can never get enough of.
13. Pure Black Chiffon Belted Saree With Zebra Stripes Blouse
If you are anything like me, 'Kamarband' or Waist belt was never appealing, and you secretly thought it was over-rated or cliched. So, I was taken aback at its launch. Skewing an age-old accessory into the contemporary clothing line is commendable, and I must admit, I did not see this coming. The zebra striped chic blouse is also uncommon and will set you apart. Mini Mathur has always given us style goals with her classy statements, and this is going right on that list.
14. Teal Blue Georgette Saree With Zig Zag Patterned Blouse
You know the drill by now – less is more. Gone are the days of party wear sarees in overarching Kundan or sequin or both. Have a personal style that fits you the best and enhance it with minuscule details like the blouse pattern, design, body accessories or anything else, merely. Like this elegant teal georgette saree with a zigzag pattern sleeveless blouse that bumps up the show. It's a fast color, and the saree has an Indo-Western vibe, an ideal choice for a party.
15. Nude Sheer Net Saree With Orange Embellished Blouse
An effacing combination of nude net saree in heavy sequin border with a deep orange embellished blouse is luxurious and masterfully rendered. These sarees are ideal for a sangeet party or a wedding reception. Ornate your neck in a heavy kundan choker with no earrings and a classic or messy chignon updo, and other details like smokey eyes, bold matte lip color depending on the occasion.
16. Glossy Pink Satin Saree With Halter Neck Blouse
Let's take it the other way round and start from the minute details that bump up the saree. The muted pink satin blouse in a halter neck design, satin polka dots design with a brasso finish, the sheen from the fabric, all in all, it is just meant for parties. Edgy, classy and boho-chic – let the party begin.
17. Dull Gold Raw Silk Saree With A Plain Black Blouse
Let your hair down and try this offbeat raw silk saree with an inbuilt waist-band. It is a unique design in dull gold, borrowing the sheen from raw-silk and the satin fabric that accentuates the pleats. A twist you will not see every day and the floral broach as part of the saree – you will probably never find!
18. Nude Off-White And Dhoti Saree
Celebrities have been spotted flaunting dhoti sarees over the last season, and these sarees made their presence felt loud and clear. You should get one of these too if you do not already have one. English or fast colors complement this style and almost suit any body type. If sleeveless is not your style, you could very well try 3/4th or full sleeves. An ensemble that will truly get you party ready with great panache.
19. Glossy Pink Lace And Georgette Saree With Sequin Blouse
A party wear saree design that unassumingly puts you in the forefront. Satin, lace and other glossy details of the georgette body and a grungy embellished sequin blouse is a luxurious choice. Sarees with eccentric blouses like these will always set you apart and show nothing but a sense of taste in dressing.
20. Red Satin Saree With Bold Blue Polka Blouse
Country-chic in the truest sense. An eclectic blend of bold red in satin fabric for the pallu and bountiful polka dots design for the body is purely techno fashion. The simple high-neck blouse and retro half sleeves and some swag are all you need. If you prefer, try a halter neck design for the blouse and thank me later. You will rock in the party wear saree – literally!
Many Indian celebrities have flaunted their desi sides and raised the bar of the party wear sarees. Thanks to them, today, we have a wide range of party wear saree designs to choose from. We believe nothing beats the elegance of these six yards of sheer beauty. As you drape a saree around your body, you not only look gorgeous but also feel gorgeous. Honestly, we cannot deny that sarees are capable of creating magic. So, now it is your turn to pick one and rock your party look.
Frequently Asked Questions
How do you tie a saree for a party?
For a formal party, you can wear a saree with pleats and create a sleek and chic silhouette. For informal parties, you can tie up a saree with a belt at the waist, or let the pallu be open. Dhoti style and pant style saree drapes are also suitable as party outfits.
Which colour saree is best for a party?
For day parties, light yet bright shades like yellow, blue, pink and green are most suitable. For informal social events at night, shimmers, glittery sarees and bold and bright shades like crimson, purple, magenta, gold and orange are great options.
The following two tabs change content below.