Is It Safe To Use Perfume On Your Hair? Other Alternatives
While wanting your hair to smell good is fine, you don't want to harm it in the process. You woke up late, threw on some clothes, and are about to rush out the door and head to work when you realize your hair is unwashed. It's not very greasy, and you can just about get away with it, but to be on the safe side, you spray perfume on your hair to ensure it smells good. There's no shame in admitting that we have all done this.
While it might make your hair smell glorious, how safe is it to spritz some perfume on your locks? Perfumes contain certain harsh ingredients that may be harmful to your hair. Keep reading to know if it is safe to use perfume on your hair and any natural alternatives you may consider.
Can You Apply Perfume To The Hair?
No. Applying perfume is not an ideal treatment for your hair. There two main factors that discourage this practice:
Alcohol Can Dry Your Hair
Most perfumes contain 60 to 70% alcohol as a volatile solventi  XAn organic compound that provides suitable consistency to a product and evaporates quickly without causing any skin damage. and carrieri  XA base material that carries the fragrance of a product and determines its form and strength. agent. However, short-chained alcohol contains fewer carbon atoms due to which it acts as a potent drying agent. Prolonged usage and exposure to alcohol can make the hair rough, dry, frizzy, and brittle leading to breakage.
The Scents Could Be A Problem
The chemical substances and synthetic fragrances in Eau de toilette can damage your hair. Studies show that makeup and personal care items contain harsh chemicals that have been linked to male genital birth defects and altered pregnancy outcomes in animals. Diethyl phthalatei  XAn odorless solvent that makes the scent last longer in perfumes but may cause many severe and long-term health issues. found in perfumes is also a major cause for concern due to its adverse effects on health (1).
Synthetic fragrances can strip the natural oils of your hair and scalp. This leads to tangles and frizz, making your hair appear straw-like. If you are dealing with dandruff, it can worsen itching and flaking.
One may think that the application of a strong fragrance could mask the natural odor. However, it is also highly possible that it can mix with your natural body odor and make your hair smell rather different. Hence, you can switch to hair care products that smell amazing. These alternatives provide nourishment to your hair, along with a good smell. Here are a few options you can try.
Perfume Alternatives For Your Hair
Hair mists are lightweight, water-based hair revitalizers that can make your hair smell pleasant. They are specially formulated for specific hair goals, such as detangling, hair moisturization, and hairstyling.
You can also whip up a quick DIY hair mist by combining these simple ingredients:
¼ cup of aloe vera juice
½ cup of water
1 teaspoon of

jojoba oil

i

  X

A carrier oil that is used as a natural hydrating agent in many skin and hair care products worldwide.

1 teaspoon of coconut oil
Spray this homemade mist on your hair to nourish and moisturize it. You can either choose a DIY or commercial hair mist based on your preference.
Hair serums help protect your strands from tangles, dullness, and frizz. They can make your hair smell amazing, add shine and help in grooming your hair which makes your locks look smooth and glossy.
If you are into DIY, you can make your very own hair serum by combining:
4 tablespoons of avocado oil
2 tablespoons each of jojoba, almond,

argan

i

  X

A Moroccan tree that bears fruits with seeds, the oil of which is used for cosmetic and medicinal purposes.

, and grapeseed oils
Store this solution in a spray bottle and use it right after shampooing to get shiny hair. You can also add a few drops of your favorite essential oil to impart a subtle fragrance to your hair.
Wash your hair with a dry shampoo to address hair odor caused by oil, grease, and dirt buildup. Dry shampoos cleanse and deodorize your hair, giving it natural bounce and volume.
To prepare dry shampoo at home, you will need:
¼ cup of cornstarch powder
¼ cup of

arrowroot

i

  X

A perennial herb whose rhizomes yield an edible starch with great oil-absorbing properties that help treat hair and scalp conditions.

powder
10 drops of tea tree oil
10 drops of lavender essential oils.
Mix all the powders and sprinkle this blend on your hair. Fluff your hair with a brush to let it settle and dust off the excess shampoo with a towel. The sweet lavender aroma will make your hair smell great in a jiff.
Note: If you have darker hair, add some unsweetened cocoa powder to the blend.
This thick foam is applied to the hair, combed in, and blow-dried for styling. It helps lift your hair and add volume while protecting it from damage. Mousses smell good and leave behind a lingering fragrance on your hair and also help enhance the beauty of your locks by making them lustrous.

Quick Tip
For best results, apply an egg-sized amount of hair mousse to damp hair and run your fingers through the roots to the tips to style it.
Hair gels are one of the commonest hair styling products. If you wish to make hair gel at home, you will need
½ teaspoon of unflavored gelatin
½ teaspoon of aloe vera gel
1 cup of warm water
Stir in the gelatin and aloe vera gel in warm water. Add a few drops of your preferred essential oil to the gelatin solution and allow it to thicken and set. You can now directly apply this all-natural, fragrant gel to your hair.


Quick Tip
You can also use flaxseed gel and a few drops of any essential oil to make an effective, natural DIY gel. Flaxseed gel provides a strong hold and tames flyaways.
Leave-in conditioners help moisturize, nourish, and strengthen your hair. They tame frizz, prevent split ends, and detangle your hair. Such conditioners are beneficial for very dry and rough hair that is constantly exposed to the sun and harsh environments. They also protect the hair from the damaging effects of heat styling tools and chemical treatments. Often, leave-in conditioners have soft floral notes that will have you sniffing your hair all day round!
Essential oils are popular for their aromatic properties and can be applied to your hair in diluted form (along with a carrier oil). They impart a unique scent to your hair and help nourish it. Commonly used essential oils, such as lavender, rosemary, tea tree, and peppermint, can help repair damaged hair and make it healthy.
The best part is you can use a combination of various essential oils to create your desired fragrance. To prepare an essential oil-based hair perfume, mix these ingredients:
5 ounces of rose water
2 teaspoons of aloe vera gel
4 drops of pure vanilla extract
22 drops of grapefruit essential oil
14 drops of lavender essential oil
9 drops of tea tree essential oil
Store this hair cologne in a spray bottle and use it anytime to make your hair smell good.
Infographic: 3 Ways To Style Unwashed Hair
If you want to put perfume on your hair, it's more than likely that you haven't washed it and that you simply don't have the time for it right now. So, your hair is possibly greasy too. Don't worry.
Check out this infographic for the 3 least time and effort-consuming hairstyles that are perfect for unwashed hair.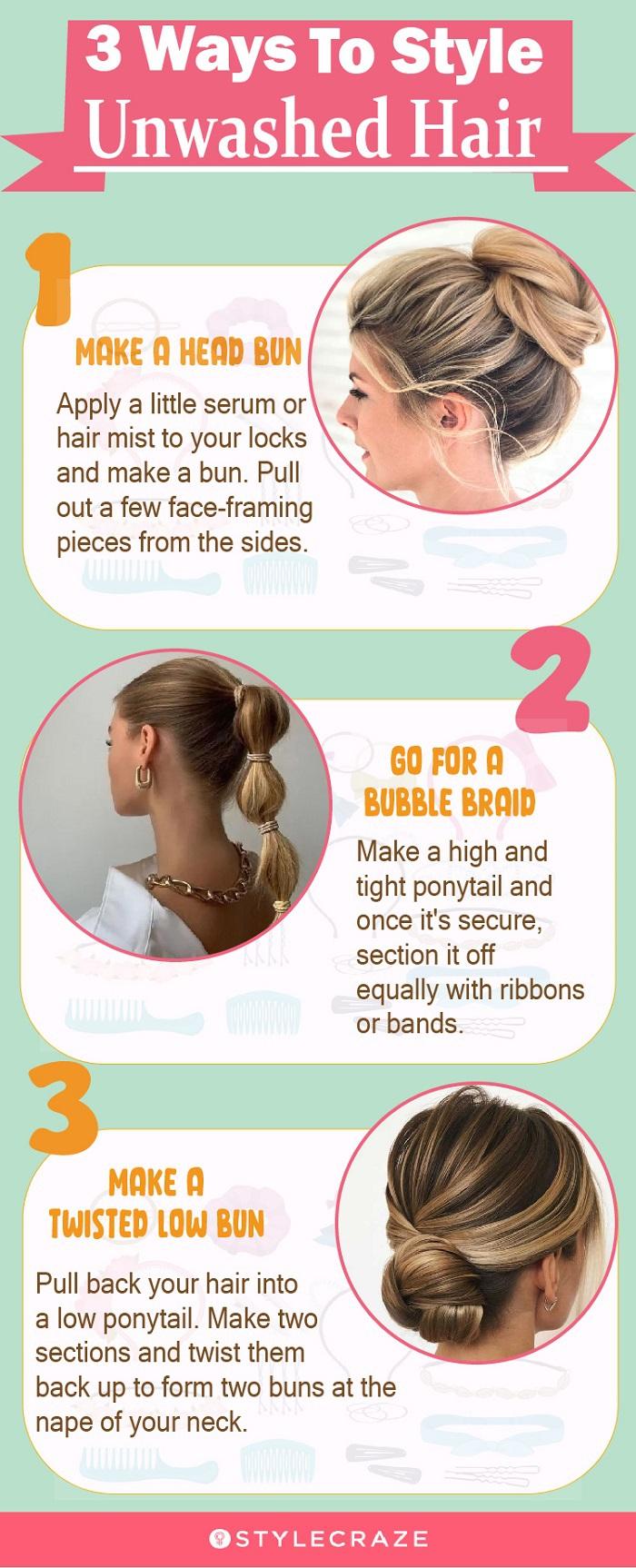 Summing It Up
Everyone experiences smelly hair at some point or the other. It could be due to sweat and grease, pollution, or irregular shampooing. While it is tempting, spraying perfume on your hair can damage your hair and scalp in the long run. Instead, try the alternatives listed in this article to make your hair smell amazing without compromising on its health.
Frequently Asked Questions
Does perfume last longer in hair?
Yes, perfume can last all day in your hair. While it may be a quick short-term solution, it may dry your hair out in the long run.
Does perfume work as a dry shampoo?
No, while you may think perfumes work as dry shampoos, they do not. Dry shampoos are specially designed to absorb excess oil and keep your hair clean. Perfumes contain alcohol that may make your hair smell good but will dry your hair out.
Are perfumes cancerous?
Yes, the chemicals used in many perfumes have been linked to headaches and cancer (2).
Do perfumes expire?
Yes, once you open the perfume, it will expire eventually. It does depend on the chemical composition of the perfume. This determines if a perfume lasts for a year or more.
Key Takeaways
Spritzing perfume on your hair is unsafe as its alcohol can make your hair dry.
Hair mists, serums, dry shampoo, mousse, gel, and leave-in conditioners are some perfume alternatives for your hair.
When it comes to fragrance for hair, use natural alternatives to synthetic perfumes or smells.
Want to make your hair smell amazing all day? Learn how to create your hair perfume at home with simple ingredients in this step-by-step video tutorial. Enjoy the long-lasting fragrance and boost your confidence.
Sources
The following two tabs change content below.