12 Romantic Picnic Ideas For Couples To Have A Good Time
Everything you need to know about picnicking, from snacks and drinking to dancing and games Picnics with your partner are the perfect occasions for enjoyment. But planning them can be a tough task. But, don't worry. Here, we have compiled a list of picnic ideas for couples to help you organize a wonderful outing with your partner. Planning a picnic or any other outdoor activities can sometimes be a little overwhelming as it involves many things, including the place, food, setup, and weather, among others. As a result, you may lose out on the fun part in the process and stress of organizing a picnic.
Now, ease your burden of planning by choosing one of the readymade ideas we have listed in this article and enjoy a beautiful and romantic outing with your partner. Keep scrolling!
All You Need To Know To Set Up A Couple's Picnic
When planning for a picnic, think about the things that you two can enjoy. For instance, if both of you have athletic personalities, you will enjoy picnic games. And if you are a 'let's talk about anything and everything' type of couple, you will enjoy a picnic spread on the beach.
Here, we have curated different types of romantic and fun picnic ideas for couples. Choose the ones that you both will enjoy.
Picnic Food Ideas For Couples
Sharing food is one of the best ways to create good memories. It is why most people go on their dates to restaurants. But if you want to take it a notch up and add a dash of fun with tasty romantic food like heart shape sandwiches and cakes, go on a picnic instead of restaurants.
Here are some simple yet tasty picnic meal ideas:
Healthy Snacks: If you are going out for a short time, it is best to carry snacks. You can try healthy snacks like fruit salad, frozen fruits, unsalted nuts, fruit bars, and so on.
Light Food + Drinks: If you plan to play fun games at the picnic, the chances are you will exhaust yourself. In that case, you can have some light food with drinks to re-energize yourselves. Some good options are a chickpea salad sandwich, egg salad, spring rolls with drinks like lemonade, or unsweetened iced tea.
Nutritious Meal + Dessert: You will need a full-fledged meal if you plan to spend your whole day on the picnic. Barbecued chicken, cheese flatbreads, and pasta salads with dips are perfect meals for picnics in a park or even hiking trails. In dessert, you can have coconut date rolls, cookies, or brownies.
There is something about beaches that no other places can match. When your body touches the grains of sand, it feels as if everything is melting down. And this feeling becomes even richer when you are with your partner. Here are some key points for a beach picnic.
Beach Picnic Ideas For Couples
Get Some Wine: If alcohol is allowed on the beach, it is a must to click wine glasses with your partner. You can also get some snacks and enjoy the sunset view at the beach while sipping on your favorite wine.

Quick Tip
Popcorns, cheese, pizza, cupcakes (for the sweet-toothed) and crab cakes (for the salt-lover) make a great pairing with wine.
Read Together: Not all couples want adventure. For many, a simple, leisurely time at the beach with a book is romantic, with a blanket hugging you both together. If you are among those, bring some books and read to each other.
Dance To The Tunes: Find a secluded place, put on a romantic song, and swirl with your partner. The idea will come out much better in the evening. Enjoy the moments and get closer to your lover or steal a kiss or two!
Barbecue: If you both are in love with food, and don't get time to cook meals because of your busy lifestyle. Try a barbecue picnic in a cozy atmosphere of a beachy evening. Just grab a barbecue, set, a picnic basket, candles and flowers for that extra aesthetic and spend the evening together, star gazing while munching on your favorite snacks.
Photography: If you and your partner love getting pictures together. You can set up a photographic session with lots of props and decorations. You can ask your friends or a professional photographer to click great pictures of you two together at the beach.
Winning a game against your partner isn't that hard. But naming five good games for couples can be a task. Here is a list of some games that can be played by two, are fun whether you win or lose, and don't need you to break your partner's bones.
Picnic Games Ideas For Couples
Never Have I Ever: This one never loses its charm and it's one of the best conversation starters. While it is something you usually do at house parties, you can also play this game in a park or at the beach. Ask interesting questions, and you will be surprised at the revelations about your boo!
Treasure Hunt: Let's bring some adventure into the mix. You can create your own version, or we can say, a romantic version of the game. Leave little clues for your partner to reach the treasure, which can be a movie night or a trip together in nature. Make it surprising and see the smile on your lover's face.
Role Play: Sounds naughty, doesn't it? But this doesn't have to be all naughty; bring in an element of fun. For example, you can act like two strangers or pretend to be your favorite characters from a book or movie. And see their love story shape up.
You are one step away from winning the world if you can learn how to pull off a perfect indoor picnic. Some people consider it the best form of picnic because you get the enjoyment of the outdoors within the comfort of your home. Here are some interesting indoor picnic ideas for couples.
Indoor Picnic Ideas For Couples
36 Questions: The famous 36 questions by New York Times are known for making someone fall in love with you or make your love even stronger. Who knows, you guys may come out with a never-before intense feeling for each other!
Karaoke: Sing with your partner and dive into the world of music. And if you don't have a karaoke machine, fret not. There are plenty of karaoke music apps online that contain hundreds of songs.
Video Games: This is a great idea if you and your partner both love to play games. It can bring an exciting competitive spirit. Raise the heat by deciding on a romantic punishment for the person who loses. Some games you can play are Guitar Hero, Portal, Wii Sports, Warcraft, Super Smash Bros, Mortal Kombat, Tekken, Minecraft, Mario, Overcooked, and so on.

Quick Tip
You can spend some time making snacks together. Quick and easy "picnic-worthy" options include ham/cheese sandwiches, burgers, deep-fried rolls, sausage, eggs, and cheese platters to pair with drinks and nachos.
Infographic: Outdoor Picnic Checklist
Outdoor picnics are always exciting. Fresh air, nature, fun time with friends and family – what's not to love about them! But haven't we all experienced a picnic where we either forgot to pack something, or it started to rain out of nowhere? It is so annoying when things do not go as we had hoped they would.
Check out the picnic checklist in the infographic below to ensure you have a great time when you go for a picnic the next time.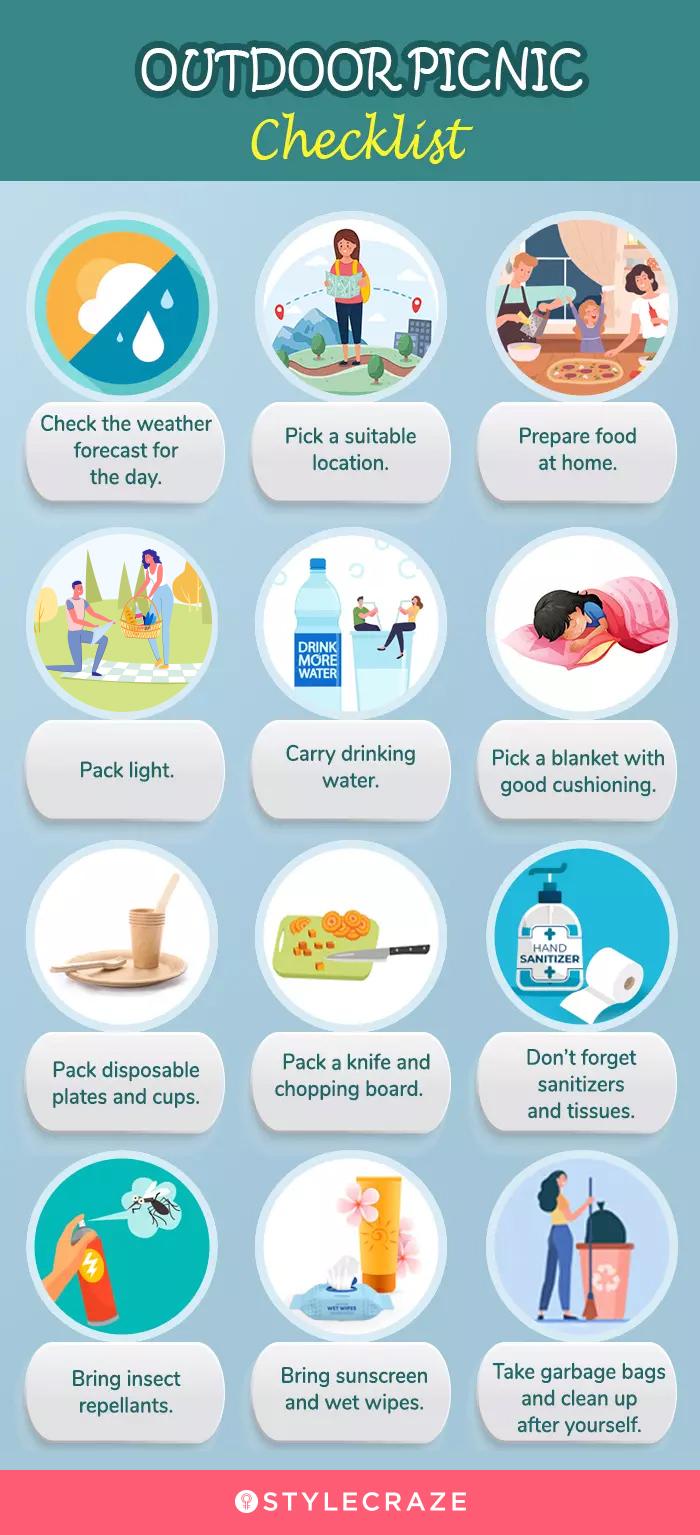 Picnics are a great way to take a little time off from the busy work schedule and lackluster life and spend with your partner. However, many give up on this idea fearing the amount of planning that goes into it. But, in reality, you don't need to put much effort. All you need to plan is some good food and a few fun activities. So, go through the above picnic ideas for couples and craft a perfect plan to get lost in your partner's company and forget your worries.
Frequently Asked Questions
Is a picnic a good second date?
Yes. A picnic is a great second date idea. Depending on where you choose to set up, it can be a little less formal and stuffy than an expensive restaurant and also provide you the chance for some more solitude.
How can I make a picnic special?
To make a picnic special, follow the points mentioned below:
Choose a good location.
Pack food that your date likes.
Take a comfortable blanket to sit on.
Bring extra pillows.
How can I create a cozy and intimate ambiance for a picnic?
Choose a private location, set it up with fairy lights and flowers, bring comfortable cushions and blankets, and play soft and romantic music to create a cozy picnic ambience.
Can I include surprises or gifts to make the picnic extra special for my partner?
Yes, you can definitely include surprises like a love letter, a piece of jewelry, a special book, or a photo shoot to make your partner feel special and loved.
Can I plan a picnic during different seasons or weather conditions?
Yes, you can definitely go for a picnic during different seasons. Spring is the best season to go for a pleasant and beautiful picnic in the park. If you are planning a winter picnic, wear warm clothes and bring warm drinks and food. However, for summer picnic lovers, ensure you bring a pack of cold refreshments and light food along with an umbrella to keep the picnic going.
Key Takeaways
Picnics are a great way to spend time with your partner away from the distractions of everyday life.
All you need is some good picnic food, some fun activities, and the company of your loved one.
You can pack some light snacks, put on some easy tunes, and pour some champagne to have a good time.

Need some tips to plan a romantic picnic date? Check out this video for ideas on delicious food to carry and surprises to create beautiful memories with your loved ones.