Tips For Organizing A Romantic Couple Picnic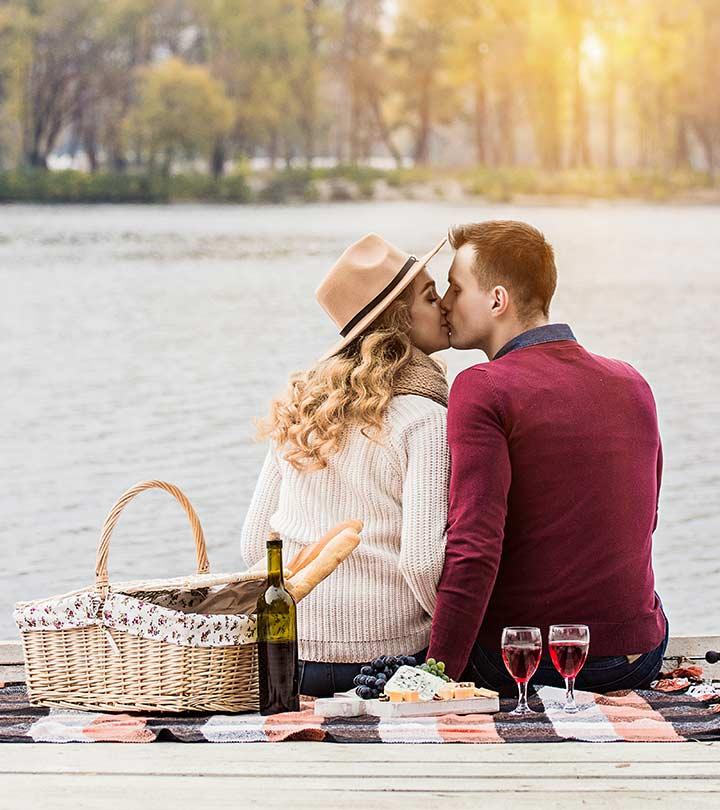 Picnics look so fun in movies! We have seen couples enjoying picnic dates in daylight, midnight, summer, and spring. And let's not even talk about the most desired ones — when it starts to rain, and things go romantic. But here is the tricky part: when you try to ideate a picnic with your significant other, it all becomes overwhelming.
After an hour of discussion, you have finally found the perfect picnic setting, but what about the 'fun' part? How will you make sure that you get the best out of every moment? Worry not. We have done all the homework for you. In this article, we are going to talk about romantic picnic ideas for couples. Keep scrolling!
All You Need To Know To Set Up A Couple's Picnic
When planning for a picnic, think about the things that you two can enjoy. For instance, if both of you have athletic personalities, you will enjoy picnic games. And if you are a 'let's talk about anything and everything' type of couple, you will enjoy a picnic spread on the beach.
Here, we have curated different types of romantic and fun picnic ideas for couples. Choose the ones that you both will enjoy.
Picnic Food Ideas For Couples
Sharing food is one of the best ways to create good memories. It is why most people go on their dates to restaurants. But if you want to take it a notch up and add a dash of fun with tasty food, go on a picnic instead of restaurants.
Here are some simple yet tasty picnic meal ideas:
Healthy Snacks: If you are going out for a short time, it is best to carry snacks. You can try healthy snacks like fruit salad, frozen fruits, unsalted nuts, fruit bars, and so on.
Light Food + Drinks: If you plan to play fun games at the picnic, the chances are you will exhaust yourself. In that case, you can have some light food with drinks to re-energize yourselves. Some good options are a chickpea salad sandwich, egg salad, spring rolls with drinks like lemonade, or unsweetened iced tea.
Nutritious Meal + Dessert: You will need a full-fledged meal if you plan to spend your whole day on the picnic. Barbecued chicken, cheese flatbreads, and pasta salads with dips are perfect meals for picnics. In dessert, you can have coconut date rolls, cookies, or brownies.
There is something about beaches that no other places can match. When your body touches the grains of sand, it feels as if everything is melting down. And this feeling becomes even richer when you are with your partner. Here are some key points for a beach picnic.
Beach Picnic Ideas For Couples
Get Some Wine: If alcohol is allowed on the beach, it is a must to click wine glasses with your partner. You can also get some snacks and enjoy the sunset at the beach while sipping on your favorite wine.
Read Together: Not all couples want adventure. For many, a simple, leisurely time at the beach with a book is romantic. If you are among those, bring some books and read to each other.
Dance To The Tunes: Find a secluded place, put on a romantic song, and swirl with your partner. The idea will come out much better in the evening. Enjoy the moments and get closer to your lover or steal a kiss or two!
Winning a game against your partner isn't that hard. But naming five good games for couples can be a task. Here is a list of some games that can be played by two, are fun whether you win or lose, and don't need you to break your partner's bones.
Picnic Games Ideas For Couples
Never Have I Ever: This one never loses its charm. While it is something you usually do at house parties, you can also play this game in a park or at the beach. Ask interesting questions, and you will be surprised at the revelations about your boo!
Treasure Hunt: Let's bring some adventure into the mix. You can create your own version, or we can say, a romantic version of the game. Leave little clues for your partner to reach the treasure, which can be a movie night or a trip together. Make it surprising and see the smile on your lover's face.
Role Play: Sounds naughty, doesn't it? But this doesn't have to be all naughty; bring in an element of fun. For example, you can act like two strangers or pretend to be your favorite characters from a book or movie. And see their love story shape up.
You are one step away from winning the world if you can learn how to pull off a perfect indoor picnic. Some people consider it the best form of picnic because you get the enjoyment of the outdoors within the comfort of your home. Here are some interesting indoor picnic ideas for couples.
Indoor Picnic Ideas For Couples
36 Questions: The famous 36 questions by New York Times are known for making someone fall in love with you or make your love even stronger. Who knows, you guys may come out with a never-before intense feeling for each other!
Karaoke: Sing with your partner and dive into the world of music. And if you don't have a karaoke machine, fret not. There are plenty of karaoke apps online that contain hundreds of songs.
Video Games: This is a great idea if you and your partner both love to play games. It can bring an exciting competitive spirit. Raise the heat by deciding on a romantic punishment for the person who loses. Some games you can play are Guitar Hero, Portal, Wii Sports, Warcraft, Super Smash Bros, Mortal Kombat, Tekken, Minecraft, Mario, Overcooked, and so on.
Picnics are the best way to get a little time of joy in the otherwise boring, dull life. And it doesn't even need much effort to pull together a perfect picnic. All you need is some good picnic food, enough time, some fun activities, and the company of your loved one. So, choose your kind of picnic from the list above and get ready to forget all your worries in the company of your partner.
Expert's Answers For Readers' Questions
What should I pack in a picnic basket for two?
A well-packaged picnic basket can be a lifesaver. Here are six picnic essentials that should always be there in your picnic basket:
Food: It might sound too obvious, but many people forget to carry some food items. They pack sandwiches but forget portable condiments and seasoning. Or they take salad but forget the dessert. A knife and cutlery should also be part of your bucket. Make a checklist of food items you want to take along and review it just before you step out of the home.
Water Bottles: From washing hands to quenching your thirst, a water bottle is going to do a lot for you on the picnic. If you are stepping out in hot weather, make sure the water bottle is frozen.
Paper Towels: A roll of paper towels can come in handy when there is a big spill on your clothes or the picnic mat.
Trash Bags: Usually, there are trash bins nearby picnic areas. But it becomes a real headache to walk back and forth every time you want to throw a little thing. So, it is where you will need trash bags.
What constitutes typical picnic food?
For something to qualify as good picnic food, it should be easy and quick to make and carry. Also, it should contain enough nutrition to recharge you for a few hours.
Below are six food items that are perfect for picnics:
Sandwich: You can make any type of sandwich you like. Just ensure that it contains enough fruits and veggies to leave you satiated.
Pasta Salad: Always choose small-sized pasta noodles as they are easy to serve and eat. Bell peppers, black olives, and tomatoes taste best in pasta salad.
Whole Fruits: The healthiest way to enjoy a picnic is by taking whole fruits with you. Oranges, watermelon, grapes are great choices as they refresh you.
Fried Chicken: If your picnic will last for long hours, it is best to take something extra nutritious with you. You can either make a simple fried chicken or chicken breasts coated with corn flakes.
Lemonade: Have a glass of lemonade when you start feeling a dip in your energy levels. You can replace lemonade with iced tea if you want.
Brownies: Brownies are an easily transportable dessert that doesn't even need utensils. If you don't have enough time to make them at home, you can buy them at any bakery.
Recommended Articles
The following two tabs change content below.