CAUGHT! 10 Pictures Of Alia Bhatt Without Makeup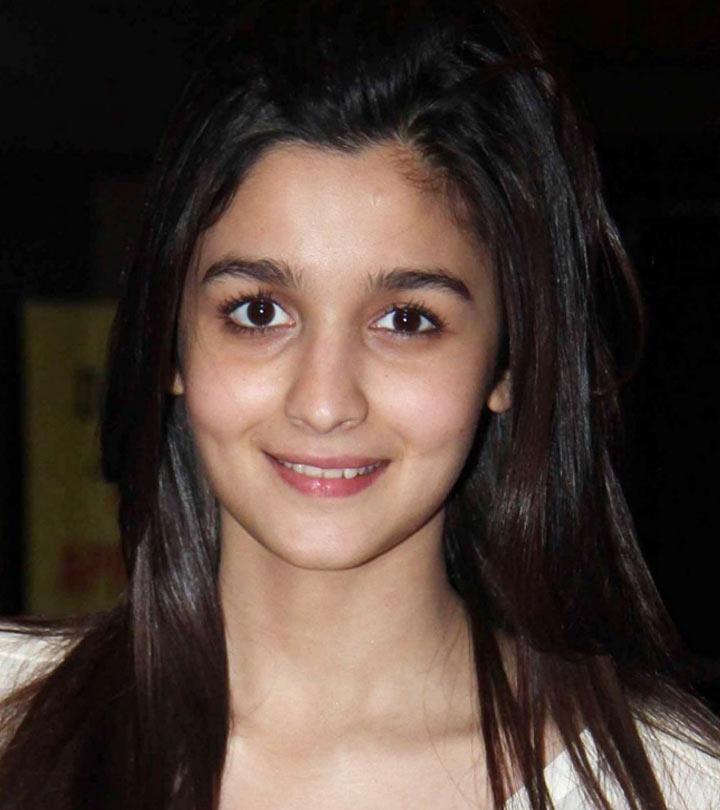 Some celebrities are blessed with perfect skin, and the pictures of actress Alia Bhatt without makeup are proof. She made her sensational and successful debut in Karan Johar's film Student of the Year (2012), which found phenomenal success with three fresh faces as protagonists. Since then, Bhatt has poured out her soul for movies like Highway (2014) and Gully Boy (2019). But do you know she is not just a talented actress but also a skin care enthusiast? She has shared her regimen in multiple videos. Swipe up and explore more about this amazing Bollywood actress.
Alia Bhatt Images Without Makeup
Here are 10 best pictures of Alia Bhatt without makeup.
1. Graceful Swimming Pose
Here is a very old cute picture of Alia Bhatt caught with her pals in a swimming pool. This is way back clicked in 2009-2010 before she entered Bollywood. She looks quite chilled and playful perfectly posing for a picture. It is a true blessing on her that she looks so graceful even without a dab of makeup.
2. Airport Spotting
Here, Alia Bhatt is spotted with Ranbir Kapoor at Mumbai International airport when both were leaving for their film promotions and shoot respectivety. Alia wore black trousers holding a black bag in the most toned down look.
3. Highway
Unlike most female actors, Alia has adopted a complete de-glam look for her upcoming film "Highway". "Highway" is directed by Imtiaz Ali and here in this image alia is spotted with Ranbir Kapoor and Imtiaz Ali during her movie "Highway" promotions. Alia had also said in an interview that she had no problem shooting without makeup, as there was no stress about touch ups.
4. Private "Highway" Screening
This picture was taken on the private screening of "Highway", where Alia arrived without makeup. Alia Bhatt is one of the few stars whose fashion statements are colossally followed by the masses. However, this time, this cute and chirpy actor attended the screening without any makeup. Only a hint of kohl is visible on her beautiful face.
5. Film Promotion
Here Alia Bhatt without make up was spotted with Mahesh Bhatt and director Imtiaz Ali for the promotion of "Highway" at PVR Mumbai, a day after its release. Alia was seen in a simple white long kurta and a navy blue and red Patiala salwar. The 20 year old looked stunning without makeup.
6. Painting Exhibition
Stunning Alia Bhatt was spotted posing for the shutterbugs at the inauguration of a painting exhibition in Mumbai. The exhibition displayed the works of various artists like Varsha Parikh, Sandeep Ashar and Smruti Bukhanwala. The actor looked chic in this Masaba Gupta outfit. She was dressed in a lime yellow skirt and a black spaghetti top.
7. Arjun Kapoor's Birthday Bash
Alia Bhatt attended Arjun Kapoor's birthday bash, along with several A- listers from Bollywood like Ranbir Kapoor, Katrina Kaif, Deepika Padukone and Ranveer Singh. Alia looked extremely beautiful in an all-white avatar. She sported a full-length white maxi dress, paired with a gold clutch. She looks like a goddess even without makeup.
8. "Family" Special Screening
Beautiful Alia had hosted a special screening of "Highway" at PVR Mumbai. The "family" screening was attended by Pooja Bhatt, Soni Razdan, Mukesh Bhatt, Mahesh Bhatt, Hansal Mehta and Imtiaz Ali. Alia was dressed in casual blue jeans and a white printed T-shirt. She left her long, voluminous hair loose and lined her eyes with kajal.
9. Beautiful Alia
Alia is one of the few actors who looks stunningly beautiful even without makeup. You would rarely find her applying makeup except kohl. At times, she skips the kohl too. Just as in this appearance of hers, Alia has adopted a complete no-makeup look. Her dark circles are also visible in this picture, yet her face is glowing.
10. Mumbai Airport
Alia Bhatt was spotted at the Mumbai Airport, arriving from the New Year celebrations. She was accompanied by Ekta Kapoor, Gul Panag and Sharman Joshi. She looked stunning in a blue top and jeans. She also draped a same colored shawl and carried a black handbag along.
The fact that Alia Bhatt is adorable is undeniable. Talented and hard-working, this gorgeous Bollywood actress has won many hearts with her acting skills and good looks. Her skin is flawless, and her smile is infectious. She flaunts her natural skin instead of covering it with layers of makeup. Her confidence in doing so is noteworthy. So, if you are looking for some push to go out makeup-less, get your inspiration from these Alia Bhatt without makeup photos. Let your skin breathe for a change.
The following two tabs change content below.