10 Pictures Of Asin Without Makeup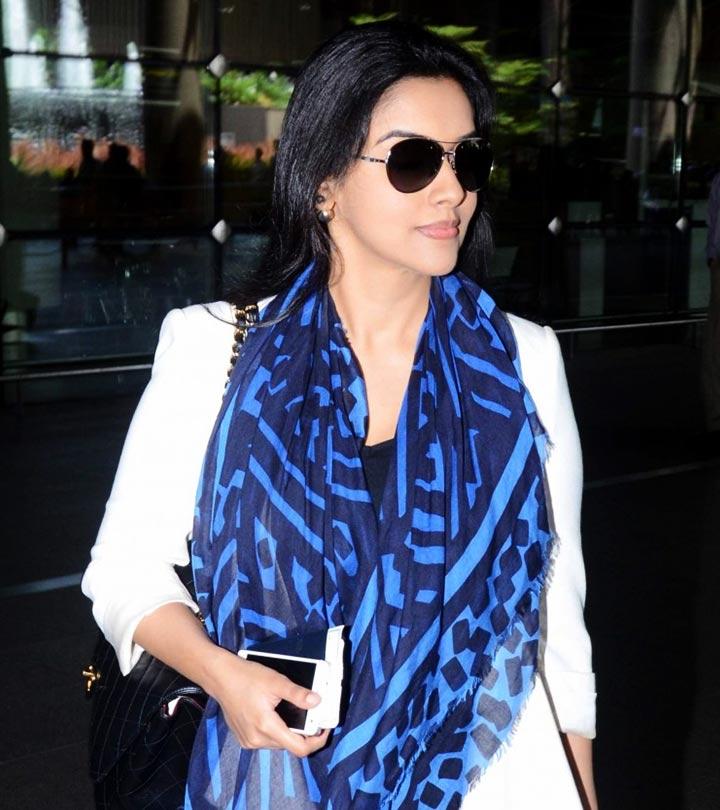 Asin Thottumkal, a South Indian actress, made her Bollywood debut opposite Aamir Khan in the movie Ghajini. She is a popular actress known for her stellar class performances in South Indian and Bollywood movies. Asin is blessed with beautiful features, and she often steps out without any makeup. In this post, we will look at some of the pictures of Asin without makeup. So, keep reading for more information.
Asin Without Makeup Pictures
Here we give you the top 10 pictures of Asin without makeup.
1. Comfort in Travel:
Our dusky beauty Asin gives comfort an upper hand when traveling. This picture was shot when she was flying out to Singapore for the premiere of her movie Housefull 2. Those comfortable cotton pants and contrasting pink shirt and with a dark blue warmer is all Asin needs to add to her poise and natural beauty.
2. Asin Caught In Her Casuals:
Caught during one of her casual outings, Asin readily posed for the paparazzi in this red checkered lose shirt. Asin lets her hair down in this extremely casual avatar with no trace of makeup. We say thumbs up to our dusky beauty for pulling off this look so well.
3. The Girl Next Door:
Asin is blessed with a beautiful radiant skin.
She perfectly fits the tag of 'girl next door' in this picture. Brown jacket, open hair with pink hair band and a smile to die for, these are the only things Asin needs to melt our heart.
4. Caring Asin:
Asin shows her caring side in this picture where she is consoling a baby. Sporting a casual black and white top and glares, she pulls off this no makeup look effortlessly.
5. Stylish Asin Without Makeup:
Asin sure likes being simple but that doesn't stop her from being stylish. Caught by the shutterbugs at the airport, we don't see Asin shying away. And why should she, not with that perfect black and white formal attire, complemented by perfect shoes and bag. What we love even more is her confident smile!
6. Chic:
Asin sprinted through the airport on another occasion when she was caught wearing this very chic semi-formal shirt and black pants. We specially noticed the black nail paint. That casual high bun and glares simply define Asin's chic quotient for us.
7. Happy and Posing:
Asin has always been kind to her fans. We praise the way she smiles to capture our attention and the friendly manner in which she agrees to pose for our lens with a fan.
8. Asin During the Shoot of London Dreams:
Snapped during the shoot of London Dreams, Asin dares to go in front of the camera without any makeup. She is seen sharing the frame with co-star Salman Khan. The London winter seems to be keeping her cold, but her warm and smart clothes sure complement her natural beauty effortlessly.
9. Heart Warming:
Asin caught our attention in a light brown top with a heart-warming smile and her radiant skin to go with it. We love the way she lovingly looks at the lens. Keeping it minimal always works best for Asin. Doesn't it? This one of all the asin photos without makeup is definitely our personal favourite!
10. Pink and Snow:
Most actresses get cold feet when it comes to stepping out without makeup. Asin sure doesn't feature on that list. She dares to let the world see her natural beauty, without thinking once about not wearing any makeup in this picture snapped at one of the hilly areas.
Seeing these photos of Asin without makeup, you just cannot deny that this actress is one of the gorgeous celebrities in the film industry. She is always cheerful, and her smile is everything to steal her fans' hearts. She gives us that girl-next-door vibe and always manages to rock her looks without wearing any makeup—no wonder she stands as a motivation for us all. So if you have been hesitating to go out without makeup, this should be your moment. Take your inspiration from Asin, and go ahead!
The following two tabs change content below.