10 Pictures Of Avril Lavigne Without Makeup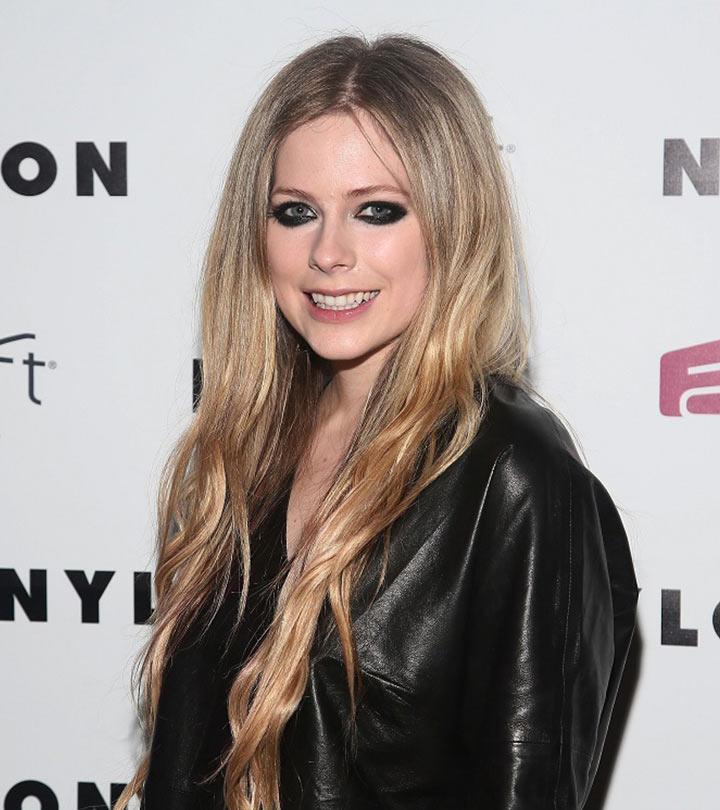 Avril Lavigne, a songwriter, is a half Canadian and half French girl whose debut album "Under My Skin" made it to the US Billboard. Her songs topped every chartbuster list, and she became a voice to reckon with. In this article, we will look at some photos of Avril Lavigne without makeup. Scroll down for more information.
Avril Lavigne Without Makeup
Here are some of our favoured Avril Lavigne without make up images.
1. Geeky Young:
Looking at this snap of Avril, no one would have ever imagined her to turn into the bombshell that she is today! Clicked in her early teens, Avril was known to be a smart girl since her childhood; however her love for music stood by her always. The major transformation was the outcome of heartbreak and desire to understand what she calls love.
2. Eyewear Magic:
Avril Lavgine and her love for eyewear have been synonymous since childhood. If not her kohl, she must have any trendy eyewear to accessorise her eyes. Sporting a quirky eyewear by Mercura NYC, Avril loves to concentrate more on the upper side of her face. She feels a way to the woman's heart lies in her beautiful eyes.
3. Surfing:
Surfing could not be more fun for Avril than this, when she planned to go all bonkers on the surf board. Sporting a tropical knickers trunk for men and a sweatshirt with a cap, she totally gets the androgynous look right in place. Avril loves to explore her tomboy side when not on stage and goes on her adventure trail.
4. Beach Party:
An eye popper in this picture, Avril was spotted on the beach flaunting her slim and fit body in a shredded white hot pant and skimpy translucent tee. The tee played a teaser for her tropical print bikini top which peeped each time she stretched. What played a charm in this look was her non makeup blush look and starry tattoo of falling stars on her wrist and waist.
5. Winter Look:
Taking a stroll with her then boyfriend, Avril Lavigne was clicked on a bright Sunday winter morning. The diamond shaped printed sweater became a raging trend post she was seen in one. And in fact became a part of the wardrobe for many girl fans who love her. She tried the semi casual look of formal trousers in black to go with an olive and brown mix sweater and grey warmer tee.
6. Airport:
All messed up with her pretty tresses flowing wildly, Avril was spotted rushing to catch her flight. In a grey Aztec print sweat shirt and blue denims she carried her custom made bag. What did catch the paparazzi's camera was the silver chain which hung from her pocket connecting to her belt. It just highlighted her rapper side or she must have followed the fashion trend.
7. Starry Walk:
Strolling by the Walk of Fame in Hollywood, Ms. Lavigne just saw how her hand prints can add oomph. She looked the perfect mysterious girl in her black chained jacket paired with bottle green boots. If not for her music, her look for sure needs an applaud as she carries it off with much ado.
8. Party Girl:
Simple and cute in this pic, Avril was spotted partying without her usual kohl and gloss. Just a smile and there was the party girl grooving to some rocking music.
9. Angelic:
Avril Lavigne planned to go all de-glam in one of her videos. Playing the angel, she did look gorgeous in a blue chiffon gown as her face had the serene smile and softness of a flower petal.
10. Just Before the Gig:
Avril loves to distress before every stage performance and chooses to go easy with her look. No makeup on, loosened up hair and a plain grey t shirt and comfortable denims make her Look gorgeous and sensual. The perfect rock-star who makes her fans go crazy with her music.
The photographs of Avril Lavigne without makeup give us major beauty goals. She is a trendsetter and a fashion icon, and we especially love her airport and party looks in the photographs. She carries herself effortlessly and always manages to rock her looks! People of all age groups can truly find their inspiration from this gorgeous singer if they wish to sport a no-makeup look. So, if you are among them, keep your worries to rest and flaunt your natural beauty like never before. Flaunt your bare face just like Avril, and let your skin breathe!
Image source: 1 , 2 , 3 , 4 , 5 , 6 , 7 , 8 , 9

The following two tabs change content below.