Top 15 Pictures of Kajal Aggarwal Without Makeup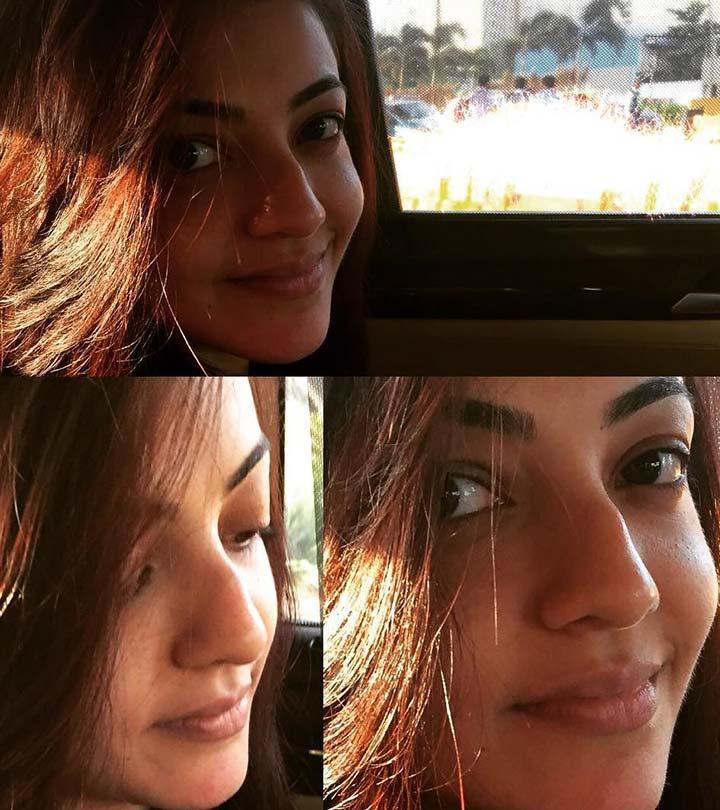 Kajal Agarwal is one of the most popular actresses in the South-Indian film industry, and she often ventures out without makeup. The word 'celebrity' conjures up an image of a person who looks flawless at all times,  doesn't it? However, they are only human, just like you and me, and sometimes they need to unwind and take a break from all that makeup.
We have 15 pictures of this Indian beauty going bare-faced and looking just as gorgeous as she does when she's all dolled-up.
Have a look at the real life pictures of Kajal Agarwal without makeup.
Kajal Agarwal Without Makeup Pictures
1. Natural Beauty
Doesn't she look just as pretty? This is her taking a no-makeup selfie while on a trekking trip. It's so refreshing to spot a celeb in their all-natural avatar, isn't it?
[ Read: 10 Simple Tips To Look Beautiful Without Makeup? ]
2. The Casual Bare-Faced Look
Who says you can't look chic without enhancing your features with some mascara or concealer? Kajal Agarwal seems to be rocking her casual attire, completely bare-faced and with her hair pulled back into a pony-tail. There's something so magnetic about women embracing their natural self!
3. Morning Selfie
This is Kajal sharing a picture taken just after she woke up. She's sporting her glasses, and she looks fresh and radiant without any effort.  And the fans can't stop gushing, yeah?
4. A Relaxed Night-In
It's fun to stay in some nights and spend quality time with yourself, and Kajal Agarwal does not seem to disagree. She looks like the girl-next-door in her side braid and white tank top. You see? Even actresses need to lay back and relax sometimes!
5. Holiday Diaries
Look at this stunning beauty with her sun-kissed, glowing skin! She looks beautiful while she enjoys her holiday breakfast in Bali. She's pulling off that cute Garfield crop top so well!
6. A Day In The Park
The dazzling starlet seems to be enjoying a day out in the park. She looks so pretty in an over-sized sweater, relaxing on the park bench. She has absolutely no makeup on, and yet she manages to slay!
7. Chocolate Lovin'
Love for chocolate is universal, and even Kajal seems to be a chocoholic! She's posing with a big bar of Silk, showing some love on Chocolate Day. Doesn't she look flawless sans the whole makeup deal? Her skin seems to have zero spots or imperfections; perhaps it's good skin-care?
8. Denim Jacket and A Stunning View
She looks like a total plain Jane here, and yet there's something so attractive about her simplicity. She's slaying it with her denim jacket and silky hair! This was taken during her trip to Poland, and clearly, Kajal seems to be loving that view.
9. Twinning With The Kite
Kajal wished her Instagram fan-base on Sankranti and posted this au naturale  picture of herself in a casual blue tee, holding a matching kite. She looks just as charming in her simple attire.
10. Sticking To Just Accessories
Kajal is no stranger to no-makeup selfies, and here she looks so classy and elegant without any traces of makeup while she shows off her pretty earrings and finger-ring.
11. Time For Some Pampering
All women love spending quality time at the salon and Kajal is no exception. She's getting herself a fancy manicure in a simple white t-shirt sans makeup, looking as gorgeous as ever!
12. The Mandatory Travel Selfie
Now that's the compulsory airport selfie we all love to take. Once again, she looks like the typical girl-next-door in her glasses with her hair let down. She doesn't need to glam-up to look pretty, does she?
13. Family Time
She seems to be enjoying babysitting her little nephew. Women are their most authentic selves at home – no makeup, no hair done and no fancy dos. She only has her gorgeous smile on while she shows off her pearly-whites.
14. Feeling Star Struck
Kajal posted this picture of herself with Salman Khan, and she seems to be wholly swooned by his charm. She is on a plane and has no time for makeup or touch-ups, and despite that, she looks flushed and vibrant!
15. Spotted At The Airport
The pretty actress is no stranger to being photographed sans makeup. She is confident and comfortable in her skin, and she's not afraid of rocking sweatpants and a tee from time to time.
That was Kajal Agarwal looking like a million bucks, natural and makeup-free. The actress rose to stardom by starring in hit Telugu films like Darling, Mr. Perfect, Businessman, Baadshah, Naayak, Khaidi No.150 among her other works. Baahubali director SS Rajamouli's Magadheera marked a turning point in her career, earning her much critical acclaim and fame. It's one of the highest-grossing Telugu films of all time! The actress has been nominated for four Filmfare Awards South. She has also appeared in the Bollywood film 'Singham' opposite Ajay Devgan. In 2013, she won the award for Youth Icon Of South Indian Cinema and the SIIMA Award For Best Actress (Critics) – Tamil for Thuppakki.
Ladies and gentleman, makeup is awesome, but it does not define a woman's beauty. There is something personal about actresses sharing pictures with their fans without makeup on, and we applaud these beautiful women for doing so. Did you like these 'very real' photos of Kajal Agarwal? Do share your thoughts with us in the comments below.
Recommended Articles
The following two tabs change content below.