9 Pictures Of Madonna Without Makeup
Take a peek into the bold, beautiful, and natural side of a world-famous artist.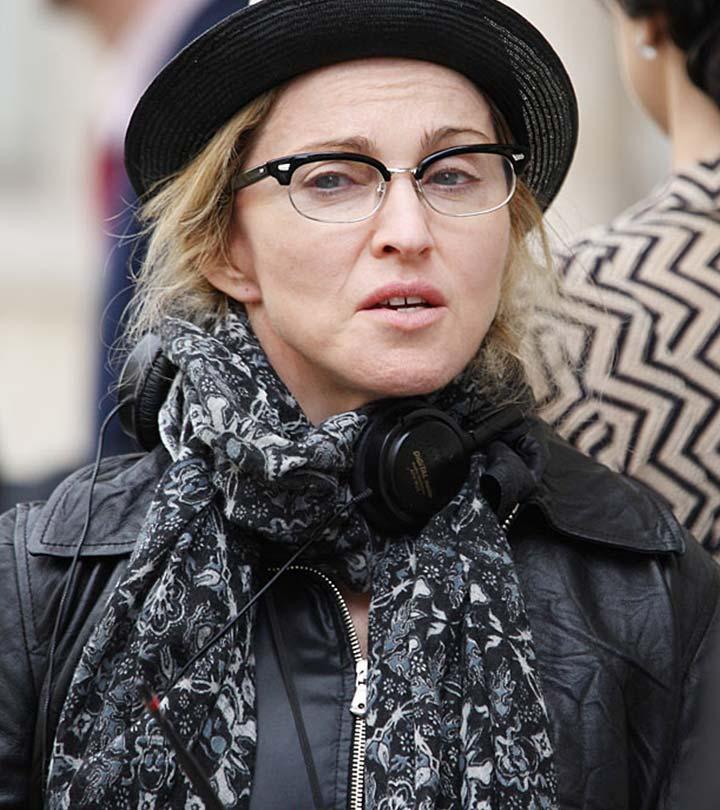 Madonna, also known as the 'Queen Of Pop,' looks simply stunning, whether with or without makeup. In this article, you will get to see some of the best pictures of Madonna without makeup. The world of music offers name, fame, money, fanfare, and many more things that probably no one can ever imagine. People have a misconception, and they often think that artists gain fame easily and can earn quick money. We fail to realize that surviving in this competitive industry requires a lot of hard work, patience, and courage. Aso, most of us tend to forget that the fan following an artist receives during their career path is somehow directly related to how much the audience loves their work.
The competition keeps getting tough, with new artists coming into the industry every day. That is why it becomes essential for artists to reinvent themselves constantly. The industry often determines an artist's success depending on their capability of reinventing and evolving themselves.
Considered one of the most popular figures in pop culture, Madonna has pushed all the boundaries of artistic expression and made a mark for herself. She has been credited as the "best selling music artist of all times," and she is one of the greatest artists. Madonna is also known for her versatility and continuous reinvention in songwriting, music production, and visual presentation. In this article, we will look at some of the pictures of this world-famous artist without makeup. So, keep scrolling through and take a look!
Trivia
According to the Recording Industry Association of America, Madonna is the most successful female rock artist of the 20th century. Guinness World Records lists Madonna as the world's most successful female recording artist; her record sales exceed 200 million.
Madonna Without Makeup Photos
Check out the top 9 latest pictures of Madonna without makeup.
1. Go Green:
Madonna has charmed us with her blue green eyes. Seen here, she teams up this green attire to match her eye colour. To top it, she chooses to go sans make up. Her wonderful eyes get all the attention they deserve. This charming singer, song writer, actor, entrepreneur, director and philanthropist need not be covered in makeup to look pretty.
Did You Know?
Madonna's childhood dream was to be a ballet dancer!
2. Who Says Madonna is Ageing!
Many might say that age and beauty are inversely proportional. However, this is quite untrue in Madonna's case. Age sure doesn't seem to affect her beauty at all. This casual chic look without makeup makes her look uber cool.
3. No Comparison:
Many a times, when pictures of celebrities with and without make up are compared, they turn out to be quite a disaster. This is definitely not the case with Madonna. When we compared these two pictures, all we figured out was how graceful this lady is and no, it is not her makeup that does the trick. These pictures prove it.
4. A Day Without Makeup:
Our queen of pop, like all other artists, is always under the scanner. However, she too needs her space to breathe. It is too much to assume that every time a celebrity steps out, she does so with oodles of makeup. Look how our famous star Madonna steps out without makeup. It is in fact quite refreshing to see the real Madonna, simply beautiful!
5. Simpleton:
Just when everyone expected Madonna to retire, she came and surprised us back with two new albums. This singer is one of the most influential women in the world. She has created her own identity and place and is a symbol of free will. A free will that can dare face the camera without any traces of makeup. Brave and simple!
6. Madonna With White V-Necked Shirt:
You don't need too many things to rock a cool look on a hot summery afternoon. Madonna was photographed wearing a white v necked shirt and large headphones the other day. Even without any makeup on, she manages to stun us in her simple avatar. Attitude is all she is wearing I say.
Trivia
Madonna collaborated with H&M in 2007 to produce her fashion line M by Madonna.
7. Madonna's Messy Look:
Ruffled up hair and a pair of black sunglasses is all Madonna needs to grab our attention. Her natural beauty never ceases to surprise us. Look how exquisite she looks in the picture without borrowing from any sort of makeup.
8. A Sporty Day:
Madonna is a role model for many young girls out there. So when this immensely popular celebrity decides to step out without makeup, she promotes honesty and courage. And no, she doesn't hide these virtues behind any makeup.
9. Mad Hatter!
Sun hats have always been a favourite in showbiz. While the hat blocks the sun away, the heat only melts up the makeup, making the face look cakey and sweaty. Our Madonna dons this sun hat and still looks refreshingly beautiful. Reason: no makeup!
After viewing all these photos of Madonna without makeup, we can only say that she has really aged gracefully. This talented and famous artist has never failed to make the world dance to her tunes. Madonna looks stunning and her skin is flawless. Without any tinge of makeup, she still stands out in the crowd like no other. She is undeniably an inspiration to people of all age groups. So, if you want to go out makeup-free sometimes, take your inspiration from these photos and rock your natural looks!
Frequently Asked Questions
What color eyes does Madonna have?
Madonna has bluish-green eyes.
How old is Madonna now?
Madonna is 63 years old. She was born on August 16, 1958.
Does Madonna have blue hair?
No. Madonna is a natural brunette.
How does Madonna's skin look so good?
The secret of Madonna's ageless skin is her focus on hydration and yoga.
Image source: 1 , 2 , 3 , 4 , 5 , 6 , 7 , 8 , 9
The following two tabs change content below.